Simits are a great snack choice for families traveling in Turkey as they are simple, filling, inexpensive, portable and, most importantly, not messy.
It would be difficult to stroll the streets of Istanbul without noticing the bright red carts with the word Simitçi printed on the side.  I'm not a big consumer of street food, however, so I hadn't given them much thought until our guide, Cennk, paused during our walk from Hagia Sophia to the Blue Mosque to order a simit for our family to share.  
My pre-trip research had failed to enlighten me on the fact that simit is an extremely popular fast food in Turkey that is generally sold by simitçi from their carts on city streets.  Simits vary by region of Turkey, however, they are essentially a circular bread made from salty dough (similar in appearance to a pretzel) and covered in sesame seeds prior to baking.  A simit may be eaten plain or spread with butter, jam or "Karper" which  is the brand name for a kind of cream cheese-like spread.  Simits are so popular that they were chosen as Turkey's national food in 2010 when Istanbul was a European Capital of Culture.
If we had been on our own then I would never have stopped to purchase street food but thanks to our thoughtful guide we were about to taste one of Turkey's most popular foods.  Emma watched intently as the simitçi carefully prepared our simit – slicing it, spreading it with cream cheese and cutting it into four sections before handing us each a piece to sample.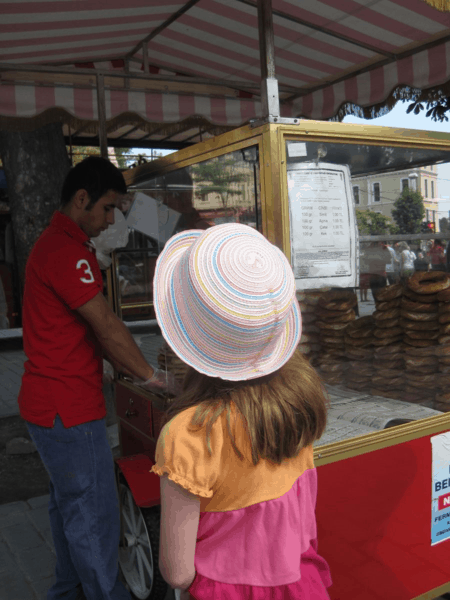 Watching the preparation of our simit
The simit, which was crispy on the outside and chewy on the inside, spread with cream cheese was a tasty snack and actually quite filling.  Tasty, filling and inexpensive – it's no wonder that it's such a popular snack for people on the go in Turkey.
Emma declared her simit to be delicious – not surprising really since she would happily survive on bread alone.  Simits are a great snack choice for families traveling in Turkey as they are simple enough to appeal to even picky eaters, filling enough to sustain them until the next meal, inexpensive, easy to eat on the move and, most importantly, they aren't messy.  And since a simit is practically a cultural symbol of Turkey, it would be an absolute shame not to try one or two or more while traveling there.   
This article may contain affiliate links which help support this site at no additional cost to you.
Related Links
An Impromptu Pottery Class in Istanbul 
Cruising on the Celebrity Equinox with Kids
7 Reasons To Take Your Kids on a Mediterranean Cruise
Have you liked our Facebook page yet? I post articles from the blog there as well as photo albums from our travels and other travel news. Or, if you prefer, you can subscribe to the free RSS feed or sign up for an email subscription to keep up-to-date on our travel adventures.