A demonstration of the craft of ceramic making in Istanbul turned into a memorable pottery lesson for my 8 year old daughter.
While on an Eastern Mediterranean cruise with Celebrity Cruises this past summer, we were fortunate to be able to spend two days in Istanbul, Turkey.  We booked a guided tour with EKOL Travel for part of the first day to see the main sights in Sultanahmet (the historic area of Istanbul) – The Blue Mosque, Hagia Sophia, Topkapi Palace and The Grand Bazaar.

I had read ahead of time time that tour guides will suggest watching a rug demonstration, however, nothing in my research had mentioned ceramic shops.  To be quite honest, I wasn't even aware how important the ceramics industry was in Turkey.  So as we were walking through Sultanahmet with our guide, Cennk, I was surprised when he suggested that we have a look around Firca Ceramics and watch a demonstration on the craft of ceramic making. 
We were escorted to the back of the store to watch a kick-wheel demonstration with a master potter.  Watching him sculpt his creation out of wet clay was fascinating but things got really interesting when the  audience was asked if anyone would like to try.  When no volunteers were forthcoming, my 8 year old daughter, Emma, announced that she would like to try and joined the master on the platform.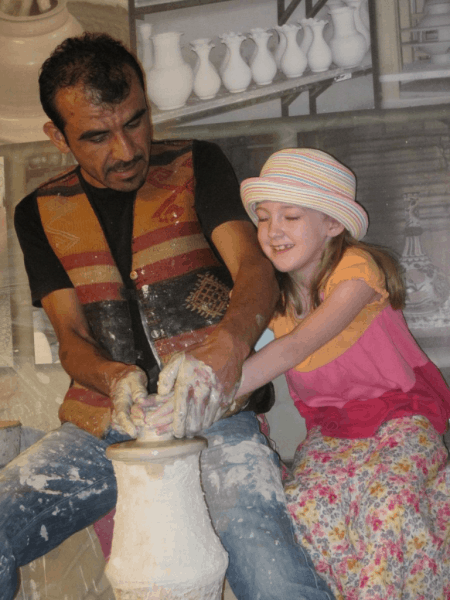 Emma was too short to reach the kick-wheel so the master potter had to operate it for her as he guided her hands to demonstrate how to create a vase out of clay.  He couldn't speak a word of English but managed to communicate to her what to do as he assisted her with sculpting the clay.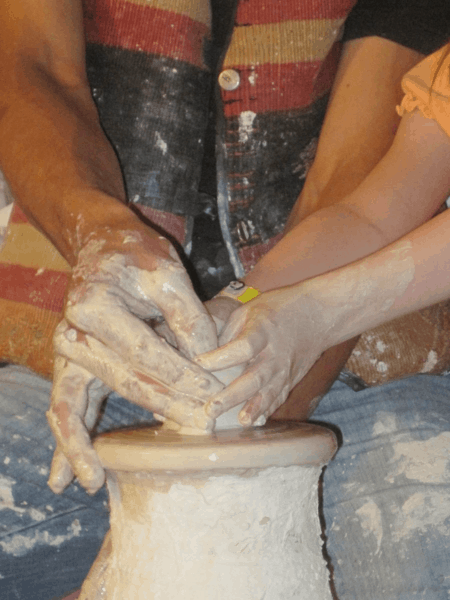 Emma generally hates to get her hands messy, however, she did not hesitate in getting them in the clay.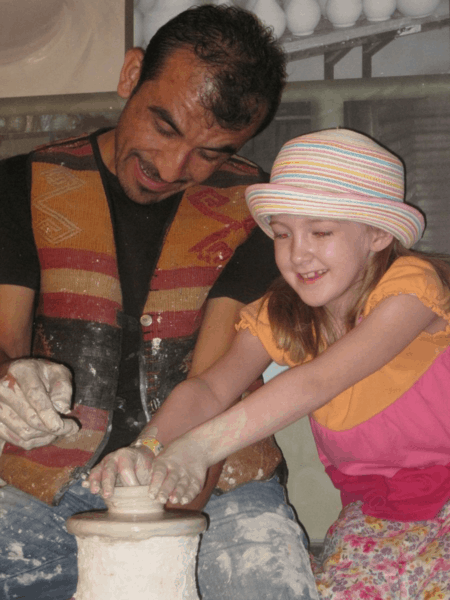 Slowly the clay started to take the form of a small vase.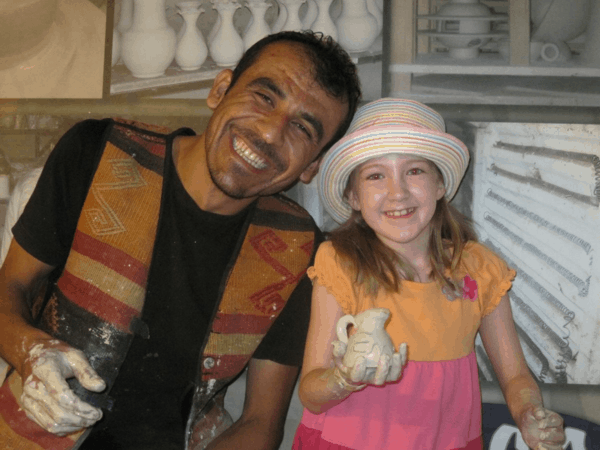 Emma was very pleased with the finished product.  She wrote her name in the clay and it was to be fired later and displayed on a special shelf in the workroom with the creations of other guests.
After Emma's pottery tutorial we were shown around the Firça showroom by the lovely Aylin who explained her family's history in ceramics while showing us the many exquisite pieces on display.  The Firça family has been in the ceramics business for more than 200 years and has master potters crafting their ceramics in several locations in Turkey.  I particularly liked the ceramics which had her family's symbol – tiny raised eyes that ward off evil.  Needless to say I loved the beautiful ceramics and had a difficult time deciding which piece I wanted to purchase to bring home as a souvenir from Turkey.  Emma also scored a lovely small bowl to display in her room.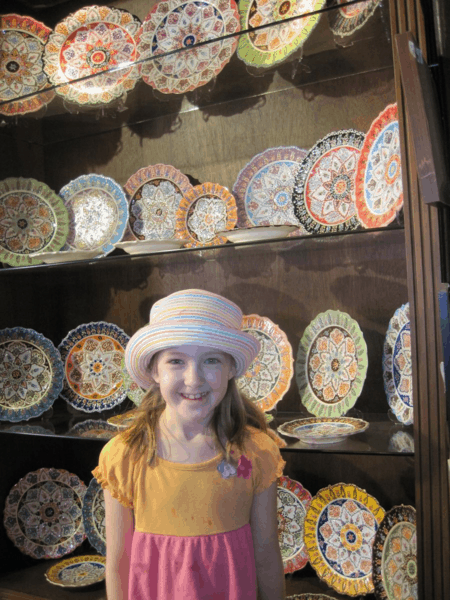 Ceramic plates on display at Firça
We didn't get off the ship in Istanbul that morning planning to visit a pottery workroom, but I'm so glad that we did.  I don't think Emma ever would have agreed to get her hands messy like that at home, however, the fact that we were traveling made her much more open to trying something new.  If you happen to be in Istanbul then I would definitely recommend stopping by Firça Ceramics in Sultanahmet, near the Blue Mosque and Hagia Sophia, to browse the beautiful displays, watch a master potter demonstrate his craft and maybe even get your hands messy too. 
This article may contain affiliate links which help support this site at no additional cost to you. 
Related Links
Cruising on the Celebrity Equinox with Kids
7 Reasons To Take Your Kids on a Mediterranean Cruise  
Have you liked our Facebook page yet? I post articles from the blog there as well as photo albums from our travels and other travel news. You may also subscribe to the free RSS feed or sign up for an email subscription to keep up-to-date on our travel adventures.