A visit to the village of Roussillon, France.
We visited a number of picture perfect French villages on a family trip to Provence, however, one of the most memorable was probably the village of Roussillon in the popular Luberon region of the country.  The easiest way to access the village is to park near the base and walk uphill into the town which is located at the top of Mont Rouge.  As you do so you would definitely be forgiven for thinking that you are somewhere other than France – Santa Fe perhaps – because Roussillon has a very unique look that distinguishes it visually from other villages in the area.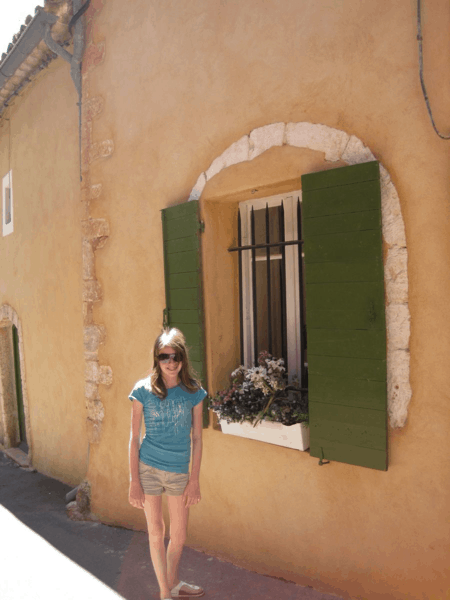 Katie walking into the village of Roussillon
The village of Roussillon sits atop the world's largest ochre deposit and it is the ochre which gives the earth and the buildings their distinctive reddish colour.  Ochre is made of iron oxide and clay and in combination with sand forms a yellowish-red pigment.  Roussillon was the leading producer of ochre in Europe until World War II and the village's economy was dependent on its production.  After World War II, cheaper substitutes were found and the village's economy faltered accordingly.  Since 1943, Roussillon has been a protected village and, as a result, there is virtually no modern development.  
Strolling to the south end of town provides a breathtaking view of the ochre canyon.  For a small fee, visitors can hike through the dusty orange-coloured ochre canyon pathway.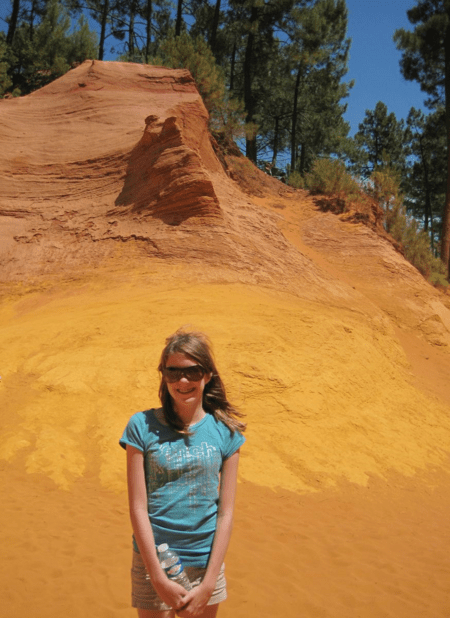 Hiking in ochre canyons
It hadn't occurred to me beforehand, however, we realized afterward that sandals (particularly white ones) were perhaps not the best attire for hiking through ochre.
Related Links
Carousels in the South of France
The Village des Bories in Gordes
Have you liked our Facebook page yet? I post articles from the blog there as well as photo albums from our travels and other travel news. You may also subscribe to the free RSS feed or sign up for an email subscription to keep up-to-date on our travel adventures. 

Pin this for later