A review of our family's Vatican Museums tour with Context Travel.
Our family visited Rome, Italy prior to a Mediterranean Cruise. It was my first trip to Rome and although we were only going to be there for 2.5 days I felt that the Vatican had to be on our agenda. We aren't Catholic, or even particularly religious, however, the Vatican has always been someplace that I wanted to see and I felt that it's cultural importance was such that a trip to Rome would be incomplete without visiting.
During the planning stage I decided that we definitely needed to take an organized tour of the Vatican Museums in order to get anything out of the experience.  Our family includes two daughters – Katie is 14 and Emma had just turned 8 – and my priority was to find a tour which would hold their interest for its duration. I was afraid that if I chose the wrong tour guide that I would be standing in the Sistine Chapel hearing those words that every parent dreads on vacation – "I'm bored!".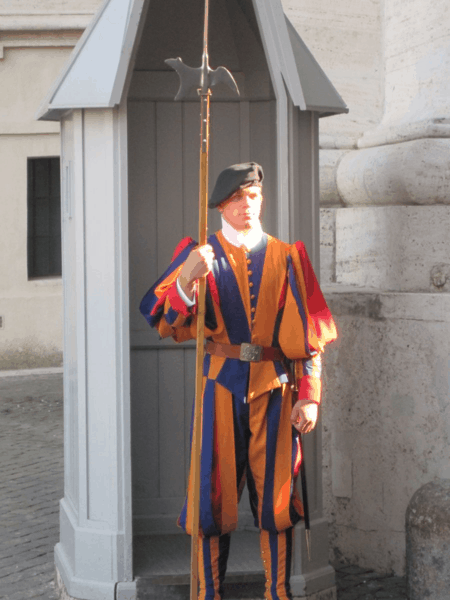 Context Travel Family Program
I considered several tour companies before deciding to book our tour with Context Travel. Context is renowned for the quality of its walks led by expert-level docents which certainly satisfied my desire to have an intellectually stimulating tour of The Vatican.  The determining factor, however, was that Context has a family program which was designed by a museum educator based on years of working with families and children and is intended to introduce children to art, history and architecture. 
The program acknowledges that children learn differently than adults and is designed to get them interested in the material being discussed.  Context provides advance information about touring The Vatican with kids outlining the expected behaviour, the fact that it is not a very child-friendly environment and that the conditions inside the museums can be difficult even for adults to endure.  Despite the warning, we decided to book the tour for the second day that we would be in Rome.  Family tours are only conducted in the less-crowded afternoon hours so we were scheduled for 2-5pm.  
Meeting Our Guide
On the afternoon of our tour we met our guide, Daniela Fraioli, outside the Vatican Museums.  The lineups were quite short at the time and we were in the lobby in just a matter of minutes.  We found a shady spot on some steps outside in the courtyard where we sat while Daniela, who is an art historian, provided us with some introductory information about the history of the Vatican and the Roman Catholic Church.  My kids have very limited biblical knowledge, however, Daniela did an excellent job of explaining the history in a way that they could understand, engaging them in the discussion and having them remember key facts by repeating them back to her.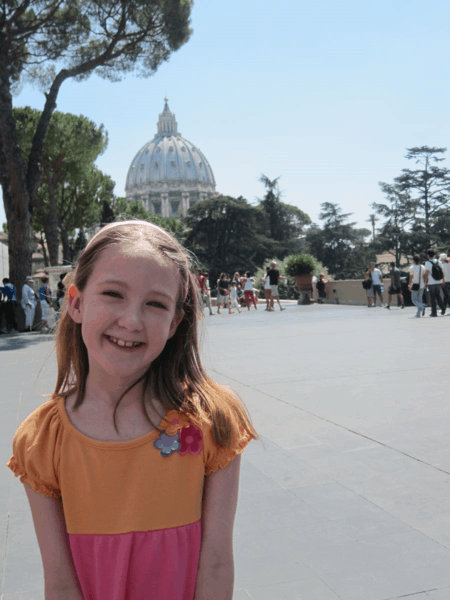 In the Courtyard of The Vatican Museums 
Vatican Museums Tour
As we headed inside, Daniela talked more to Katie and Emma about what they liked and she and Emma engaged in an enthusiastic discussion of Greek (and Roman) mythology. Emma developed this intense interest in gods and mythology shortly before leaving on our trip when she and I read Percy Jackson and The Lightning Thief. Daniela very cleverly used this interest over the course of our tour to point out artwork that featured gods, goddesses and mythological creatures to keep Emma engaged in the discussion and interested in what was coming next. 
Inside the museums we walked through the galleries while Daniela explained the beautiful artwork. Emma absorbed every word that Daniela spoke about the art in The Vatican and repeated much of it back to me later. Daniela commented that she had never seen a child of Emma's age sustain such a level of interest throughout the tour and was quite impressed. I, however, have seen Emma get bored in museums and art galleries in the past so I know that her interest did not falter due to the connection that Daniela had established with her and the efforts that she made to ensure that Emma was enjoying the visit. The two of them had decided by the end of the tour that Emma would also be an art historian when she grew up.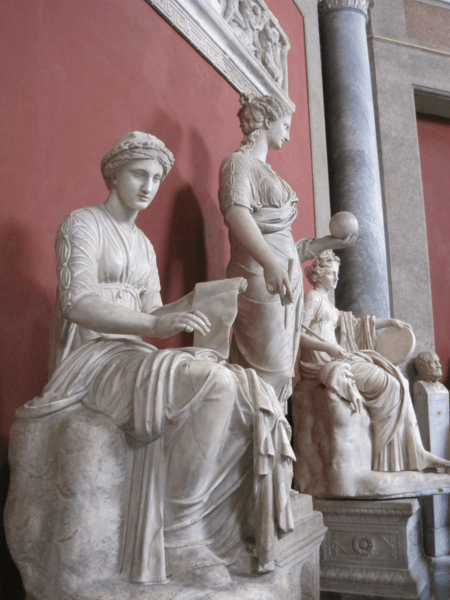 Some of the beautiful artwork we saw 
The museums were crowded but nowhere near as bad as it could have been as we were there in August (low season in Rome) and in the middle of the afternoon. I could certainly imagine how stifling it could get in there under crowded conditions though and I would recommend that parents avoid taking children at the busier times.
The Gallery of Tapestries depicting scenes from the Old Testament and the life of Jesus made a very deep impression on all of us. The tapestries which were originally intended to adorn the walls of The Sistine Chapel are hanging instead down a corridor in the Museums. The workmanship of the tapestries which were crafted in Belgium is incredible and the images are vivid. Emma was listening very intently as Daniela described the scenes that were represented in each tapestry, however, she became visibly upset by the depiction of The Slaughter of the Innocents and trying to understand how anyone could order the murder of babies. We had to head to the cafeteria at that point for a snack to allow Emma some time to recover from this upset. Parents need to be prepared that the visual imagery in some of the artwork may be disturbing to young children and that it may give rise to some difficult discussions as children try to process what they have seen. 
The Vatican has a vast collection of incredible artwork, however, the highlight of any visit has got to be the Sistine Chapel. There are no words to describe this incredible work of art apart from breathtaking. We found a seat in the corner where Daniela could quietly describe the scenes in the painting while comparing them to photos in her book. Even children are impressed by the Sistine Chapel as they can imagine Michelangelo laying on his back on scaffolding in order to complete this masterpiece. Children do not need to fully understand the meaning behind what he has painted to understand that they are gazing upon a work which is pure genius. 
St. Peter's Basilica
Our tour concluded in the piazza outside St. Peter's Basilica and we said farewell to Daniela before entering the Basilica on our own.

I have seen St. Peter's Basilica on television, however, I was not prepared for the grandeur of it nor the fact that I actually felt emotional as we entered. (In fact, I was so overcome that I didn't think to take photos – if you can imagine that!) We stayed only a short time, however, as it had already been quite a long day and exhaustion was starting to set in. We did see Michelangelo's beautiful sculpture The Pieta which depicts Mary holding her son, Jesus, after the crucifixion. 
St. Peter's Square
We stopped to admire the colourful uniforms of the Swiss Guards before visiting the Vatican Post Office to purchase and mail postcards. When the postcards were complete we walked around St. Peter's Square before calling it a day and heading back to our hotel.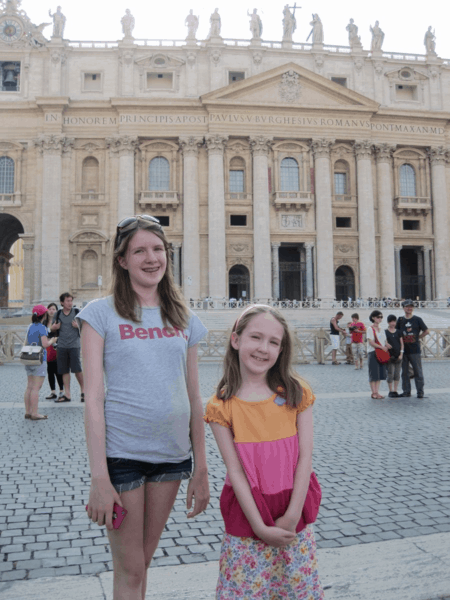 Katie and Emma in St. Peter's Square
I wouldn't recommend taking very young children to The Vatican Museums, however, families of school-age children can definitely enjoy the experience provided that a kid-friendly tour has been booked and the children have been briefed ahead of time on the behavioural expectations. I had explained to Emma ahead of time that this was very important to me and that she needed to be on her absolute best behaviour for the three hours – even if she felt bored or tired or hot. I explained that there would be other visitors in the museums who had waited their entire lives to make this trip and that disruptive behaviour would simply not be tolerated. As it turned out, the warning was unnecessary as Emma was fascinated by what she saw and I was reminded that it is important not to underestimate the ability of children to appreciate great works of art. Their attention spans may be limited and they may have an unconventional interpretation of the art but that doesn't diminish their experience in any way. Provide them with the opportunity to experience great art and the results may be surprising. 
The tours that Context Travel offers are at the higher end of the price spectrum, however, in my opinion, the cost is justified by the quality of the tour. I simply can't imagine having had a more successful tour of the Vatican than the one that we had with Daniela and Context Travel.
The cost of the 3 hour Vatican tour for our family of four was 340 Euros plus admission to the Vatican Museums – 19 Euros for each adult and 12 Euros for each child/student.  Total cost:  411 Euros. 
You Might Also Like
Exploring Rome with Kids in 2.5 Days
Cruising on the Celebrity Equinox with Kids
Albergo Santa Chiara: A Family-Friendly Hotel in Central Rome 
9 Tips For Taking Kids to an Art Museum

For more great museums check out The Mother of all Trips where favourite museums for families are being featured.
Have you liked our Facebook page yet? I post articles from the blog there as well as photo albums from our travels and other travel news. Or, if you prefer, you can subscribe to the free RSS feed or sign up for an email subscription to keep up-to-date on our travel adventures.