Visiting sites in Copenhagen, Denmark associated with Danish author Hans Christian Andersen.
Hans Christian Andersen was a Danish writer who is now known world-wide for his fairy tales such as The Little Mermaid, The Ugly Duckling, The Princess and the Pea, The Emperor's New Clothes, The Steadfast Soldier and Thumbelina. What many people don't know is that Andersen was also a keen traveler who published several travelogues about his journeys. I am quite convinced that if Andersen were living today that he would be a travel blogger so I like to think of him as a kindred spirit.
Hans Christian Andersen was born in the town of Odense, Denmark but was a resident of Copenhagen for most of his adult life.  Copenhagen is very proud of Andersen and there are many attractions in the city which are related to the author.  We visited the city for a few days prior to a Baltic cruise and hit a few of the highlights, but unfortunately, there simply wasn't enough time to see all the Hans Christian Andersen sights that I would have liked to see. 
The Little Mermaid Statue  
One of the most prominent tributes is the statue of The Little Mermaid in Copenhagen harbour (in Langelinie) which was commissioned by a member of the Carlsberg family and placed there in honour of Andersen in 1913.  The statue, which has been the repeated target of vandals, has become an iconic symbol of Copenhagen and one of the city's most popular tourist attractions.  Many people are surprised by how small the statue actually is so if you are traveling with kids be sure to let them know this ahead of time to avoid disappointment.  Emma was enchanted by the mermaid and was not the least bit concerned about her diminutive stature.  A canal cruise provides another great view of the statue although your photos will have a mass of tourists in the background.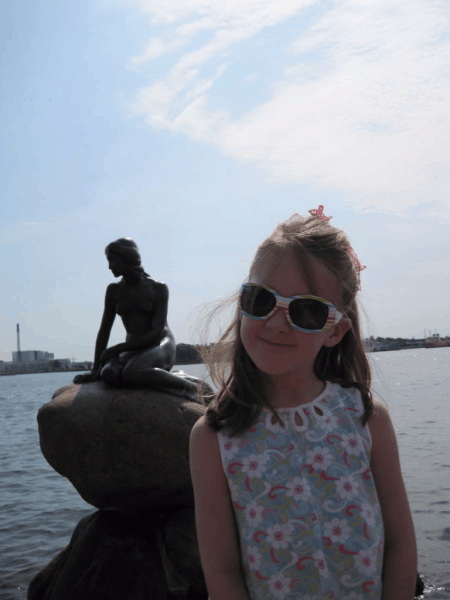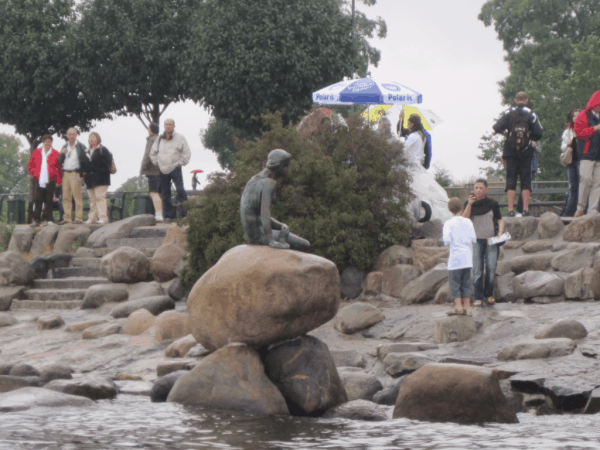 View of the Little Mermaid from a canal boat
At Tivoli Gardens, the popular Danish amusement park, "The Flying Trunk" ride depicts 32 scenes from the fairy tales of Hans Christian Andersen.  This was Emma's favourite ride in the park and we were able to ride it repeatedly since the crowds were very thin on the rainy day that we visited.  The ride is similar to Peter Pan's Flight at Disney World.  Riders sit in a trunk which flies through scenes from Andersen's most famous fairy tales.  I was amazed at the fact that there were several well-known fairy tales which I had no idea had been written by him.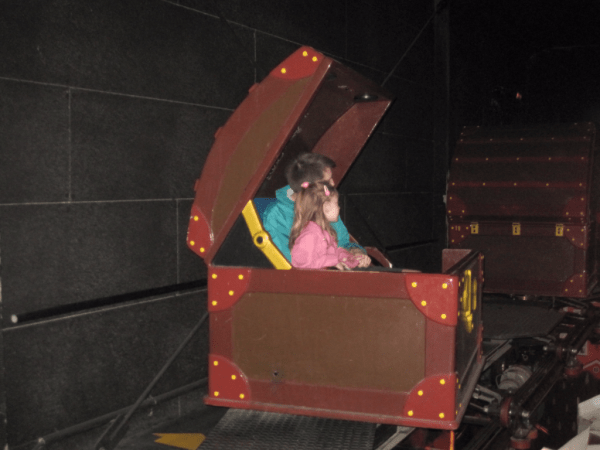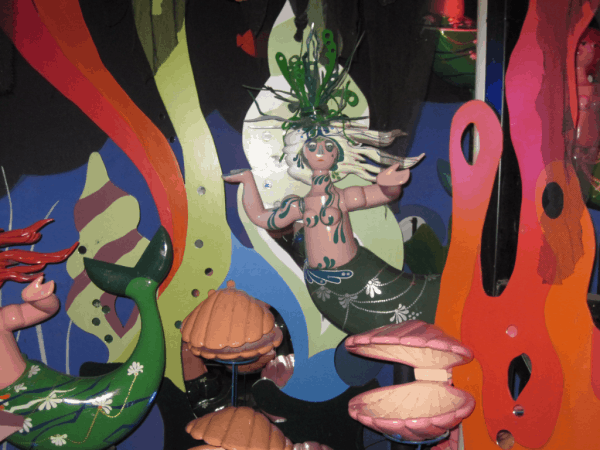 The Flying Trunk ride at Tivoli Gardens
Radhuset (City Hall)
There is a prominent statue of Hans Christian Andersen located near Radhuset (City Hall) in Copenhagen which is a popular spot for tourists to photograph.  The knees of the statue are shiny from people sitting on his lap for a photo.  Emma would have liked to climb up but I made her keep her feet safely on the ground.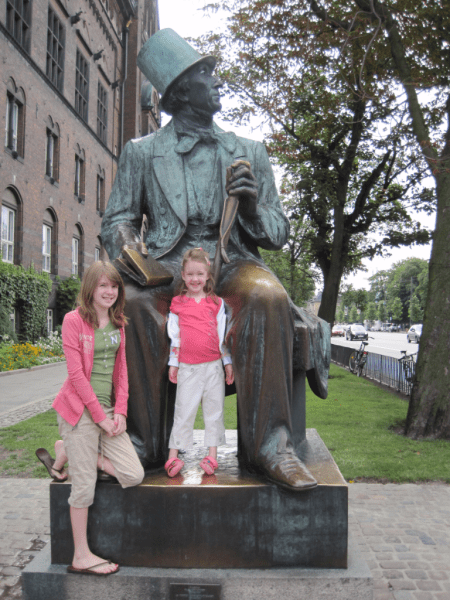 Katie and Emma with Hans Christian Andersen statue
Nyhavn Neighbourhood
We also walked around the Nyhavn neighbourhood where Andersen lived and wrote many of his fairy tales.  This canal district with its brightly coloured 17th and early 18th century townhouses was a notoriously bad neighbourhood when Andersen lived there.  Today it has been completely transformed into a trendy area with cafes, bars and restaurants where residents and visitors alike head to hang out, particularly in good weather.  This is also the starting point for the canal tours that will allow you to view Copenhagen from a different vantage point.
Additional Hans Christian Andersen Sites in Copenhagen
If we would have had more time then these would have definitely been on our itinerary: 
There is a memorial statue in the King's Gardens (Rosenborg Gardens) of Hans Christian Andersen sitting with a book in his hand as if reading one of his fairy tales to listeners;

There are walking tours available that are intended to introduce the visitor to the charms of Andersen's fairy tale city.  It is even possible to take a tour with a guide dressed like Andersen (oh, how I wish that we had taken the time for this); and
Hans Christian Andersen Fairy Tale House features fairy tale exhibits, manuscripts, props and items relating to Andersen's life and travels. (Editors Note: replaced by Ripley's The World of Hans Christian Andersen)
Visitors of all ages are familiar with Hans Christian Andersen which makes his fairy tales a good starting point to get kids interested in a trip to Copenhagen.   Of course, there is much more to Copenhagen than fairy tales and, once there, your family will relish exploring this vibrant, family-friendly European city.