Visiting the famous le pont d'Avignon (Avignon Bridge) in southern France with kids.
Sur le pont d'Avignon
L'on y danse, l'on y danse
Sur le pont d'Avignon
L'on y danse, tous en rond
I have fond memories of my elementary school French classes with Madame O'Malley and learning this catchy French children's song so when I was planning our family's two week stay in Provence, I was secretly (or maybe not so secretly) excited that I would have the opportunity to visit Avignon and see the famous bridge for myself.
Le Pont d'Avignon is actually Le Pont St. Bénezet, a medieval bridge which spanned the Rhône River in Avignon, France.  The bridge, which was constructed during the 12th century, has only a few remaining arches and no longer reaches the opposite side of the river.  The rhyme that I learned to sing as a child was composed in the 16th century by Pierre Certon.  The original words were "sous le pont" as the revellers would have been dancing under the arches of the bridge and not on the bridge.  In the modern version of the song the words were changed to "sur le pont".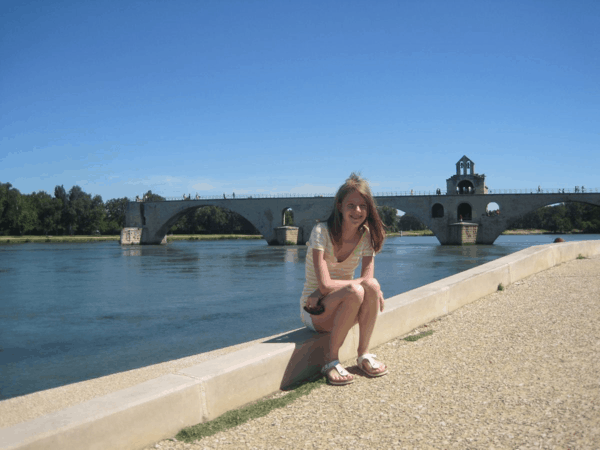 Katie sitting near the famous bridge in Avignon
The bridge is a popular tourist attraction in Avignon and can be viewed for free from the park along the river, however, if you would like to walk and dance on the bridge then there is an admission fee. 
I thoroughly enjoyed visiting this picturesque spot that was immortalized by song, however, Katie wasn't quite so enthusiastic.  She happily posed for photos but could not be encouraged, no matter how hard I pleaded, to dance on the bridge. 
Emma, however, had no reservations about dancing with me on the bridge so we whirled and twirled and had a grand time.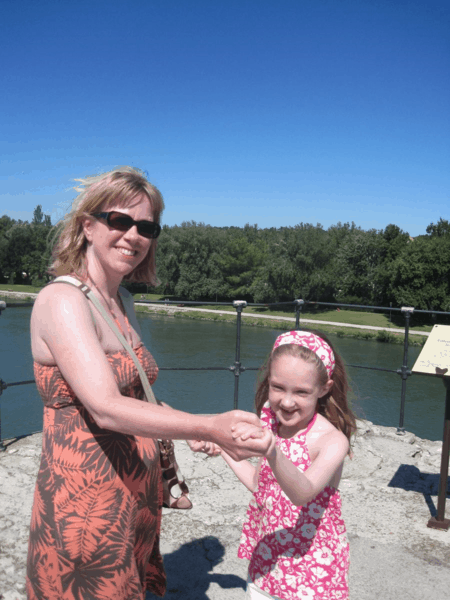 Sur le pont d'Avignon, on y danse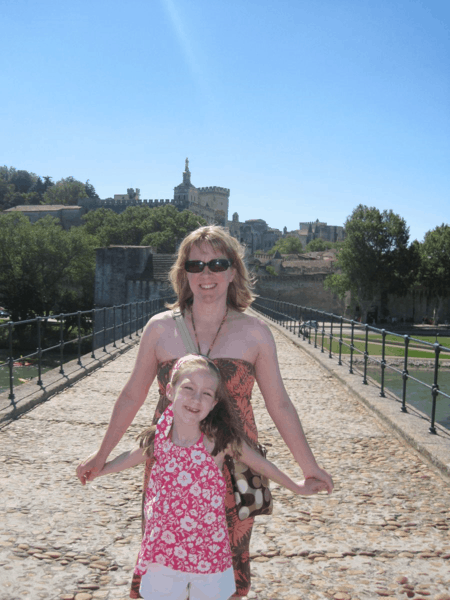 Dancing "sur le pont d'Avignon"
For more information see the official website for Palais des Papes.  When we visited we purchased a combination ticket that included admission to both the Palais des Papes and the Pont St. Bénezet.
Related Links
Carousels in the South of France
A Colourful Afternoon in Roussillon, France