An 8 year old's experience on Harry Potter and the Forbidden Journey at the Wizarding World of Harry Potter in Orlando. It was scarier than she expected it to be.
Our family recently visited The Wizarding World of Harry Potter at Universal Studios in Orlando, Florida.  My husband and Katie had visited 16 months earlier, however, it was a first-time experience for Emma and I.  Katie was excited to learn about her return trip and immediately started bugging me about going on the park's signature ride, The Forbidden Journey, with her.  I don't do roller-coasters so I wasn't sure whether or not I would but the one thing that I was certain of was that Emma would not be going on that ride.
Emma is 8 years old, however, she can be sensitive and easily scared by rides that are loud, dark or scary.  She had been absolutely terrified by The Haunted Mansion at Disneyland last year so, as far as I was concerned, this ride was out of the question.  She asked about it a few times but seemed to accept my judgement call UNTIL we arrived at the theme park and she saw Hogwarts.  At that point she became determined to experience the ride with everyone else.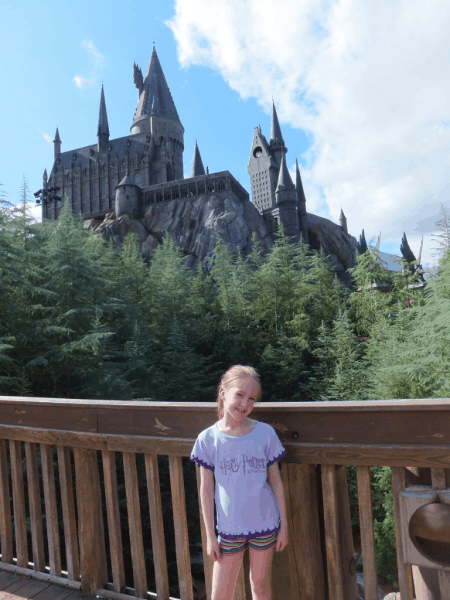 The four of us rode on The Forbidden Journey, which can only be described as intense, and when we stepped off the ride, Emma burst into tears.  She was so frightened that she sobbed hysterically for several minutes and I felt like the worst Mom in the world.  My saving grace was that the ride exited into the gift shop (Filch's Emporium) and, after a few more moments, Emma recovered sufficiently to ask if I would buy her Hermione's cat Crookshanks since the ride had been so scary – needless to say we left the park with a new stuffed cat.
Emma wrote about the ride in detail in her travel journal and has agreed to let me share this excerpt which describes her experience.
Today I went to Universal Studios!  First we went to the Wizarding World of Harry Potter to go on Forbidden Journey!  It was the scariest ride I have ever been on!  Spiders pop up and spray water at you, dementors jump in your face, a dragon breathes fire at you and you feel like you are upside down!  You tip forward, backward, left and right.  I felt like I was going to let go and fall.  I liked when it was Ron, Harry and Hermione.  I also liked it when it was Harry on the Quidditch field.  That part was cool.  But you still tip and turn.  I still felt like I was going to fall off.  I also liked the line.  You go through Hogwarts and into the green house.  It was really, really cool!  At the green house Katie was telling me about the ride.  It sounded really cool!  It did not sound scary at all.  I must of had my eyes closed when this happened but something happened with the Whomping Willow.  That is the tree Harry and Ron fly in to when they are in the car.  Katie and Daddy liked it.  Well, Katie really, really, really loved it.  Mommy looked really scared in the picture.  As you know I did too.  Also it seems like Ron, Harry, Hermione and Dumbledore were really there, talking to you in line.  Also it snowed in line.

 
Emma has concluded that she is glad that she went on the ride, however, she would rather not do it again until she is at least 11.  Children over 48″ tall are allowed on Forbidden Journey, however, my advice to parents would be to carefully consider the temperament of your child before taking them on this ride.  There were children as young as Emma on the ride who clearly were not affected by it in the least.  On the other hand, I spoke to a grandmother and her 11 year-old granddaughter in the gift shop who said that she was too afraid to attempt it.  Emma was very upset by the experience, however, the trauma was short-lived and I think she's a bit proud of herself for having done it.  This is an instance where there can be no hard and fast rule about the minimum age – just be sure to have considered the issue ahead of time. 
This post may contain affiliate links which help support this site at no additional cost to you.
Related Links: 
Experiencing the Magic of Harry Potter at Warner Bros. Studio Tour London
A Day at the Wizarding World of Harry Potter
The Wizarding World of Harry Potter
London Taxi Tours – Harry Potter