We were visiting Universal Studios primarily to see The Wizarding World of Harry Potter, however, a visit to the bright and colourful Seuss Landing was a pleasant diversion.
Although the primary reason for our visit to Islands of Adventure at  Universal Studios Orlando was The Wizarding World of Harry Potter, we did spend some time in Seuss Landing which is based on the popular children's books by Dr. Seuss. Seuss Landing is bright, shiny and colourful – in other words, a complete contrast to Harry's dark and gloomy world.  
This article may contain affiliate links. If you click an affiliate link and make a purchase then Gone with the Family may receive a small commission at no additional cost to you.
It's a cartoon world come to life and loads of fun for younger kids and Dr. Seuss fans who will feel like they are walking through the pages of his imaginative books. Fans will appreciate the fact that there are no straight lines in Seuss Landing because Dr. Seuss only drew curved, slanted or "wonky" lines in the illustrations for his books. 
The brightly coloured shops and attractions all decked out for Christmas reminded me of Whoville in How the Grinch Stole Christmas.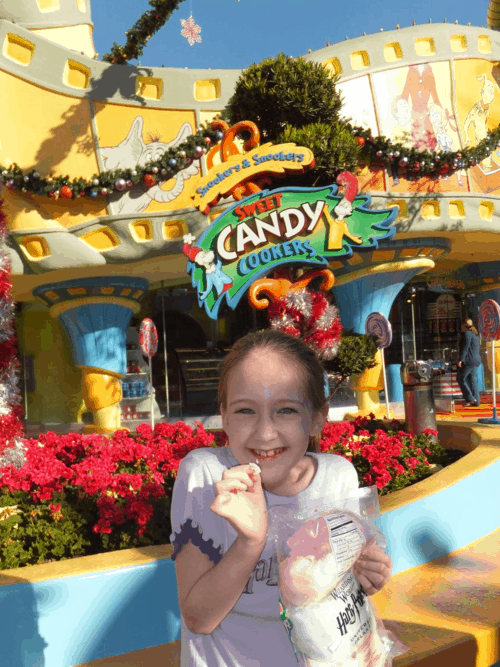 One of many colourful shops in Seuss Landing
We even found a Who girl and a Who boy that Emma had a chat with. Their make-up is incredible.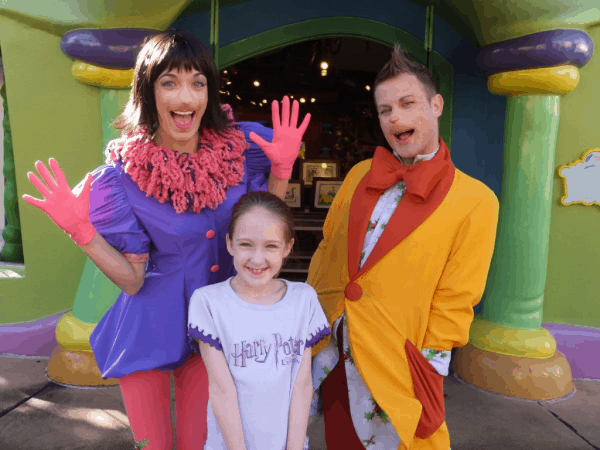 Emma meets a "Who" boy and a "Who" girl
The rides in Seuss Landing are:  The Cat in the Hat ride; The High in the Sky Trolley Train Ride; Carou-Seuss-el and One Fish, Two Fish, Red Fish, Blue Fish. All of these rides are appropriate for younger children although The Cat in the Hat spins and twirls around, sometimes quite suddenly, so anyone prone to motion sickness or who simply doesn't like a spinning ride should probably avoid it. Once wasn't enough for Emma.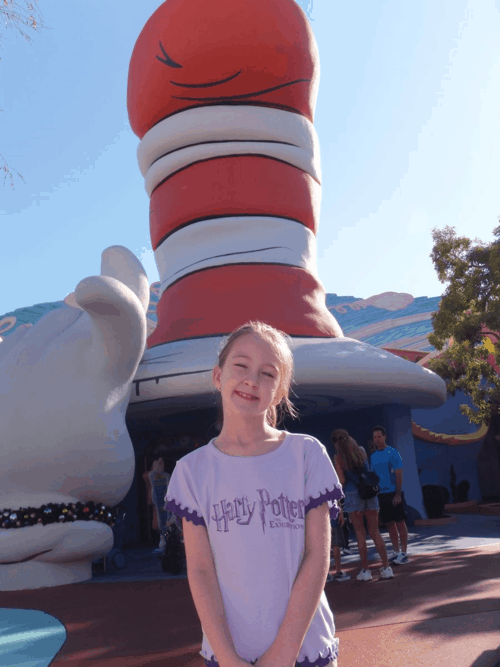 Outside The Cat in the Hat ride
There are plenty of shopping opportunities for anyone looking for Dr. Seuss souvenirs.
Emma's favourite ride in Seuss Landing was One Fish, Two Fish because of the fountains that spray water in time to the music. Some unlucky (or lucky depending on your point of view) riders end up soaking wet after a turn on this ride which is otherwise similar to the Dumbo the Flying Elephant ride at Disney's Magic Kingdom.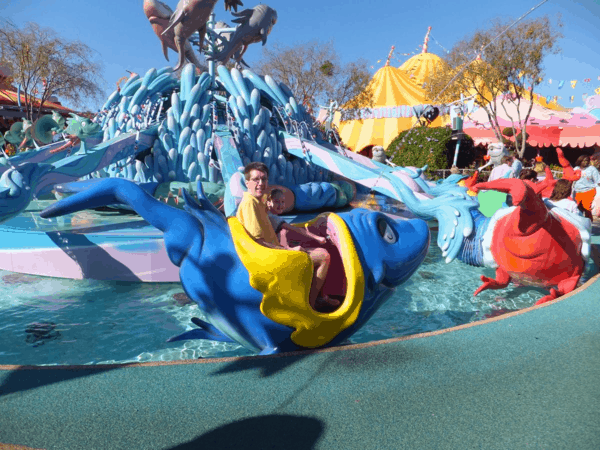 One Fish, Two Fish, Red Fish, Blue Fish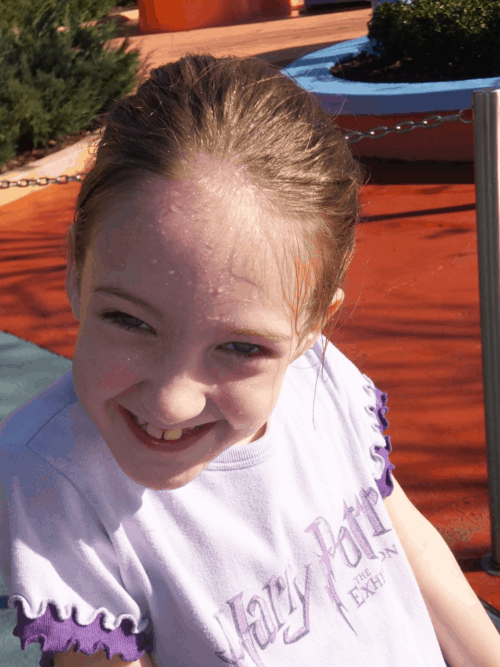 Emma after riding One Fish, Two Fish
As part of the holiday celebrations, there was a very grumpy Grinch posing for photographs. He gave Katie a hard time about being "too cool" to have her picture taken with him but there was no shaming her into posing. Emma had to pose with the mean old guy all by herself.
I thought that the Carou-Seuss-el looked absolutely charming, however, I couldn't talk anyone into riding it – not exciting enough apparently.
The majority of the attractions at Universal Studios – Islands of Adventure are aimed at an older crowd so it's not a park that I would recommend to parents who are simply looking for a fun spot to take pre-schoolers or young school-age kids. There are other parks in Orlando that they would be happier at and I wouldn't want to pay the steep admission price for a park that has limited attractions for the little ones. However, if the grown-ups want to see the park or if the family consists of mixed ages of kids then Seuss Landing is a delightful place to keep younger family members entertained while the older ones are enjoying the big rides or hanging out with wizards.