Our family's trip to the Colosseum and the Forum didn't go according to plan, however, we did see these famous landmarks which can't fail to be a memorable experience.
Sometimes when traveling with kids it just takes one mistake to cause a full-fledged mutiny. This happened to us in Rome on the day that we were planning to see the Colosseum and the Forum. The heat couldn't be helped but some key planning mistakes on my part transformed what we had thought would be 3 hours of sightseeing into a full day endurance test. So here's a rundown of how we courted disaster in the hopes that others will avoid making the same mistakes that we made.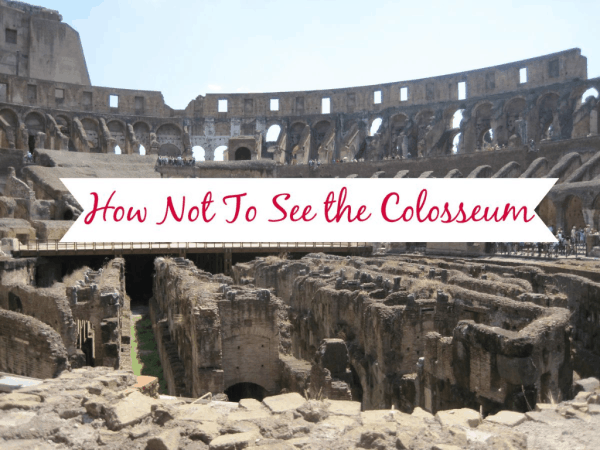 (1) Travel in August:
Unfortunately, we couldn't avoid traveling in the summer but it is wise to be aware that visiting the Colosseum with kids at the hottest time of the year is going to be challenging under the best of circumstances. Knowing how hot the day's temperatures were likely to be we should have had a plan in place to minimize the impact of the heat on the kids. 
(2)  Don't Pre-Purchase Tickets:
I had read all the advice that the way to avoid long lines at the Colosseum was to pre-purchase the tickets online but we ignored this advice. We thought we would just "wing it" when it came to our Colosseum visit. I have no idea what I was thinking when that decision was made. Mea Culpa is all I can say. 
(3)  Sleep In:
Sleeping in will ensure a late morning arrival at the Colosseum. This is particularly easy to do if you are traveling with teenagers who have difficulty getting out of bed in the morning. Unfortunately, a little bit of sleeping in has far-reaching ramifications as it will now be hotter and more crowded when your family finally arrives at the Colosseum.
(4)  Join a Group Tour:
It was late morning and already steaming hot by the time we finally arrived outside the Colosseum only to discover that the line-up to enter was now about two hours long. This is when the grumbling set in full-force and we panicked and opted to join a random group tour with the first guy that approached us promising that we would get through the Colosseum and the Forum in record time. 
The lesson here is to ask a lot of questions and hope that some truthful answers are given. We were told that the tour would start in a few minutes and that 2 or 2.5 hours would get us through the Colosseum and the Forum. Sounded good in theory, however, it was close to an hour later before our group even set foot inside the Colosseum. We also were informed after we had paid for the tour that one guide would conduct the tour of the Colosseum and then we would have to, as a group, meet the second guide for the tour of the Forum which wouldn't commence until about 2.5 hours later. We could not enter the Forum on our own because one "group" ticket covered everyone for both places.
Our guide for the Colosseum was awful – dreadfully boring and spoke horrible English. We left her tour and explored the Colosseum on our own before heading outside to wait for the Forum tour. We had a long wait, however, we found a slightly shady spot, bribed the kids with ice cream and chocolate treats purchased from a nearby vendor and threatened them that there would be serious consequences if I had come all the way to Rome and missed seeing the Forum because of their whining.  Eventually we were joined by our guide for the Forum who was far better, however, by this time exhaustion was starting to set in and the kids were in no mood for the tour which was focused on Palatine Hill. We opted to head directly to the Forum. 
(5)  Don't Bring a Map:
If you really want to make a mess of the day then don't bring a map or guide of any sort with you. This will ensure that if you are directionally challenged to any extent that you will wander aimlessly unable to find the Forum when you abandon your tour group on Palatine Hill. We spent a fair bit of time trying unsuccessfully to find our way from the Hill down to the Forum which we could see but couldn't figure out how to get to. A map of the site would have cut the complaints by at least half. 
Avoiding these mistakes will reduce the chances that you will have grumpy, miserable, complaining kids when touring the Colosseum and the Forum. Not having pre-booked tickets and not getting an early start were the worst mistakes we could have made and the problems just snowballed from there. In retrospect, I should have booked a guided family-friendly tour similar to the one that we did at The Vatican with a mid-morning time slot. That would have reduced the waiting time, provided us with a starting time and finishing time so that we knew how long we would be touring, provided some interesting historical background about what we were seeing and, most importantly, eliminated the whining as my kids tend to be on their best behaviour when there is a stranger around. Nothing went according to plan that day and there was a lot of moaning and groaning but, at the end of the day, we saw the Colosseum and it was pretty darn impressive.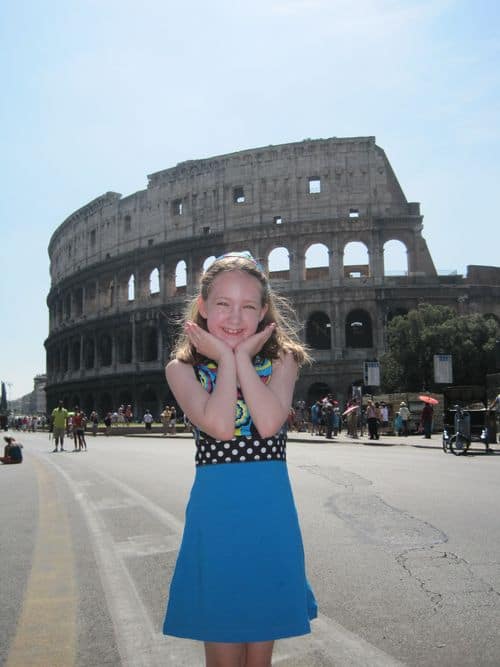 Emma approaching the Colosseum
Related Links
Exploring Rome with Kids in 2.5 Days
Albergo Santa Chiara: A Family Friendly Hotel in Rome
Touring the Vatican with Context Travel
Pin this for later