A pitstop at Mastodon Ridge in Stewiacke, Nova Scotia is more entertaining than I ever would have imagined.
Our first car trip between the Canadian provinces of Nova Scotia and Prince Edward Island was completely unplanned.  Katie was not quite 2 years old and we had been spending a week on the island at the tail end of the summer.  Partway into our week, the pilots at Air Canada went on strike and we suddenly had no easy way to return home as there were no other airlines that flew directly from Charlottetown to Toronto.
After many hours spent on the phone, we were able to get booked on a flight from Halifax, Nova Scotia to Ottawa, Ontario which meant that we would have two long drives at each end of our flight.  On the morning of our departure we left our cottage in PEI, knowing that we had most of the day to get to Halifax and that we would need to make a couple of pitstops along the way to entertain Katie and break up the drive.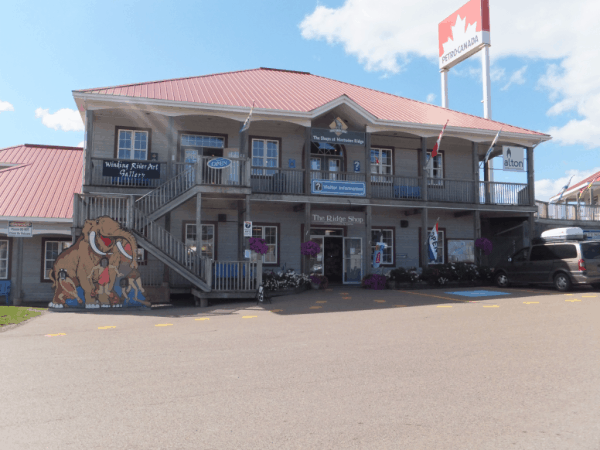 Our first stop was at a gas station/rest stop in Stewiacke, Nova Scotia, a community that we hadn't heard of before.  We soon learned that Stewiacke's claim to fame is that it sits exactly halfway between the Equator and the North Pole and that we weren't at just any old service station but an attraction, in and of itself, called Mastodon Ridge.  We spent some time stretching legs, taking photos with the mastodon and having a snack before piling back in the car and heading toward Halifax.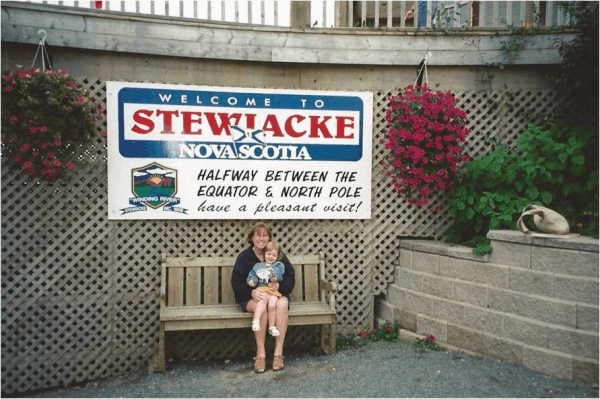 Katie and me in Stewiacke, Nova Scotia – September 1998
Fast forward a few years to the summer of 2006 and our family, which had grown to four, had spent a few nights in Halifax before driving to Cape Breton Island.  This time we knew that Stewiacke would be a fun place to stop and stretch legs in the midst of a long car trip.  All I remembered from our first visit eight years earlier was the Mastodon and the "Halfway Between the Equator & North Pole" sign.  There seemed, however, to have been some development of Mastodon Ridge in the intervening years.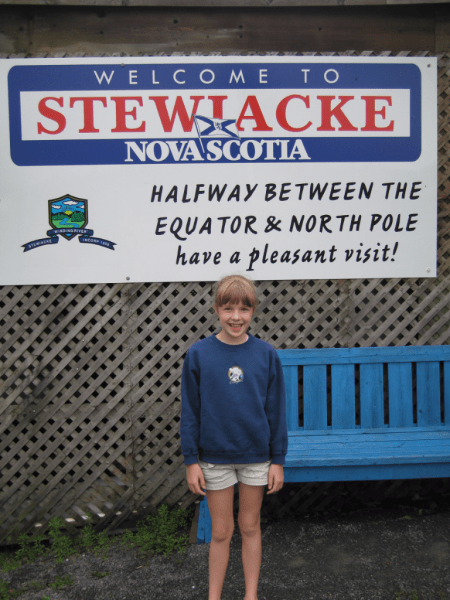 Katie in Stewiacke – 8 years later
Mastodon Ridge is named for the life-size replica of a mastodon which is on display.  The replica is based on the male juvenile mastodon whose bones were unearthed in nearby Milford, Nova Scotia in 1991.  Since our previous visit a stone age house and car had been added, turning the garden area into a fun little playground that the girls thoroughly enjoyed.  We also spent some time browsing an indoor exhibit, had a snack and did a bit of shopping before it was time to hit the road again.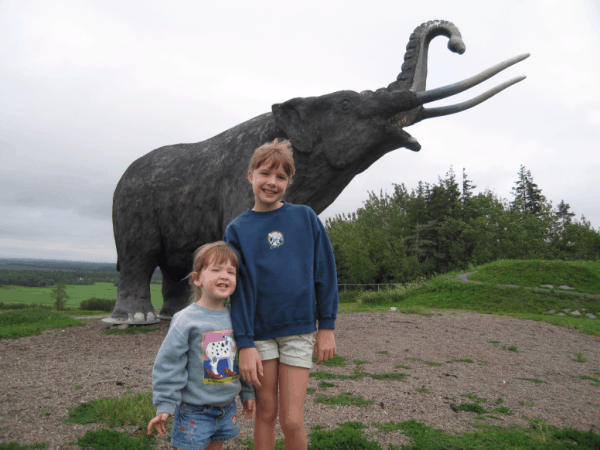 Katie and Emma with Stewiacke's Mastodon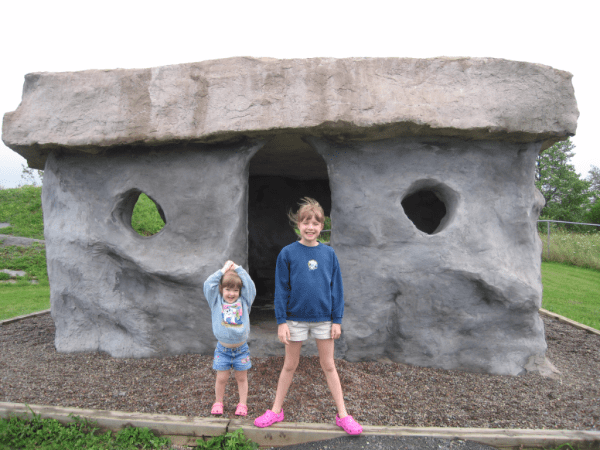 A lovely house from the stone age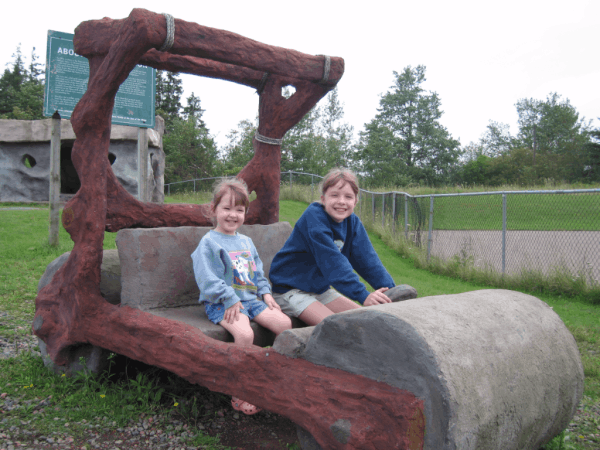 A car just like Fred Flinstone's
I did a quick online search to find out what there is to do at Mastodon Ridge now and found that activities/attractions now include:
The Outdoor Gardens where visitors can walk through time beginning with the mastodon and proceeding through Ice Age; Native Peoples; Settlers; and Celebrating Stewiacke;

Standing on the point marking the true halfway point between the Equator and the North Pole – certificates are available;

Mastodon Ridge Mini Putt miniature golf course;

An ice cream shop;

Showcase Nova Scotia – an indoor audio/visual exhibit which travels from the Ice Age to modern times;
A theatre playing two short films – She's Called Nova Scotia and Time Travel With Professor Pendulum;
The Ridge Shop featuring unique Nova Scotian crafts and gifts;
The Dino Store for kids which has educational toys and games and unique souvenirs;
Tim Hortons and Kentucky Fried Chicken; and
A Visitor Information Centre providing information on the Bay of Fundy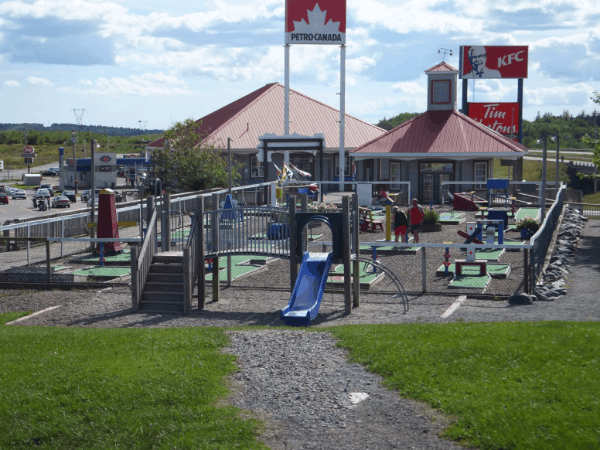 We will be driving from Halifax to Prince Edward Island once again this summer so we will be sure to include a pitstop in Stewiacke to see how much has changed midway between the Equator and the North Pole and to get one of those certificates to prove that we've been.
UPDATE: Of course, we stopped in Stewiacke again when passing by in 2012 but we forgot to get one of the certificates!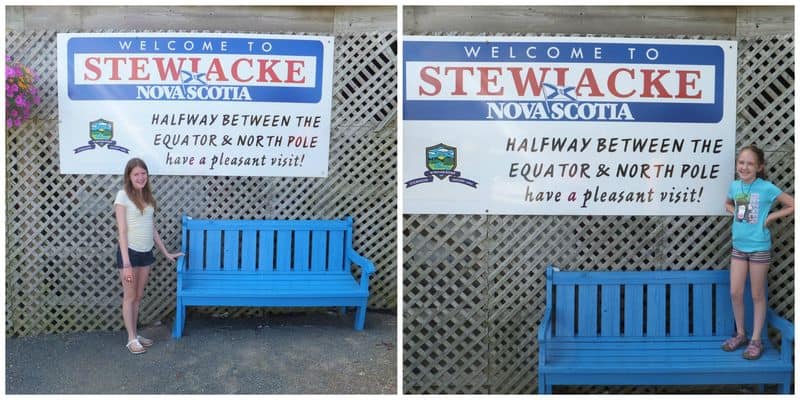 What You Need To Know:
Mastodon Ridge is located at Exit 11 on Highway 102 in Stewiacke, Nova Scotia

Mastodon Ridge is open 7 days a week 10am – 5pm from late May to late October;

Animals are not allowed in the Outdoor Garden – with the exception of service animals;

Mastodon Ridge is a smoke-free environment;

There is a fee charged for Showcase Nova Scotia and Mini Golf;

Free parking is available;

Outdoor gardens are open to the public and offer free picnic areas. 
Related Links
Favourite Family-Friendly Activities in Atlantic Canada
7 Family-Friendly Activities in Halifax
Prince Edward Island Trip Report
Dreaming of Cape Breton Island
Dreaming About Red Sand Beaches and Red-Headed Orphans

Have you liked our Facebook page yet? I post articles from the blog there as well as photo albums from our travels and other travel news. Or, if you prefer, you can subscribe to the free RSS feed or sign up for an email subscription to keep up-to-date on our travel adventures.