A fun thing to do in Ottawa is to stop outside the National Arts Centre to take a photo with the sculpture of jazz great Oscar Peterson.
A fun thing to do in Ottawa is to stop by the National Arts Centre on Elgin Street to see the sculpture of legendary jazz pianist, Oscar Peterson.  Canadian sculptor, Ruth Abernethy, created the bronze sculpture which includes a larger-than-life grand piano and the great pianist sitting on the bench alongside.  The sculpture was unveiled by Queen Elizabeth in downtown Ottawa in June, 2010.
Since its unveiling this has become a popular spot to take photos either playing the piano or sitting alongside Mr. Peterson.  Peterson grew up in Montreal, however, he had a strong connection to the National Arts Centre as he performed there at its opening in 1969 and received the Governor General's Performing Arts Award there as well.  Peterson died in 2007 after a 65 year career as a recording artist and composer.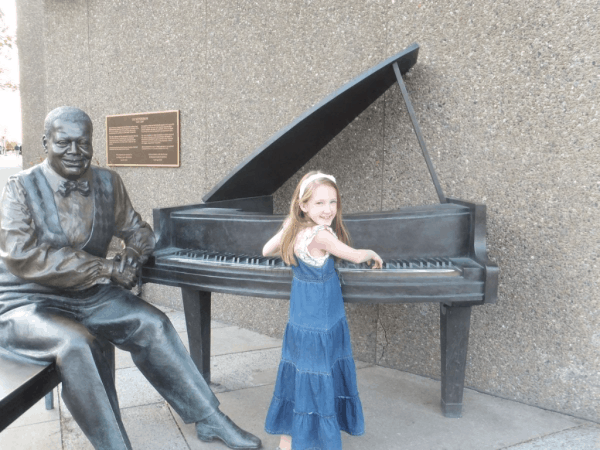 Related Links
Ottawa with Kids: Fun in Canada's Capital Region

Searching For Tulips In Ottawa
Piccolo Grande – Gelato In Ottawa
A Stroll Around Parliament Hill In Ottawa

Have you liked our Facebook page yet? I post articles from the blog there as well as photo albums from our travels and other travel news. Or, if you prefer, you can subscribe to the free RSS feed or sign up for an email subscription to keep up-to-date on our travel adventures.