A review of our recent stay at The Lord Elgin Hotel in Ottawa.
Emma and I recently stayed at The Lord Elgin Hotel on a weekend trip to Ottawa.  That's not how the weekend had been planned, however, a couple of days beforehand what was supposed to be a family getaway to Ottawa morphed into a mom/daughter weekend.  We had booked a 2 bedroom apartment at Minto Suites but Emma and I didn't need that much space so we decided to switch to a more centrally located hotel and chose the Lord Elgin in the heart of downtown Ottawa.
Check reviews and current rates at The Lord Elgin Hotel on Trip Advisor
This post may contain affiliate links which help support this site at no additional cost to the consumer.

We traveled from Toronto to Ottawa on Via Rail and then took a taxi from the train station to our hotel downtown.  My initial impression of the Lord Elgin was not good.  We had difficulty even entering the building as the revolving doors into the hotel were blocked by large groups of students who were crowding the reception area.  I knew that the school competition Music Fest was underway in Ottawa that week but I hadn't realized that the Lord Elgin would be overrun with kids.  Fortunately, the traffic jam in the lobby was short-lived and we were able to enjoy our weekend at the hotel.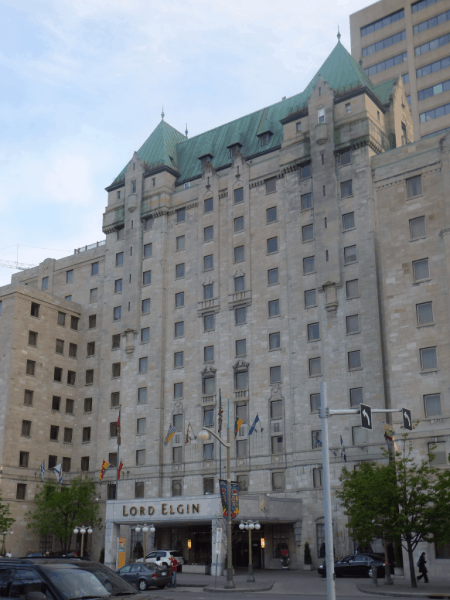 The Lord Elgin Hotel
After checking in we went to our room to drop off luggage before taking a stroll around Parliament Hill.  Our spacious Elgin Class Room was furnished with a King-sized bed and Emma immediately made herself at home.  Our corner room had a lovely view over Confederation Park from one window and the First Baptist Church next door from the other.  A seating area as well as a writing desk added to the functionality of the room.  Our rate also included free WIFI, a simple amenity which always makes me happy beyond words.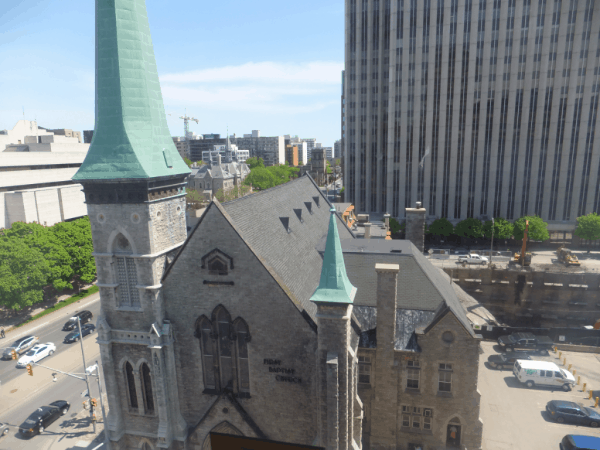 The view from our 8th floor room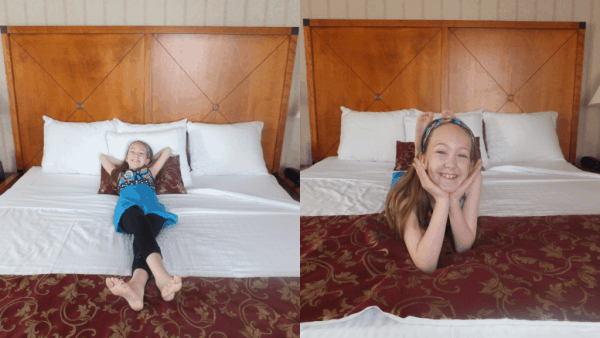 Emma relaxing at the Lord Elgin Hotel
The bathroom wasn't luxurious but it was perfectly adequate.  The room was a decent size with a bath/shower combination and had plenty of counter space which I always appreciate.  
There is a Starbucks located on-site at the Lord Elgin which was very convenient for someone as addicted to her latté as I am.  Emma and I had our breakfast here each morning before we headed out to explore the city.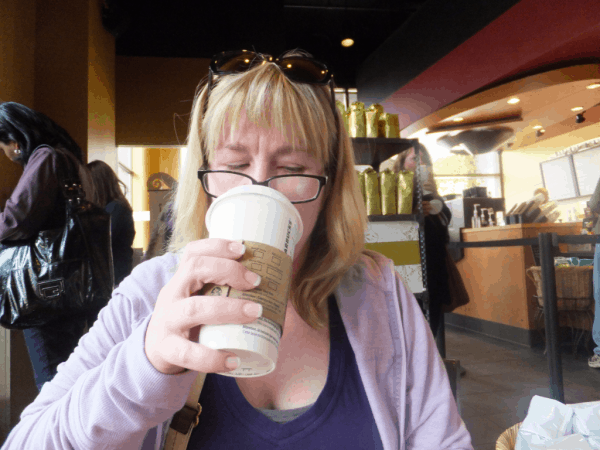 Starbucks at the Lord Elgin (Emma took this lovely photo of me)
A central location is very important to me in a hotel and the Lord Elgin scores highly in this regard.  It's location, just a couple of blocks from Parliament Hill, is ideal for walking nearly everywhere in Ottawa.  Our room was clean, comfortable and provided plenty of space for two people.  The fact that there was a Starbucks on-site was an added bonus.  I wouldn't hesitate to recommend this hotel to others and I would definitely consider it for a return visit.
What You Need To Know
The Lord Elgin Hotel is located at 100 Elgin Street in downtown Ottawa;

The hotel is entirely smoke-free;

In addition to the on-site Starbucks, breakfast, lunch and dinner are also served at Grill 41.  Room service is also available;

The hotel has a 24hr health club including a lap pool, whirlpool and sauna;

Valet parking only is available at a charge of $25 per day.
Related Links
A Stroll Around Parliament Hill in Ottawa
Searching For Tulips In Ottawa
Piccolo Grande – Gelato In Ottawa
National Arts Centre – Oscar Peterson Sculpture 
Have you liked our Facebook page yet? I post articles from the blog there as well as photo albums from our travels and other travel news. Or, if you prefer, you can subscribe to the free RSS feed or sign up for an email subscription to keep up-to-date on our travel adventures.