The Crown Fountain is an interactive art installation in Millennium Park, Chicago that will delight visitors of all ages.
Emma and I were thrilled that we recently had the opportunity to spend a few summer days wandering around Chicago.  Our last few family visits to the city have been in the winter and the cold weather prevented us from doing much exploring on foot.  During a visit over a New Year's holiday period we had stopped by Millennium Park to have a look at the Cloud Gate sculpture (better known as The Bean) but our visit was brief so we were looking forward to visiting on a warm, sunny day and spending some time discovering exactly what the park had to offer.
This post may contain affiliate links. If you click an affiliate link and make a purchase then we will receive a small commission at no additional cost to you.
On our first day in Chicago, we happened (quite by accident) upon one of the more interesting art installations that I have ever seen.  We had just finished taking photos at Cloud Gate when it started to rain so we headed for The Art Institute in a hurry.  Between the two we stopped to have a look at an interesting glass tower which had water cascading down its sides.  We paused to snap a quick photo without realizing that we were approaching the fountain from the rear.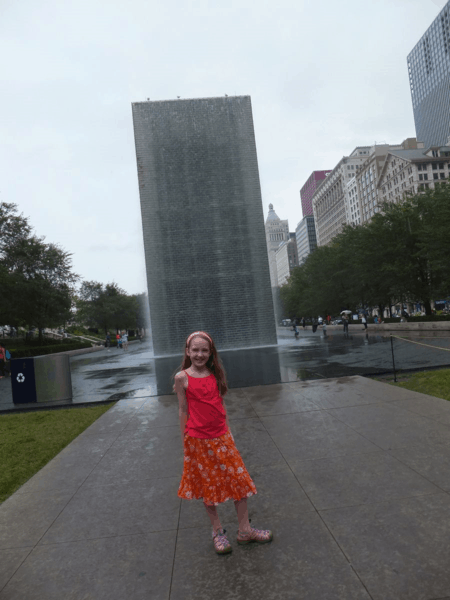 As we walked past, we realized that the image of a person was projected onto the tower and that there were actually two towers facing each other joined by a wading pool.  If it hadn't been raining then we would have lingered by the fountain but at that point we just wanted to get in out of the rain and taking shelter trumped curiosity.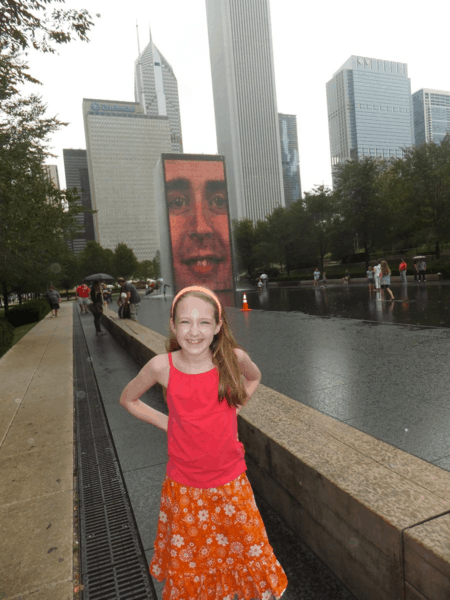 I didn't know what we had stumbled upon but later looked it up in our guide book and learned that it was the Crown Fountain, designed by Spanish artist, Jaume Plensa.  The fountain consists of a shallow granite reflecting pool (which is perfect for splashing around in) and is book-ended by two 50 foot towers made of clear glass bricks.  There are LED lights installed behind the bricks and the glass towers are used as a projection screen to display about 1000 rotating images of citizens of Chicago.  From time to time, the person on the screen purses their lips and "spits" a fountain of water to the delight of the children splashing in the pool.  This feature is intended to reference traditional fountains which have mythological creatures spouting water from their mouths.
After reading about the fountain, I knew that we had to return.  The following day we walked back to our hotel from the Shedd Aquarium via Millennium Park specifically so that we could see the fountain again.  The weather had done a complete about-face and it was hot and occasionally sunny.  Crowds of people were sitting around the wading pool and dozens of children frolicking in it in an attempt to cool off.  It's nearly impossible for Emma to walk by a fountain without getting wet so she joined the other children in the pool.  I was a bit disappointed for the first few minutes as the photo projected on the tower was a landscape image of a river winding through the woods rather than the faces that we had seen the previous day.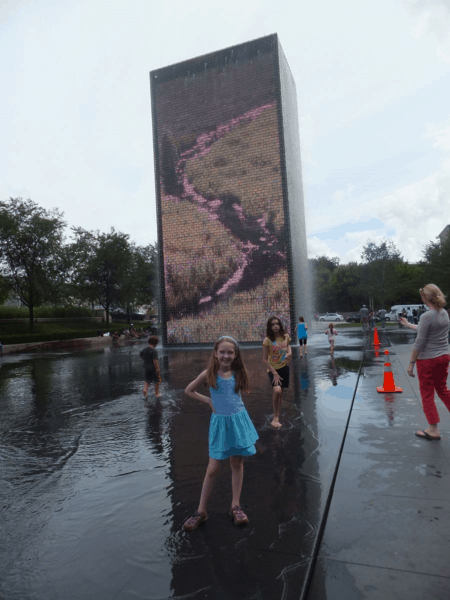 Thankfully, after several minutes the image of a woman's smiling face appeared on the tower. 
After a few more minutes, she began opening and closing her mouth and the children in the pool who clearly knew what was about to happen scrambled to get closer to her.  The image pursed her lips…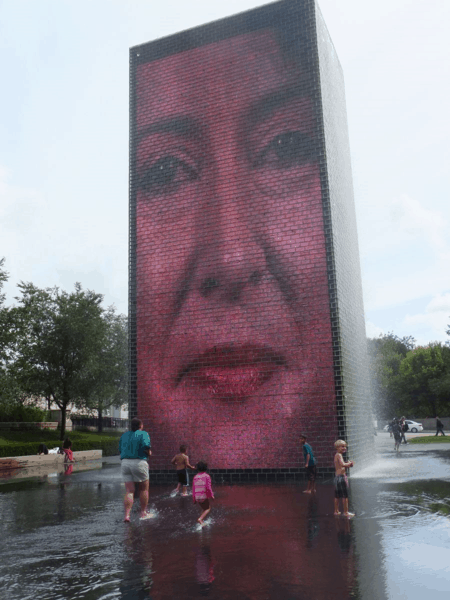 the anticipation continued to build and then she closed her eyes…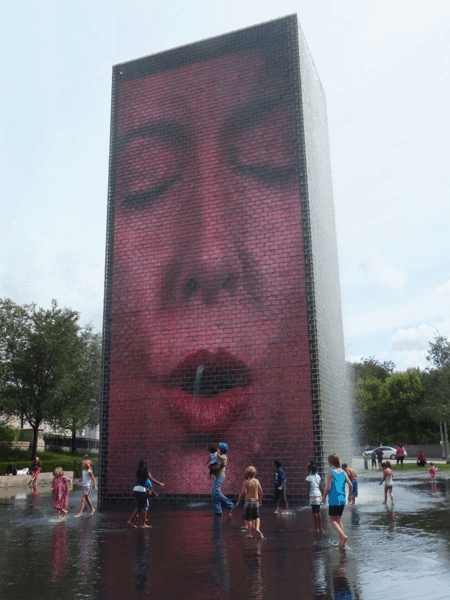 and, to the delight of the giggling children waiting below her mouth, she spits a fountain of refreshing water over their heads.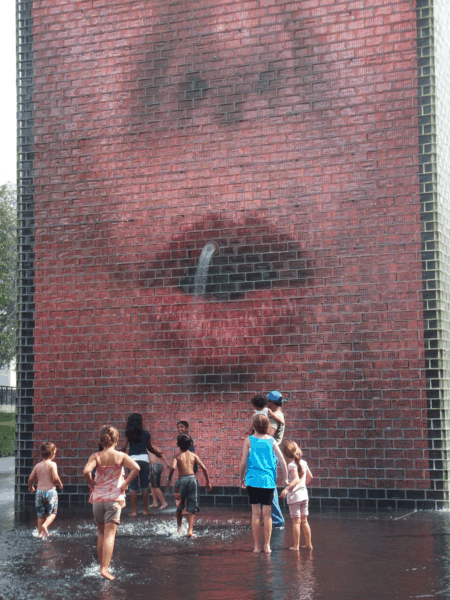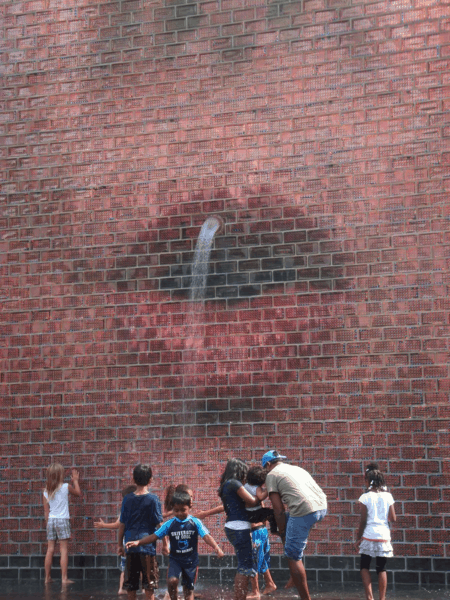 The Crown Fountain is one art installation that is guaranteed to delight visitors of all ages but consider yourself forewarned – members of your family may end up soaking wet.
What You Need To Know
Crown Fountain can be found in Chicago's Millennium Park alongside E. Randolph Street between Michigan Avenue and Columbus Avenue;
The images are projected on the towers year-round but the water feature operates only from mid-spring til mid-fall;
The attraction is FREE;
Open daily from 6am – 11pm;
Millennium Park is serviced by public transit and there are also parking garages nearby;
There are public restrooms available in Millennium Park. 
Related Articles
It's Fun to be a Girl at American Girl Place Chicago
Emma's Favourite Things: Chicago
Fairmont Chicago Millennium Park
Have you liked our Facebook page yet? I post articles from the blog there as well as photo albums from our travels and other travel news. Or, if you prefer, you can subscribe to the free RSS feed or sign up for an email subscription to keep up-to-date on our travel adventures.