Tourists flock to Parisian bridges to photograph the "love locks" that are becoming a tradition in several European cities.
On our recent trip to Paris, we saw famous landmarks such as the Eiffel Tower and the Arc de Triomphe, viewed masterpieces like the Mona Lisa and the Venus de Milo, walked the Champs Élysée and cruised the Seine but one of the sights that made the biggest impression on my kids was seeing bridges covered with padlocks.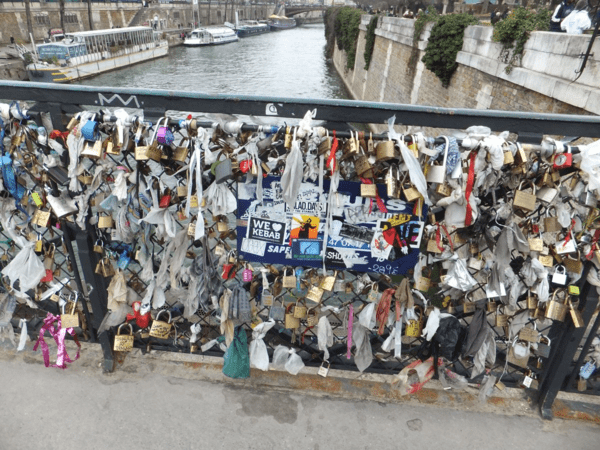 Paris is one of several European cities where these so-called "love locks" have become a tradition in the last few years.  Lovers inscribe their names on a padlock, attach the padlock to a bridge and then toss the key into the river as a symbol of their eternal love.  It seems like no one is quite certain how this tradition got started or spread but it isn't a particularly popular practice with city officials who generally see the locks as vandalism of an historic landmark rather than a romantic gesture.  From time to time the padlocks have been removed only to start reappearing again a short time later.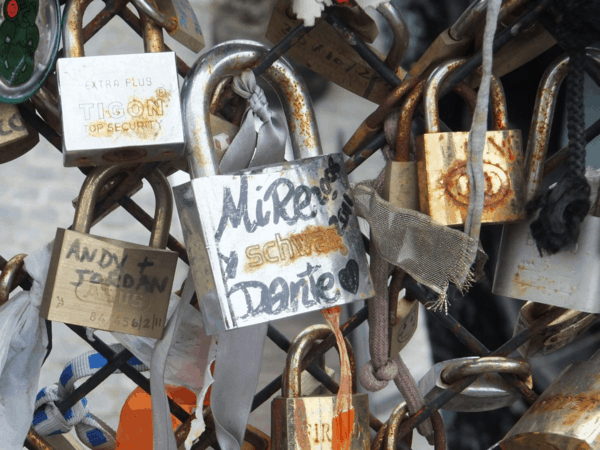 Regardless of what the city's administrators think of them, there is no denying the popularity of the locks either with the couples who are affixing them or the crowds of tourists who wander by to observe and photograph.  Our first evening in Paris, we walked to Notre Dame Cathedral and saw these locks as we crossed the Pont Archeveche.  The kids were transfixed by the sight of the locks but even more so by this interesting character who happened to also be out walking and having a look at the love locks.  It was quite the interesting start to our Parisian vacation!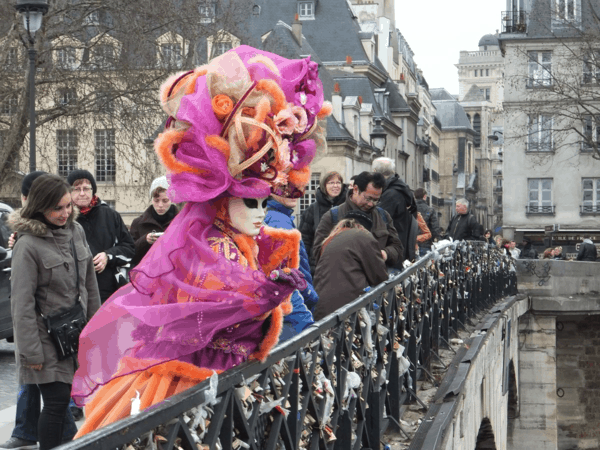 Related Links
Paris With Kids? Mais, Bien Sûr!
Enjoying A Spring Day in Paris' Jardin des Tuileries
Le Prince Régent Résidence & Spa
A D-Day Tour Of Normandy With Kids
This post may contain affiliate links which help support this site at no additional cost to you.
Have you liked our Facebook page yet? I post articles from the blog there as well as photo albums from our travels and other travel news. Or, if you prefer, you can subscribe to the free RSS feed or sign up for an email subscription to keep up-to-date on our travel adventures.