American Girl Place is always on our agenda when we visit either Chicago or New York.
Over the last 10 years or so I have visited the American Girl Place stores in Chicago and in New York numerous times with my two daughters.  It doesn't matter a bit that we are Canadian – my girls love these dolls and their stories.  Our recent girls' trip to Chicago was no exception as Emma and I spent close to three hours in the Water Tower Place store on Michigan Avenue as we browsed, shopped for a doll with assistance from one of the wonderful personal shoppers on hand and enjoyed our dinner in the lovely American Girl Café.  
You might also enjoy 11 Tips for an Unforgettable Visit to an American Girl Store
This article may contain affiliate links which help support this site at no additional cost to the consumer.
Shopping
American Girl Place is quite simply "heaven" for little girls (and "not so little" girls) who like dolls.  Upon entering the store, it's a bit overwhelming to try and decide which enticing display to look at first.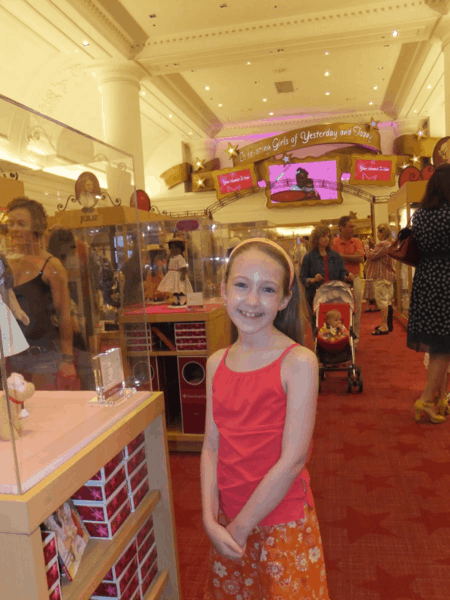 The historical doll collection has always been my personal favourite because I love the companion stories that teach history in a fun and relatable way.  Each historical doll has a set of 6 exceptionally well-written books with a strong female character that provides an excellent role model for girls today.  As each girl lived at a different time in American history, readers learn what life was like at the time while also realizing that girls their age from various points in time and varied backgrounds faced many of the same issues and wanted the same things as do girls today.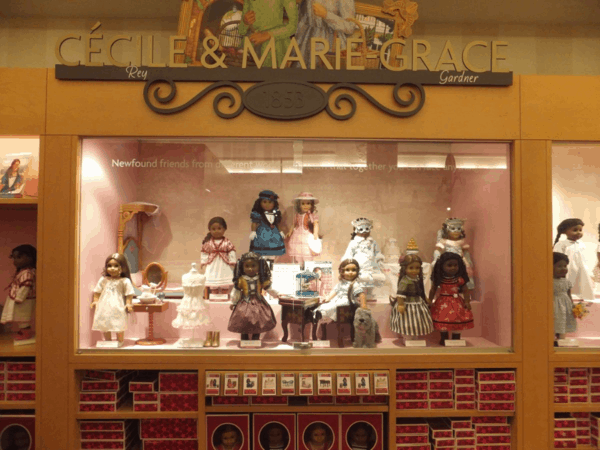 The contemporary My American Girl dolls and Girl of the Year dolls are fun and have great clothes and accessories with the added bonus that most of their outfits can also be purchased in girl sizes if your daughter would like to match her doll.  There are even Bitty Babies and Bitty Twins for younger girls.  Emma had decided long before this trip to Chicago that she wanted one of these dolls which looked just like her.  Girls are able to select a doll with the skin tone, hair colour/style, and eye colour that they want and Emma's new doll Elena is a dead ringer for her.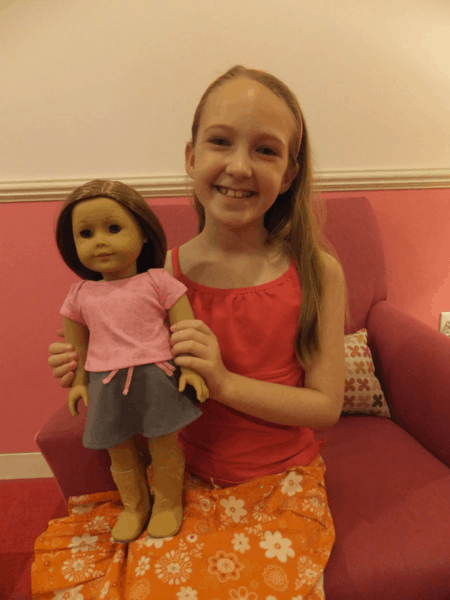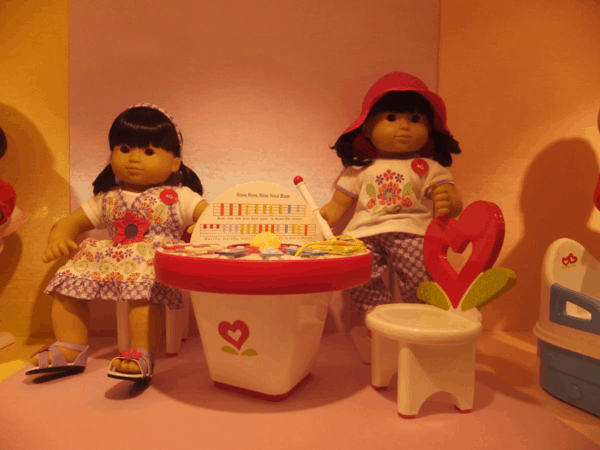 Avenue AG – This area of the store includes cute little specialty shops where girls can purchase a range of products from posters to treats or have cute little matching doll and girl t-shirts made at Creativi-Tees.  There's even a Doll Hospital for dolls who have had unfortunate accidents.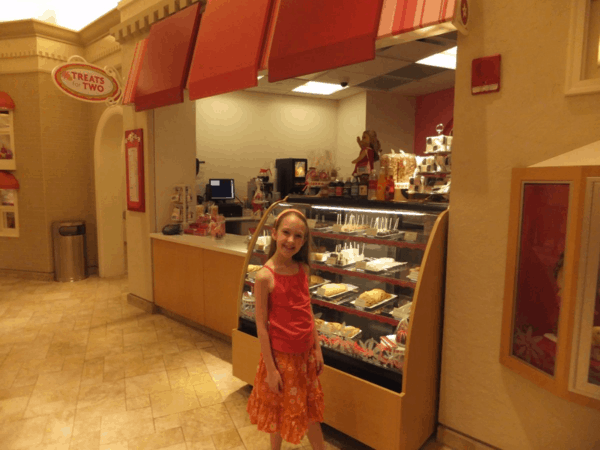 Book Store – The book store is one of our favourite places to browse the extensive collection of titles in the American Girl collection.  We quite enjoyed the bookstore's display of the AG Doll Travel set for girls and dolls who love to travel.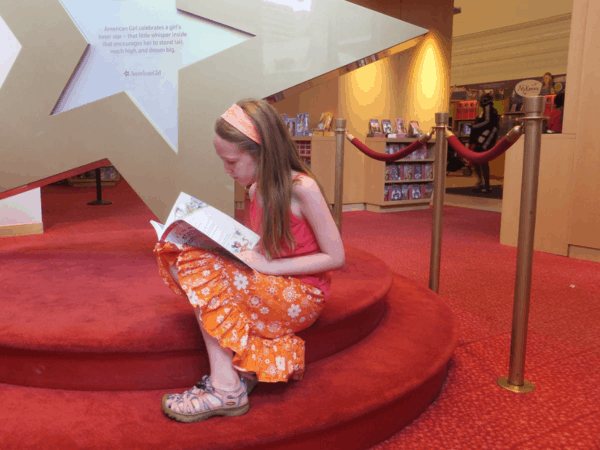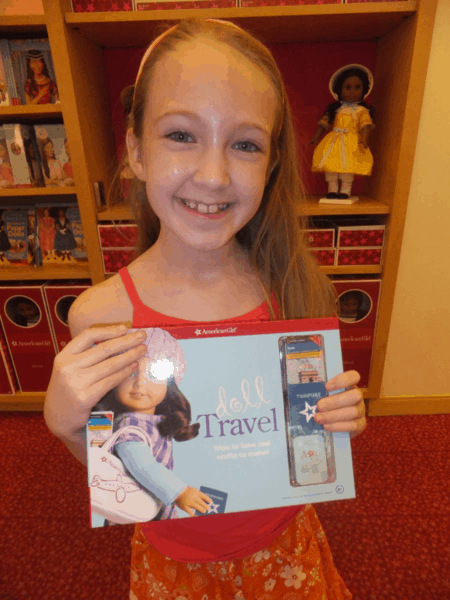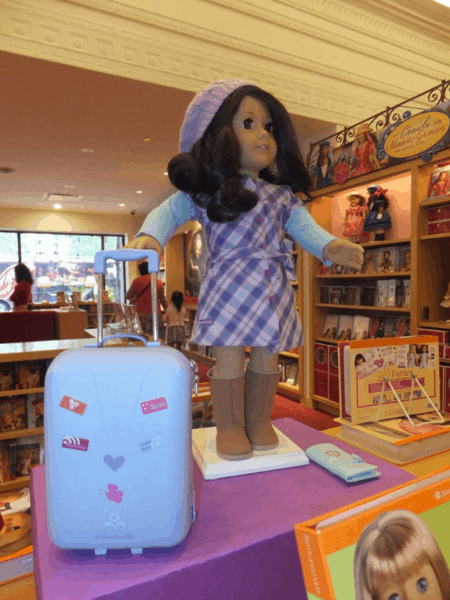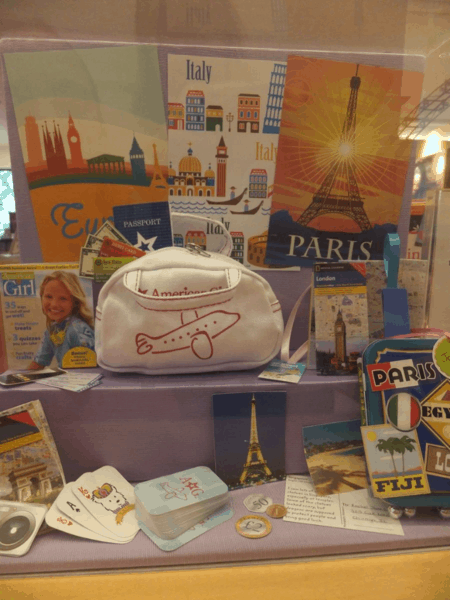 American Girl Café
American Girl Café in Chicago serves brunch, lunch, afternoon tea and dinner in a lovely setting.  Treat seats are provided so that dolls can sit at the table and a box of Table Toppers provide questions to encourage interesting discussion.  The meal starts with warm cinnamon buns, followed by an appetizer plate, main course selections and a trio of mini desserts.  My girls have insisted on eating at the café each and every time that we have visited either American Girl Place.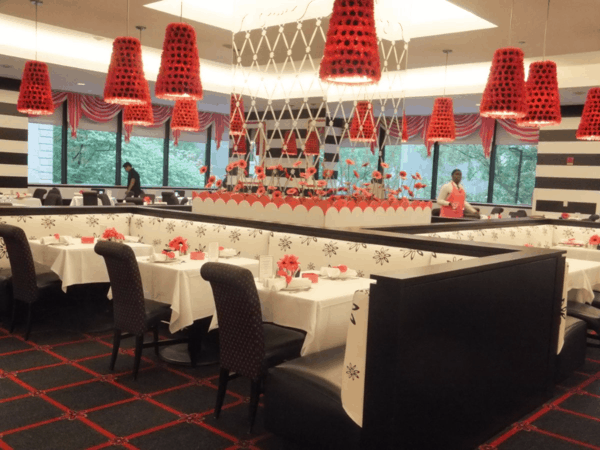 American Girl Café Chicago – ready for dinner
Doll Hair Salon
While visiting AG Place, girls may like to take their doll to the salon to have her hair styled.  We did this once several years ago with a well-loved doll who badly needed her locks taken care of.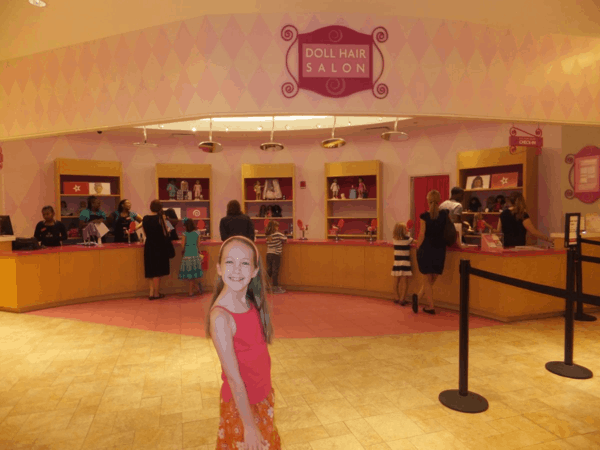 Other Activities
American Girl Place also has a Photo Studio where girls can pose with their doll and purchase a special souvenir edition of American Girl magazine which features their photo on the cover.  Each store also has a schedule of special events that are held in the store which include crafts, author readings and scavenger hunts among other activities.  There are also special packages available for birthday parties as well as "A Day at American Girl Place" and "Late Nights at American Girl Place".    
For the brothers in the family who would rather not participate in any of the girly activity taking place there is now a Lego Store in Water Tower Place conveniently located just outside the mall entrance to American Girl Place.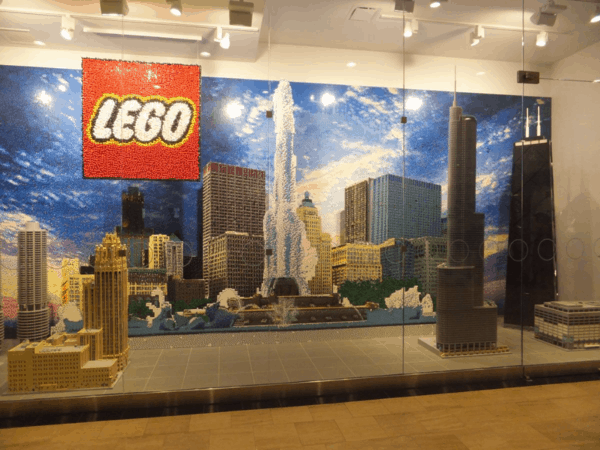 Earlier this year, I helped Katie pack up her AG collection as, at nearly 16, she no longer wanted them on display in her room and it made me feel quite nostalgic for the days when she was a little girl happily playing with her dolls.  I should have a few more years to indulge Emma but I'm fairly certain that I'm going to miss our visits to American Girl Place when she has outgrown her dolls as well.
What You Need To Know:
American Girl Place Chicago is located in Water Tower Place at 835 N. Michigan Ave.
There are American Girl stores in Atlanta; Boston; Chicago; Dallas; Denver; Houston (opening soon); Kansas City; Los Angeles; Miami (opening soon); Minneapolis; New York; Seattle; St. Louis and Washington, DC. (services available vary by location)
Reservations for dining are best made in advance and are for set seating times.  There are Cafés in Chicago, New York and Los Angeles and Bistros in Atlanta, Boston, Dallas, Houston, Miami, Minneapolis, Seattle, St. Louis and Washington, DC.  Reservations may be made either online or by telephone. 
Personal shopping assistance is available in the stores free of charge.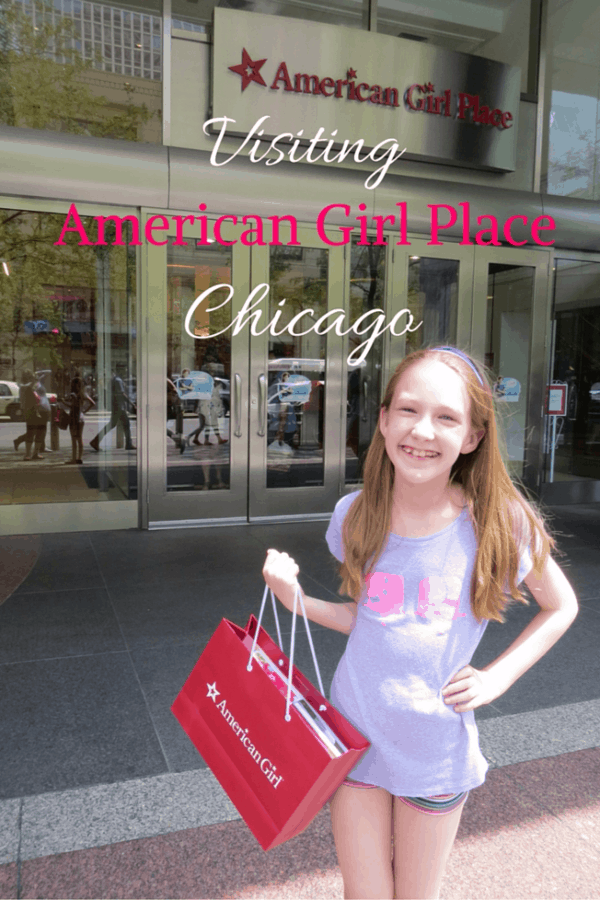 Have you liked our Facebook page yet? I post articles from the blog there as well as photo albums from our travels and other travel news. Or, if you prefer, you can subscribe to the free RSS feed or sign up for an email subscription to keep up-to-date on our travel adventures.