Families visiting Chicago shouldn't miss Millennium Park and the Cloud Gate sculpture.
Chicago is one of our family's favourite cities in the world and one of our favourite things to do there is head to Millennium Park to see the city reflected in the Cloud Gate sculpture.  It's definitely a must-see for families as I dare you to find any kid (or fun-loving adult) that doesn't love messing around with the reflections in this sculpture.
Millennium Park, located in the heart of Chicago, is a 24.5 acre urban park that opened in 2004 and has become an award-winning centre for art, music, architecture and landscape design.  The park functions as a type of town square with free cultural events like concerts and art exhibits, lush gardens to stroll in, fun activities for families and tours for visitors.  Crowds are also drawn to interactive art installations such as Cloud Gate and Crown Fountain.  It's become a great place to hang out in Chicago and millions of visitors have done just that since the opening. 
One of the best known attractions in Millennium Park is the Cloud Gate sculpture, created by British artist Anish Kapoor, which was nicknamed "The Bean" shortly after its installation in reference to its shape (much to the consternation of the artist apparently).  The skyline and the clouds above are reflected in the sculpture which is constructed from highly polished stainless steel and is intended to look like liquid mercury.  The 110 ton sculpture is 66 feet long and 33 feet high and has a 12 foot high arch that provides a gate for visitors to walk underneath the sculpture.
On our recent weekend in Chicago, Emma and I decided that our first stop should be Millennium Park to see Cloud Gate on our way to the Art Institute of Chicago.  Emma couldn't remember our previous visit very well so she was delighted with the sculpture and it's fun reflections.  We managed to take quite a few photos before it started to rain.

I'm fairly certain that this has to be one of the most popular places in Chicago for visitors to photograph as there always seems to be a large crowd of people there.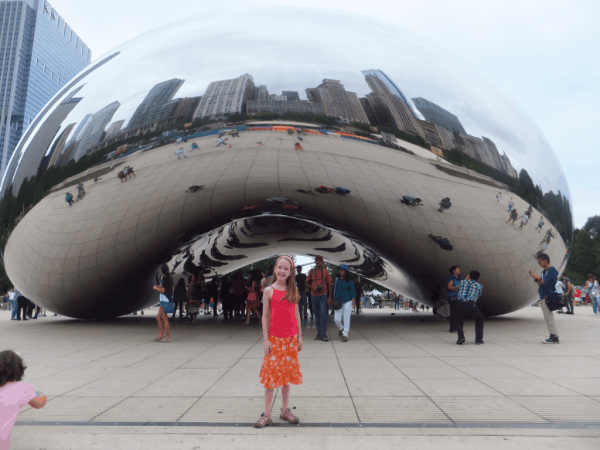 Chicago Skyline reflected in Cloud Gate
The design also means that visitors can play around and photograph themselves reflected in the sculpture.
Our second full day in Chicago was sunny and beautiful and after spending a few hours at the Shedd Aquarium we walked back to our hotel, the Fairmont Millennium Park.  It was such a hot day that we had to stop and purchase a popsicle from one of the vendors near Cloud Gate.  While we were there it seemed like a good idea to take a few more shots of the sculpture on a sunny day just to be sure that we had a good one.
We passed by Millennium Park again on Saturday morning and discovered that the crowds on the previous two days were nothing compared to the number of people that were there on a summer weekend.  We even saw a lovely young lady dressed up and celebrating her Quinceanera while being photographed with her brothers at the sculpture.
Millennium Park and the Cloud Gate sculpture should be on every family's list of things to do while visiting Chicago.  You would be hard-pressed to find another activity that is so much fun and completely free.
What You Need To Know
Cloud Gate is located in Millennium Park at 201 E. Randolph St. (between Michigan Avenue and Columbus Avenue);
Admission is free;
Millennium Park is open daily from 6am – 11pm;
The Millennium Park Welcome Center is open daily from 9am – 5pm and has maps and brochures available.  Millennium Park Greeter tours, self-guided audio tours and guided walks of Lurie Garden are all available free of charge from the Welcome Center;
A schedule of events at Millennium Park can be found here;
Dining in the park – visitors may picnic in the park, purchase food from concession stands or dine at the Park Grill Restaurant.  There are also a wide variety of restaurants in the neighbourhood;
Millennium Park has been designed to be fully accessible;
The park is easily accessible by public transport or on foot, bike racks are available and car parking is also available in the Millennium Park Garage and other nearby parking facilities.
This article may contain affiliate links which help support this site at no additional cost to the consumer.
Have you liked our Facebook page yet? I post articles from the blog there as well as photo albums from our travels and other travel news. Or, if you prefer, you can subscribe to the free RSS feed or sign up for an email subscription to keep up-to-date on our travel adventures.
Pin this for later