The Fairmont Chicago Millennium Park was ideal for a long weekend in the city for my 9 year old daughter and me.
My nine year old daughter, Emma, and I recently spent four nights at the luxurious Fairmont Millennium Park in downtown Chicago.  On previous family visits we have stayed at the Four Seasons on Michigan Avenue but I decided to stay at the recently renovated Fairmont this time as it seemed the location would suit us better.  Our flight was a bit delayed out of Toronto but from the moment we pulled up front that evening we both knew that we were going to love our long weekend at the Fairmont.
This article may contain affiliate links. If you click an affiliate link then Gone with the Family may earn a small commission at no additional cost to you.
Read reviews and check current rates for the Fairmont Chicago Millennium Park on TripAdvisor
Emma was impressed from the moment that we arrived at the hotel.  There was some construction around the front of the building and a covered walkway led from the sidewalk into the lobby.  She thought this was a "red carpet" and the doorman assured her that it was and that it had been rolled out just for her.  When we walked through the lobby and she saw all the glamorous sparkly lights she was enchanted and declared this "the best hotel ever" and that was before we had even seen our room.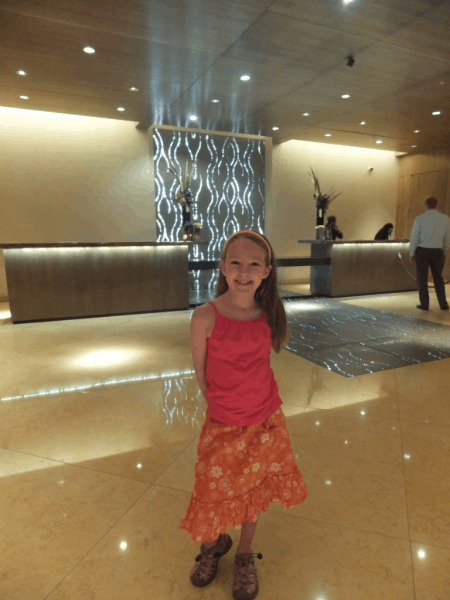 Location
The hotel is located on North Columbus Drive just a few minutes walk from both Millennium Park and from the shopping of Michigan Avenue.  This location was ideal for the two of us as we were able to walk nearly everywhere that we wanted to go.  Apart from our trips to and from the airport, we took cabs three times while we were in the city.  The first was home from American Girl Place after our first full day as it was cold, windy and rainy and we had a new doll's hairdo to protect.  We also took cabs to the Shedd Aquarium and to the Field Museum but in both instances we had a lovely walk back to the hotel after our visits were finished.  Leaving aside our first full day, we had beautiful weather while we were in Chicago and enjoyed hanging out in Millennium Park which was so near by.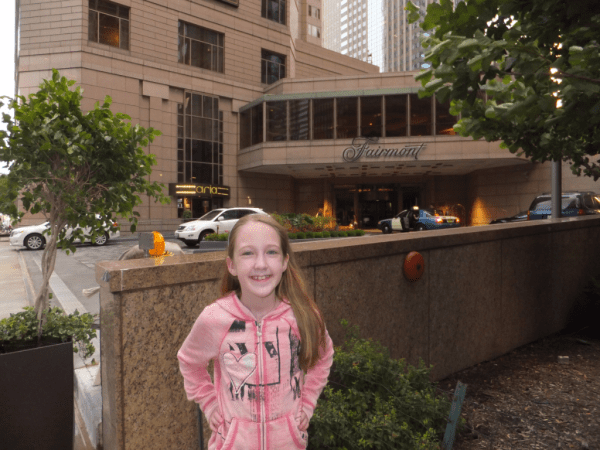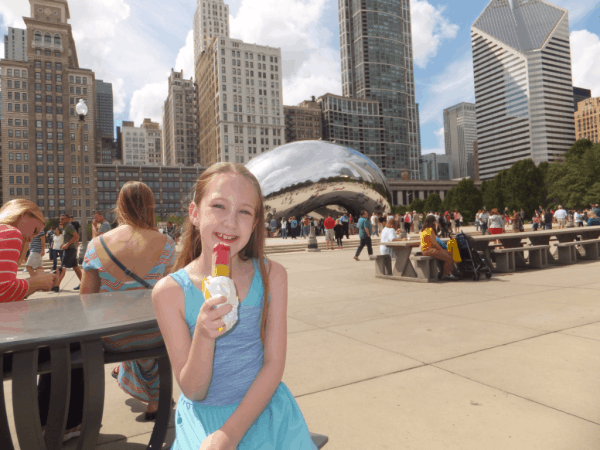 Our Room
We booked a Fairmont room with two double beds and it was lovely!  The fashionable decor was modern with a neutral colour scheme and green accents and dark wood.  From our window we could see the lake and the ferris wheel at Navy Pier.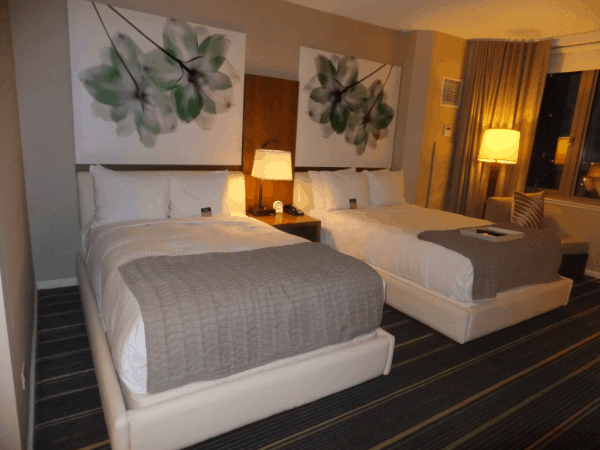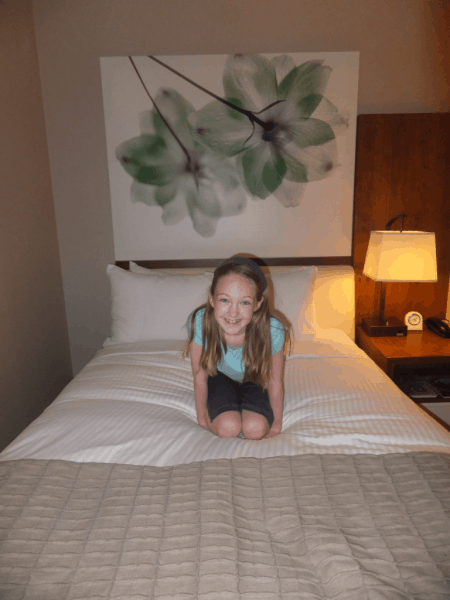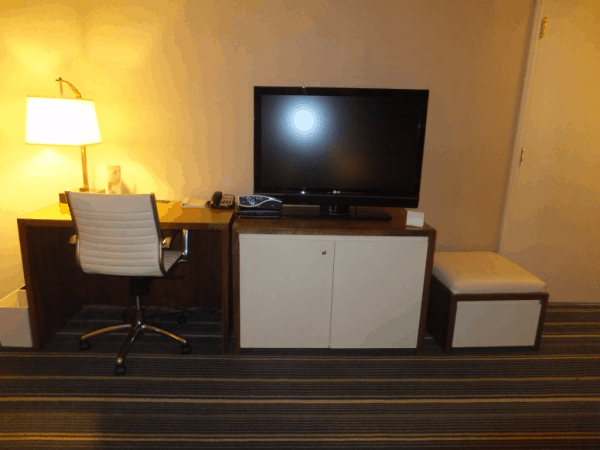 The bathroom had an over-sized tub, a fabulous walk-in shower and a water closet with doors.  There was only one sink and not a great deal of counter space but plenty of room for just the two of us.  If our family of four had been staying in this room then the bathroom counter would have become a bit of a crowded mess.  There is a separate counter outside the bathroom with a make-up mirror.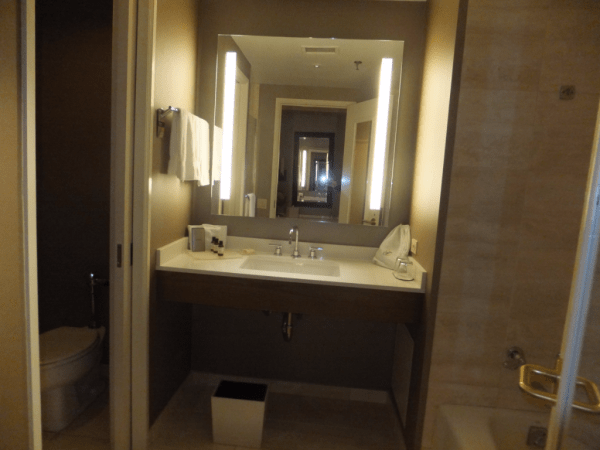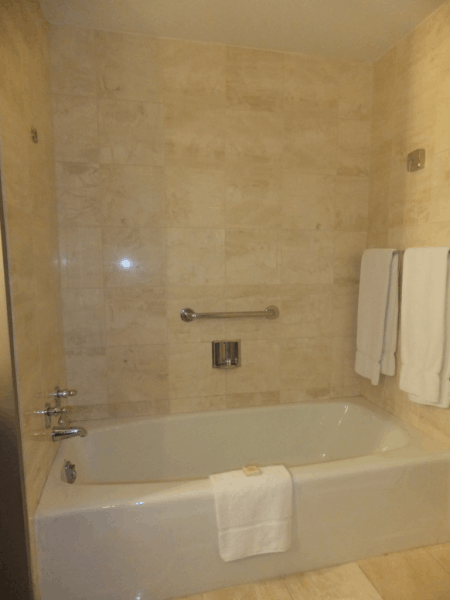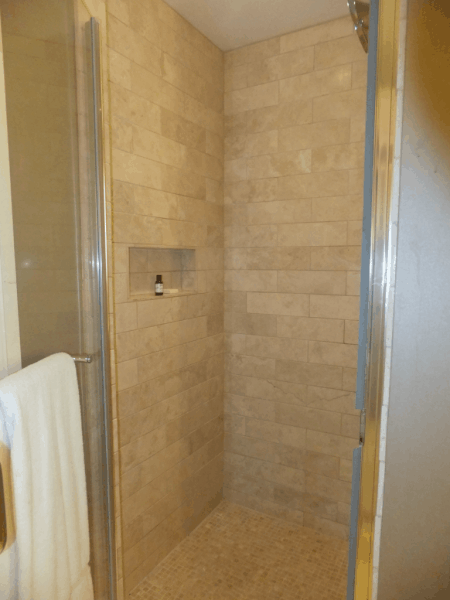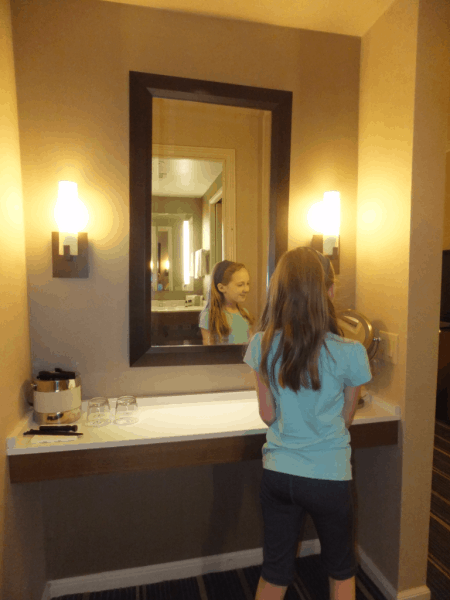 Hotel Amenities
The hotel features the "hip and trendy" aria Restaurant & Bar.  The restaurant looked amazing but we decided that we weren't either hip or trendy so we ate at nearby restaurants that seemed a bit more family friendly.  There are plenty of restaurants within a short walking distance of the hotel. 
The Spa and the Fitness Club at the Fairmont Chicago sound fantastic but I didn't have an opportunity to check them out.  The 11,000 square foot spa does offer spa treatments for teens and pre-teens and if Emma had known that then she likely would have been pleading for a manicure or pedicure.  After I had booked our stay at the Fairmont, I read that it is not a family-friendly hotel because it has no swimming pool but that didn't bother us at all.  We have a pool at home so it's not a special treat to play in one and, honestly, there is so much else to do in Chicago that I would not want to waste time hanging out at the hotel pool.
The Fairmont Chicago Millennium Park is connected on the lower level to the AON Center next door and there is a Starbucks there.  Emma and I had our breakfast and my latté there on our first two mornings, however, it is closed on the weekends so we walked up to the nearest Michigan Avenue Starbucks on Saturday and Sunday.
We availed ourselves of the Concierge services on a couple of occasions.  The concierge was very helpful and provided us with both directions and restaurant recommendations.  We were also able to purchase tickets from the concierge for Shedd Aquarium which spared us a very long wait in line.
Emma and I loved our stay at the Fairmont Chicago Millennium Park and it will be at the top of my list the next time that we visit the city.  The hotel is beautiful and luxurious, the location is ideal and the staff were welcoming and helpful – you can't get much more family-friendly than that. 

What You Need To Know
The Fairmont Chicago Millennium Park is located at 200 North Columbus Drive;
Families may book connecting rooms, cribs are available free of charge and rollaways are available for a charge of $35 per night;
The concierge will set up babysitting or childcare for guests;
The aria Restaurant and Bar features Asian cuisine; in-room dining is also available 24 hours a day;
High speed internet access is complimentary for Fairmont President's Club members (there is no charge to join and the WIFI costs $13.95 per 24 hours otherwise).
Have you liked our Facebook page yet? I post articles from the blog there as well as photo albums from our travels and other travel news. Or, if you prefer, you can subscribe to the free RSS feed or sign up for an email subscription to keep up-to-date on our travel adventures.