Phantom Manor at Disneyland Paris is similar to Haunted Mansion at Disney World but there are enough differences to make an interesting contrast.

While visiting Paris for spring break we took the train to Disneyland and had a great day checking out the unique attractions and comparing the parks to Disney World in Florida and Disneyland in California. 

One of the attractions that Katie and I enjoyed the most was Phantom Manor. It's similar to Haunted Mansion at Disney World but there are enough differences to make it interesting to contrast the two.
Read 10 Reasons to Visit Disneyland Paris on a Trip to Europe
One thing that I would say is that it may be just a bit spookier than the North American version.  European kids seem generally to be more used to dark stories given our previous experience at Junibacken, in Stockholm where Emma was terrified by a train ride through some Astrid Lindgren stories that we weren't familiar with.  Emma was also frightened by Haunted Mansion in Orlando and in Anaheim so I did not take her on this ride in Paris. 
The back story for Phantom Manor involves a doomed bride and groom living in the fictional mining town of Thunder Mesa (where Thunder Mountain is located).  On their wedding day, the groom is lured to the attic by a phantom and hangs himself while his bride waits downstairs for the ceremony to begin.  The heartbroken bride refuses to give up hope that her lover will one day appear and remains in the manor even as it becomes haunted by phantoms.
It's a story similar to the Phantom of the Opera but with a western theme tied to Thunder Mountain in Frontierland. The ride is longer (6 minutes for Phantom Manor as compared to 4:30 for Haunted Mansion) and there is definitely more time spent in the eerie cemetery.
There's a great view of the gothic looking Phantom Manor walking toward the attraction from Frontierland.  Guests walk up a pathway toward the manor and form a queue along the porch prior to entering through the front door of the house.  Guests are then ushered into the Stretching Room before being escorted to the Doom Buggies for the ride through the manor.
The graveyard outside Phantom Manor.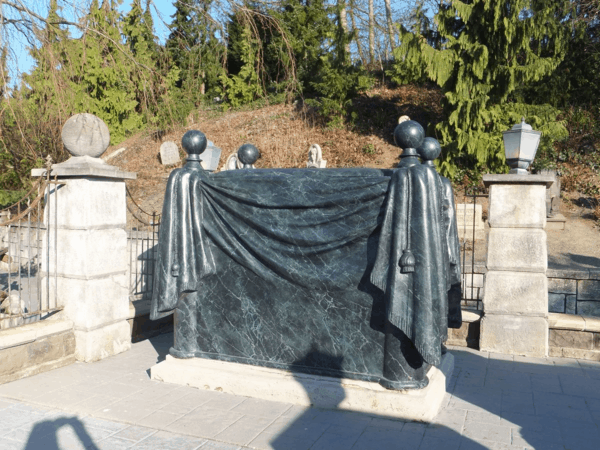 In the graveyard at Phantom Manor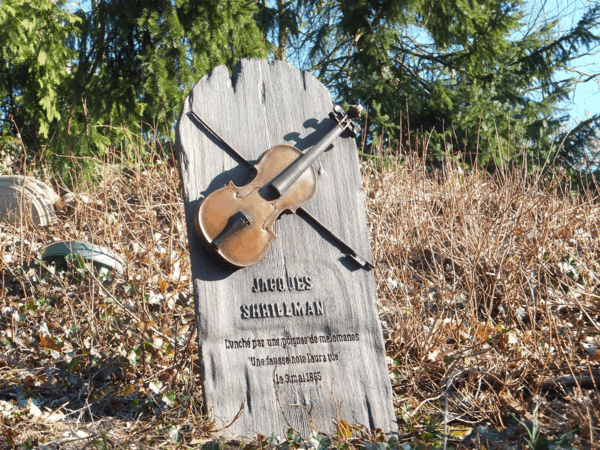 Jacques' tombstone at Phantom Manor
Related Links
Paris With Kids? Mais, Bien Sûr!
10 Reasons to Visit Disneyland Paris
10 Destinations for Spring Break in Europe
A Tribute to Storytelling at Disneyland Paris
Big Thunder Mountain at Disneyland Paris
This article may contain affiliate links which help support this site at no additional cost to you.
Have you liked our Facebook page yet? I post articles from the blog there as well as photo albums from our travels and other travel news. Or, if you prefer, you can subscribe to the free RSS feed or sign up for an email subscription  to keep up-to-date on our travel adventures.