A visit to the National Gallery of Canada in Ottawa is a fun way to introduce kids to both Canadian art and ground-breaking architecture.
The National Gallery of Canada in Ottawa was founded in the late 19th century as a place to showcase Canadian art and to preserve our nation's cultural heritage.  Today it is one of the world's most respected art institutions with a collection that includes more than 36,000 works of art. 
The gallery has been in it's present location on Sussex Drive since it was officially opened by Governor General Jeanne Sauvé in 1988.  The distinctive glass and granite building was designed by acclaimed Canadian architect Moshie Safdie and features a number of unique design elements such as panoramic views of the Ottawa River from the Great Hall, two-level galleries lit by skylights, interior courtyards with gardens and the restored Rideau Chapel.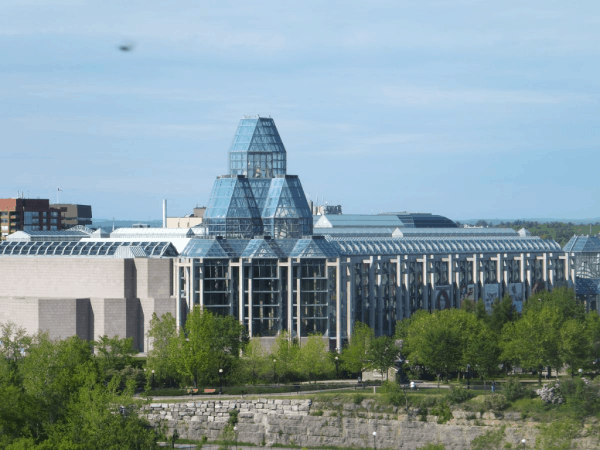 Grounds of the National Gallery
While in Ottawa for the May long weekend, Emma and I visited the National Gallery and she was immediately captivated by the sculpture outside the museum.  The 30 foot high bronze spider sculpture, Maman, by artist Louise Bourgeois was installed on the grounds of the National Gallery in 2005 and is a popular photo stop for visitors to the gallery.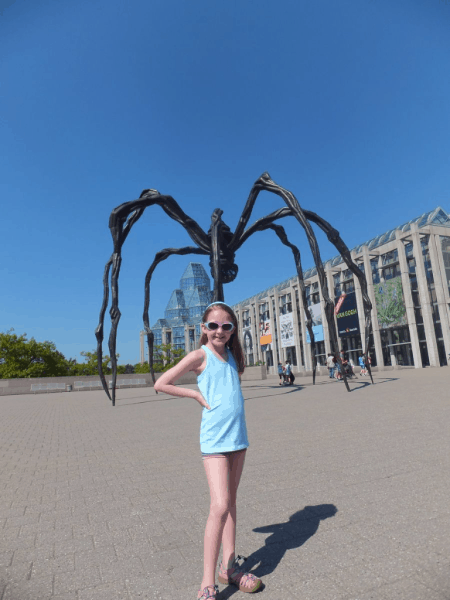 Outside the National Gallery in Ottawa
The Great Hall and Colannade
This is a gallery where it is quite likely that kids will find the public spaces to be even more fun to explore than the galleries themselves.  From the front entrance, guests ascend to the Great Hall via the ramp of the Colonnade which is surrounded by windows and skylights overhead.  The long entrance-way creates a sense of anticipation as visitors make their way toward the Great Hall where the soaring windows provide a spectacular view of Parliament Hill that is difficult to turn away from.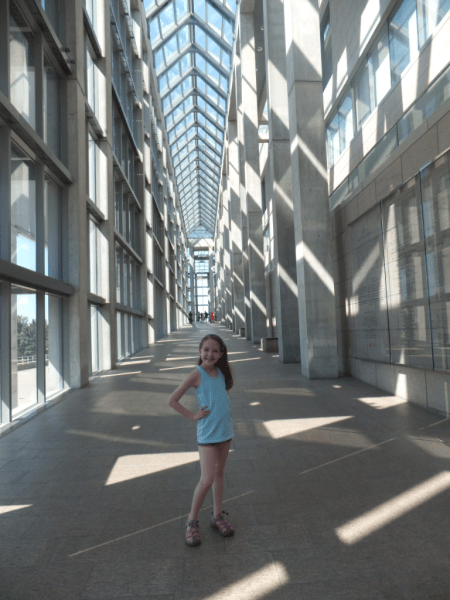 Inside National Gallery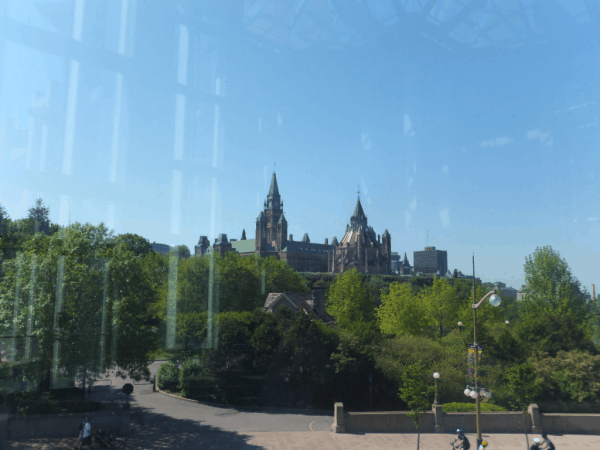 View of Parliament Hill from the Great Hall of the National Gallery
The Collections
The gallery is divided into six areas: (1) the Canadian collection; (2) the European, American and Asian galleries; (3) the Inuit galleries; (4) Contemporary Art (including video); (5) Prints, Drawings, and Photographs; and (6) Temporary Exhibitions.  Our visit was focused on the Canadian collection where we enjoyed seeing works by some of our favourite artists such as Emily Carr and the Group of Seven.  Emma was also quite interested in some of the contemporary installations, such as Andy Warhol's Brillo Soap Pads Boxes, and we enjoyed discussing what message the artist may have been trying to convey through his work.
Family Activities
The National Gallery has a number of hands-on activities for families as part of it's Artissimo program.  Families explore art in fun ways and then use their experiences as inspiration for creating art.  The program is included in Gallery admission and is for children age 3 and up accompanied by an adult.  More information can be found on the Gallery's website.  Teens can pick up free self-guides called That's Art?! and find out what artists and art experts have to say about some of the works of art in the collection.
Emma and I happened to visit on International Museum Day and were pleasantly surprised to learn that admission was free for all visitors.  We spent an hour or so browsing the collections and the bookstore before heading to Byward Market.  We were disappointed that we were going to miss the Van Gogh exhibit which was opening a few days after our visit but had fun checking out the related merchandise in the Bookstore.
I wish that I had more photos to share but photography is forbidden (apart from the Great Hall and the entrance) and this policy is strictly enforced.  I was even cautioned that pictures could not be taken in the interior courtyards – the reasoning for that escapes me.  Emma and I thoroughly enjoyed the National Gallery which is the ideal size for a family visit and the perfect place to introduce kids to Canadian art and to some ground-breaking architecture. 
Update August 2017: The National Gallery is no longer preventing visitors from using hand-held devices to take photographs in the national collection galleries and public spaces for personal use only, except where indicated. Flash photography and tripods are not permitted.
What You Need To Know
The National Gallery is located at 380 Sussex Drive in Ottawa (within walking distance of Parliament Hill and Byward Market);
The gallery is closed on Mondays with the exception of certain holidays, hours vary by season and should be confirmed here;
Admission prices may be confirmed here.  Admission is free every Thursday evening from 5-8pm and on a few special days of the year;
The gallery has a number of audio tours available including a Children's Audio Tour – the audio guides cost $6;
The gallery offers Tours  for a small fee – space is limited so visitors must register ahead of time;

The gallery is accessible by public transport;
Underground parking is available for a fee, there is also some parking available on adjacent streets;
The gallery is wheelchair accessible – strollers and wheelchairs may be borrowed free of charge at the Foyer Information Desk;
Café L'Entrée serves lunch/afternoon tea and reservations are recommended.  Cafétéria des Beaux Arts has self-service dining with a beautiful view of Parliament Hill;
The Bookstore carries an extensive range of art-related products.
Related Links
Piccolo Grande Gelato in Ottawa
Searching for Tulips in Ottawa
A Stroll Around Parliament Hill in Ottawa
National Arts Centre – Oscar Peterson Sculpture
The Canadian Museum of Civilization
9 Tips For Taking Kids to an Art Museum

Have you liked our Facebook page yet? I post articles from the blog there as well as photo albums from our travels and other travel news. Or, if you prefer, you can subscribe to the free RSS feed or sign up for an email subscription to keep up-to-date on our travel adventures.
Pin this for later