Ultimate Dinosaurs at the Royal Ontario Museum in Toronto is a fun, engaging and educational exhibition for everyone.
One of our family's favourite attractions in Toronto is the Royal Ontario Museum (The "ROM").  The ROM is one of the world's leading museums of natural history and of world cultures and has many engaging permanent exhibits as well as fantastic temporary exhibitions.  My 9 year old daughter, Emma, and I recently paid a visit to the ROM as we were keen to check out the world premier of the Ultimate Dinosaurs Exhibition.  Neither of us are particularly interested in dinosaurs but I had heard so much about this exhibition that I thought we should see it for ourselves.
Ultimate Dinosaurs: Giants from Gondwana is a limited time exhibition which is having its world premier at the ROM.  The exhibits use digital technologies to create an interactive experience which brings the dinosaurs to life through Augmented Reality. The exhibition promises: "an extraordinary opportunity to experience dinosaurs you've never seen before, in ways you've never imagined".  This is the largest dinosaur exhibition in the ROM's history and the largest exhibition of southern dinosaurs ever mounted in North America.  The exhibit includes the largest dinosaur ever mounted in Canada – so large that it had to be put on display in the ROM's lobby.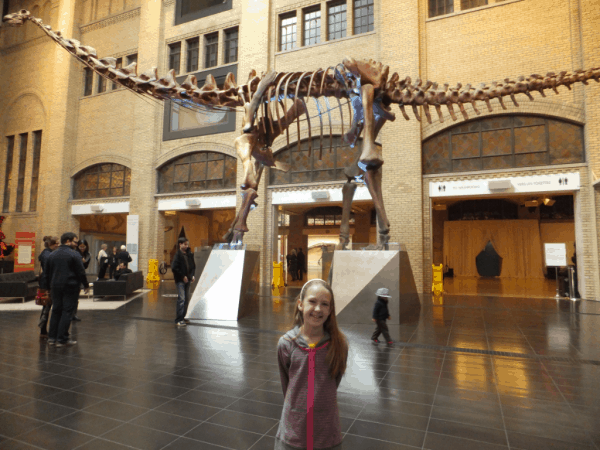 The lobby dinosaur at the ROM – Futalognkosaurus
Gondwana was the prehistoric supercontinent comprising the landmasses of Africa, South America, Australia, Antarctica, India and Madagascar.  It was formed when the giant supercontinent Pangaea broke in two about 150 million years ago and lasted for about 50 million years until it broke into individual continents.  The dinosaurs of this southern hemisphere continent evolved differently than those in the northern hemisphere which most of us are more familiar with.
The exhibition begins with a section that introduces the concept of plate tectonics and Darwin's theories of evolution and natural selection.  The exhibition explains how continental drift affected the evolution of dinosaurs as one super continent split into two and then into several separate land masses.
The exhibition features a number of interactive experiences such as walls that use body-scanning technology to react to the approach of visitors and iPad stations that allow users to play interactive games.
There are also real fossils on display that visitors are allowed to touch.
One of the coolest things about this exhibition are the three Augmented Reality ("AR") stations which allow visitors to experience dinosaurs in unique ways such as fleshing-out a skeleton to see what it would have looked like when living.  What I didn't know beforehand was that if you have an iPhone or iPad then the ROM Ultimate Dinosaurs app could have been downloaded and used at the AR stations as opposed to waiting a turn to use the iPads provided in the exhibition.  If we would have had our own iPad with us then we would have played in this area much longer.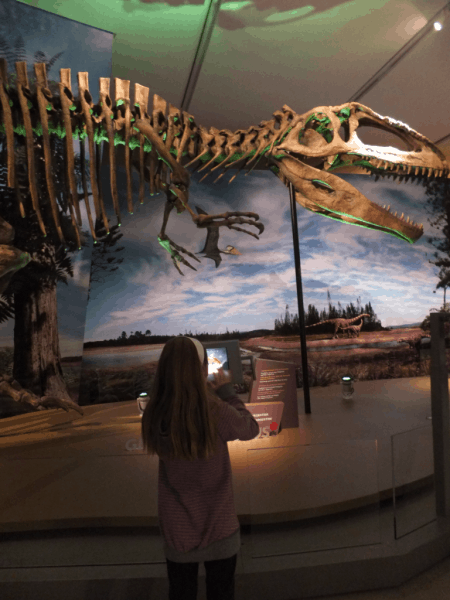 Ultimate Dinosaurs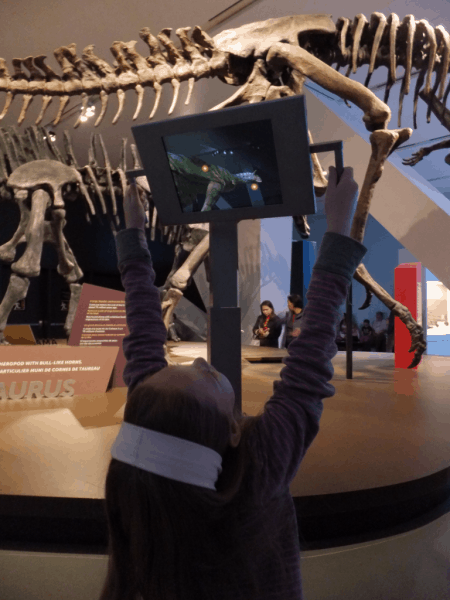 Ultimate Dinosaurs – Augmented Reality
Outside the exit to the exhibition there is, of course, an opportunity to shop for a wide range of dinosaur-themed merchandise.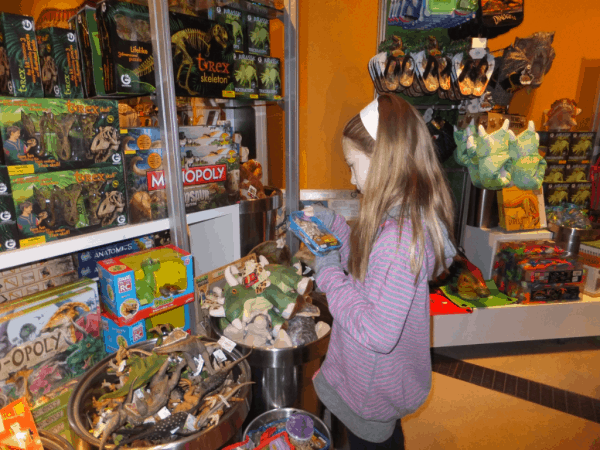 Shopping for dinosaurs at the ROM
Ultimate Dinosaurs is a fascinating exhibit – even for visitors who aren't dinosaur enthusiasts.  The interactive displays and Augmented Reality stations are fun, engaging and educational for visitors of any age or knowledge level.  Dinosaur fans should definitely make a point of taking in this exhibit while it is at the ROM though as they are sure to be blown away by the displays.  
What You Need To Know
The ROM is located at 100 Queen's Park (corner of Bloor and Queen's Park) in Toronto;
There are several paid parking lots within walking distance of the museum and it is also accessible by public transportation (both subway and bus);
The museum is open every day of the week throughout the year including public holidays with the exception of December 25th;
The ROM opens at 10am each day and closes at 5:30pm with the exception of Friday when it closes at 6:30pm;
Lower pricing is available on ROM Fridays beginning at 3:30pm (4:30pm after November 30, 2012);
Regular admission to the ROM is $15 for adults, $13.50 for students 15-25 with a student ID card, $12 for children 4-14, children under 3 are admitted free;
The Ultimate Dinosaur Exhibition is free to members.  With General Admission for non-members it costs $10 for adults and $5 for children aged 4-14;
Ultimate Dinosaurs is a timed entry exhibition – the ROM strongly advises visitors to purchase tickets online in advance as space is limited;
Toronto City Pass provides discounted admission to Toronto's 5 Best Attractions – CN Tower, Casa Loma, Royal Ontario Museum, Ontario Science Centre, and the Toronto Zoo.  If you plan to see all five then the pass will save money on admissions and allow the passholder to skip ticket lines.
Related Links
9 Tips for Taking Kids to an Art Museum

Have you liked our Facebook page yet? I post articles from the blog there as well as photo albums from our travels and other travel news. Or, if you prefer, you can subscribe to the free RSS feed or sign up for an email subscription to keep up-to-date on our travel adventures.