Terra Nova Resort & Golf Community in Port Blandford, Newfoundland is an excellent choice for families looking for accommodations in the Terra Nova National Park region.
During part of our week in Newfoundland this past summer, our family of four spent 3 nights at the Terra Nova Resort located on the outskirts of Terra Nova National Park.  The resort is in Port Blandford which is just over a 2 hour drive from  St. John's and provided the perfect home base to explore beyond the capital city.
This post may contain affiliate links which help support the site at no additional cost to the consumer. 
Read reviews and check current rates for the Terra Nova Resort & Golf Community on TripAdvisor
The Terra Nova Resort & Golf Community is a 220 acre oceanfront property with a wide variety of accommodations available including 80 rooms and suites along with several fully-furnished 2 and 3 bedroom chalets.  The rooms and suites are located in the main building of the resort and the privately-owned chalets are in the separate development, Terra Nova Golf Estates, a short walk or even shorter drive away.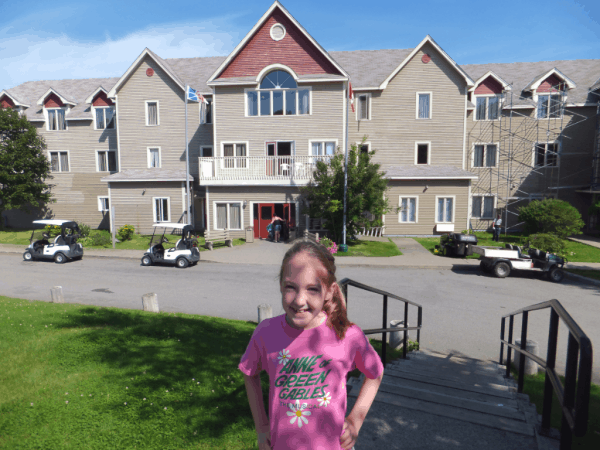 Terra Nova Resort Main Building
Location of the Resort
The resort is located in Port Blandford on the east coast of Newfoundland and Labrador and just over a two hour drive from the city of St. John's.  It is about 2 kilometres from the eastern entrance to Terra Nova National Park which has more than 100km of hiking trails ranging from half-hour strolls to strenuous multi-day hikes.  We chose to stay at this resort so that we would have the opportunity to explore another area of the province aside from St. John's and the Avalon Peninsula.  The location is convenient for a day trip to both Trinity and Bonavista.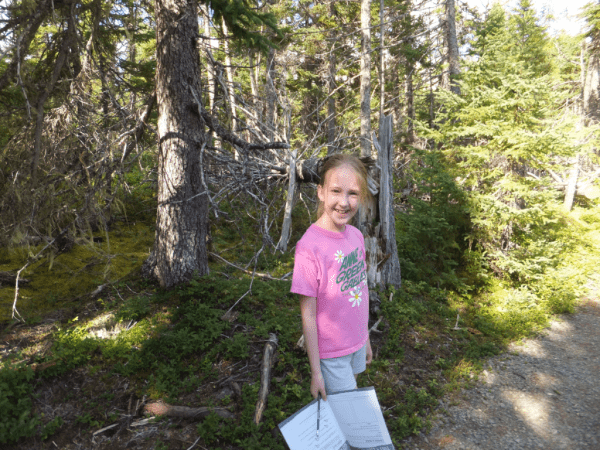 A short hike in Terra Nova National Park
Resort Accommodations
We booked at 2 bedroom luxury chalet which was ideal as family accommodations.  The chalet was clean, spacious and nicely decorated and furnished with hardwood floors in the bedrooms and living area and ceramic tiles in the bathrooms and kitchen.  The chalet even had a patio at the back with a BBQ (that we didn't get the chance to use) and a grassy area that was perfect for running and playing.     
The main living area of our chalet had a full kitchen with a refrigerator, stove, microwave and dishwasher.  The kitchen is fully equipped with everything that guests could need for meal preparation – dishes, flatware, utensils and pots and pans.  We chose, however, to eat dinner at the resort's restaurants – primarily because I like to have a break from cooking when we are on vacation.  The kitchen is furnished with barstools at the counter and also a dining table which seats 4.
The family room was furnished with a comfortable large leather sofa and leather love seat, an additional armchair, a gas fireplace, and a flat screen LCD television with satellite and a DVD player.
The Master Bedroom and Ensuite was furnished with a queen-sized bed and a wardrobe and dresser.  The ensuite was huge with a separate shower and a jacuzzi tub.  
Katie and Emma shared the second bedroom which had two double beds and its own ensuite bathroom with a tub/shower combination.
The chalet also had a separate laundry room with a washer and dryer and detergent and other supplies were provided.
Resort Amenities
Dining is available in the resort's main building in either the Clode Sound Dining Room where breakfast and dinner are served or in the more casual Mulligan's Pub & Eatery.  We dined at Clode Sound the first two nights of our stay and were very impressed.  The menu is limited but the food is delicious.  I had Salmon with White Bean Cassoulet the first evening and a Seafood & Veggie Strudel the second which were both incredibly good.  Emma had carrot cake for dessert both nights and she pronounced it to be the "best ever".  Our final night we ate at Mulligan's as the dining room was closed for a private event and had a great feed of fish and chips.
Other amenities that the resort has include: a heated outdoor pool with retractable enclosure for year round enjoyment, a sauna, hot tub, steam room and fitness facilities.  There is also a children's playground and tennis and basketball courts.  Guests of the resort also enjoy access to a sandy beach.  Of course,  golf is a priority at this resort and they boast an award-winning 18 hole golf course as well as a more relaxing 9 hole course.
The resort has complimentary high speed wireless internet access available in the main building in both the rooms and suites and in the public areas.  WIFI may or may not be available in chalets depending on whether the owner provides it.  Our chalet did not have WIFI available which meant that we had to go to the main building in order to get online.  This was a bit inconvenient and meant that we had one very frustrated teenager.  If I had known ahead of time that all chalets did not have internet access then I would have specifically requested one that did – WIFI is that important to us! The resort provides complimentary local calls, however, this is also dependent on what is provided by individual owners if a chalet has been booked.  Our chalet, for example, did not have a phone installed so we had to rely on our cellphones.
The Terra Nova Resort & Golf Community is an excellent choice for families regardless of whether or not golf is on the agenda.  The location is excellent for exploring Terra Nova National Park and for day trips in the region.  Spacious, comfortable home-away-from-home style accommodations also make it easy for families to enjoy their vacation without tripping over one another in a small hotel room. 
Related Links
A Closer Look at Puffins in Elliston, Newfoundland
Standing on the Edge of North America at Cape Spear
A Picnic at Ferryland Lighthouse
Courtyard by Marriott in St. John's, Newfoundland
Visiting Newfoundland's Witless Bay Ecological Reserve