A review of Have Mother, Will Travel.
I have just finished reading Have Mother, Will Travel by Claire and Mia Fontaine as part of a TLC Book Tour and I can say without reservation that it is one of the most enjoyable and moving travel memoirs that I have read in quite some time.
Traveling along with Claire and Mia as they experienced new places appealed to the traveler in me but I think it was witnessing the transformation in the two women and their relationship as they got to know each other and themselves better that made the book impossible to put down.
Claire and Mia are the bestselling authors of the memoir, Come Back, which told the story of a teenage Mia's drug addiction and Claire's attempts to bring her back from the brink of self-destruction. 
The adventures chronicled in this latest book begin a decade later when Claire (embarking on a mid-life questioning of what she intends to do with the rest of her life) calls Mia out of the blue and suggests that the two of the them take part in a Global Scavenger Hunt that would involve visiting multiple countries over the course of twenty-four days in order to raise money for charity. 
Claire also announces that following the scavenger hunt she plans to spend the summer in Avignon, France and Mia ultimately decides to quit her job and accompany her mother for the duration of the trip.
Claire states early in the memoir that "[t]ravel empties out everything you've put into the box called your life, all the things you accumulate to tell yourself who you are". As readers, we realize that this describes precisely why both of these women needed to embark on an extensive period of travel at that particular time in their lives – to empty out that box and start afresh with different notions of who they are and who they would like to be.
The memoir is divided into two sections: Hunting chronicles the adventures of the duo on their international scavenger hunt while Gathering details the summer spent living in Avignon.
While participating in the Global Scavenger Hunt, Claire and Mia travel to China, Malaysia, Nepal, Cairo, Greece, and the Balkans where they are required to quickly immerse themselves in local culture in order to find the scavenges that they need. This part of the book will stoke the wanderlust of the armchair traveler who can daydream about visiting these far flung countries while reading about Claire and Mia's adventures and mishaps.
I suffered from just a bit of passport envy as they globe-trotted their way through several countries that are high on my travel wish list. 
During the second stage of their adventure, mother and daughter settle into a small studio flat in the medieval city of Avignon where they soak up French culture while contemplating how to go about leading intentional lives.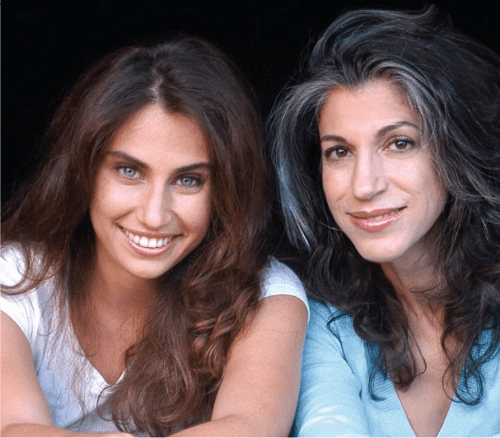 One of my favourite aspects of this book is that it alternates between the voices of Claire and Mia, allowing the reader access to both the mother's and the daughter's perspective on the same events.
I could probably relate most to Claire's thoughts and insights about her role as a mother but I loved having access to Mia's thoughts as well (primarily because it was a bit like having a peek into the mind of my teenage daughter).
Many of Claire's insights on travel and mothering resonated with me and I would find myself thinking "yes, that's exactly how I feel" and reading the lines over again to savour them just a bit. 
This memoir provides readers with an honest, funny and compelling look at Claire and Mia's relationship and from that one relationship extrapolates what it means to be a mother in our society and the inherent complications of the mother/daughter relationship.
While Claire contemplates what she will do with her life now that her daughter is grown, she also considers issues like how we raise our daughters and what we are teaching them through our words and deeds and whether there are differences across cultures.
Claire notes that "you can spot a mother and daughter a mile away even if you don't understand a word" because of the way that they interact. Much of the book revolves around the significance of this central relationship in a woman's life and these issues will appeal to women of any age but particularly to those who are approaching Claire's stage in life and considering their own relationships with their mother and daughters.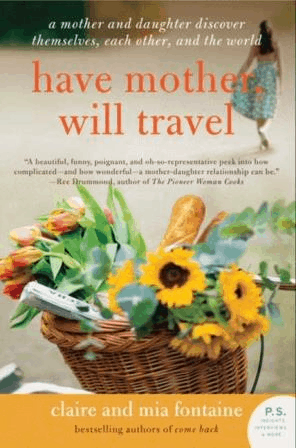 Have Mother, Will Travel is a book that I know I will be recommending to many people for many reasons. I loved both the travel aspect of it (especially the time spent in my beloved Provence) and I loved the examination of the relationship between this mother and daughter specifically and the mother/daughter relationship in general.
I laughed, I cried and I grew very attached to both Mia and Claire as I read their story and witnessed them growing closer through the process of learning more about each other and themselves. A good read for me is a book that makes me care deeply about the characters and this is one that I did not want to see end for that very reason. It is to be hoped that neither of the Fontaines are finished writing about their lives because I'm looking forward to reading the next installment in their story.
More information about the authors is available on their website and Facebook page including photos from the trip, a list of lessons learned, tips for mother/daughter trips etc.
We are a participant in the Amazon Services LLC Associates Program, an affiliate advertising program designed to provide a means for us to earn fees by linking to Amazon.com and affiliated sites. As an Amazon affiliate I earn from qualifying purchases.
TLC Book Tours is a service providing online virtual book tours to authors. I was provided a copy of Have Mother, Will Travel by TLC for review purposes. If you wish to follow along on the book tour then you can find a list of reviews on the TLC website.