A review of Las Vegas: An Indie Travel Guide
I must confess that I had never read an eBook of any sort before reviewing Las Vegas: An Indie Travel Guide. I like to think of myself as a traditionalist who prefers flipping through a well-worn copy of a novel or travel guide to scrolling through information on a screen so I have resisted any and all suggestions that I try an eReader. Given my underlying bias against electronic reading material, I was quite surprised at just how much I enjoyed reading this guidebook for Las Vegas.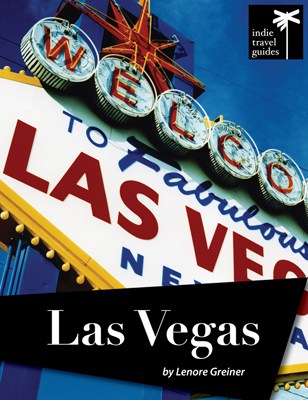 There were several things that I liked about Indie Travel's eGuide to Las Vegas – the organization, the content and especially the portability and the hyperlinking.
1. Organization
Unlike a traditional guidebook, the Indie Travel Guide is organized so that readers can review the information either by theme or by neighbourhood.
The guide has listings for places to sleep, drink, eat and play and all can be found in the guide twice. For example, a reader searching for restaurants can look through the Food and Drink section or browse the Neighbourhood to narrow down the available choices.
The cross-referencing works seamlessly in this digital format whereas it would be much more cumbersome in a printed book.
2. Content
There is a wealth of information in this guidebook – everything from the history of Las Vegas, practicalities (such as currency and weather), things to do, festivals and events, accommodations, restaurants and day trips.
There are more than 100 pages of information about Las Vegas covering everything that you could possibly need to know to plan your stay.
Up-to-date information about listings is also available on the website between editions and readers may even submit questions – not very many traditional guidebooks provide that option.
Estimates for low, medium and high budgets are also provided to indicate the amount per day that a visitor should expect to spend while in Vegas.
3. Portability
I imagine that travelers who carry a computer, iPad or eReader with them find an electronic guide much easier to travel with than a traditional guidebook as it takes up no extra space and weighs nothing. I can definitely see the appeal to this especially for those who travel much lighter than I generally do.  
4. Hyperlinks
The one thing that I loved the most about this guide was the hyper links to websites of hotels, restaurants and attractions. Having links embedded in the book facilitates trip planning to an extent that I never would have imagined.
When the guide refers to a hotel, restaurant or an attraction there is a link included and readers can click the hyperlink to open the website in another window making it easy to review accommodations, dining choices and attractions at the same time. I found it quite convenient to navigate back and forth between the guidebook and various websites continuously as I browsed the book.
I didn't think that I would ever consider leaving behind my trusty guidebook to travel with an electronic version but after reviewing Las Vegas: An Indie Travel Guide, I can definitely see the advantages both of eGuides in general and of this guide in particular. If there is a trip to Las Vegas in your future, then consider this eGuidebook as it is an excellent resource during the trip planning stages and would also be a handy reference to consult while visiting Las Vegas.
Las Vegas: An Indie Travel Guide is written by travel blogger Lenore Grenier and published by Indie Travel Media Ltd. The e-Guide is available from Indie Travel Guides as a PDF download for PC, Mac, iOS, Android and Kindle with free updates to other digital formats as they are released.
We are a participant in the Amazon Services LLC Associates Program, an affiliate advertising program designed to provide a means for us to earn fees by linking to Amazon.com and affiliated sites. As an Amazon affiliate I earn from qualifying purchases.

I was provided with a copy of Las Vegas: An Indie Travel Guide for review purposes.
Related Articles
A Family Holiday at the Four Seasons Las Vegas
Photo Memories from the Grand Canyon