A review of Citadines Prestige Trafalgar Square in London.
Families looking for a home base during a visit to London will be quite pleased with the Citadines Prestige Trafalgar Square. Citadines is an apart'hotel chain that offers serviced accommodation in over 30 cities in Europe and Asia and has several locations in various London neighbourhoods. We chose the Trafalgar Square property for our 9 night stay in August and were thrilled with our accommodations.
This post may contain affiliate links. If you click an affiliate link and make a purchase then we receive a small commission at no additional cost to you.
We were traveling to London as a group of five as our family of 4 was joined by my 16 year-old daughter's friend. Hotel accommodations for a family of this size are always more difficult to find in Europe than they are in North America so we knew that we would need to either rent an apartment or find an apartment-style hotel. We opted for the Citadines apart'hotel option because of the hotel amenities included and because of the cancellation policy.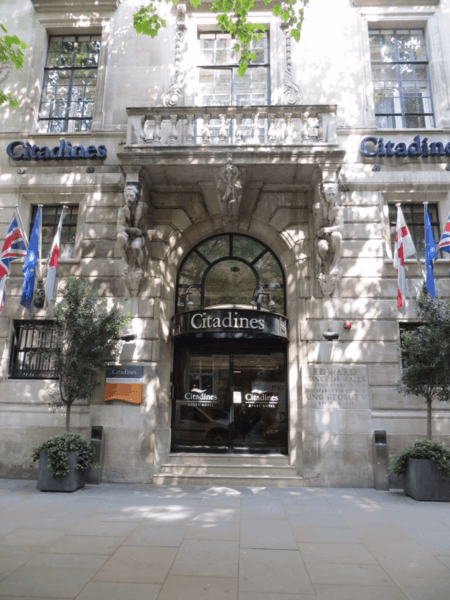 Hotel Location
We chose the Citadines Trafalgar Square property (check current rates and reviews at TripAdvisor) primarily because of the location. We prefer to be centrally-located so that we can walk as much as possible even if it costs a bit more for accommodation. This location on Northumberland Avenue was ideal for us as it took fewer than 5 minutes to walk to Trafalgar Square. We were able to walk to nearly every attraction that we wanted to visit as well as the west-end theatre district, we were close to two underground stations and there were several dining options near by as well as groceries where we could buy the basic items that we needed.

Accommodations at Citadines Trafalgar Square
By the time that we were booking our hotel there were no 2 bedroom apartments available so we opted to book two separate units. We booked a 1 Bedroom Premier apartment for my husband, our ten year-old daughter and me and a Studio Premier Twin across the hall for the two teenagers. Both apartments had been recently refurbished and were spacious, modern and bright with hardwood floors and comfortable furnishings. Each had a fully-equipped kitchen which was ideal for preparing breakfast in the morning.  
1 Bedroom Units
We were quite pleased with our apartment right in the heart of central London. We had a separate bedroom (with a large closet) and a comfortable pull-out sofa in the living area that suited Emma perfectly. The unit's bathroom was in two rooms beside each other off the main hallway with the toilet in a separate room from the sink/tub/shower. There was a full kitchen and dining table that made eating in easy. We don't do much cooking when we are on vacation but it's nice to be able to prepare breakfast in the morning and to have snacks available in the evening. 
The apartment only had one television and although we don't watch much, it would have been nice to have a second television in the bedroom so that we could have had it on after Emma had gone to bed on the sofa. A quirky thing about this apartment is that there is a door to the living area and a door to the bedroom that won't stay open unless they are blocked. We had to use a kitchen sponge under the doors to keep them open as we wanted to be able to move freely around the apartment without the need to open doors continually.
Studio Premier Twin Unit
My 16 year-old, Katie and her friend, Lindsay, loved having their own separate apartment. It was furnished with two twin beds, a full kitchen, dining table and television but I don't think any of that mattered much. They just loved the freedom of having the place to themselves and being able to stay up chatting late into the night without having to worry about disturbing the rest of us and it was nice for us not to have to listen to the giggling. 
Amenities at Citadines Trafalgar Square
One of the advantages of staying in an apart'hotel such as this is that there are still hotel amenities included. I appreciated that the desk staff at the Citadines Trafalgar Square were always helpful with directions and suggestions for places to dine. The hotel has a lounge on the main floor with a television and reading material where we spent some time waiting for our room on the day we arrived. There is also a breakfast room which has breakfast available each morning for a fee, however, we chose to dine in our rooms instead.
The Citadines Prestige Trafalgar Square is ideal for families visiting London who are looking for spacious apartment-style accommodations in a central location. I wouldn't hesitate to book this property again on a return trip to the city.
What You Need To Know
The Citadines Trafalgar Square is located at 18/21 Northumberland Avenue.
Both Charing Cross and Embankment underground stations are within a 5 minute walk of the hotel.
The Apart'hotel offers 187 air-conditioned apartments over 9 floors, including 126 Studios for 1 or 2 guests, 49 One-Bedroom apartments that sleep up to 4 guests and 12 Two-Bedroom Duplex apartments for up to 6 guests.
Each apartment has a fully-equipped kitchen including stove, microwave, dishwasher and fridge.
Complimentary internet access.
There is a car park on-site.
There is a breakfast room on the ground floor – charges apply.
There is a launderette on-site – charges apply.
Related Articles
London with Kids: 14 Favourite Attractions and Activities
A Day in Stratford with London Taxi Tour
London Taxi Tour: Harry Potter
Cruising Along the Thames to Greenwich
London Cabs: Our Photo Collection