Photos from a summer walk in Kensington Gardens, London.
In August, I went on my first summer trip to London with intentions of exploring a number of gardens and parks while they were in bloom. There is always more to do in London than we have time for, however, and as our visit drew to a close, I had yet to set foot in any of the city's gardens.
On our second to last night in London, we dropped our teenage daughter, Katie, and her friend off for dinner at the home of the friend's aunt who lives near Hyde Park. We decided that this would be our only opportunity to see Kensington Gardens and headed off in that direction. We had about 2 hours for a quick walk-through which was just enough time to get an overview of the gardens and to know that I want to return the next time that I'm in London.
Kensington Gardens is one of London's eight Royal Parks. The 242 acre site was originally part of Hyde Park prior to being purchased in 1689 by William III who enjoyed the quiet location. The gardens were subsequently enlarged and developed by Queen Anne and then Queen Caroline, however, Queen Victoria moved the Court to Buckingham Palace and the gardens declined in importance. Today the gardens are a popular recreational area for Londoners who want to get outdoors for picnics, sunbathing, walking, jogging and just playing.
Since we were short of time, our goal was to hit as many of the gardens highlights as we could.
The Albert Memorial
The ornate Albert Memorial was designed by George Gilbert Scott and is officially titled the Prince Consort National Memorial. The memorial was commissioned by Queen Victoria to celebrate the life of her husband who died from typhoid fever at the age of 42. 
Directly across from the gardens and the Albert Memorial stands the Royal Albert Hall.
As we headed toward Kensington Palace we found this adorable statue of a dog although I have no idea what it signifies.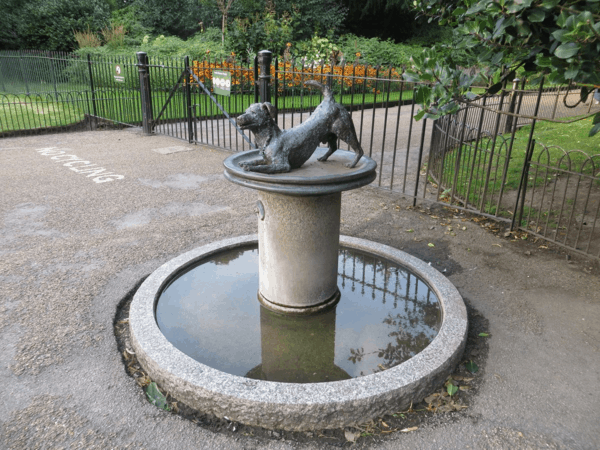 Kensington Palace
Kensington Palace has been a royal palace since the 17th century and is currently the official London residence of the Duke and Duchess of Cambridge and several other members of the extended royal family. King William and Queen Mary had architect Christopher Wren transform the former Nottingham House into Kensington Palace late in the 17th century.
Queen Victoria was born at Kensington Palace and lived here until 1837 and it was also home to Diana, Princess of Wales. The King's State Apartments, the Queen's State Apartments and the Gardens are open to the public but, unfortunately, had already closed for the day by the time we made our way there. It was touching to see that, even though many years have passed since the death of Princess Diana, flowers are still being left at the gates of Kensington Palace. 
The Round Pond
The Round Pond is an ornamental lake across from the front of Kensington Palace. It was created in 1730 and today seems to be a popular place to sit and watch the swans and geese. 
Diana Memorial Playground
This children's playground was built as a tribute to the late Princess Diana and opened in 2000. The playground which was inspired by J.M. Barrie's stories of Peter Pan, has a large wooden pirate ship as its centrepiece and is a creative play space for kids up to the age of 12.
The Italian Gardens
The Italian Gardens are at the head of the Long Water which flows through Kensington Gardens and becomes the Serpentine in Hyde Park. The 150 year-old ornamental water gardens are believed to have been a gift from Prince Albert to Queen Victoria and feature lovely basins, terraces, fountains, urns, flower beds and marble statues.
Peter Pan Statue
Author J.M. Barrie lived near Kensington Gardens and is said to have been inspired by the gardens when creating the story of Peter Pan. This sculpture was commissioned by the author and erected in the gardens in 1912. Peter Pan is a magnet for kids who like to climb around the base and it can be difficult to get a photo here. I got this shot when a pair were exploring around the backside of the sculpture. 
Diana Memorial Fountain
The Diana Memorial Fountain, opened in 2004, is actually in Hyde Park but this is where we headed after circling Kensington Gardens. Unfortunately, the fountain had already closed for the evening so I had to be satisfied with viewing it from the gate.  
Isis Sculpture
Across from the entrance to the Diana Memorial Fountain stands this interesting sculpture. The work, titled 'Isis" and inspired by the Egyptian goddess of nature, was created by a British sculptor as part of a fundraising campaign for the Isis Education Centre. The centre affords young city residents the opportunity to learn about the natural world.
Kensington Gardens is a lovely place for visitors to London or city residents to spend time walking or just relaxing and enjoying this refuge in the centre of a bustling metropolis. 
Related Links
London with Kids: 14 Favourite Attractions and Activities 
A Day in Stratford with London Taxi Tour
London Cabs: Our Photo Collection
London Taxi Tours – Harry Potter
Cruising Along the Thames to Greenwich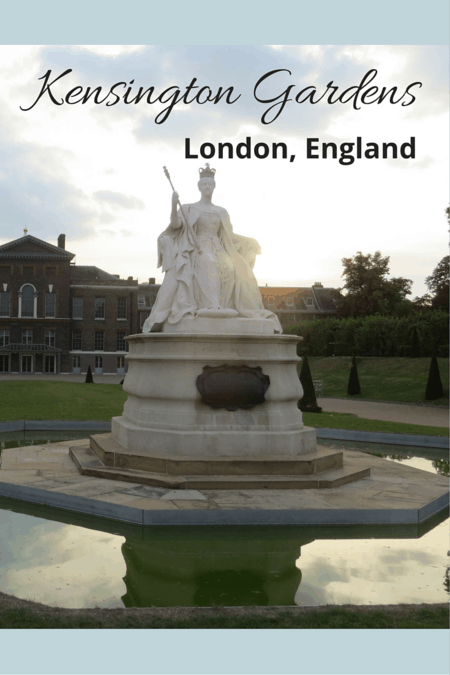 Have you liked our Facebook page yet? I post articles from the blog there as well as photo albums from our travels and other travel news. Or, if you prefer to follow on Google+, I'm there too. You may also subscribe to the free RSS feed or sign up for an email subscription to keep up-to-date on our travel adventures.