Ripley's Aquarium is an exciting attraction in Toronto that is both educational and fun for all ages.
Toronto's newest attraction is Ripley's Aquarium of Canada which opened to much fanfare earlier this fall. The aquarium, located next to the CN Tower, depicts both marine and freshwater habitats from around the world and is Canada's largest indoor facility at 12,500 sq. metres (135,000 sq.ft).
My 10 year-old daughter and I both love aquariums so we had been anxiously awaiting the opening and were excited to have the opportunity to visit recently when she had a day off school.
This post may contain affiliate links. If you click an affiliate link and make a purchase then we receive a small commission at no additional cost to you.
The aquarium is divided into a number of thematic galleries which all together hold more than 5.7 million litres (1.5 million gallons) of water and there are over 16,000 animals on display. As visitors enter the facility they can pause to appreciate the excellent view down into the Discovery Centre on the lower level of the aquarium and across to the Shoreline Gallery before entering the aquarium's first gallery.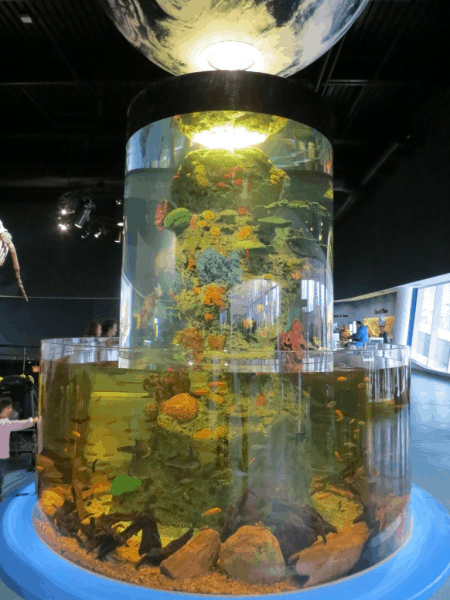 The Canadian Waters Gallery
The first gallery entered is Canadian Waters which provides visitors with a glimpse into marine and freshwater wildlife found in the Great Lakes and in the seas surrounding Canada. The gallery features animals such as the Largemouth Bass, eels, the American Lobster and the Giant Pacific Octopus.
At the end of the gallery, the Pacific Kelp Exhibit uses a wave maker to demonstrate what happens along the British Columbia shoreline. I was fascinated by this exhibit as I never imagined that our northern waters had this much diversity. They may not be as colourful as tropical waters but they are certainly every bit as interesting.
The Rainbow Reef
The tropical Rainbow Reef, representative of the warm waters of the Indo-Pacific region, is aptly named as both the reef itself and its inhabitants are bright and colourful. I could have spent ages watching the fish in this gallery but it was quite crowded on the day of our visit so we felt that we had to have our turn and then move on to make room for others. There is also an interactive dive show in this exhibit every other hour where a diver feeds the fish and narrates via microphone for visitors but we missed the show because our timing was off.
The Dangerous Lagoon
The Dangerous Lagoon is an underwater tunnel that provides visitors with a close-up view of a number of predators including assorted sharks, eels, barracuda and sawfish. Sea turtles can also be spotted occasionally. A moving walkway transports visitors through the tunnel as the sea animals swim around and overhead. It's impossible to walk through this area and not be thrilled by the proximity of these ocean predators.
I have experienced tunnels like this before but this one was much longer than any other that I have seen and is, in fact, the largest exhibit in the aquarium. Anyone who would rather move at their own speed can walk through the tunnel without using the moving walkway. This was by far our favourite gallery in the aquarium and if it hadn't been so crowded on the day of our visit then we would have backtracked and done it again.
The Discovery Centre
The Discovery Centre is located about mid-way through the aquarium and is the ideal place for youngsters to run around and burn off some steam. This area features a playground, animal exhibits, a research submarine with a view of the Dangerous Lagoon, pop-up habitats, and a touch pool with horseshoe crabs.
My 10 year-old is a bit too old for the Discovery Centre play area but from what I observed, younger kids were loving it! We enjoyed the animal exhibits and the pop-up viewing areas and also had a good look at the horseshoe crabs but Emma declined to touch them. There's also a café located here so we had a quick bit of nourishment before continuing with our visit.
Ray Bay
Ray Bay features dozens of stingrays of three species – Spotted Eagle Ray, Cownose Ray, and Southern Stingray. This is another of my favourite areas in the aquarium as I never grow tired of watching these graceful creatures. Divers also conduct shows here to demonstrate feeding the rays to visitors.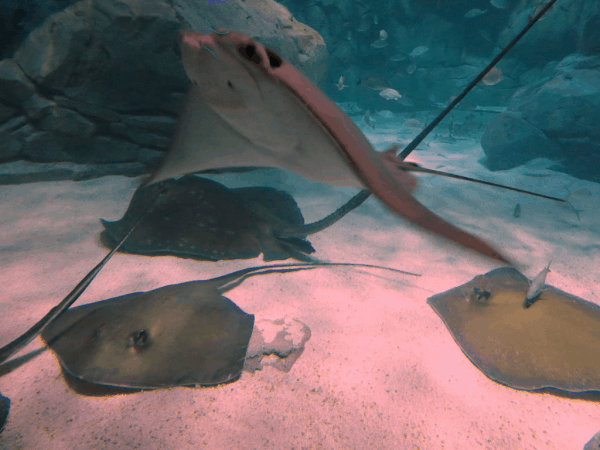 Planet Jellies Exhibit
Mesmerizing is the only way to describe the Planet Jellies exhibit. The display is back-lit and the colour changes periodically making for a stunning display to photograph. There is also a large display area where visitors can learn more about the life cycle of jelly fish which we found to be very informative.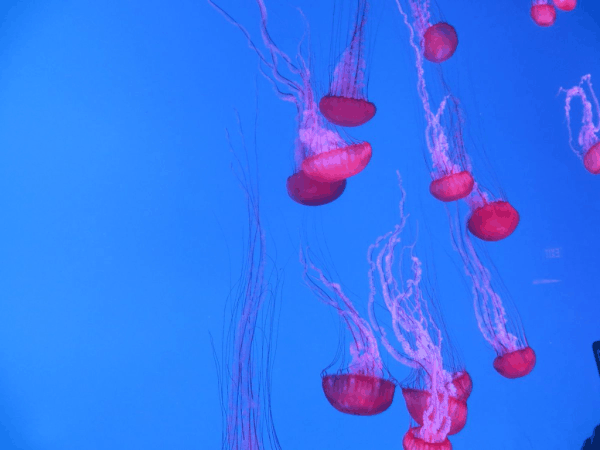 Life Support Systems
Life Support Systems demonstrates the behind-the-scenes equipment needed to keep the marine animals in the aquarium alive and healthy. I'm sure many visitors would find this area fascinating but my daughter had zero interest in exploring it so we moved through rather quickly.
The Shoreline Gallery
The warm water touch tanks of the Shoreline Gallery feature stingrays and sharks that visitors are thrilled to have the opportunity to touch. There are also staff members on hand to assist and to educate about the species that are in the tanks.
Visitors are required to exit through the Cargo Hold Gift Shop which has a range of merchandise, educational books and toys, jewellery, plush toys and a section where kids can "stuff a critter". The displays are very enticing so parents need to be prepared to move quickly if they aren't planning on shopping.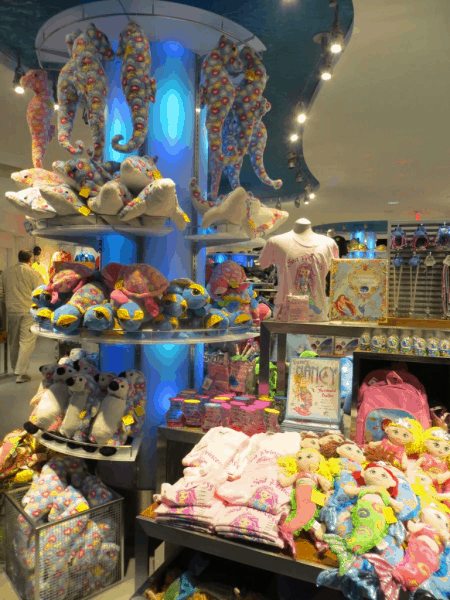 Ripley's Aquarium of Canada is fun, educational, and provides a great opportunity for kids to see marine animals that they might not otherwise have the chance to see. The displays throughout the aquarium provide in-depth information about the marine animals as well as information that is easy to understand and interesting to younger visitors. The hands-on areas, particularly the touch tanks, are a great way to keep kids engaged in the visit. Emma and I had a great time and I don't hesitate to recommend it as a fun activity for families.

What You Need To Know
Ripley's Aquarium of Canada is located at 288 Bremner Boulevard next to the Rogers Centre and the CN Tower in downtown Toronto.
The aquarium is open 365 days a year – hours vary so check the website.
The aquarium is easily accessible by car but parking nearby may be limited. It is also easily reached by public transit.
The aquarium is very busy – purchasing tickets ahead of time online will save visitors time waiting in the ticket sales line.
Sleepovers and birthday parties are available at the aquarium.
We received complimentary passes to visit Ripley's Aquarium of Canada, however, I have received no other compensation for this post. My opinions are, as always, my own.
Related Articles