Top 6 US National Parks in the West for families – Yosemite, Yellowstone, Grand Canyon, Crater Lake, Great Sand Dunes and Carlsbad Caverns.
I'm pleased to have a guest post today on the Top 6 US National Parks in the West for Families written by my friend, Mary Solio, who founded family travel blog The World is a Book. Mary was one of the first people that I met blogging and I love following her family's National Park visits – I hope you do too!
There are about 400 National Parks and monuments in the United States and its territories and they all offer something for everyone of varying ages and interests. Exploring these outdoor spaces are some of the most educational and cheapest family-friendly activities and vacations. My kids always look forward to participating in the Junior Ranger programs and earning their badges at each park. We've been lucky enough to enjoy these natural wonders. These are six of our favorites in the western part of the country.
1. Yellowstone National Park
America's oldest National Park is a unique national treasure and one of the best parks to visit with kids. Straddling the states of Idaho, Wyoming and Montana, Yellowstone National Park offers a diverse landscape of canyons, lakes, waterfalls and about 10,000 geothermal wonders (fumaroles, hot springs, mud pots, etc.) including over 500 geysers.
There are many accessible boardwalks and self-guided trails for everyone to enjoy the otherworldly landscape of smoke and steam rising from the ground. Old Faithful geyser regularly erupts and is a spectacle that shouldn't be missed and a hit with the kids.
Herds of bison and elk roam freely here and you never know when traffic will come to a halt as they cross the road. Some of our most memorable animal encounters were seeing those large bison within inches of our car or watching a herd moving around geysers.
2. Grand Canyon
Perhaps, the most famous of all the National Parks and labeled as one of the natural world's wonders is the Grand Canyon. It's hard to put into words the vastness, size and breathtaking beauty of this amazing geologic formation. The South Rim is where 90% of visitors explore and the only one we have visited since the North Rim is usually only open between May through October.
There's more to the park than stopping at various overlooks and taking in the remarkable scenery. The 13 miles (21 km) Rim Trail is mostly level and paved and accessible from any of the viewpoints. Visitors can go on guided bike tours or rent bicycles to explore between March and October. There are also mule rides available on both rims for a unique way to see the canyon.
One of our favorite routes is through the Desert View Drive. We enjoyed climbing the Watchtower for some stunning panoramic views. There are a variety of Native American art for everyone to admire in here. The Tusayan Ruins and Museum is a great way for the family to learn about the Pueblo Indians and how they lived in this area. My kids always keep their eyes open for sightings of elk and big horn sheep along the roads.
3. Yosemite National Park
Yosemite National Park in central California holds a special place in our family's travel memories since it's one we've visited the most. The park has many diverse landscapes that include majestic waterfalls, granite cliffs, meadows, forests and lakes. There are numerous hiking and biking trails that every family member (no matter what age) can enjoy. No matter how many times we've gone here, this view of the valley floor still leaves me in awe.
Don't miss seeing some of the largest trees in the world, the giant sequoias, at the Mariposa Grove. Yosemite also offers other activities that include rafting, boating, swimming and fishing along its rivers. For the more adventurous families, bouldering and rock climbing are two of the most popular activities here. Activities like snowshoeing, cross-country skiing and ice-skating are popular during wintertime. Our family has also enjoyed snowboarding and skiing for many years at Badger Pass located within the park.
4. Crater Lake National Park
This park isn't as well known or as large as the others but is just as spectacular. Located in southern Oregon, America's deepest lake and caldera was created with Mount Mazama's eruption thousands of years ago. The 33-mile (53 km) Rim Drive has over 30 lookout points to admire the lake and its surrounding views. There are also several trails with varying lengths for families to get a unique perspective of the lake or to see waterfalls or geologic wonders like the Pinnacles.
Crater Lake National Park isn't open to water vehicles or water recreational activities like snorkeling and kayaking. But from June to September every year, a boat tour, narrated by park rangers, is the only authorized vehicle to go around the lake. We think this really is the best way to experience and learn about the lake's history and geology. It's a great family outing and worth hiking the steep 2.2-mile (3.5 km) round-trip Cleetwood Cove Trail along a sandy path.
Even if you won't be going on the boat tour, Cleetwood Cove is the only authorized trail to get down to the water. Don't miss going down to the shoreline though since everyone can still enjoy the wonders of the lake by swimming, diving and fishing. After all, it's not often families could enjoy a dip in an unbelievably blue, clear volcanic lake.
5. Great Sand Dunes
The state of Colorado known for its majestic mountains and ski resorts may be the last place you'd expect to find North America's tallest sand dunes. This giant sandbox can be endless fun for the kids. There is also a 1.1-mile trail to go to the top of the dunes for a stunning panoramic view of Great Sand Dunes National Park.
There aren't many places in the country to do some unforgettable activities like sand boarding and sand sledding. Think fun activities you can do in the snow but with the soft sand to land on instead of the wet and hard snow. My kids still talk about this unique experience and would love to return soon. Boards and sleds can be rented at the nearby town of Alamosa.
The sand can be very hot in the summer but Medano Creek appears from snowmelt and is an ideal place for swimming and splashing in the water.  There are also various hiking trails in the surrounding area consisting of wetlands, grasslands and forest. The park has a Junior Ranger Day every summer where kids can learn and have fun through the special activities offered.
6. Carlsbad Caverns
Our family enjoys visiting caves and New Mexico's Carlsbad Caverns is the largest we've ever explored. Most visitors take the self-guided Big Room Route with an elevator ride that descends 70 stories to the cave.  The other route is through the Natural Entrance, which was what early explorers used that descended 750 feet (229 m) down a winding path.
We liked that paved walkways had rails, were well lit and the circular one mile route was easy enough for kids and the elderly. The Big Room was the size of six football fields so there was no shortage of formations or natural wonders to see in this underground marvel.
The various size and quantity of the cave formations and decorations, which were created by droplets of water, were all fascinating to see.  We enjoyed seeing the various shapes and the kids let their imagination took over with some of the unique formations from floor to ceiling.  
Visitors from May to October are treated to the exodus of thousands of Mexican Free-tailed bats that leave at sundown for their nightly feeding at the Bat Amphitheater. Ranger-guided tours are also available for various ages that explore areas not accessible on the self-guided routes but need to be reserved in advance.
What are your favorite National Parks to visit?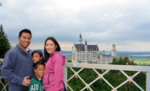 Mary Solio is an island girl at heart (via Philippines and Guam) who now calls San Diego, CA home. She has traveled the world with two kids in tow while juggling a full-time job as a computer programmer and writing about the family's travels with tips and guides on her blog: www.theworldisabook.com.
She loves National Parks, cruises, castles and quirky museums. You can follow Mary on Facebook, Twitter, Pinterest, and Instagram.
Related Articles
Photo Memories from the Grand Canyon
Three Iconic National Parks That Are Great For Families
Prince Edward Island National Park in Photos