11 reasons to stay at the Disneyland Hotel in Anaheim, California.
I have traveled multiple times to both Disney World in Orlando, Florida and Disneyland in Anaheim, California and love staying on Disney property. I recently had an opportunity to stay at the Disneyland Hotel which originally opened in 1955 just a few short months after the opening of the Disneyland Park. The hotel has undergone a complete renovation in recent years and I think it is a great choice for visitors. Here are 11 reasons why.
This article may contain affiliate links which help support the site. If you click an affiliate link and make a purchase then we will receive a small commission at no additional cost to you. 
1.  Full Immersion in the Disney Experience
Sure you can stay off-site on a trip to Disneyland but it's a lot more fun to stay on-site and become fully immersed in the Disney experience. A trip to Disneyland is an escape from the outside world to the magical world of Disney and it's much easier to forget that the outside world exists when your family is staying at a hotel on Disney property and surrounded by Disney magic 24/7.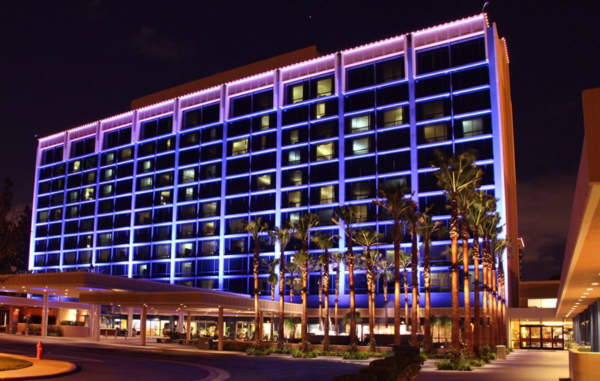 2.  Modern and Stylish With a Touch of Nostalgia
The Disneyland Hotel is a modern luxury hotel that features some wonderful nostalgic touches. The hotel isn't obviously themed like the rest of the Disney resort hotels but instead pays tribute to the history of Disney. The recently renovated hotel has three towers named for the original three lands in the Disneyland Park – Fantasy, Adventure and Frontier – and the lobby of each tower features artwork and memorabilia relating to that land. The guest rooms of the hotel are spacious, comfortable, and have just the right number of Mickey accents – some obvious and some not so much (it was the second night in my room before I noticed some of them).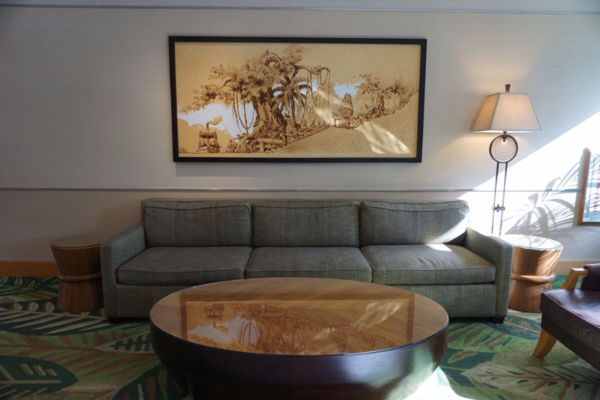 3.  Location, Location, Location
The Disneyland Hotel is just steps from the dining and shopping of Downtown Disney District and is what I consider just a short walk (less than 10 minutes) to the Disneyland Park and Disney California Adventure Park. Rooms in the Adventure Tower are closest to Downtown Disney if you want to minimize the amount of time that it takes to get the the park entrance.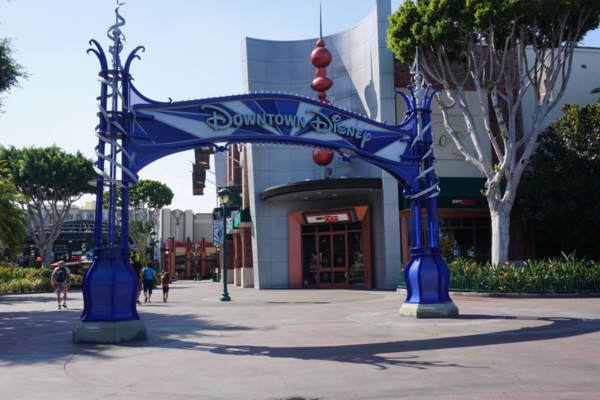 4.  Extra Magic Hour
During each day of their stay, resort guests can enjoy Extra Magic Hour admission to select attractions, stores, entertainment and dining locations in Disneyland Park or Disney California Adventure Park for one full hour before the parks open to the general public. (Check the schedule to confirm which of the two parks is open early on each morning of your stay.) An hour might not seem like much but you can actually cover a lot of ground during that time when the park is not open to everyone and lines are minimal. Disney recommends that resort guests arrive 1 hour and 15 minutes prior to the regular park opening time in order to fully take advantage of Extra Magic Hour.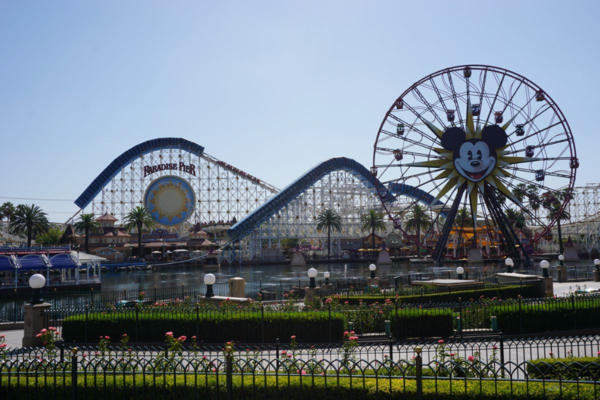 5.  Key to the Magic Cards
Resort guests at all Disney hotels receive a Key to the Magic card which serves as the room key and can also be used to easily charge meals and merchandise to the room.  Resort guests can also take advantage of Package Express and have packages delivered to their hotel room instead of lugging them around all day. So when you see that special souvenir that someone in the family absolutely has to have then it can be purchased on the spot rather than backtracking to buy it later.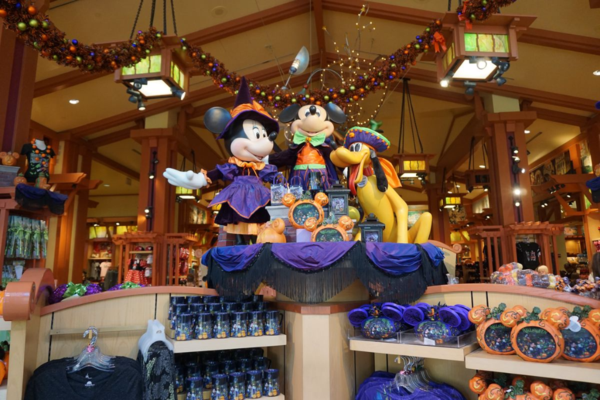 6.  Goofy's Kitchen Character Dining
I have been to quite a few Disney character meals over the last 20 years and Goofy's Kitchen Breakfast is one of the best. If your family is staying at the Disneyland Hotel then this fun character dining experience is located just a few minutes walk from your hotel room. Chef Goofy poses for photos in front of a kitchen backdrop in the check-in area while guests are waiting to be seated and he and a few of his friends including crowd favourites such as Minnie, Chip and Dale, all dressed in their best chef attire, make their way around the restaurant to chat with each table and pose for photos with guests. I love seeing the characters dressed in different outfits so this was one of my favourite activities at Disneyland. Goofy's Kitchen is open for both breakfast and dinner and meals are served buffet-style. I dined at the restaurant for breakfast which included a range of tasty hot and cold choices plus made-to-order omelettes – a great way to get fueled for a day at Disneyland. Goofy is present for every meal but the friends who join him may vary.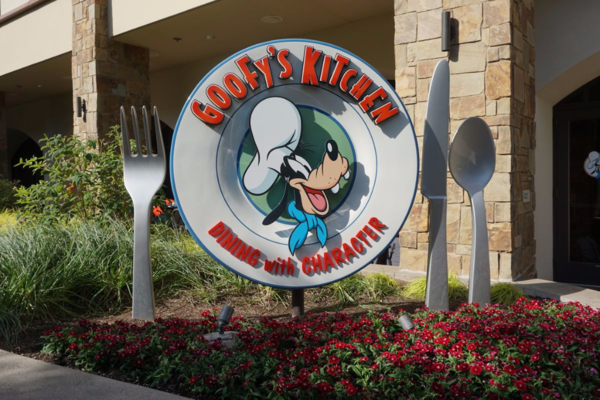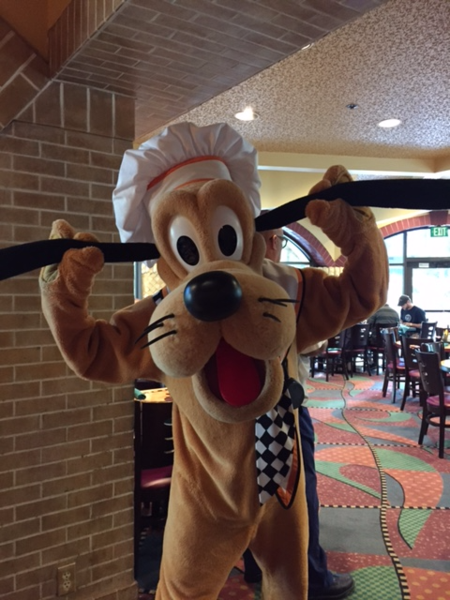 7.  Pools and Waterslides
You would be hard-pressed to find a kid who doesn't love the themed Monorail waterslides at the Disneyland Hotel! There are two large slides (one 13 feet high and one 25 feet high) which take riders on a winding path through tunnels before a thrilling splash into the pool at the bottom and also two mini slides for the little ones in the family. If the hustle and bustle in the play area is too much then you can escape to the E-Ticket and D-Ticket pools which offer a more subdued swimming experience or the Mickey Spa and Minnie Spa whirlpools. Poolside cabanas are also available for an additional fee. Parents of inexperienced swimmers will be happy to know that there are life vests available poolside for the use of guests and lifeguards on duty.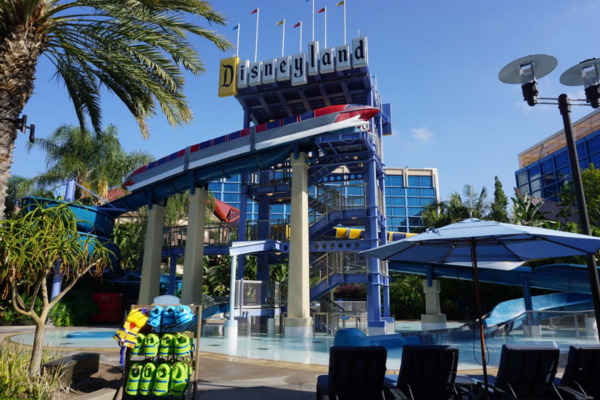 </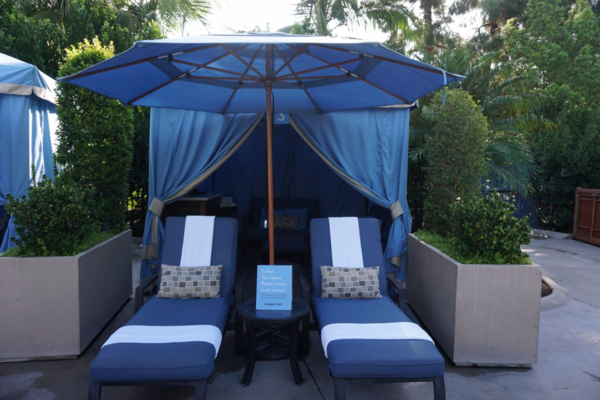 8.  Additional Amenities for Disney Resort Guests
Guests at any of the three Disneyland Resort hotels (Disneyland Hotel, Disney's Grand Californian Hotel & Spa and Disney's Paradise Pier Hotel) can enjoy the amenities at the other two. This includes the Mandara Spa at the Grand Californian and Pinocchio's Workshop at the Grand Californian. Pinocchio's Workshop is a fun-filled children's activity center where kids aged 5-12 can enjoy supervised play while their parents enjoy a child-free evening out.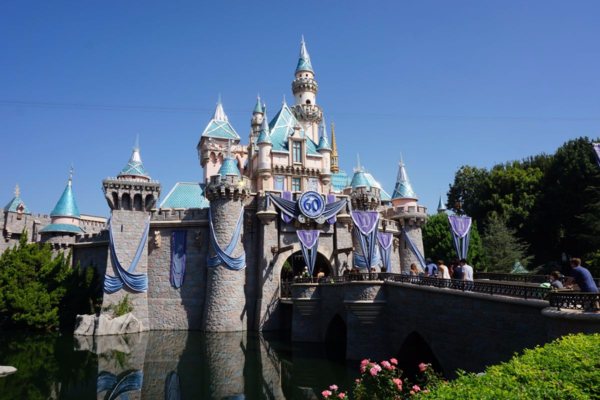 9.  Disney's Magical Touches 
One of the best things about staying at any Disney hotel is all the magical touches. These include hidden Mickeys in the guest rooms, Disney character wake-up calls, movie screenings on select nights on the Magic Kingdom lawn, the Happiest Hotel on Earth one hour walking tour of the Disneyland Hotel and many other special experiences available only to guests staying at Disneyland Resort hotels.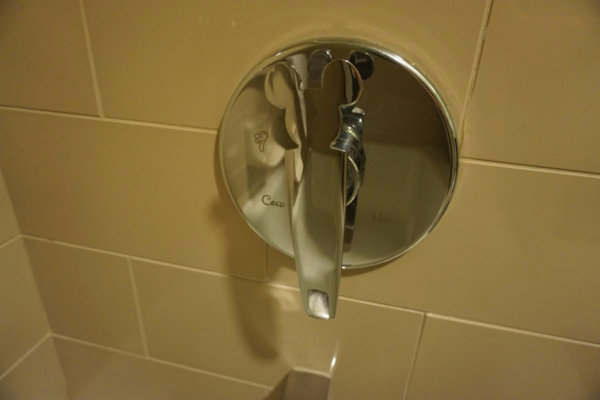 10.  Access to Exclusive Park Entrance
As long as they have a valid theme park admission ticket, then guests of all the hotels at the Disneyland Resort can take advantage of a convenient gateway to Disney California Adventure Park through Disney's Grand Californian Hotel & Spa which makes getting to the fun even easier. Don't forget to stop and have a look around the hotel on your way through – the public spaces are gorgeous!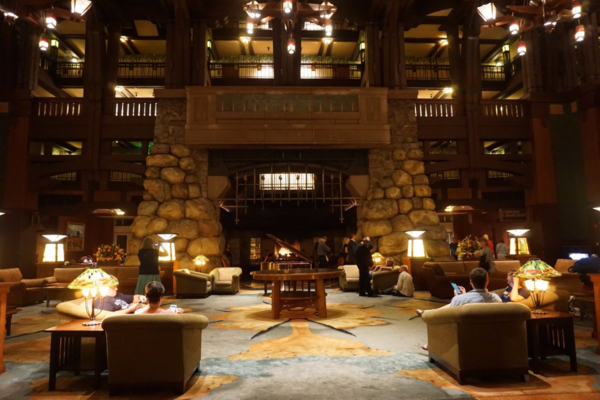 11.  Magical Headboards
My absolute favourite thing about the Disneyland Hotel was the magical headboard in my room. The wooden headboard features a carved Sleeping Beauty Castle with embedded fibre optics. A flick of the Tinker Bell switch on the bedside lamp and the headboard lights up to reveal a starry sky and fireworks over the castle while playing When You Wish Upon a Star . It's one of those special touches that will take you completely by surprise and make you fall in love with Disney all over again. I adored my headboard and played it repeatedly during my two night stay at the hotel wishing that my two daughters were with me because they would have loved it every bit as much as I did.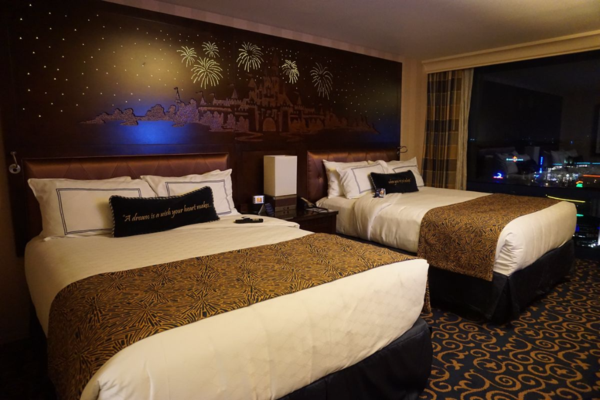 Read reviews of the Disneyland Hotel on TripAdvisor 

Has your family stayed at the Disneyland Hotel? Let us know what you liked best about the resort in the comments below.
What You Need To Know
Disneyland Hotel is located at 1150 West Magic Way, Anaheim, California.

Dining options include: Steakhouse 55; Tangaroa Terrace – Casual Island Dining; Trader Sam's Enchanted Tiki Bar; Goofy's Kitchen; and the Coffee House. 

Self-parking and valet parking are available to registered hotel guests at an additional fee.

Complimentary wireless internet access is available in guest rooms and in many public areas.

There are two retail stores located in the Fantasy Tower.

There is a 24-hour laundry room located next to the Fitness Center. Dry cleaning and valet laundry services are available Monday through Saturday.

There is a 24-hour ATM located in the Fantasy Tower. Foreign currencies can be exchanged at the Front Desk in the Main Lobby.

If money is no object then check out Disneyland Hotel's five themed Signature Suites (Adventureland, Big Thunder, Fairytale, Mickey Mouse Penthouse and Pirates of the Caribbean).

Anyone who is planning to visit multiple theme parks in the area should consider purchasing the Southern California CityPASS which includes admission to Disneyland Resort & California Adventure, LEGOLAND California, and SeaWorld San Diego. Southern California CityPASS is the only multi-park admission pass that includes the 3-Day Park Hopper Ticket for Disneyland® and Disney California Adventure® plus a Magic Morning for Disneyland®. One day at San Diego Zoo or San Diego Zoo Safari Park can be added to your CityPASS, exclusively on citypass.com.  
I visited Southern California as a guest of CityPASS and LEGOLAND California. My opinions are, as always, my own.
We are a participant in the Amazon Services LLC Associates Program, an affiliate advertising program designed to provide a means for us to earn fees by linking to Amazon.com and affiliated sites.
 Pin this for later