Things to do on a family visit to Edward Ball Wakulla Springs State Park in Tallahassee, Florida.
Many of us have a preconceived notion that Florida is just beaches and theme parks but there are regions of the state where a more authentic Florida can be found. A prime example is Tallahassee, in the panhandle of Northern Florida, where visitors can enjoy the vibrant city's culture, food, and outdoor activities as well as the opportunity to explore nature. A must for anyone visiting Tallahassee is a day trip to Edward Ball Wakulla Springs State Park – just a short drive but a world away from the urban centre.
Edward Ball Wakulla Springs State Park
Edward Ball Wakulla Springs State Park, is a 6,000 acre wildlife sanctuary located a 20-30 minute drive (15 miles) south of downtown Tallahassee making it an easy day trip from the city.
The property around Wakulla Springs which includes both forests and wetlands was purchased in 1934 by businessman Edward Ball to develop as a wildlife preserve and was later sold to the state of Florida in the 1960s. The lands officially became a state park named after Mr. Ball in 1986.
The park is home to one of the largest and deepest (120 ft) freshwater springs in the world as well as an abundance of wildlife including deer, alligators, manatees, turtles and birds.
Wakulla Springs State Park and Lodge is listed on the National Register of Historic Places and is designated as a National Natural Landmark. If Wakulla Springs looks familiar, that might be because it has been a film location for a number of movies including early Tarzan films and Creature from the Black Lagoon. 
Wakulla Springs is a popular day trip for both visitors and local residents especially on hot and humid summer days. I had an opportunity to visit in early April and experience the beauty of the park for myself and learn about the many activities available to visitors.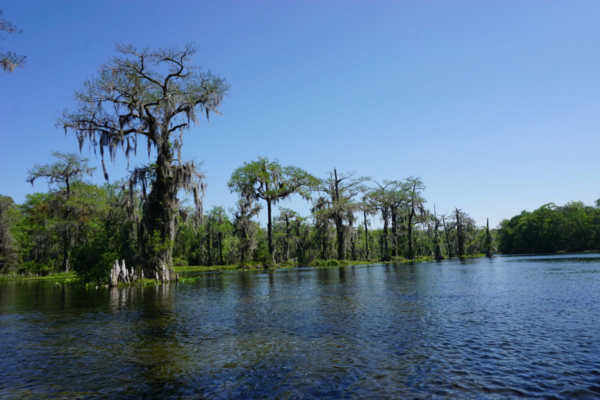 Guided River Boat Tour
The most popular activity at Wakulla Springs is the 45-55 minute guided boat tour on the Wakulla River. Visitors are taken on an incredible 2 mile loop down the river where they will have an opportunity to see resident and migratory birds, turtles and alligators of all sizes up close in their natural habitat as the boat glides among the cypress trees dripping with Spanish Moss.
Park Rangers provide commentary enlightening visitors on the history of the area and pointing out wildlife along the way. The tours operate 365 days a year weather permitting (temperatures must be above 40 degrees Fahrenheit (4.5 Celsius) and are not conducted during thunderstorms). Glass bottom boat tours were popular in the past but rarely run anymore as the water is generally no longer clear enough to warrant it.
Our river boat tour was the highlight of my trip to Wakulla Springs. We had a lovely spring day for our visit – the sort of day when there is no better place to be than on the water. It's such a tranquil environment that while cruising along the quiet river it is easy to forget that the hustle and bustle of the city is only a short distance away.
As much as I am terrified of alligators, it was quite fascinating to see and photograph the creatures up close (from a safe distance in the boat!). I had read beforehand that there are manatees in Wakulla River and had my heart set on seeing one even though I knew that there was no guarantee. It seemed like we weren't going to have any luck but a couple appeared alongside the boat just before our tour ended. I was ridiculously excited to get just a brief glimpse of the gentle manatees – definitely an experience that I will never forget.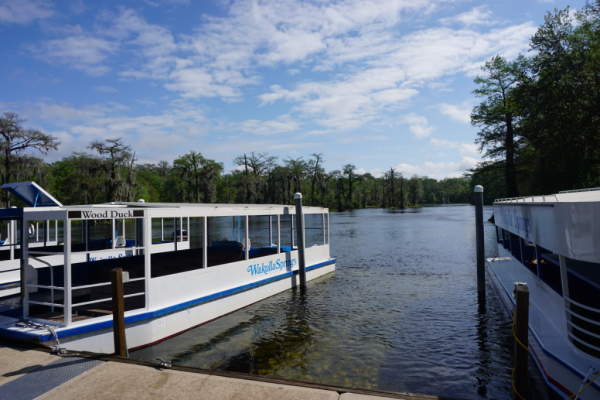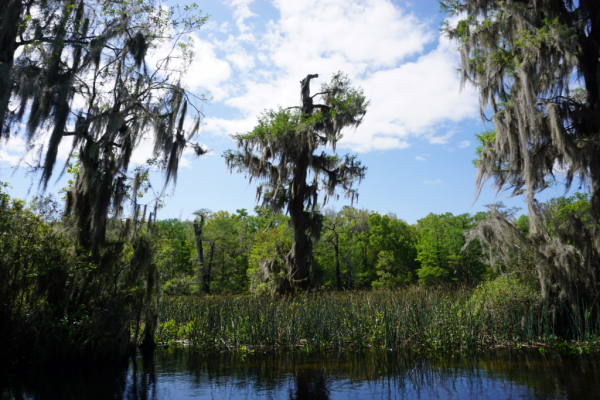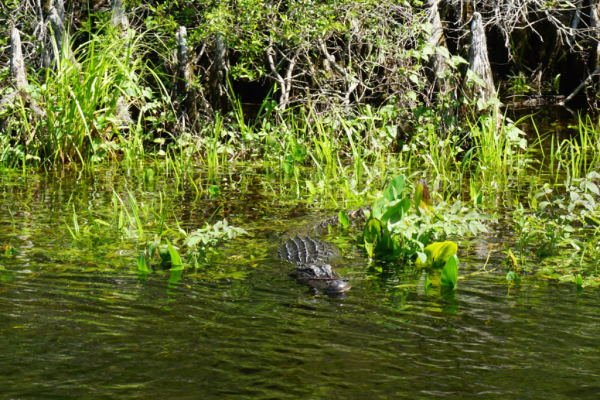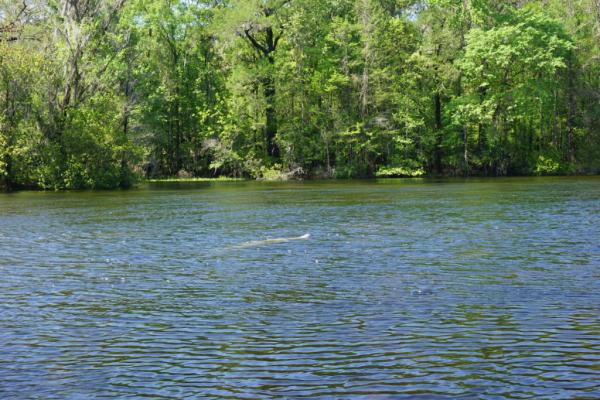 Swimming at the Springs
Swimming is another popular activity in the park particularly during the summer months. The waters offer a refreshing break on hot days as the cool spring water maintains a temperature of 69 or 70 degrees Fahrenheit (21 Celsius) year-round. It was fairly warm on our week day visit in early April and there were a couple of swimmers enjoying the springs even at that time of year.
The roped off swimming area has a couple of sunbathing docks as well as a 2 story (22 feet high) diving platform which is perfect for doing cannonballs into the deepest part of the springs. Even if you don't plan to jump in you should climb to the top of the diving platform just for the incredible view down the river.
Swimming is only allowed in the designated area and is at your own risk – there are after all alligators in the water. I could never bring myself to venture into the water here for that reason but since it's an extremely popular swimming spot with both tourists and locals alike then I suppose it's safe to say that most visitors are much braver than I am!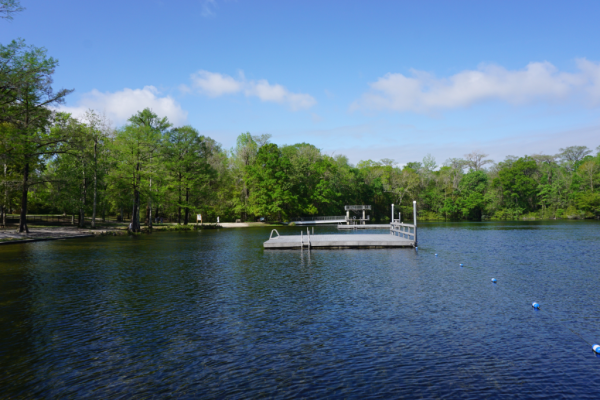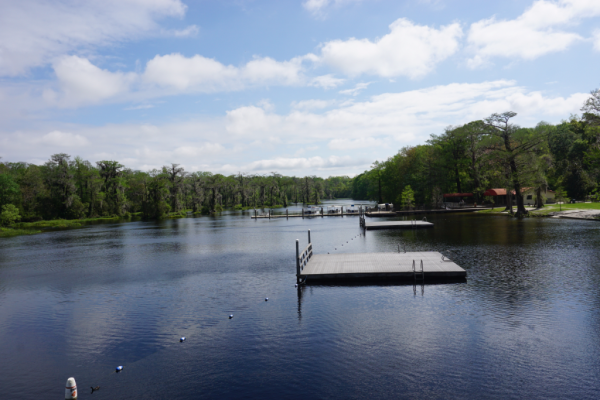 Additional Activities in the Park
If you have time to explore there are additional activities available in the park including nature trails which provide up to 9 miles of easy to moderate hiking, geocaching, and cycling. Whitetail deer, wild turkey and other wildlife can be spotted in many areas of the park.
Wakulla Springs Lodge
There is a small hotel in the park for visitors who would like to spend the night in this beautiful setting. The Lodge at Wakulla Springs was built by Edward Ball in 1937 and is now listed on the National Register of Historic places. The Mediterranean Revival style lodge has 27 unique rooms with period furnishings available. One distinguishing feature of the hotel is that there are no televisions in the rooms although there is one in the lobby.
If you are only visiting Wakulla Springs for the day then be sure to at least have a look around the lobby and public areas of the historic property and perhaps enjoy a bite to eat. The Edward Ball Dining Room provides guests a beautiful view of the springs and a menu which includes southern specialties such as fried chicken and fried green tomatoes. I have been curious about fried green tomatoes since first reading Fannie Flagg's Fried Green Tomatoes at the Whistle Stop Cafe years ago but never had an opportunity to taste them before visiting Wakulla Springs. They were delicious!
Just off the lobby, there is also a snack bar/gift shop with an old-fashioned soda fountain where classics like milkshakes, malts and ice cream sodas are served at the longest marble countertop in the world. This is also where you will find a quirky bit of Wakulla Springs history on display – a stuffed alligator named Old Joe. Old Joe was an 11 foot alligator that was the unofficial mascot of Wakulla Springs until he was shot by a poacher in 1966. Old Joe was stuffed and now lives in a glass case in the Lodge at Wakulla Springs but I imagine he still frightens a few small children despite his enclosure.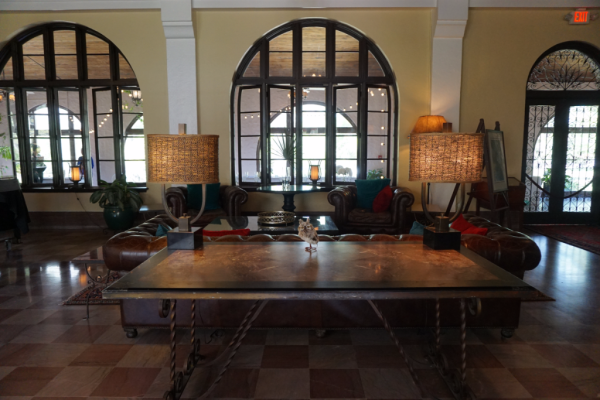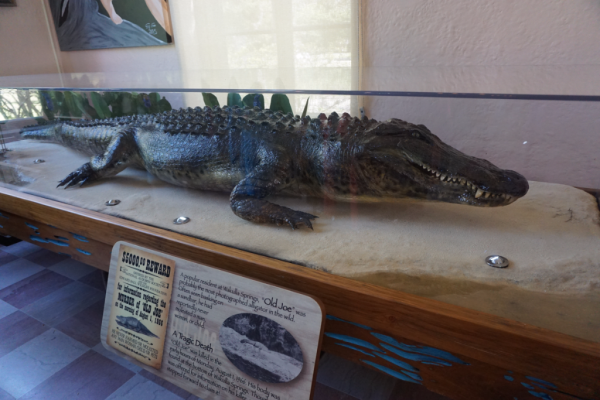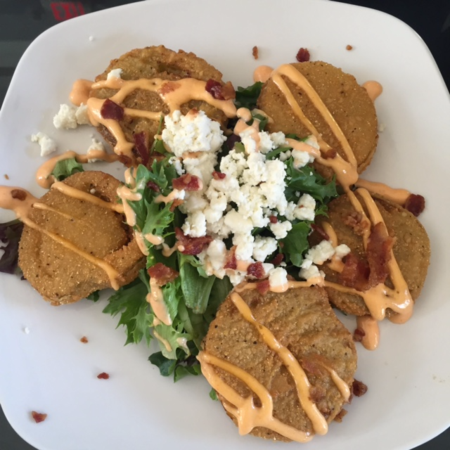 What You Need To Know
Contact Information: 465 Wakulla Park Drive, Wakulla Springs, FL, 32327, (850) 561-7276.

The park is open from 8:00am until sundown, 365 days a year.

The Lodge is a full-service hotel facility open 24 hours a day, 365 days a year.

The Edward Ball Dining Room is a full-service restaurant open daily at 7:30am through dinner at 9pm.

The Black Lagoon Parlour and Bar is open daily.

See website for Park entrance fees which are subject to change. As at July 2016: $6 per vehicle with 2-8 occupants; $4 per vehicle with single occupant; $2 per pedestrian or cyclist. River Boat Tours: $8 (13 years old and up); $5 (3-12 years old); Free (Under 3 years old).

See website for list of Upcoming Events at Wakulla Springs.

Pets are permitted in designated areas only and must be kept on a leash at all times.

The park has restroom facilities adjacent to the spacious picnic area. There are changing stalls available in the restrooms but no shower. There is, however, an outdoor shower for rinsing off near the Visitors Center.

There is a playground in the picnic area.

The Waterfront Visitors Center opens at 9:30am and the first boat tour departs at 9:40am – the frequency of tours after that depend on the number of visitors. Cost of tour is $8 for Adults; $5 for Children (aged 3-12); and under the age of 3 is no charge.
I visited Tallahassee as a guest of Visit Tallahassee. My opinions are, as always, my own.