A review of the Lugabug compact child travel seat.
Lately it seems that travel with my kids is downright stressful. Maybe because I'm traveling more with both kids (ages 7 and 3) and, on most trips, without my husband, I've gotten to the point where I think maybe I don't have it all together.
The most significant stressor has not been the actual travel part – flying, primarily – but rather juggling the kids, the carry-ons, the car seat, the stroller, etc., en route to and at the airport prior to departure. I just don't have enough hands and not nearly enough patience.
Just when I was starting to think that maybe this travel-with-kids gig isn't all that it's cracked up to be, my savior arrived in the form of a Lugabug. Basically, it's a collapsible chair that turns your rolling suitcase into a stroller. Imagine trying to push a stroller and pull a suitcase behind you at the same time. Unless you're an octopus, it will probably be a challenge.
The Lugabug is quite convenient and, really, ingenious. Here is why I love the Lugabug, as well as a few general travel tips when using the seat.
The Lugabug is recommended for children aged 2 and up and the weight limit is 60 pounds. That means my 7-year-old daughter, who weighs less than 60 pounds, can use it, too. It seemed that my 3-year-old son was tired of sitting and wanted to walk a bit around the same time my daughter started complaining that she was tired of walking. We made a little switcharoo and everyone was happy.
When not in use, the compact seat fits easily into your suitcase or another carry-on. We kept my son in the seat up until we got right up the conveyor belt at airport security. He jumped out; I folded the Lugabug, and slid it right into the carry-on rolling suitcase.

Be prepared for LOTS of attention at airports around the world when using the Lugabug! From adults joking, "Is there one for my size?" to kids asking their parents, "Mommy, can we get one of those?" people will want to stop and talk to you. True story: my son was in the Lugabug and we were walking to our gate at Boston's Logan International Airport. I could hear a woman's voice exclaiming, "Ma'am? Excuse me, ma'am?" The woman was a Delta employee and it took a second to realize she was calling after me. I stopped, thinking I'd dropped something along the way but she really wanted to know about the Lugabug. After I described what it's all about, she said, "I totally need one for my daughter." Then she whipped out her smartphone and ordered one right there in front of me.

The seat seems to fit more snugly onto suitcases that are packed more fully. On one airport run, my carry-on suitcase was emptier than usual, and the seat slid down a bit and was kind of uneven.
With a child in the seat, if you stop and try to stand the suitcase up, the weight of the child will tip it over. I'm guilty of doing this on one of our first trips when I wasn't quite accustomed to having extra baggage on my baggage. My son tumbled out and the suitcase fell over but everyone was fine. (Except for me. I felt like the worst mother ever!)
The Lugabug solves the dilemma of how to push a stroller and pull a suitcase through the airport, but what to do if you need an actual stroller at your destination? Here's what we did: on a domestic trip, I used curbside check-in at Chicago Midway International Airport. I checked our umbrella stroller as well as my kids' car seats. I was rid of them before even entering the airport, and they were waiting for me at our destination. For international travel, we folded up the umbrella stroller and checked it in at the airline counter, and put the kids' car seats into a checked bag. Again, all that was left was us, the carry-on suitcase, and the Lugabug. It truly eliminated the stress of balancing all those items at the airport before departure and after arrival.
The Lugabug has been a game-changer in our family's travel experiences. I'll be sad once my kids are too old and too big to fit in it!
I received a complimentary Lugabug for the purpose of this review and was in no way swayed to write positively about it. All words and opinions are my own, and are 100% genuine.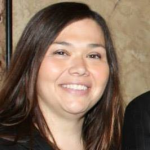 Francesca Mazurkiewicz is a Chicago-based travel blogger and working mom of two. Via her blog, The Working Mom's Travels, Francesca aims to show that working parents can still enjoy what they fancy in life, even after having kids. For Francesca, it is travel – with and without her family – music, and premium beverages, including craft beer and bourbon.