20 recommendations for stocking stuffers for kids and teens that travel.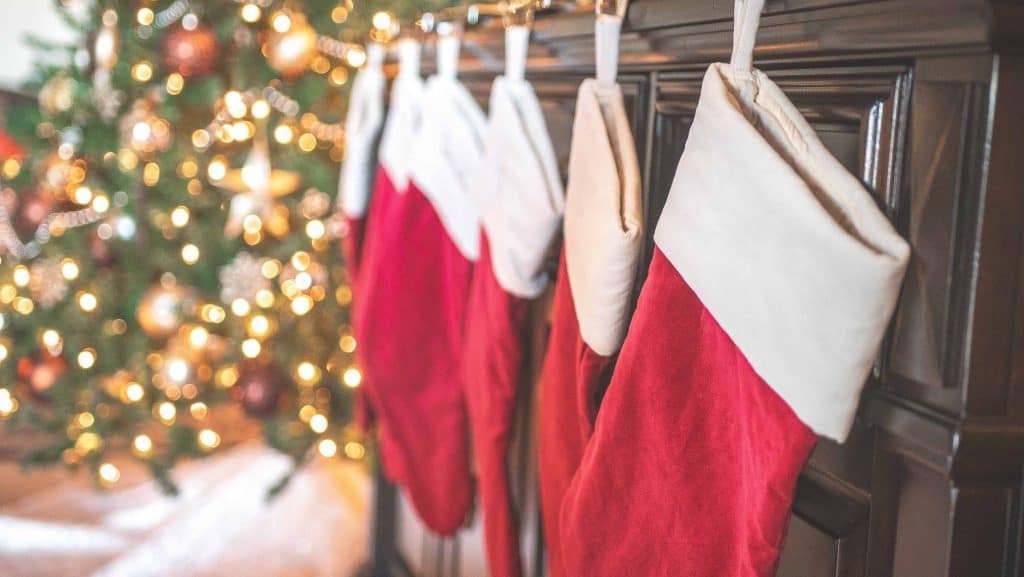 We try to limit gift giving at Christmas and give our family the gift of travel over the holidays instead but I still like to fill my girls' stockings with fun and useful items. Here are my 20 recommendations for stocking stuffers for kids and teens that travel – some that can be used while travelling and some that will help stoke their wanderlust in between trips.
We are a participant in the Amazon Services LLC Associates Program, an affiliate advertising program designed to provide a means for us to earn fees by linking to Amazon.com and affiliated sites. As an Amazon affiliate I earn from qualifying purchases.
This post may contain affiliate links. If you click an affiliate link and make a purchase then we will receive a small commission at no additional cost to you. As an Amazon affiliate I earn from qualifying purchases.
1. Labels
We have been using Mabel's Labels for years – they are great for keeping track of items at home and while travelling. The Travel Label Pack includes bag tags and labels designed especially for your suitcases as well as labels that are ideal for toiletries, electronics, water bottles and everything else you take traveling with you. There are even travel-inspired designs available!
2. Colouring Sets
Colouring sets are a great stocking stuffer that are easy to pack and will keep the little ones occupied whether travelling by plane, train, or automobile. Mess-free colouring sets like Crayola Color Wonder were a favourite when my kids were young because I didn't need to stress about them making a mess on anything. Any product that lowers parental stress while travelling is a good thing!
3. Headphones for Teens
Headphones seem to go missing a lot in our house which generally means that there won't be a pair to be found when we are packing to head for the airport. A set in each of my daughter's stockings at Christmas will ensure that we are prepared if travelling over the holidays. Rose gold is currently an obsession with my girls so this pair by Rovking would be ideal.
4. Headphones for Kids
Headphones are a must for kids playing electronic games, watching movies or listening to music on their travels. This padded over-the-ear set by LilGadgets is comfortable to wear for kids aged 6+, limits volume, can be shared by two kids at one time and is available in a variety of colours.
5. Travel Adaptors
Another item that we always seem to be scrambling to find just before we head out the door is a travel adaptor. Pop one of these universal travel adaptors into your teen's stocking and they can be responsible for charging their own electronics when travelling.
6. Portable Charger
Portable chargers are another item that the teens in your life will find useful when travelling. This compact version by is about the size of a tube of lipstick, is one of the most powerful mini chargers on the market and is available in several different colours.
7. Toiletry Bags
Toiletry bags are a useful item for kids to take on their travels. Obersee has a variety of spacious bags which offer enough space for all toiletry or accessory travel items and feature fun designs that coordinate with the Obersee Kids Luggage. There is a train case style bag and a zip top style bag which come in a variety of fun colours and designs.
Holiday Sale at Obersee! Get 10% off entire order for just a minimum purchase of $50. CODE: HOLIDAY10. Valid until November 30 only! Visit
Obersee.com
today!
Teen girls will love a cute hanging bag that folds up to pack but can be hung for easy access to all of their products. There are so many cute designs available that you won't have any difficulty finding one that is perfect for your teenager.
8. Travel Journals for Kids
I started my kids with travel journals at a young age but back then we just had to use a spiral notebook. Now there are so many fun options that will help your kids document their travels. This one from Mudpuppy is one of my favourites!
(Read my kids travel journal tips here)
9. Travel Journals for Teens
Teens are going to want something a little more stylish to record their travels. I like this fun travel journal which has inspirational travel quotes on the cover and a pocket at the back which is great for keeping ticket stubs or other mementos from a trip.
10. Little Passport Products
Little Passports has always been a great subscription product that inspires kids to explore the world but did you know that they have a number of other products available as well? My favourites include the World Coin Collection, plush animals, and the destination Activity Booklets (New York, Florida, California and Texas).
11. Water Bottles
Water bottles are another practical option for both kids and teens to use while at home or when travelling. Packing a water bottle when you hit the road will save money as you won't need to be constantly buying expensive bottled water and it's better for the environment!
12. Fun Luggage Tags
Luggage tags make great stocking stuffers and there are so many fun options to choose from – travel themed, funky colours for teens, or tags with your kid's favourite characters!
13. Travel Games
Games that are travel-sized make a great stocking stuffer and are a fun way to keep kids occupied on long flights or car rides. We have had a number of favourites over the years including Professor Noggin's games, the UNO card game, and any of the Top Trumps decks.
Language flashcards are also a great idea if you have an upcoming trip to a country where English isn't the primary language and you want the family to brush up on their skills. Lingo cards come in French, German, Italian, Greek, Indonesian, Japanese, Mandarin and Russian as well as British, Australian and Kiwi slang.
14. Books for Kids
Books always make a great gift – for anyone of any age! For kids and teens who like to explore the world you can find books they can read at home to inspire travel or books to take with them while travelling. Lonely Planet Kids The Travel Book and Amazing World Atlas are great for stoking wanderlust at home (available in hardcover or Kindle).
If you have a trip planned already then consider a kid-friendly destination guide – The City Trails series or the Not-for-Parents series (both ages 8 and up) are great choices. A fictional book set in your destination makes a great gift as well.
15. Books for Teens
Encourage your teen to travel the world with National Geographic's Destinations of a Lifetime: 225 of the World's Most Amazing Places and watch as their travel wish list grows longer and longer!
16. Subscriptions
A magazine subscription is a stocking stuffer that your child will enjoy all year long. National Geographic Kids (for kids aged 6 and up) is available in print or digital formats and National Geographic Little Kids (ages 3-6) available in print are great options that your children will anticipate receiving each month. Shop online at the National Geographic Store to order a subscription.
17. Scarf/Wrap for Teen Girls
The teen girls that I know would love to receive a scarf/wrap that they could cozy up with on upcoming flights. This two-toned one is lightweight, feels like cashmere and is available in a variety of colours.
18. Travel Blankets and Pillows
My daughters and I love Lug travel blankets and pillows and use them on all our long-haul flights. The machine washable blankets are made from cozy fleece and are available in several colours. The blanket comes in a zipped case which transforms into a pillow cover to use with the inflatable pillow that is included. There's also now a version designed for younger kids that looks like a cuddly animal.
19. Scratch Off World Map
Scratch Off World Maps are a great idea for kids of all ages to keep track of their travels (if Santa is reading then I would like one too!). This one has the U.S. states and the Canadian provinces clearly divided so they can be easily scratched off as well.
20. Jigsaw Puzzles
Christmas holidays are a great time for the family to sit down and do a puzzle together. Choose one that will expand your travel wish list or one with an image from a favourite destination that you have already been. If you are home for the holidays then at least you can be dreaming about going somewhere!
We are a participant in the Amazon Services LLC Associates Program, an affiliate advertising program designed to provide a means for us to earn fees by linking to Amazon.com and affiliated sites.
Pin This For Later