Looking for a family-friendly resort in Florida? I asked family travel writers to recommend the best resorts in Florida and came up with this list of 11 fun resorts for families. One of them will be perfect for your family's next getaway to the Sunshine State.

When it comes to travelling with kids, the resort you choose can mean the difference between a fabulous family vacation and a disaster. I asked family travel writers for their recommendations for the best family-friendly resorts in Florida and came up with this list of 11 fun resorts in the Sunshine State. You're sure to find one on the list that would be perfect for your family's next getaway.
You might also enjoy: 13 Awesome Resorts for Families in the Caribbean and Mexico
This post may contain affiliate links. If you click an affiliate link and make a purchase then we receive a small commission at no additional cost to you.
We are a participant in the Amazon Services LLC Associates Program, an affiliate advertising program designed to provide a means for us to earn fees by linking to Amazon.com and affiliated sites. As an Amazon affiliate I earn from qualifying purchases.
1. Omni Amelia Island Resort
Our stay at the Omni Amelia Island Resort came at the end of our two week road trip through Florida and Georgia and was the perfect final place to properly relax. The resort is beautiful and packed full of all the amenities and facilities you would expect from a high end hotel with numerous restaurants and activities on offer.
Our apartment looked out over the sea and watching the sun set across the ocean every evening was such a joy, the sky would turn beautiful shades of pink and orange. Our apartment was so well kitted out and beautifully put together, we felt we could easily move in. Beachtime walks became a daily treat and we really didn't want to leave at the end of our stay.
Nichola West, Globalmouse Travels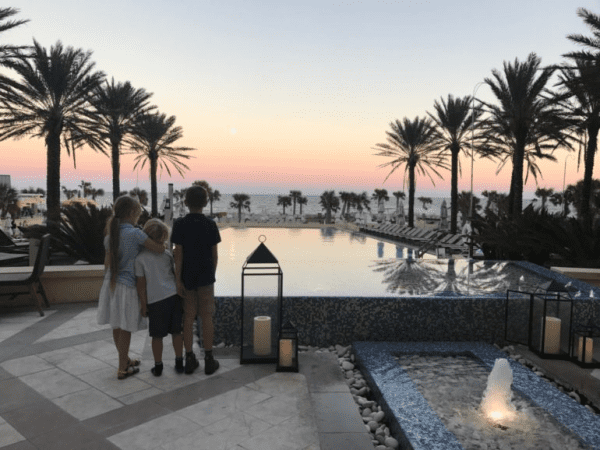 2. Disney's Grand Floridian Resort
We have stayed at Disney's deluxe Grand Floridian Resort & Spa several times over the years – most recently when we spent Christmas at Disney World. The location on the monorail is ideal for us as Magic Kingdom is our favourite park and we often return there for the evening regardless of where we have spent the day. I love the elegant Victorian style of the hotel which is reminiscent of historic seaside hotels.
Some of my favourite Disney World restaurants, Citricos, Narcoossee's, and the Grand Floridian Café, are located at the resort and we appreciate not having to travel too far to enjoy a nice dinner. When my girls were younger they loved the Grand Floridian's character dinner at 1900 Park Fare featuring Cinderella and Prince Charming and my husband and I found it less stressful to take our princess-loving daughters there than to breakfast at Cinderella's Castle.
The resort also has a fun zero-depth entry pool with a waterslide and a nearby water play area for younger kids which are both perfect for relaxing late in the afternoons while taking a break from the parks. Sitting outside at the resort in the evening and watching the fireworks light up the sky over Cinderella's Castle or the nighttime electrical water parade cruise by on the Seven Seas Lagoon is the perfect way to wrap up a busy day at Disney World.
Lisa Goodmurphy, Gone with the Family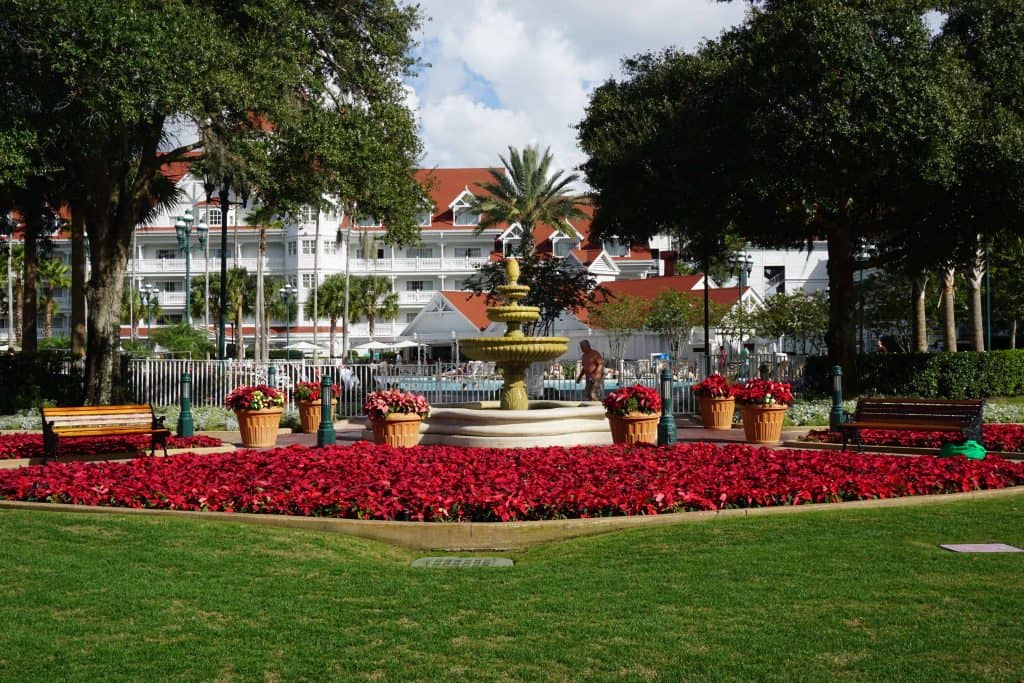 3. Resort at Longboat Key Club, Sarasota
When looking at Florida family vacation options, Sarasota should definitely be considered. This fun city on the Gulf Coast of Florida offers lots of great activities for families, including the Ringling Museum and kayaking.
The luxurious Resort at Longboat Key Club is a great "home base" for a Sarasota vacation. It offers 223 large rooms and suites spread across several buildings on the property. The Golf coast beach is the big highlight of the resort, and guests can rent kayaks, paddleboards, among other things. There's also a beautiful pool, and many activities including a summer ½ and full day sports camp, tennis, golf, and a spa. There are also eight on-site restaurants, as well as many fabulous restaurants right in Sarasota.
Jodi Grundig, Family Travel Magazine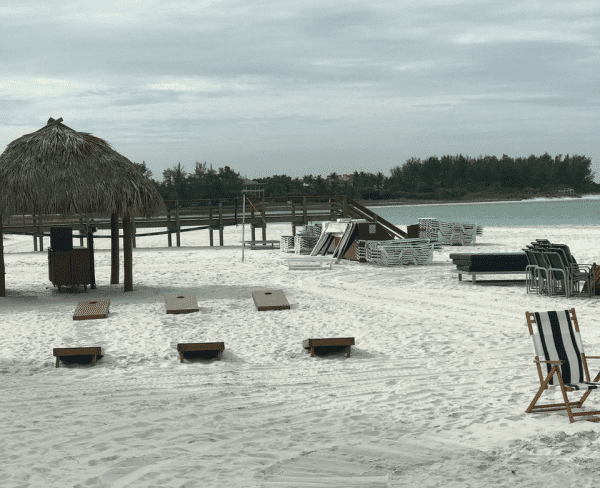 4. Disney's Wilderness Lodge
Wilderness Lodge is a beautifully themed Disney World hotel located only 10 minutes by boat across the lake from Magic Kingdom.
This awe-inspiring hotel transports you to a rustic mountain lodge, inspired by the atmospheric National Park lodges from the early 1900s and Native American culture. There are towering totem poles, a gigantic stone fireplace, waterfall, creek and even a geyser reminiscent of Old Faithful at Yellowstone National Park.
I found staying here worked as a calming antidote to the crowded, rainbow-coloured days in the theme parks. Being surrounded by soaring pillars of timber in the colossal lobby envelopes you in nature's beauty. And the subtle Disney theming makes the hotel feel like an extension of the theme park.
The pool area is incredible with waterslide, huge pool, hot spa and water play area. There are even life jackets for littles, lifeguards on duty and the water is heated so you need never get cold.
The bunk bed rooms are one of our absolute favourite features of this hotel. This room configuration is so much more practical than the kids having to share a bed. And they loved it!
Kirralee Baker, Escape with Kids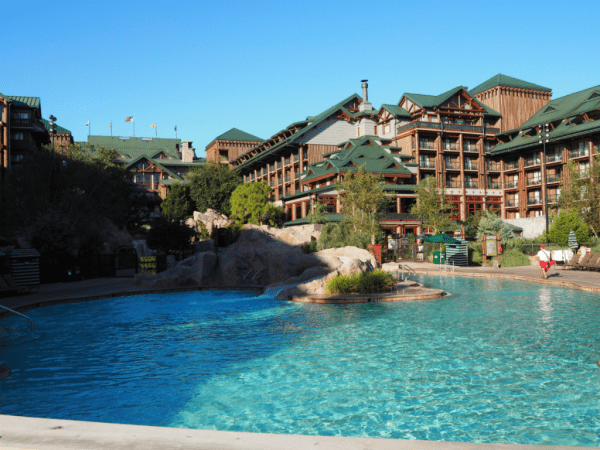 5. The Resort on Cocoa Beach, Cocoa Beach
The Florida Space Coast is a great spot to combine a little sand and sea with your Disney magic, and Cocoa Beach is our favourite. It's only about an hour's drive to Walt Disney World, so a day with the mouse is totally doable. Or do what we do and tack on a day or two on either end of your trip to enjoy the laid-back, surfer atmosphere.
The Resort on Cocoa Beach is a great condo hotel with an enviable stretch of Cocoa Beach out back and a big and fun pool in front. In between, the building consists of spacious two-bedroom apartments with full kitchens and washer/dryer combos that are sure to fuel some fantasies of moving in and surfing for a living.
Corinne McDermott, Have Baby Will Travel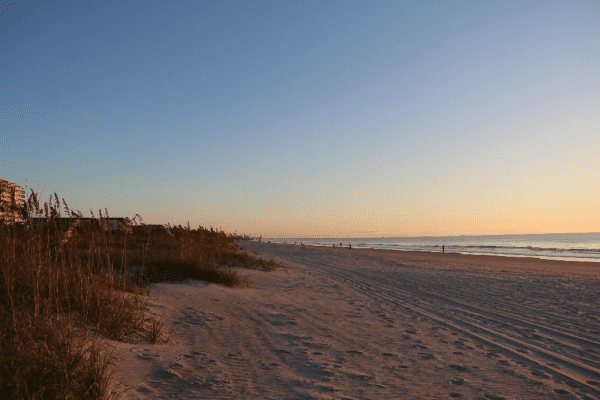 6. The Don CeSar, St. Pete Beach
We loved that the Don CeSar on St. Pete's Beach in Florida is a big hotel with a small boutique hotel feel. Although the hotel has a history dating back to 1928, we did not find it pretentious or old-fashioned. Known as the Pink Palace, thanks to the exterior's distinctive pink color, the Don CeSar is a local landmark. The hotel also has an ideal location on a wide white sand beach with gently lapping waves.
The Don CeSar is a family-friend hotel as well. There are plenty of things to keep the kids occupied at the hotel. My kids happily spent their time between the giant chess set on the beach, the beach itself, the family pool and the partially-shaded outdoor games room. The games room has quite a few games so you don't have children sulking that someone is hogging up the ping pong table or the table football. When their energy flagged, the kids could get a quick sugar fix at an old fashioned ice cream parlour on the premises.
The Don CeSar is one of my kids' favourite hotels in the world. We love it for its understated elegance and quiet luxury.
Shobha George, Just Go Places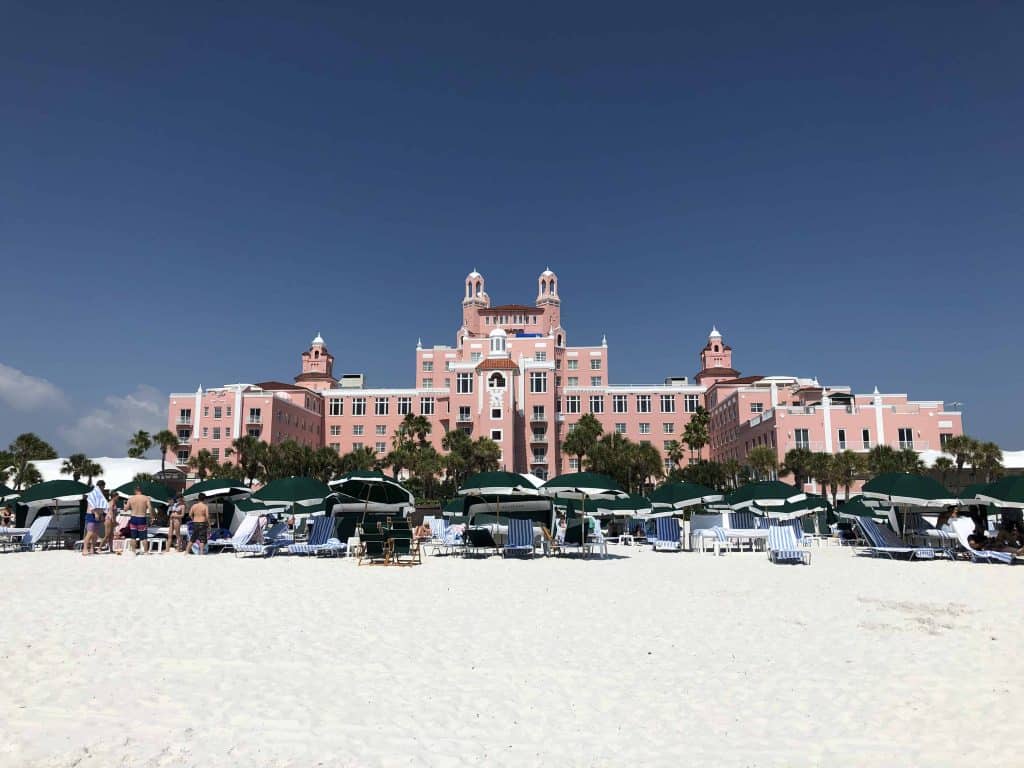 7. Four Seasons Resort Orlando at DisneyWorld
Located just 6 miles from the Magic Kingdom, luxury meets the magic of Disney at the Four Seasons Resort Orlando at Walt Disney World. From its family-friendly accommodations, FREE kids' club, lazy river, water slides, spa, restaurants, and with its AAA Five Diamond rating, we're talking pampering from the moment you enter the resort. 
On my multigenerational family vacation, we checked in to experience a magical luxury vacation, starting at the reception desk with the kids' play area.  My 3-year-old granddaughter was pampered by the resort with her first Disney-themed gift, a magical princess outfit.
While the accommodations are over-the-top, our happiest memories are a late night swim with no other resort guests around, and dining at the character breakfast and witnessing the toddler's first sight of her favorite character — Minnie the Mouse. We've got 5 magical reasons why you should book your next stay at Four Seasons Resort Orlando at Walt Disney World.
Diana Rowe, Traveling in Heels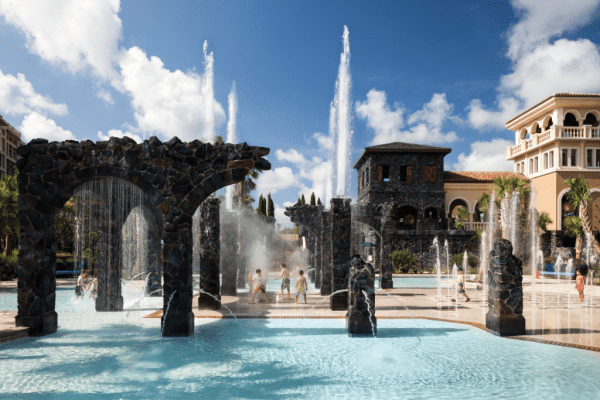 8. Hyatt Regency Coconut Point Resort and Spa, Bonita Springs
Hyatt Regency Coconut Point Resort, located just 30-minutes south of Fort Myers, offers a perfect family escape without the Florida crowds. The kids will love the expanded waterpark with slides for both little and big splashers plus a zero entry pool for those just learning to splash.
If sandcastles are more your thing, a scenic ferry ride will transport you to the resort's large and private sandy beach. There's even fun for the family on dry land with lawn games, board games as well as a rock wall, all included as part of your resort stay. Of course the onsite spa offers the perfect escape into bliss for mom and dad.
When it comes to treating your palate, Coconut Point Resort offers a variety of dining options, from your morning coffee on the patio and hearty sandwiches by the pool, to hand crafted cocktails over boardgames and fresh seafood by the water. But don't be surprised if the kids gravitate to the bonfires for s'mores in the evening.
Hyatt Regency Coconut Point may not be located in one of Florida's popular beach towns but it offers the perfect mix of family time, water fun and full bellies without the crowds.
Carrie Anne Watson-Badov, Everything Mom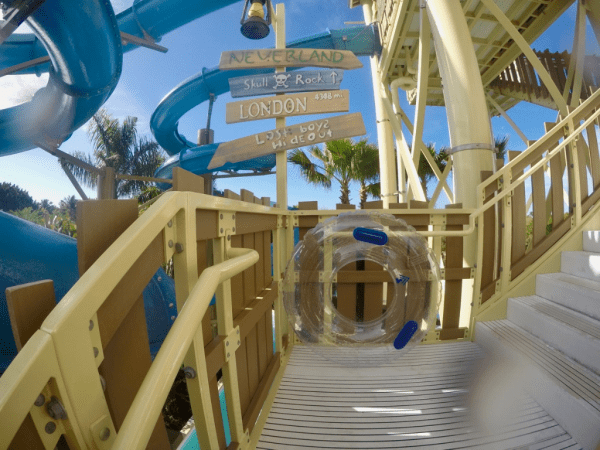 9. Hawks Cay Resort, Florida Keys
Hawks Cay in the Florida Keys is a great place to visit with your kids to get away from the cold and to have an amazing family vacation! The resort has multiple pools including one that is just for kids as well as a pirate ship splash pad, sand volleyball, mini golf, soccer field and basketball court.
If you are more of an ocean person head over to the lagoon to swim, paddle board, kayak or just play in the sand. You can also visit the resident dolphins and take a swim with them if you'd like. At sunset jump on the sunset cruise that takes off right from the resort and enjoy an amazing sunset out on the water. 
The Florida Keys are an amazing place to explore so if you can pull yourself away from the resort spend time exploring the state parks, beaches and Key West with your family!
Bryanna Royal, Crazy Family Adventure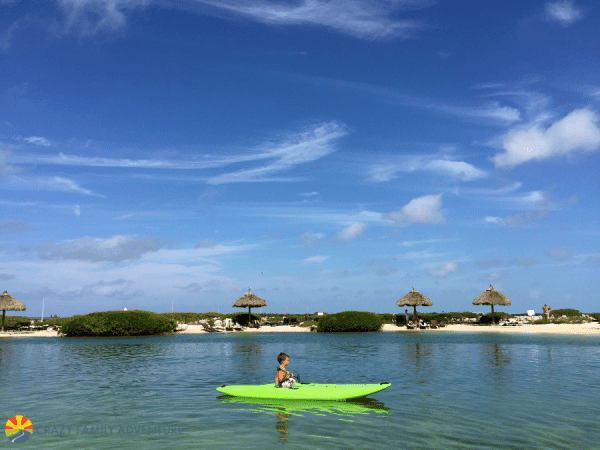 10. Hyatt Regency Grand Cypress, Orlando
Rated one of the best luxury hotels in Orlando by Five Star Alliance, the Hyatt Regency Grand Cypress is a luxurious resort with all of the amenities. Located in the Lake Buena Vista area, families can easily enjoy the theme parks and then return to enjoy the majestic resort.
The hotel offers plenty of things to do, including free bikes for adults and children, as well as two and four-person surreys. For golf fanatics, the resort has a 9-hole Pitch N Putt, Golf Driving Range, and 45 holes of Jack Nicklaus designed golf. There's also a 24 foot climbing wall, 24-hour health club, and racquet club.
The swimming pools are divine with waterfalls and waterslides for the kids along with a beach in front of Lake Windsong for water sports and beach volleyball. Guests can enjoy water activities such as kayaks, paddle boats, canoes, sailboats and hydro bikes. If you're looking to relax instead, enjoy the man-made beach, or lounge by the lagoon swimming pool which boasts 12 tumbling waterfalls.
The grounds are stunning, and well maintained. Our stay at the Hyatt Regency Grand Cypress was unforgettable. The resort has everything you would desire in an upscale luxury resort for the family.
Maria Lianos-Carbone, A Mother World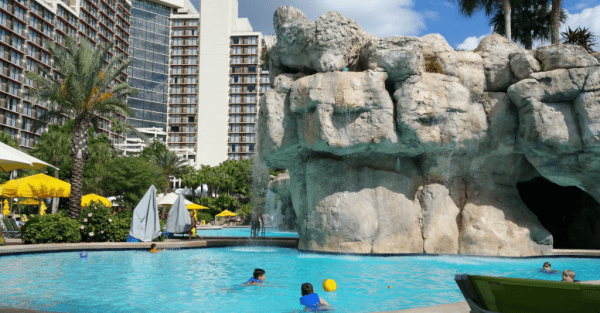 11. The Diplomat Beach Resort Hollywood
A visit to the Ft. Lauderdale/Miami region of Florida has no shortage of lodging options. Yet when you vacation, you want to be able to select one that offers you a little change from the standard room.
The newly remodeled Diplomat Beach Resort is a treat to stay at, as it offers families spacious and tastefully decorated room choices, the option of gorgeous pools to swim in or lounge by, the ocean to walk by or dip your feet in, PLENTY of food and dining options that range from quick and convenient to upscale and elegant. Whether you're here for business or pleasure, you'll feel like you've escaped to somewhere special.
Sharon Rigney, Trekaroo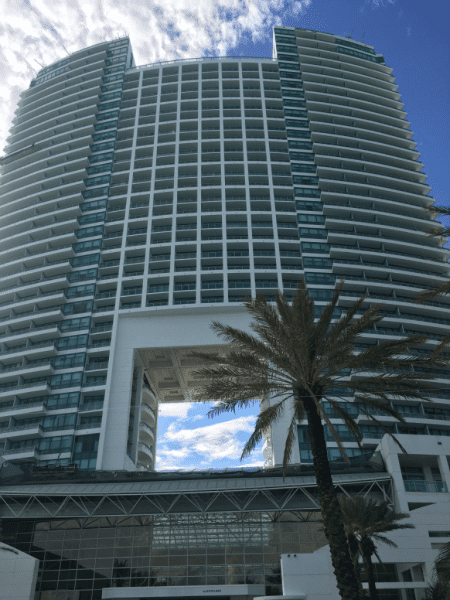 What is your family's favourite resort in Florida? Let us know in the comments below.
You Might Also Enjoy
A Mother-Daughter Luxury Getaway to the Don CeSar Hotel
13 Awesome Resorts for Families in the Caribbean and Mexico
Florida Family Fun at Sirata Beach Resort, St. Pete Beach
6 Reasons Why Pink Shell Beach Resort is a Perfect Family Escape
Pin This For Later