A review of family-friendly Sirata Beach Resort in St. Pete Beach, Florida.
I'm delighted to welcome guest poster Mary Chong of Calculated Traveller Magazine with her review of Sirata Beach Resort in St. Pete Beach, Florida.
The sound of giggles and laughter of the children as they chase the birds on the beach mixed with the sound of the surf as I lay under my umbrella in the sun at Sirata Beach Resort on St Pete Beach Florida is infectious.
We are a participant in the Amazon Services LLC Associates Program, an affiliate advertising program designed to provide a means for us to earn fees by linking to Amazon.com and affiliated sites. As an Amazon affiliate I earn from qualifying purchases.
This article may contain affiliate links. If you click an affiliate link and make a purchase then Gone with the Family may receive a small commission at no additional cost to you.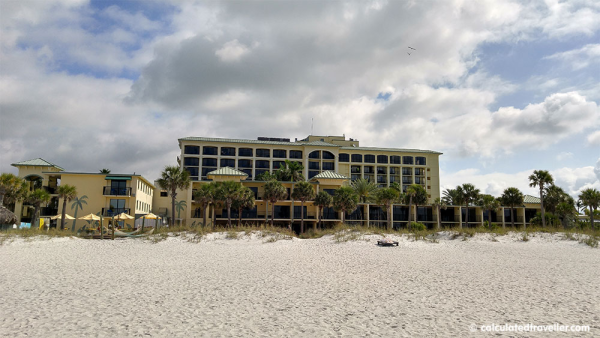 " rel="noopener noreferrer" style="color: #00bfbf;" target="_blank" title="Sirata Beach Resort on TripAdvisor">Read reviews and check current rates for Sirata Beach Resort on TripAdvisor
A family-friendly resort with children's playground area on the beach and family suites complete with kitchenettes are perfect for a vacation in the sun.
Add to that on-property resort dining in a traditional restaurant at the Compass Grill or dining alfresco beachside at Rum Runners Bar Grille, as well as an outdoor pool, gift/tuck shop, fitness centre, and coin-operated laundry facilities make it so that you don't have to leave the resort property.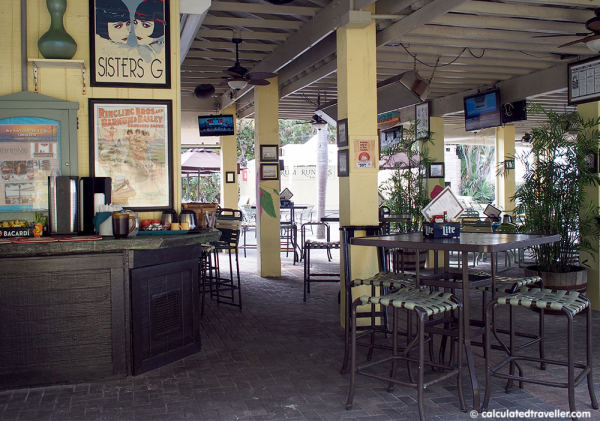 TIP: Live music nightly and complimentary unlimited beer, wine and rum punch is available between 6 pm and 7 pm for the Sunset Salute. One night we did find the music a bit loud in the evening, but the volume turned down at around 9 pm.
We had the opportunity to stay in one of their newly refreshed oversized deluxe suites with a king size bed and seating area. The adjoining living room with 2-person sofa bed included a kitchenette with bar fridge, microwave, toaster, coffeemaker, dishes, cutlery and glassware as well as an additional TV.
The accommodations were bright, cheerful and very comfortable — perfect for an extended stay.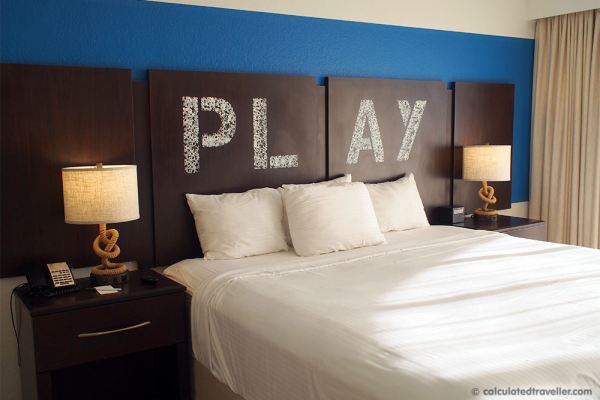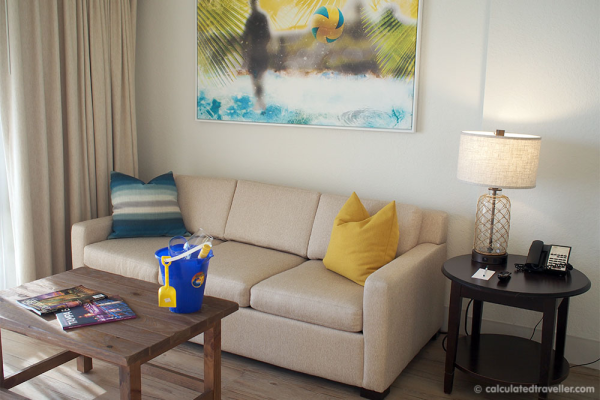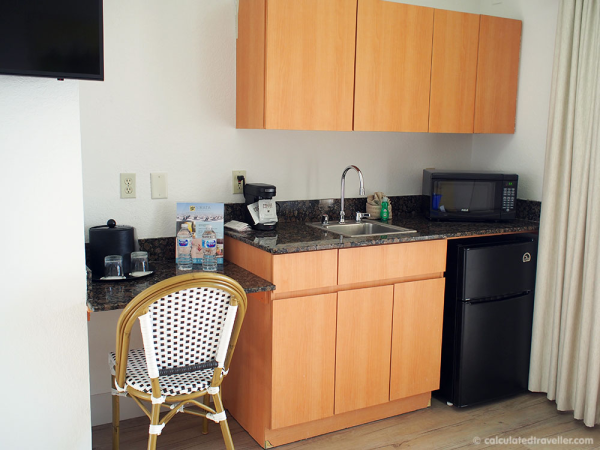 Included with your accommodations, and resort fee:
– Complimentary Wi-Fi
– Beach Towels
– Two bottles of water daily
– Parking
– Lounge chairs and beach towels by the pool
– Unlimited local calling
– Concierge
– Fitness Centre
– Business Centre
TIP: Complimentary bicycles are available as well as scheduled activities for the kids such as crafts, volleyball, corn hole tournaments and seashell hunts.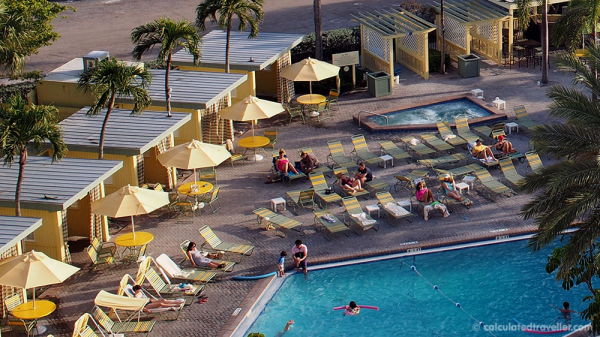 The beach is wide and deep with plenty of room so that it doesn't feel crowded at all. The gulf water is shallow although there were lots of waves during our stay,
TIP: A sign near the towel station warned of stingrays in the water. So pay close attention to warnings.
We spent our time on the beach loungers in a cabana (extra fee) but feel free to bring your own chairs, beach blanket and sunshade.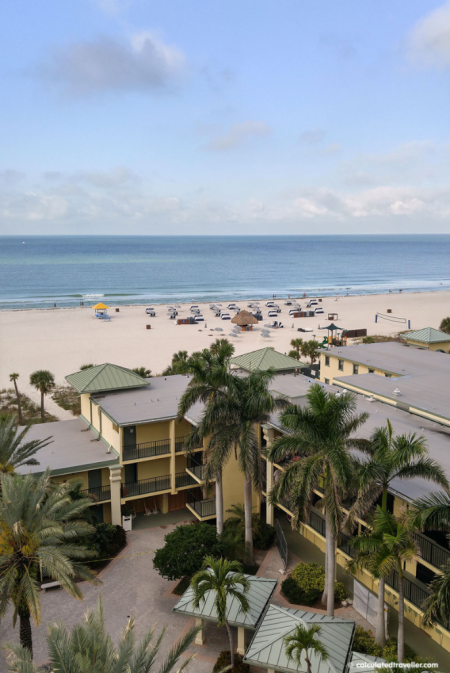 One afternoon we took a lovely 2-hour boat excursion over to Shell Key. Conveniently, the boat picked us up right on the beach in front of the resort where we arranged our tickets. With a picnic lunch, we boarded the vessel and set sail.
Along the way to Shell Island, we saw St. Pete's Beach from the water as well as lots of birds and wait for it… DOLPHINS. We were so excited to see dolphins swimming in the ocean and watched as they followed the boat as we sailed.
Shell Key is a protected island and only accessible via the water so you can imagine that not a lot of people visit here. Once we lay anchor, most of the other passengers immediately set off to go hunting for seashells specifically in search of sand dollars. We, on the other hand, took a lovely walk and then sat on the beach with our little picnic lunch.
It was a great day and will be a great memory.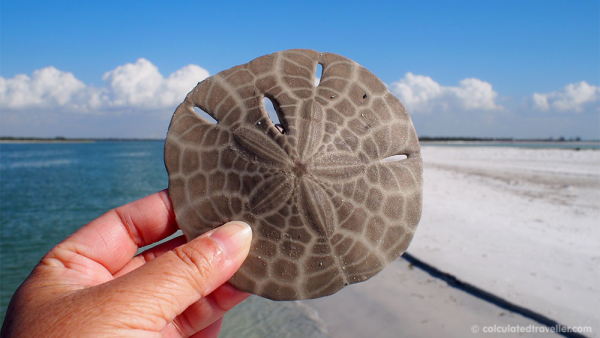 In the middle of a significant $15 million rejuvenation project, during our stay at Sirata Beach Resort parts of the property were not in operation. The photos of the proposed changes including a new children's splash pad and new pool look bright, modern and beachside fresh and I look forward to returning once they are complete.
We were guests of Sirata Beach Resort, all opinions are entirely my own.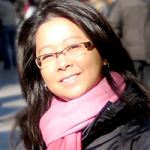 Mary Chong is an award-winning Canadian travel writer, food reviewer, and carry-on only traveller. Mary shares travel advice, helpful tips, honest reviews, and travel inspiration for destinations throughout the world on her website Calculated Traveller Magazine.