Planning a visit to Seattle, Washington? These recommendations for 5 places to visit in Seattle and 1 place to skip will help you make the most of your visit to the city.
I'm delighted to welcome guest poster, Denise Ashur from The Navy Blonde, to share her picks for the best things to do in Seattle, Washington.
This post may contain affiliate links. If you click an affiliate link and make a purchase then we receive a small commission at no additional cost to you.
We are a participant in the Amazon Services LLC Associates Program, an affiliate advertising program designed to provide a means for us to earn fees by linking to Amazon.com and affiliated sites. As an Amazon affiliate I earn from qualifying purchases.
When you think of Seattle, your thoughts might jump to one of the many movies and tv shows that take place in the city, like Sleepless in Seattle or Grey's Anatomy. While we all love a little drama, the city itself is full of action – if you know where to go.
Having both lived in Seattle and visited it as a tourist, I finally compiled a list of places that you absolutely should visit in the city – and one that you should skip.
1. The Space Needle
Let's start by stating the obvious: everyone should visit Seattle's most famous landmark, the Space Needle. It's not only towering and a major icon, it also offers an incredible view of the city and Puget Sound.
That being said, Seattle is known for its rainy and overcast weather, meaning you might want to check the forecast before planning a day trip.
When visiting the iconic high-rise, you also must buy tickets ahead of time. I say must, because you actually need to schedule the specific day and hour of your visit, since the observatory deck only holds a limited number of people. Tickets are fairly expensive, running around $35 at the time of this posting, and you can purchase them from the Space Needle website.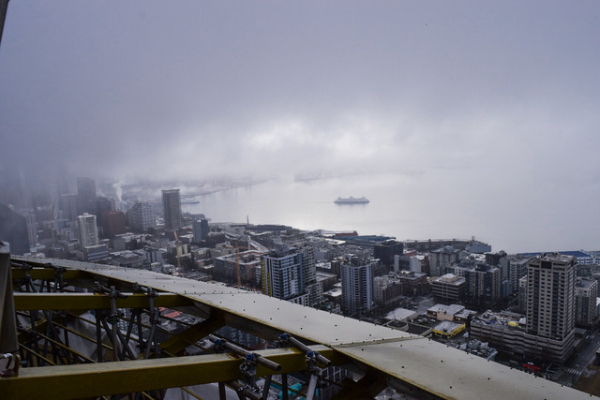 Despite the price and the unpredictable weather, the Space Needle is an absolute gem. The Space Needle is to Seattle what the Empire State Building is to New York – a major tourist attraction that offers unparalleled views of the city. But unlike in New York, you don't have to wait in line for hours to access the view, all you need is a little bit of pre-planning.