Pembrokeshire is a great option for anyone looking for places to visit in South Wales on a day trip from Cardiff. We booked a private day tour from Cardiff with Real Wales Tours to visit the Pembrokeshire Coast and see as much as we possibly could in just one day.
When we were planning our recent trip to Cardiff we wanted to include time outside of the city to see some of the Wales countryside so I started researching possible day trips from Cardiff. I soon had a list of places to visit in Wales and possible day trips in Wales that far exceeded what we could possibly see in two days so some difficult decisions had to be made. 
This post may contain affiliate links. If you click an affiliate link and make a purchase then Gone with the Family will receive a small commission at no additional cost to you.
After much deliberation, we decided that one of our priorities was to visit the county of Pembrokeshire. Pembrokeshire, Wales (also known as the Pembrokeshire Coast Wales) is located in the southwest corner of Wales and is home to Pembrokeshire Coast National Park which includes the Pembrokeshire Coast Path.
The Pembrokeshire Coast is Britain's only truly coastal National Park, covering 240 square miles around Wales' south-western shore and includes spectacular coastlines, sandy beaches, walking trails, wildlife viewing and historic sites. A family could easily spend an entire vacation in this region but we had only one day to see as much as possible.
    Check out the website Enjoy Pembrokeshire for more information on activities in the region!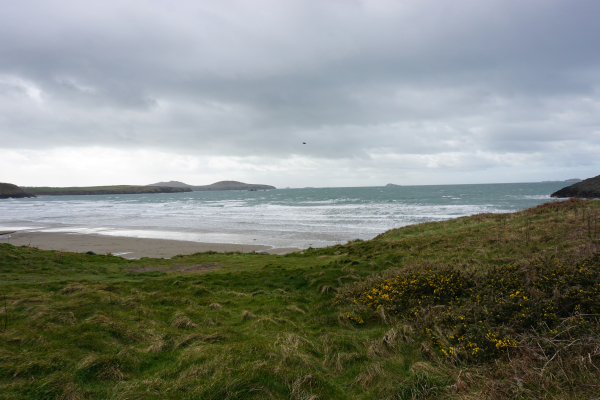 You can find more information on trains from Cardiff Central Station on the Transport for Wales website.
If you're trying to decide where to go in Wales then the Real Wales Tours website will provide some great ideas for places to visit in South Wales and beyond whether you are looking for a day tour from Cardiff or a lengthier tour of Wales. If you have questions, then don't hesitate to contact Nia – she's lovely – knowledgeable and very helpful in planning an itinerary!
Cardiff to Pembrokeshire was the first of the two day trips that we had booked. We wanted to see the coastal area and we wanted to visit St Davids Cathedral but other than that we left it up to our tour guide to decide where to take us.
St David is a small town within Pembrokeshire Coast National Park but is officially a city because of the cathedral. Historically, the English Crown considered any town that had a cathedral to be a city and although this practice was discontinued late in the 19th century, Queen Elizabeth II granted St David city status again in 1994 in recognition of its heritage. As a result, St David is now the smallest city in the United Kingdom with approximately 1,800 residents.
St Davids Cathedral (Eglwys Gadeiriol Tyddewi in Welsh) is located in the city of St Davids on the western coast of Wales in the county of Pembrokeshire. There has been a church on the site of the present cathedral since the 6th century when a monastery was founded by St David the patron saint of Wales. Construction of the present cathedral began in 1181. The cathedral has been a pilgrimage site since the 12th century when the Pope declared that two pilgrimages to St Davids was equivalent to one to Rome and three to St Davids equivalent to one to Jerusalem. Admission is free but donations (suggested £5 per person) to support the upkeep of the cathedral are welcomed.
As the cathedral is located in a hollow (intended to provide protection from invaders), visitors are treated to a stunning view looking down upon it as they arrive. Since we visited mid-March there were spring daffodils blooming around the site as well which was quite lovely. There was a choir rehearsal taking place during our visit so we had a look around the cathedral and then headed out for a walk around the charming city of St Davids. There are also volunteers who will provide visitors with a guided tour of the cathedral. There are several shops around the central square of the city including Chapel Chocolates selling delicious handmade Welsh chocolates and Mary's Farmhouse ice cream.
This is a popular section of the coastal path as the views from the trail are spectacular, however, we only had time for a short walk and the strong winds coming ashore made it tough going. On a return visit to Wales I would plan to spend more time in Pembrokeshire specifically to walk the coastal path.
We had a fabulous day day visiting the Pembrokeshire coast in South Wales and I immediately (i.e. on the drive back to Cardiff!) added spending more time in Wales to my travel wish list. I highly recommend Real Wales Tours to anyone planning to visit Wales. We thoroughly enjoyed both of our days with Nia who is a knowledgeable and friendly guide whose passion for sharing her country is evident in the high quality of the tours she provides.  
We are a participant in the Amazon Services LLC Associates Program, an affiliate advertising program designed to provide a means for us to earn fees by linking to Amazon.com and affiliated sites.