Pembrokeshire is a great option for anyone looking for places to visit in South Wales on a day trip from Cardiff. We booked a private day tour from Cardiff with Real Wales Tours to visit the Pembrokeshire Coast and see as much as we possibly could in just one day.
When we were planning our recent trip to Cardiff we wanted to include time outside of the city to see some of the Wales countryside so I started researching possible day trips from Cardiff. I soon had a list of places to visit in Wales and possible day trips in Wales that far exceeded what we could possibly see in two days so some difficult decisions had to be made.
This post may contain affiliate links. If you click an affiliate link and make a purchase then Gone with the Family will receive a small commission at no additional cost to you.
After much deliberation, we decided that one of our priorities was to visit the county of Pembrokeshire. Pembrokeshire, Wales (also known as the Pembrokeshire Coast Wales) is located in the southwest corner of Wales and is home to Pembrokeshire Coast National Park which includes the Pembrokeshire Coast Path.
The Pembrokeshire Coast is Britain's only truly coastal National Park, covering 240 square miles around Wales' south-western shore and includes spectacular coastlines, sandy beaches, walking trails, wildlife viewing and historic sites. A family could easily spend an entire vacation in this region but we had only one day to see as much as possible.
Check out the website Enjoy Pembrokeshire for more information on activities in the region!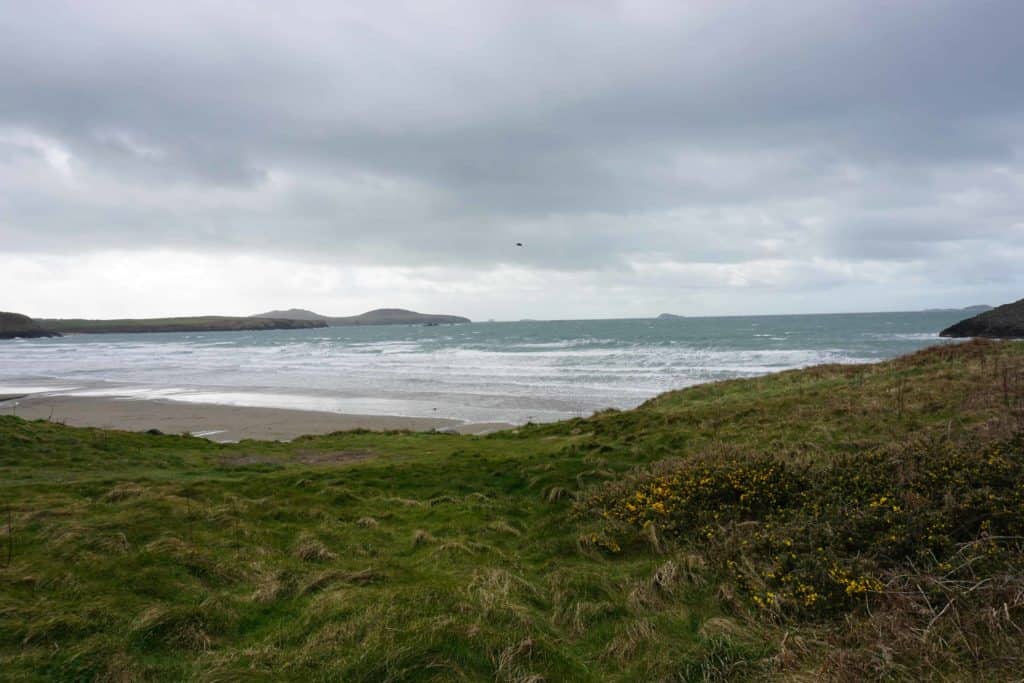 Booking a Tour vs. Self-Drive vs. Public Transport
There are three options for anyone planning a day trip from Cardiff to Pembrokeshire – (1) rent a car and drive there; (2) take public transportation; or (3) take a guided day tour (group or private).
(1) Self-Drive Option:
While self-drive would have been a less expensive option than a tour, we dismissed it fairly quickly because neither of us were keen to drive across Wales on the left-hand side of the road. The other downside to driving in an unfamiliar destination is that you are bound to take a wrong turn or get turned around at some point. While that can be fun when you have the time to explore, with only one day to tour a destination it can make more sense to have an expert guide transport you around the region in the most efficient way possible.
For car rentals in Europe, we often use Auto Europe which has several locations for pick-up in Cardiff including the airport and the rail station.
(2) Public Transportation:
It is possible to travel from Cardiff to Pembrokeshire by public transport but it would have been difficult and we wouldn't have seen as much as we had if we were relying on train and bus schedules. If you're relying on public transport it would make more sense to head there for at least a couple of days rather than attempting a day trip.
You can find more information on trains from Cardiff Central Station on the Transport for Wales website.
(3) Guided Tour – Group or Private:
We ultimately decided that even though it was the most expensive option that we would book a private tour. Engaging an expert guide would be a more efficient use of the limited time that we had to see South Wales. We could relax and enjoy the scenery while our guide drove and there would be no risk of getting lost. There were group tours available, however, we opted for private so that we could determine the exact itinerary and schedule to be followed.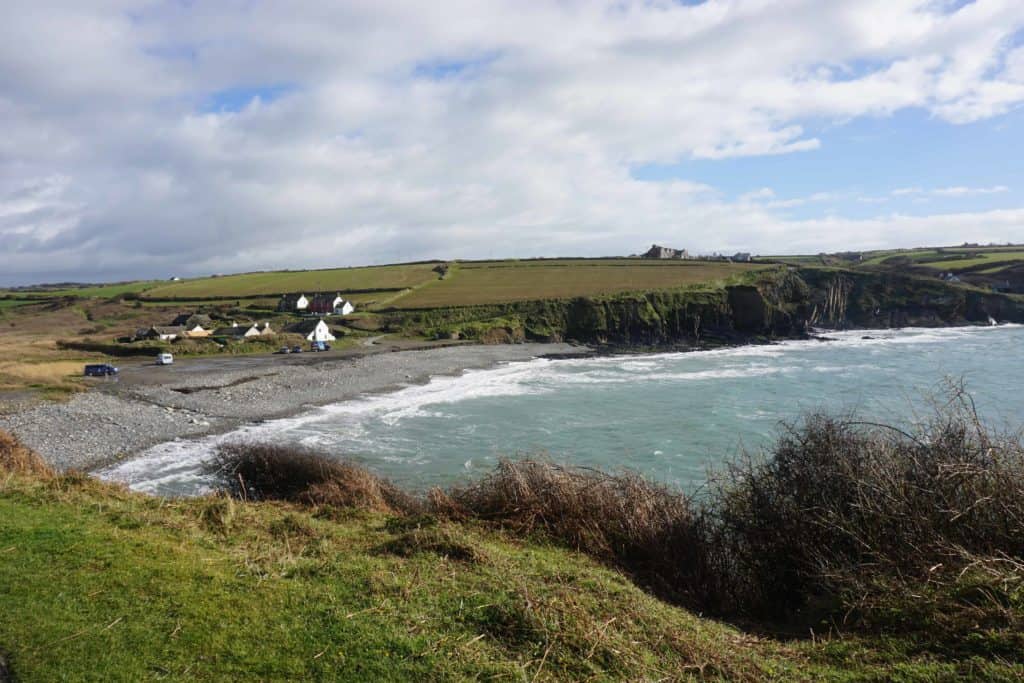 Real Wales Tours
After some online research and inquiries, we opted to book two private day tours with Real Wales Tours, a local family business that has been offering a variety of tours around Wales for the past few years. The company was founded by our guide, Nia, who is passionate about showing her beautiful country to visitors. Real Wales Tours offers sightseeing tours of various lengths (from just half day – 5 days), cycling tours, walking tours, retreats and more.
If you're trying to decide where to go in Wales then the Real Wales Tours website will provide some great ideas for places to visit in South Wales and beyond whether you are looking for a day tour from Cardiff or a lengthier tour of Wales. If you have questions, then don't hesitate to contact Nia – she's lovely – knowledgeable and very helpful in planning an itinerary!
Cardiff to Pembrokeshire was the first of the two day trips that we had booked. We wanted to see the coastal area and we wanted to visit St Davids Cathedral but other than that we left it up to our tour guide to decide where to take us.
St. Davids City
Our guide, Nia from Real Wales Tours, picked us up around 9:30 am at our hotel in Cardiff and we headed for the coast which is about a 2.5 hour drive away. Our first stop of the day was to be St David, Pembrokeshire as visiting St Davids Cathedral and exploring the city of St David was one of our priorities for a day trip from Cardiff.
St David is a small town within Pembrokeshire Coast National Park but is officially a city because of the cathedral. Historically, the English Crown considered any town that had a cathedral to be a city and although this practice was discontinued late in the 19th century, Queen Elizabeth II granted St David city status again in 1994 in recognition of its heritage. As a result, St David is now the smallest city in the United Kingdom with approximately 1,800 residents.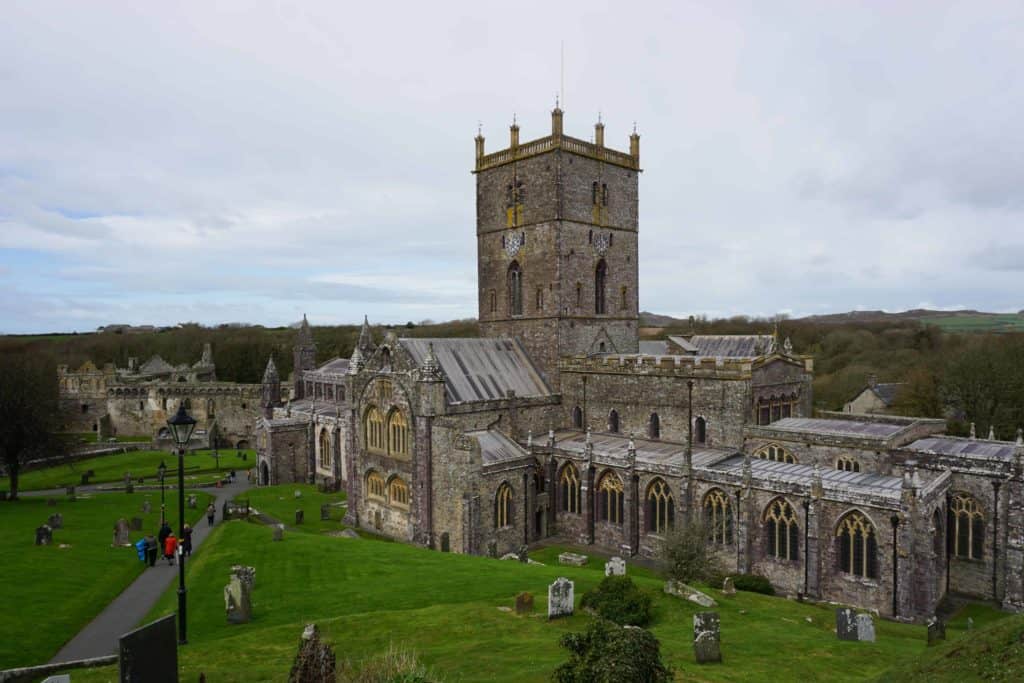 St Davids Cathedral (Eglwys Gadeiriol Tyddewi in Welsh) is located in the city of St Davids on the western coast of Wales in the county of Pembrokeshire. There has been a church on the site of the present cathedral since the 6th century when a monastery was founded by St David the patron saint of Wales. Construction of the present cathedral began in 1181.
The cathedral has been a pilgrimage site since the 12th century when the Pope declared that two pilgrimages to St Davids was equivalent to one to Rome and three to St Davids equivalent to one to Jerusalem. Admission is free but donations (suggested £5 per person) to support the upkeep of the cathedral are welcomed.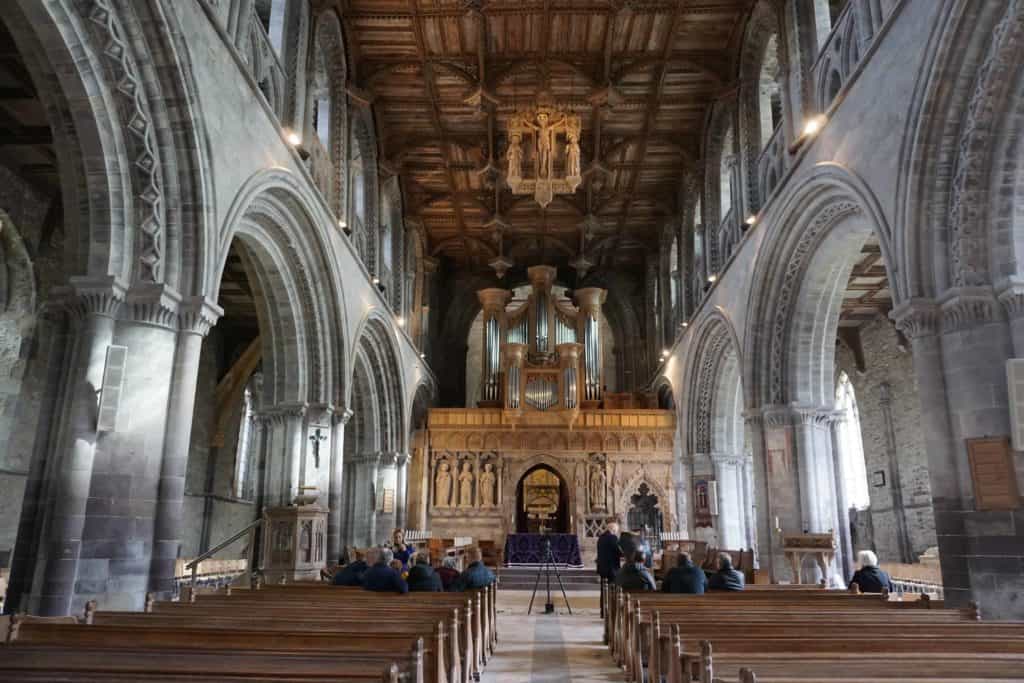 As the cathedral is located in a hollow (intended to provide protection from invaders), visitors are treated to a stunning view looking down upon it as they arrive. Since we visited mid-March there were spring daffodils blooming around the site as well which was quite lovely.
There was a choir rehearsal taking place during our visit so we had a look around the cathedral and then headed out for a walk around the charming city of St Davids. There are also volunteers who will provide visitors with a guided tour of the cathedral. There are several shops around the central square of the city including Chapel Chocolates selling delicious handmade Welsh chocolates and Mary's Farmhouse ice cream.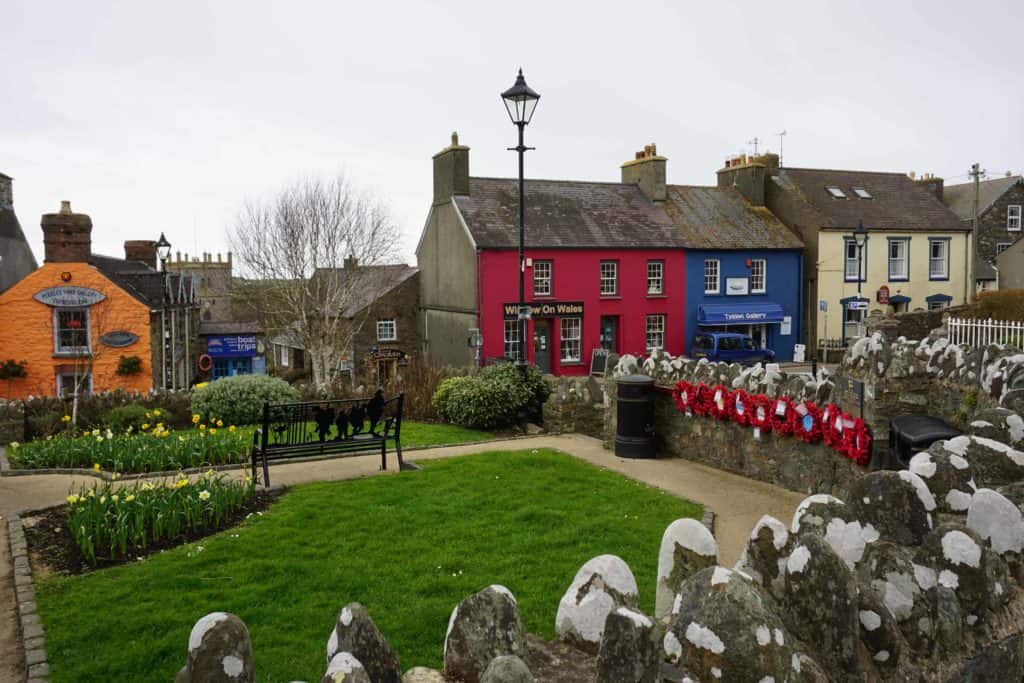 Pembrokeshire Coast Wales
Pembrokeshire is a county in southwest Wales that is home to the Pembrokeshire Coast National Park. The park occupies more than a third of the county and includes the Pembrokeshire Coast Path – a near-continuous 186-mile or 299 km trail through some of the most breathtaking coastal scenery in Britain. The plan for our day tour was to see the highlights of Pembrokeshire Coast National Park.
Whitesands Beach
Our first stop after leaving St Davids was Whitesands Beach which is just a few miles from the city. The beautiful white sand beach is one of the best surfing beaches in the country but on our mid-March visit it was just us and a couple of dog walkers. The weather was quite blustery at this point so we had a stroll along the beach and then headed up the cliff path.
This is a popular section of the coastal path as the views from the trail are spectacular, however, we only had time for a short walk and the strong winds coming ashore made it tough going. On a return visit to Wales I would plan to spend more time in Pembrokeshire specifically to walk the coastal path.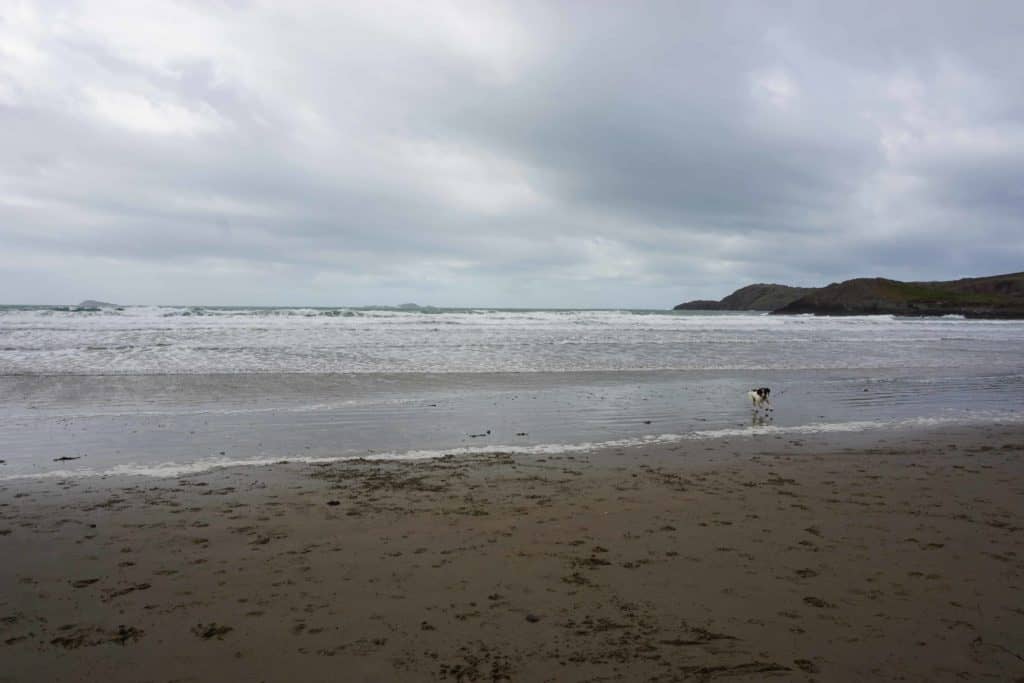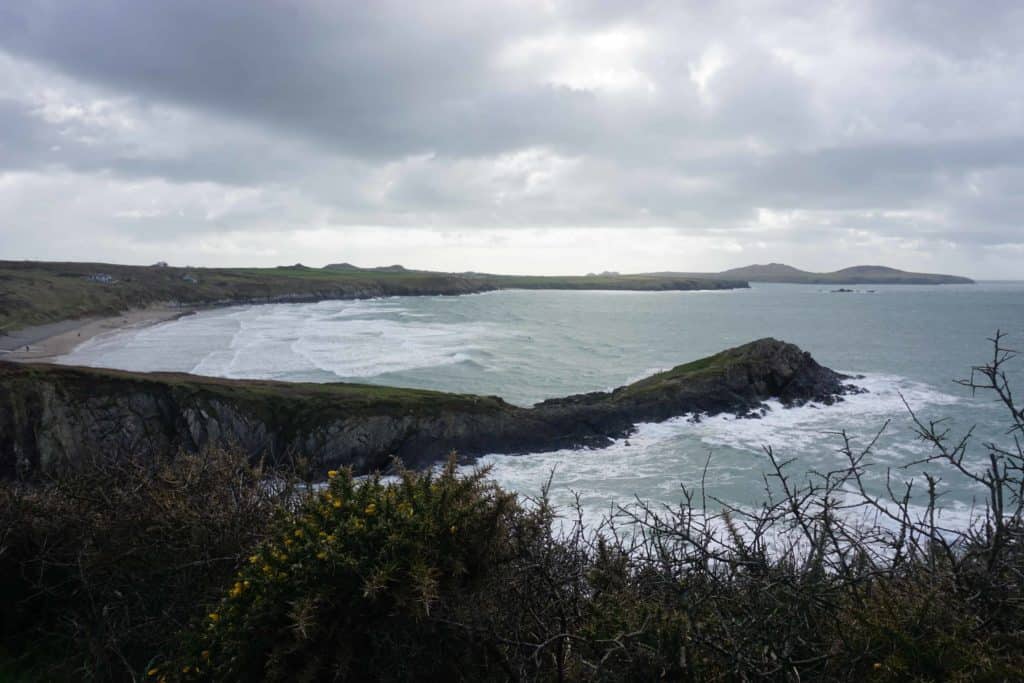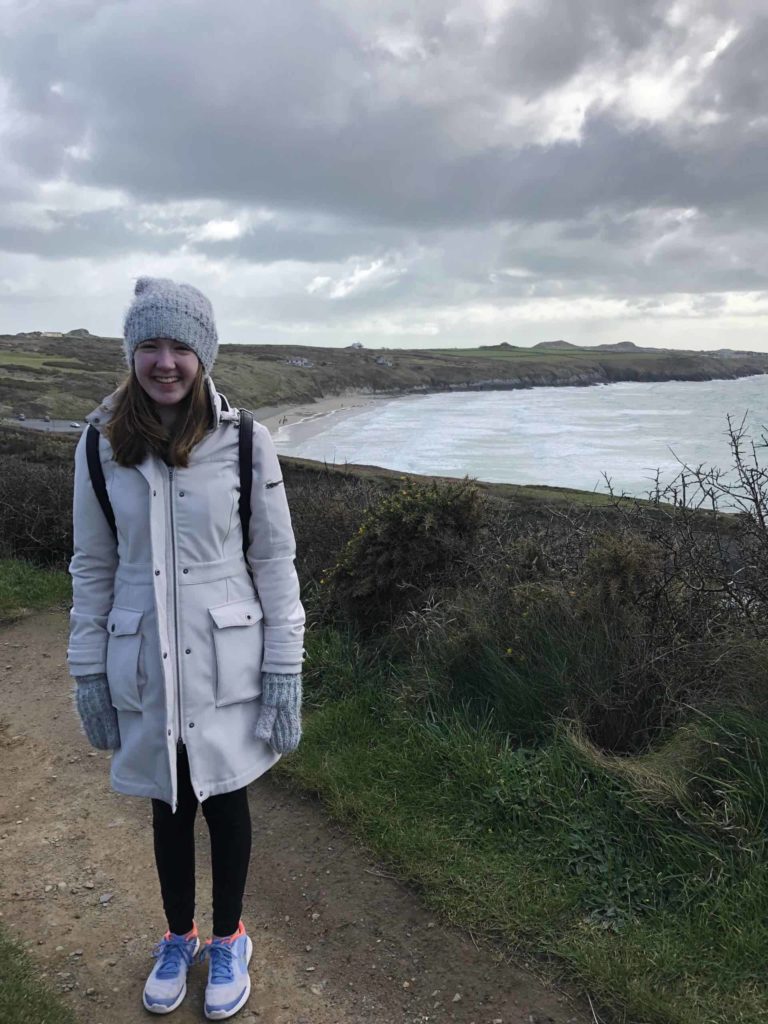 Abereiddy Beach and the Blue Lagoon
From Whitesands we headed next to Abereiddy Beach to see the Blue Lagoon. The lagoon is actually an old quarry and the water gets its beautiful blue colour from the slate rock.
This is a popular spot for coasteering, a uniquely Welsh sport where participants climb along the cliffs at sea level and throw themselves into the sea from time to time. It was crazy fun to watch but I won't be trying it anytime soon!
The Blue Lagoon has also recently become an arena for the sport of cliff diving and has been added to the locations for the Red Bull Cliff Divers' World Series.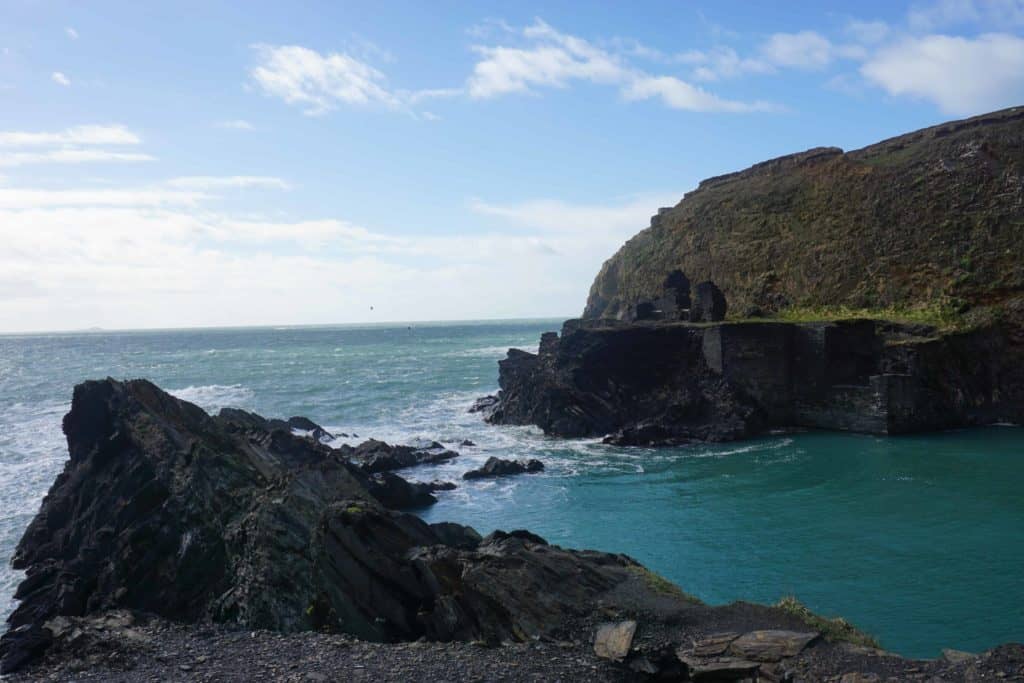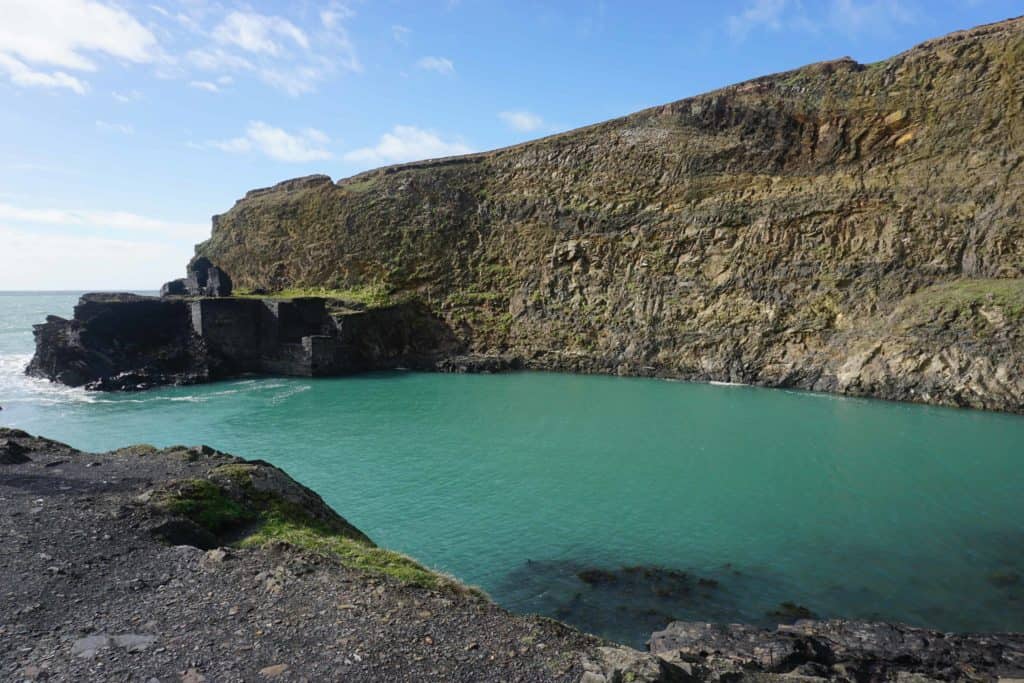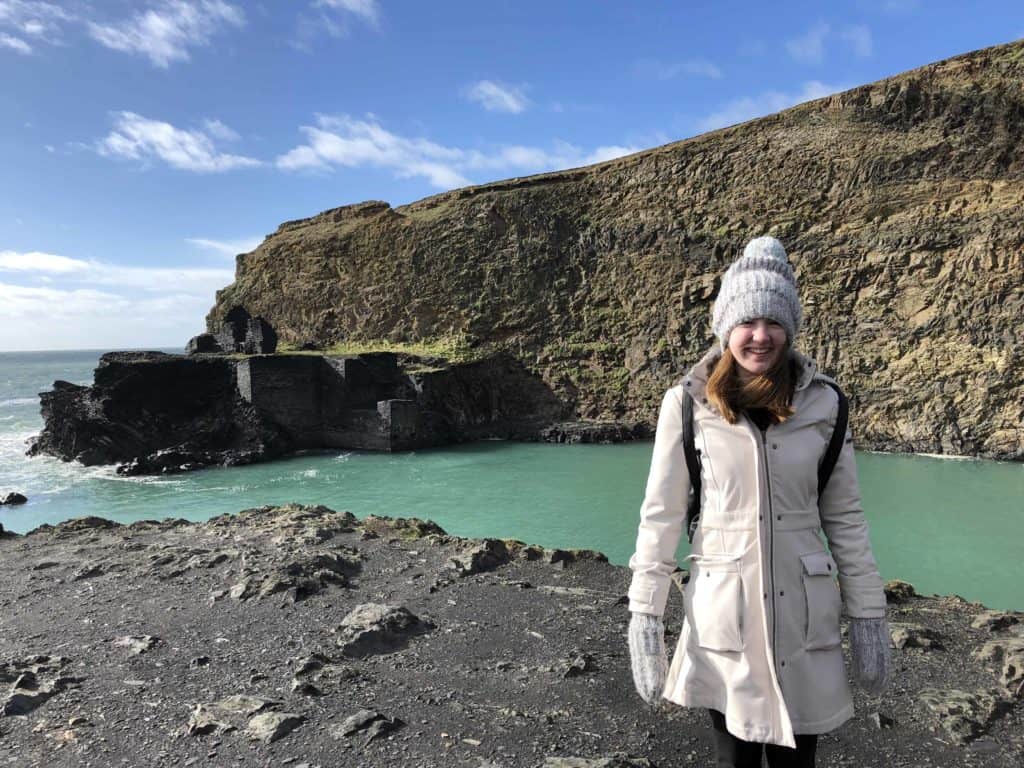 Porthgain Village
Our next stop was Porthgain, a small Welsh coastal village which was once a commercial harbour for exporting the stone from the nearby quarry. Today it's a popular tourist centre with a pub, a café and several art galleries.
We snapped some photos and had a quick stroll around and look into a couple of shops. We paused to buy a print in a gallery staffed by one of the most beautiful and friendly dogs that I have ever met.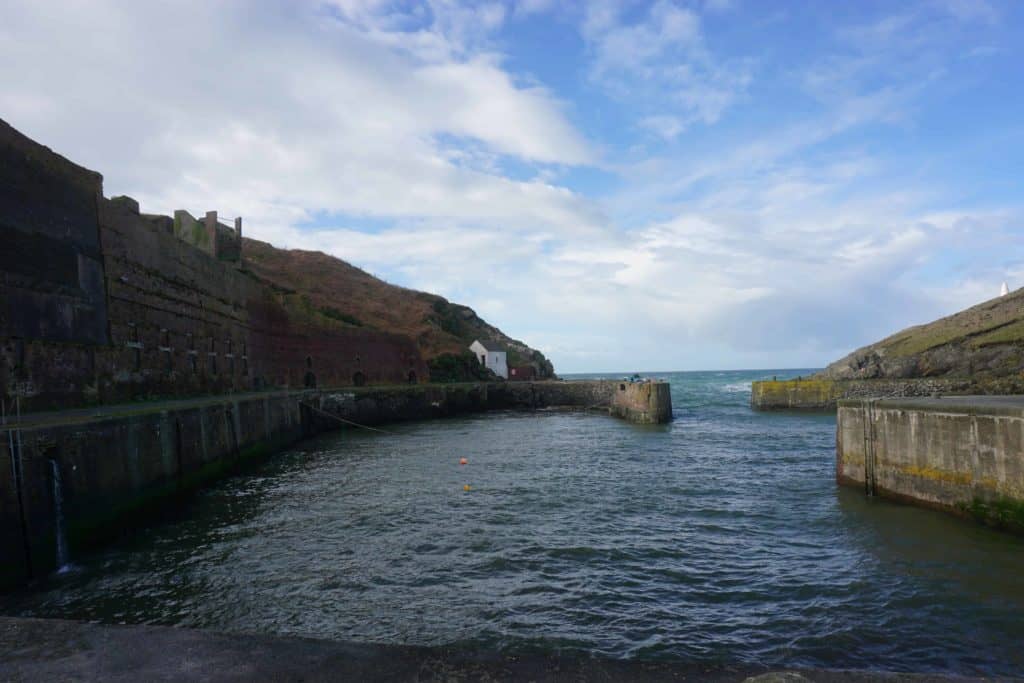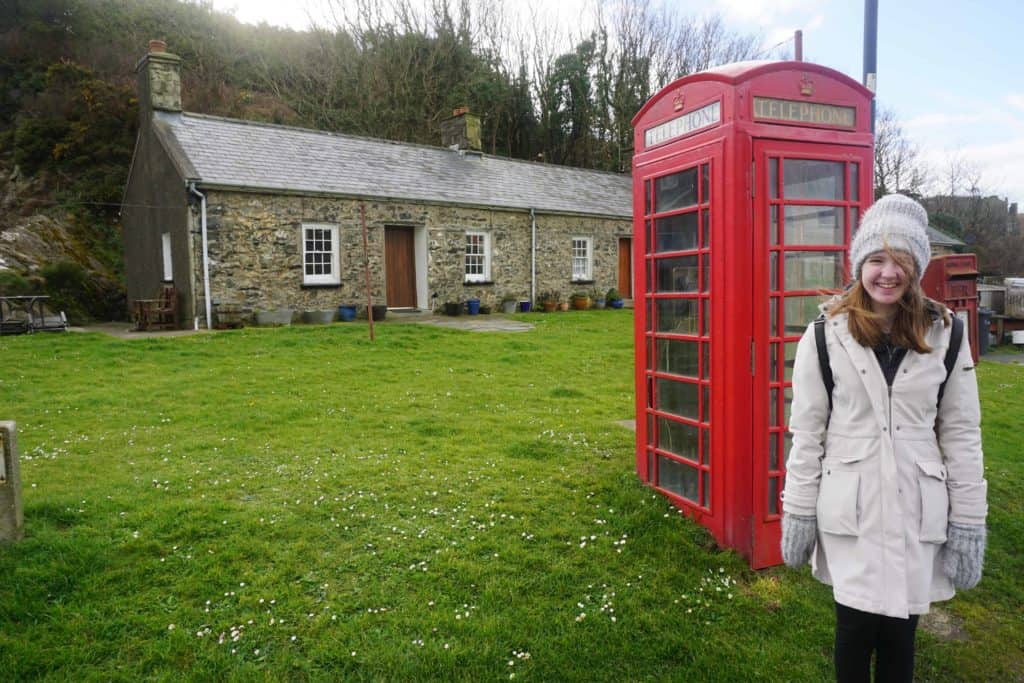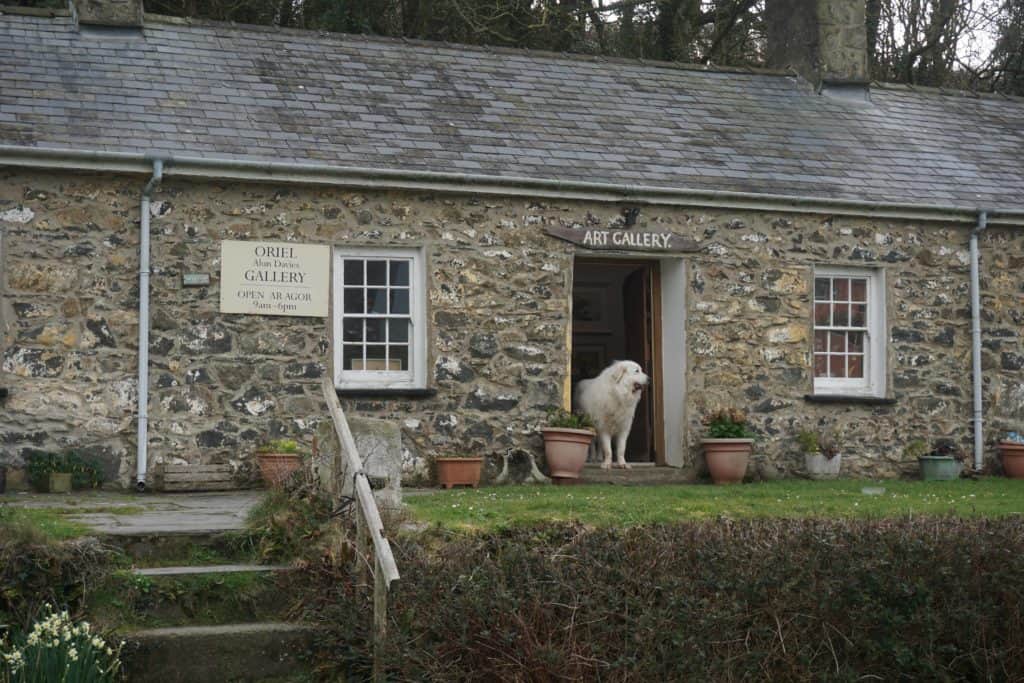 Strumble Head Lighthouse
As the day was coming to an end, our final stop was at Strumble Head Lighthouse. Strumble is on the northwest tip of Pembrokeshire and the lighthouse is perched on a tiny island just off the coast connected to the mainland via a suspension bridge. The lighthouse is now automated, however, so there is no access to the island.
There is a lookout nearby that provides a bit of shelter for watching for sea birds and other wildlife including dolphins and porpoises. It was very blustery when we visited though and we, unfortunately, weren't able to spot much other than a few sea birds against this beautiful backdrop.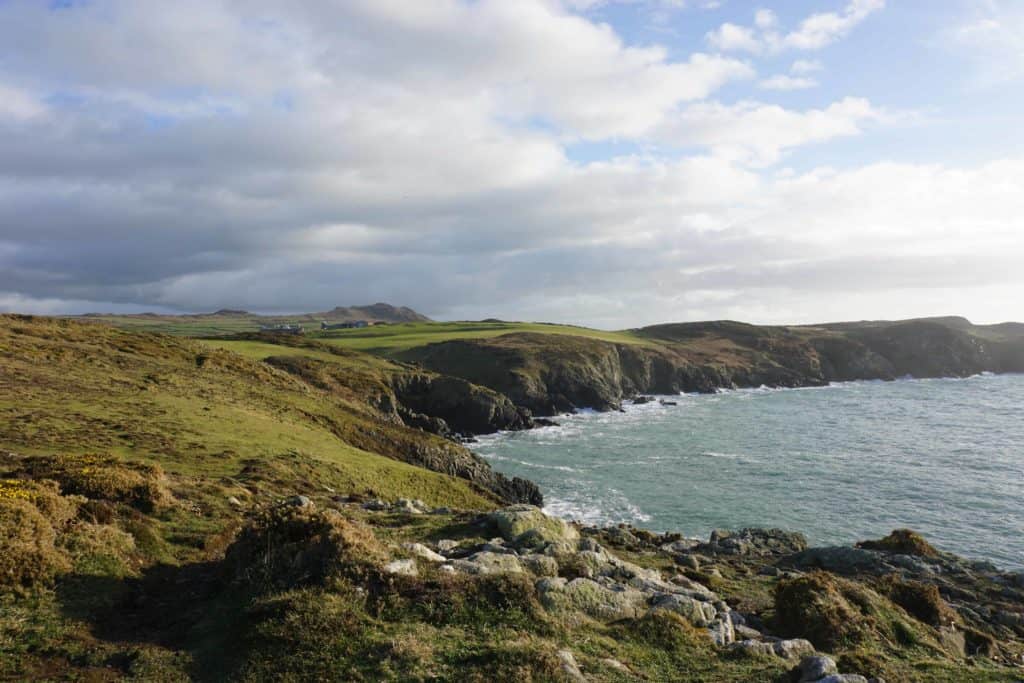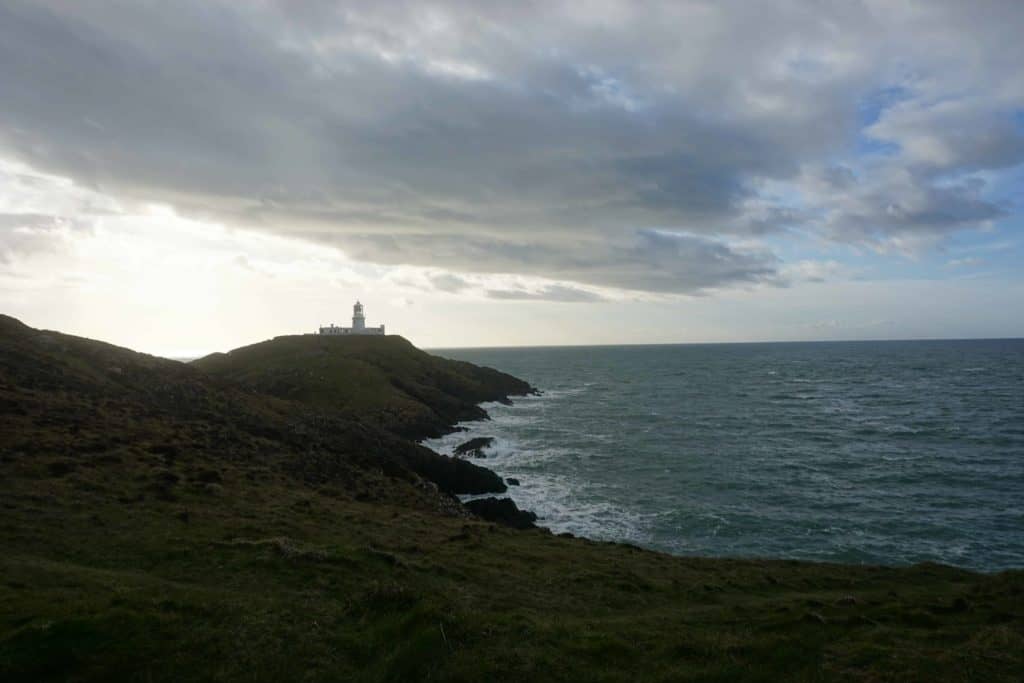 We had a fabulous day day visiting the Pembrokeshire coast in South Wales and I immediately (i.e. on the drive back to Cardiff!) added spending more time in Wales to my travel wish list. I highly recommend Real Wales Tours to anyone planning to visit Wales. We thoroughly enjoyed both of our days with Nia who is a knowledgeable and friendly guide whose passion for sharing her country is evident in the high quality of the tours she provides.
Pin This For Later