When we were planning our spring break trip to Cardiff, we decided early on that it was a priority to include one or two day trips from Cardiff in order to see some of the Wales Countryside. We eventually settled on two – the first a day trip from Cardiff to Pembrokeshire and the second a day trip that included Caerphilly Castle, Hay-on-Wye and Brecon Beacons National Park.
---
This post may contain affiliate links. If you click an affiliate link and make a purchase then Gone with the Family will receive a small commission at no additional cost to you.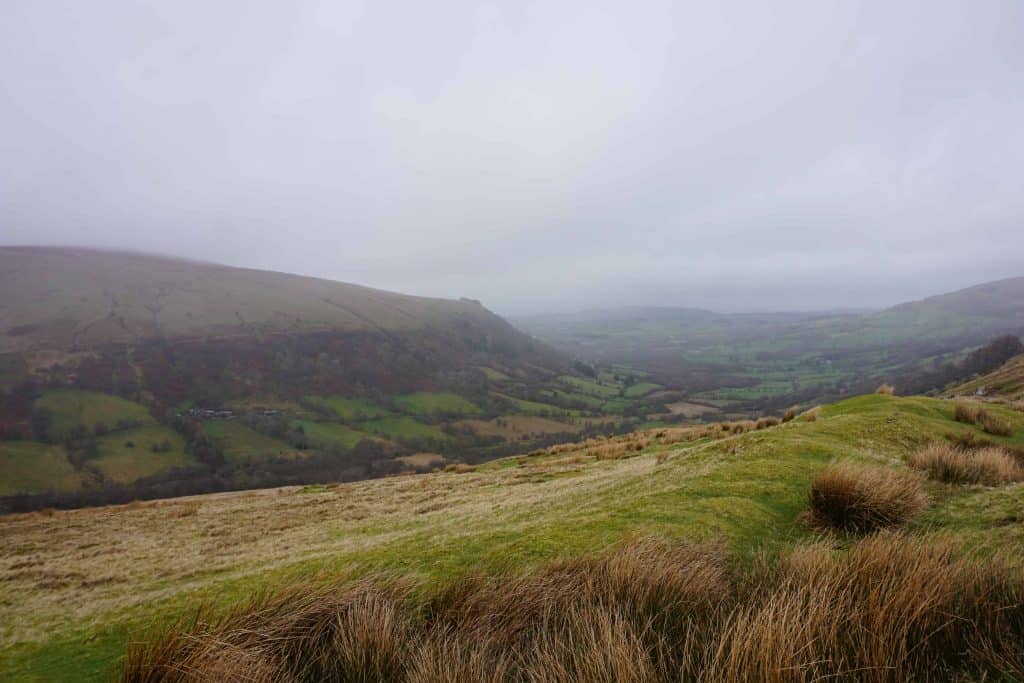 Booking a Tour vs. Self Drive vs. Public Transport
There are three options for anyone planning day trips from Cardiff – (1) rent a car and drive; (2) take public transportation; or (3) take a guided day tour (group or private).
Self-Drive Option:
While self-drive would have been a less expensive option than a tour, we dismissed it fairly quickly because neither my husband nor I were keen to drive around Wales on the left-hand side of the road.
The other downside to driving in an unfamiliar destination is that you are bound to take a wrong turn or get turned around at some point. While that can be fun when you have the time to explore, it can be frustrating when you have only one day to tour a destination. In some instances it can make more sense to have an expert guide transport you around the region in the most efficient way possible.
Public Transportation:
It is possible to travel from Cardiff to Caerphilly Castle, Brecon Beacons and Hay-on-Wye by public transport but it would have been difficult. We would never have been able to visit all three in one day if we were relying on train and bus schedules.
You can find more information on trains from Cardiff Central Station on the Transport for Wales website.
Guided Tour – Group or Private:
We ultimately decided to book a private tour even though it was the most expensive option as engaging an expert guide would be a more efficient use of the limited time that we had to see South Wales. We wanted to relax and enjoy the scenery while our guide drove and not have to worry about the risk of getting lost. There were group tours available, however, we opted for a private tour so that we could determine the exact itinerary and schedule to be followed.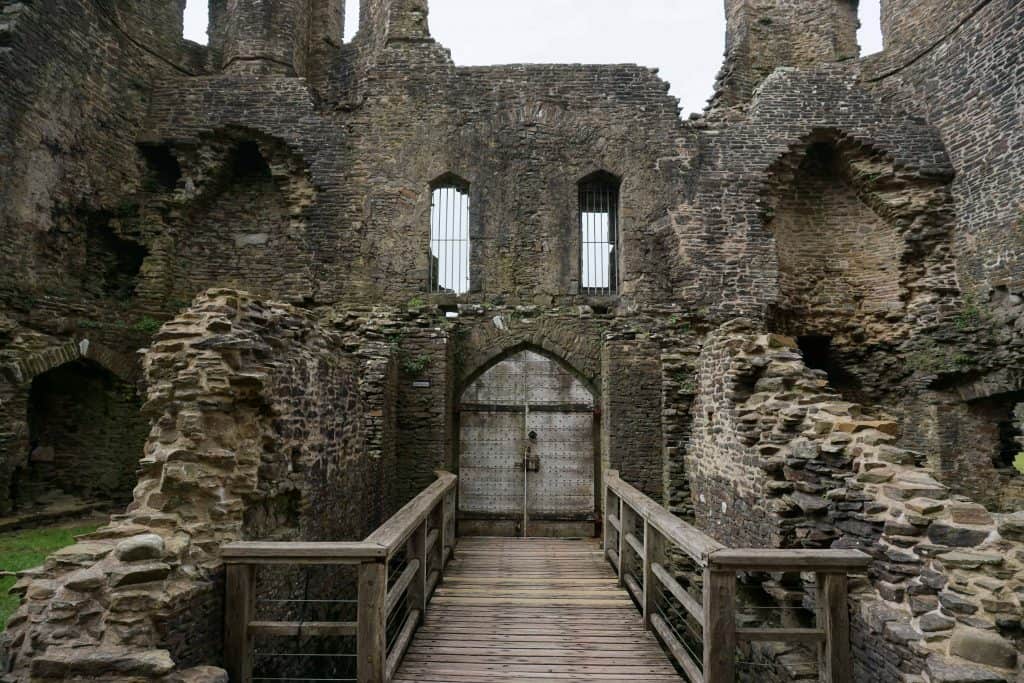 Real Wales Tours
After some online research and inquiries, we opted to book two private day tours with Real Wales Tours, a local family business that has been offering a variety of tours around Wales for the past few years. The company was founded by our guide, Nia, who is passionate about showing her beautiful country to visitors. Real Wales Tours offers sightseeing tours of various lengths (from just half day – 5 days), cycling tours, walking tours, retreats and more.
If you're trying to decide where to go in Wales then the Real Wales Tours website will provide some great ideas for places to visit in South Wales and beyond whether you are looking for a day tour from Cardiff or a lengthier tour of Wales. If you have questions, then don't hesitate to contact Nia – she's lovely – knowledgeable and very helpful in planning an itinerary!
Nia and I discussed our wish list of what we would ideally like to see in Wales and came up with an itinerary that included two day trips from Cardiff. The first of the two day trips that we booked was Cardiff to Pembrokeshire and this second day included Caerphilly Castle, Hay-on-Wye and Brecon Beacons National Park.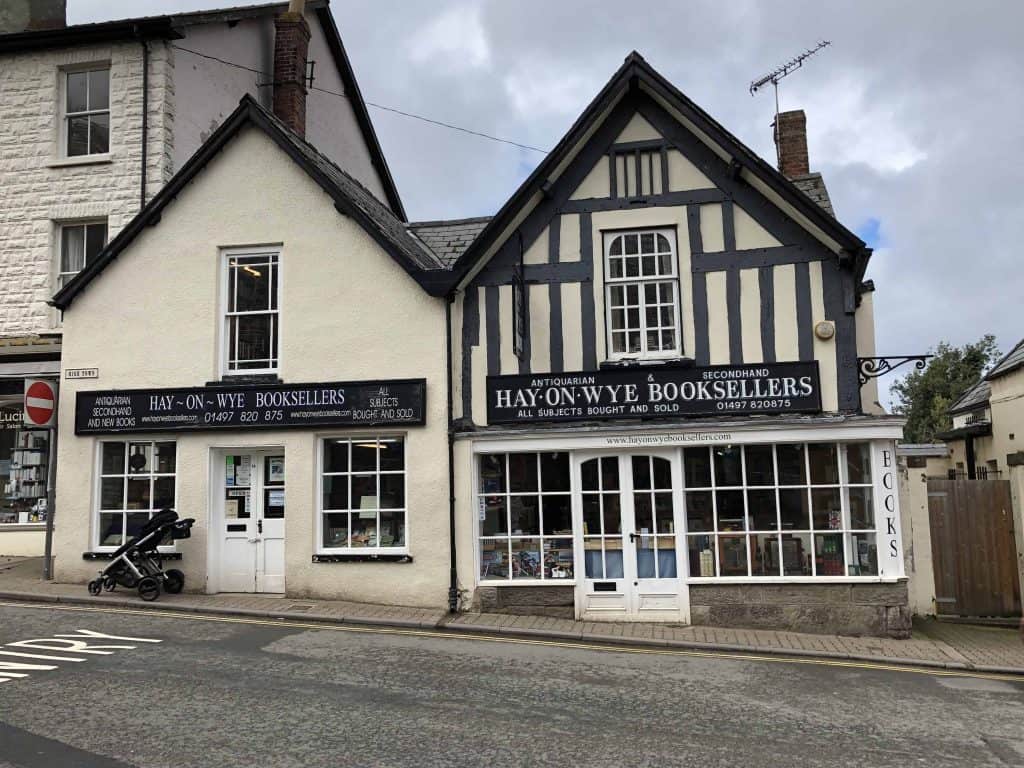 Caerphilly Castle
Our first stop of the day was Caerphilly Castle which is located about a 30 minute drive from Cardiff. Caerphilly Castle, constructed in the 13th century, is the biggest castle in Wales (and second only to Windsor Castle in all of Britain).
Caerphilly Castle was built between 1268 and 1271 by Gilbert de Clare, Lord of Glamorgan to defend against Llywelyn ap Gruffudd, the Prince of Wales. Caerphilly was Britain's first concentric castle and is surrounded by artificial lakes which served as another defensive feature of the medieval fortification.
The castle was largely abandoned by the 15th century and fell into disrepair. The Bute family took over the upkeep of Caerphilly and conducted extensive restoration work before handing the castle over to the Welsh government in 1950.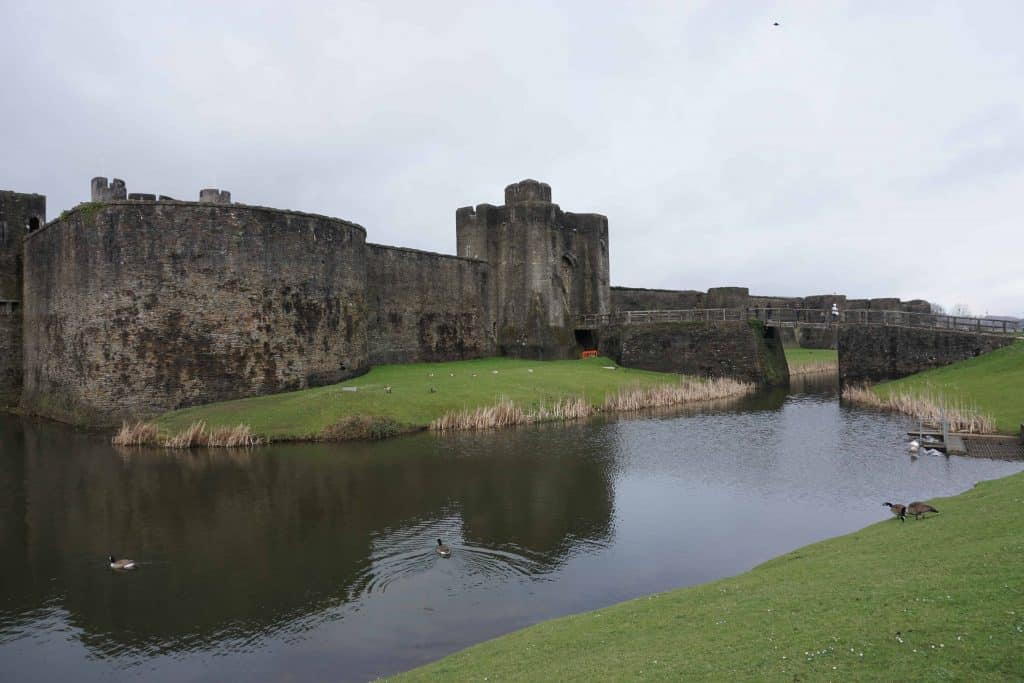 We picked up a map for a self-guided tour of the castle and walked around the site to explore the castle's nooks and crannies, see the leaning tower (being held up by a statue of the Marquess of Bute), and the restored Great Hall. The website lists any special events that might be taking place during your visit and the Government of Wales also has an app available with exclusive content for all heritage sites.
Caerphilly Castle is located on Castle Street in Caerphilly. The castle is open year-round but hours vary so check the website for details. Paid parking is available nearby. Tickets may be purchased online in advance. Children under 5 receive free entry.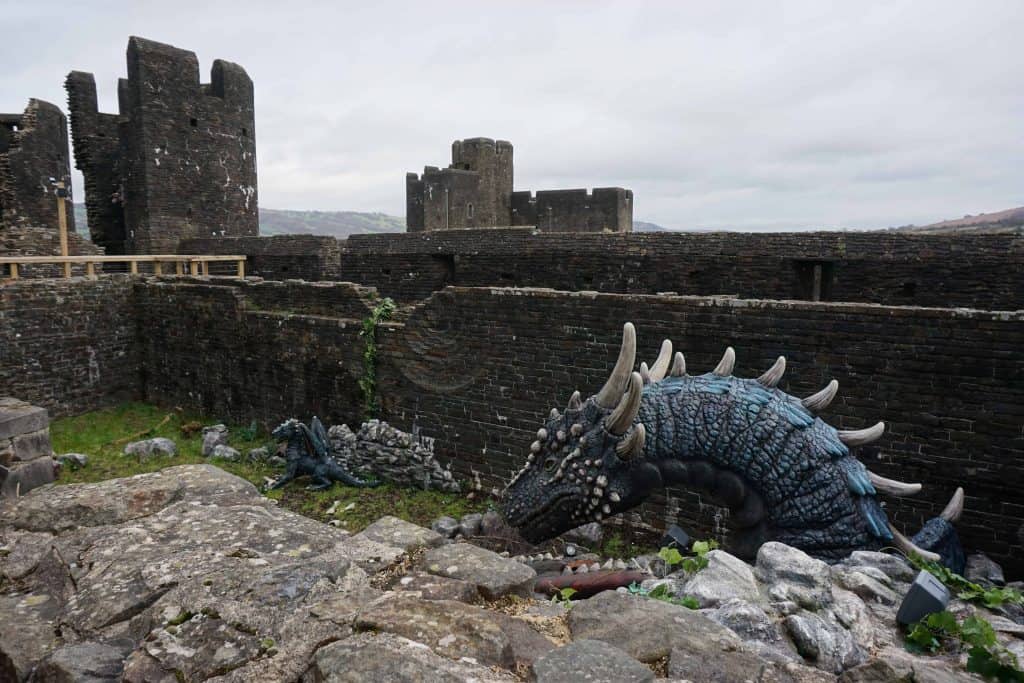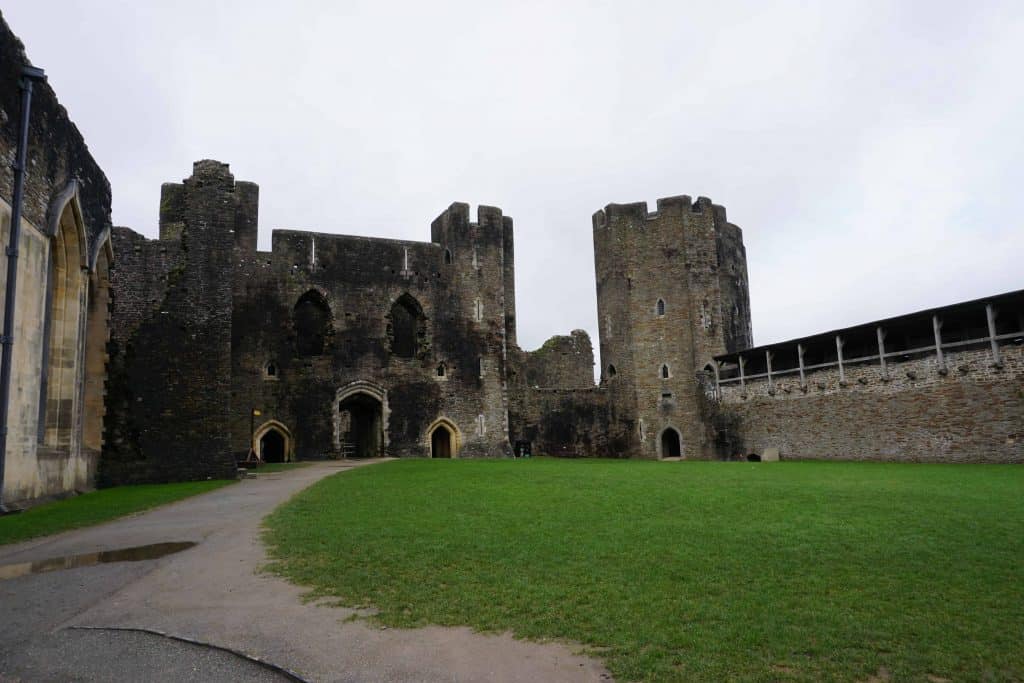 Fun Facts: Caerphilly Castle has its very own leaning tower which leans even more than the famous leaning tower of Pisa! If you're a fan of Doctor Who then you might recognize Caerphilly Castle as several episodes have been filmed at the castle.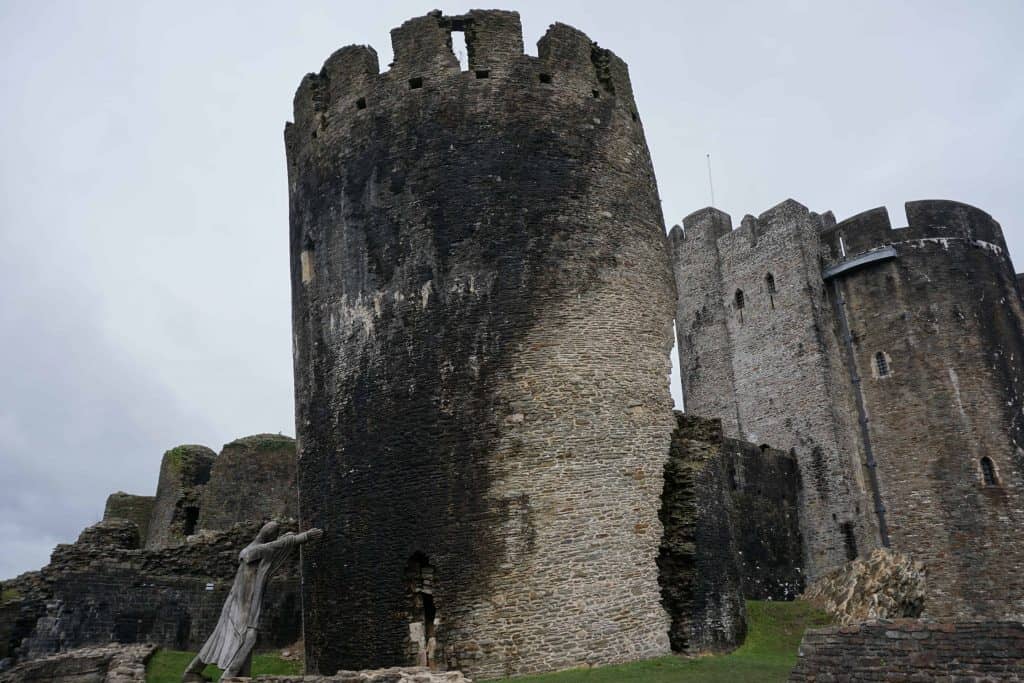 The Village of Hay-on-Wye
Hay-on-Wye is a Welsh village, located on the Welsh/English border, famous for its many bookshops and its annual literary festival. The town's history with books began in the late 1960s when Richard Booth opened his first bookstore.
Fun Fact: Mr. Booth is also known for having unilaterally declared the town to be the Independent Kingdom of Hay with himself as King in 1977.
Today the town of 1500 residents has approximately 20 bookshops some which are themed such as Murder & Mayhem which was a favourite of ours. We also enjoyed the open air book shop located outside the castle ruins where you could choose a book and leave the fee there to be collected later.
The first Hay Festival of Literature & Arts took place in 1988. Today the internationally acclaimed festival runs for 10 days in late May/early June and draws about 250,000 bibliophiles! There is no charge for entrance to the festival – you just buy tickets for the events that you wish to attend.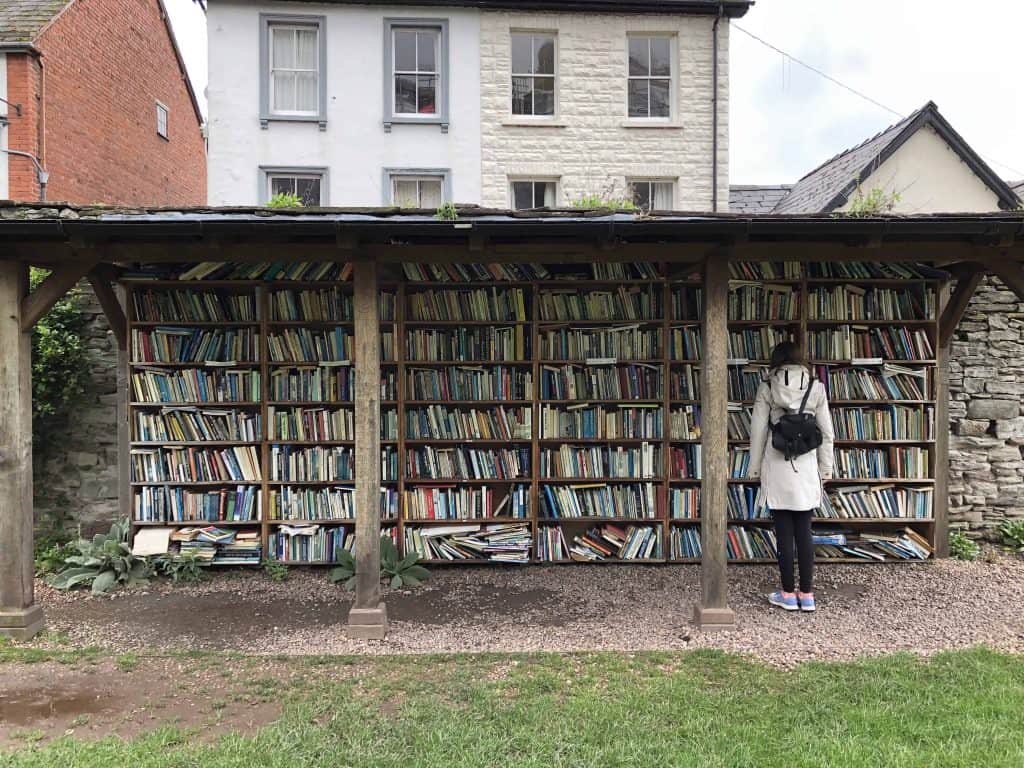 We spent about 1.5 hours in Hay-on-Wye walking around the central area of the village and browsing the shops before grabbing a a bite to eat at The Old Electric Shop (an eclectic shop and cafe). If we had more time then I could have easily spent the better part of a day here as I can never get enough of bookshops. I would love to return for the festival some year – it sounds like so much fun!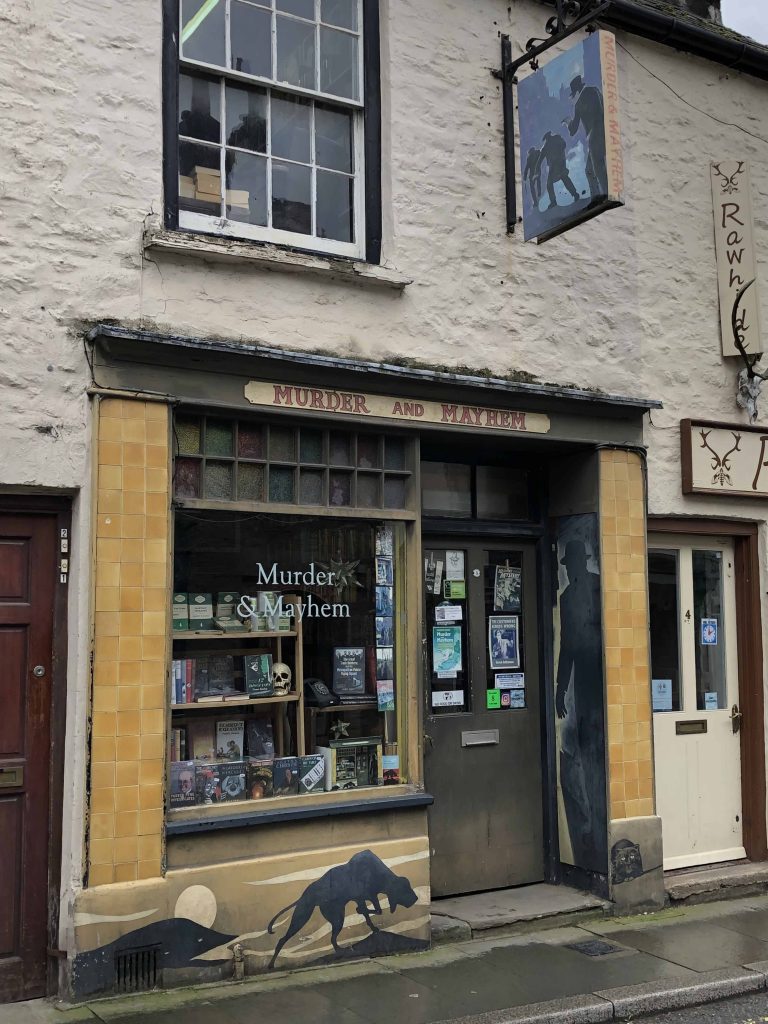 Brecon Beacons National Park
Brecon Beacons National Park is around 42 miles (68 kilometres) wide and covers approximately 520 square miles of South and Mid Wales. The park gets its name from the Central Beacons, which dominate the skyline south of Brecon. They rise to 886 metres at Pen y Fan, the highest peak in southern Britain.
The weather wasn't great for our visit to Brecon Beacons National Park as it had turned gloomy and chilly with rain off and on but it was beautiful none-the-less. Our first stop in the park was to see one of the park's ancient standing stones. There are over 30 of these centuries-old stones in Brecon Beacons.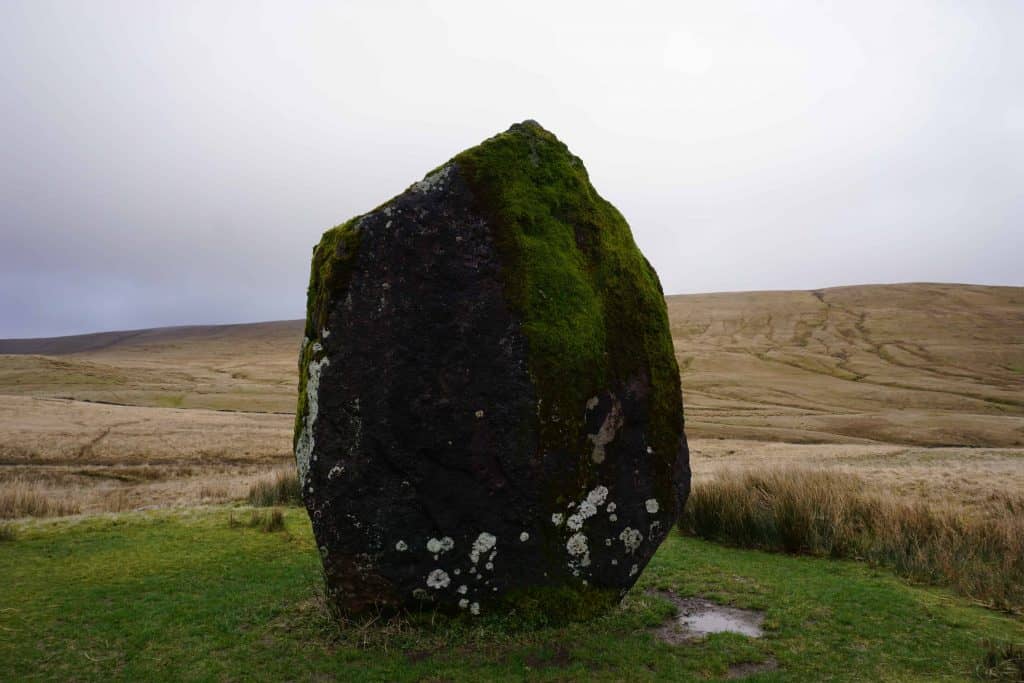 There are many activities and attractions in Brecon Beacons National Park including cycling, mountain biking, fishing, rock climbing, geocaching and much more. We were short on time though as we were trying to see so much in one day so our focus was taking a walk in the area known as Waterfall Country and seeing some of the park's stunning waterfalls.
Real Wales Tours also offers walking tours of Waterfall Country that cover 15 kilometres over 6 hours and visit 7 waterfalls for those looking to spend a day in Brecon Beacons.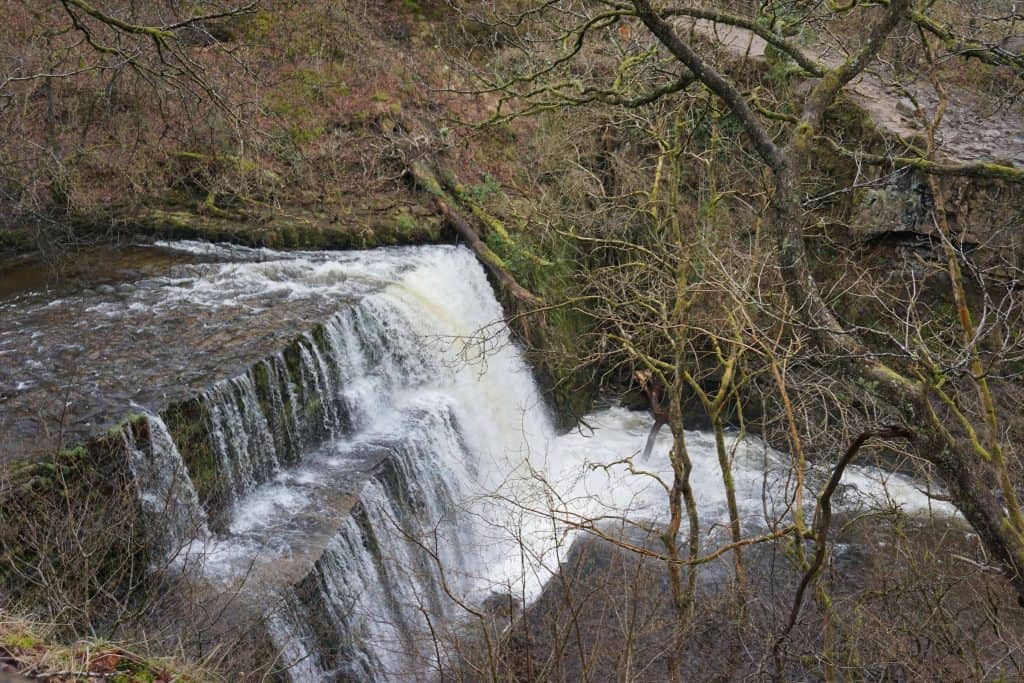 We had a wonderful time with Nia from Real Wales Tours. After spending two days exploring South Wales with her, we said goodbye whilst already planning a return trip to see more of this beautiful country.
We are a participant in the Amazon Services LLC Associates Program, an affiliate advertising program designed to provide a means for us to earn fees by linking to Amazon.com and affiliated sites.
Related Articles
A Day Trip from Cardiff to Pembrokeshire
Fun Things To Do on a Spring Break Trip to Cardiff
10 Destinations for Spring Break in Europe
Pin This For Later