10 things to do in Newport, Rhode Island with kids.
I'm delighted to welcome Chris Shea from Tourist with Tots to share her recommendations for family-friendly things to do in Newport, RI.
This post may contain affiliate links. If you click an affiliate link and make a purchase then Gone with the Family will receive a small commission at no additional cost to you.
Newport, Rhode Island is a bustling town during the summer months. The sleepy little seaside town becomes a hub for New Englanders and cruise ship patrons, as well as out-of-towners looking for the beach town atmosphere coupled with upper class entertainment and restaurants.
Known for its mansions, shopping, and ocean scenery, Newport was home to the Vanderbilts, Doris Duke – tobacco heiress, First Lady Jacqueline Kennedy, and is currently a home to the no-nonsense prime time television star, Judge Judy.
In addition to the large number of colonial houses, cobblestone streets downtown, and the nation's oldest synagogue, Newport, Rhode Island has an abundance of great activities for families.
We have been traveling to Newport off and on over the course of my son's lifetime. No matter the age of children, there is no shortage of activities to experience. No summer trip to Newport, Rhode Island with kids would be complete without experiencing the following attractions.
1. Cliff Walk (a National Recreation Trail)
The Cliff Walk, a National Recreation Trail established in 1975, is a 3.5 mile path along the rocky coastline which includes amazing views of the ocean, nature, and beautiful homesteads.
Walking or running this mostly paved path with occasional unpaved rocky areas, you can see many of the gorgeous Rhode Island mansions.
If you and your kids are adventurous, you can leave the paved path and check out the incredible views from rocks along the trail. This was a highlight for my son!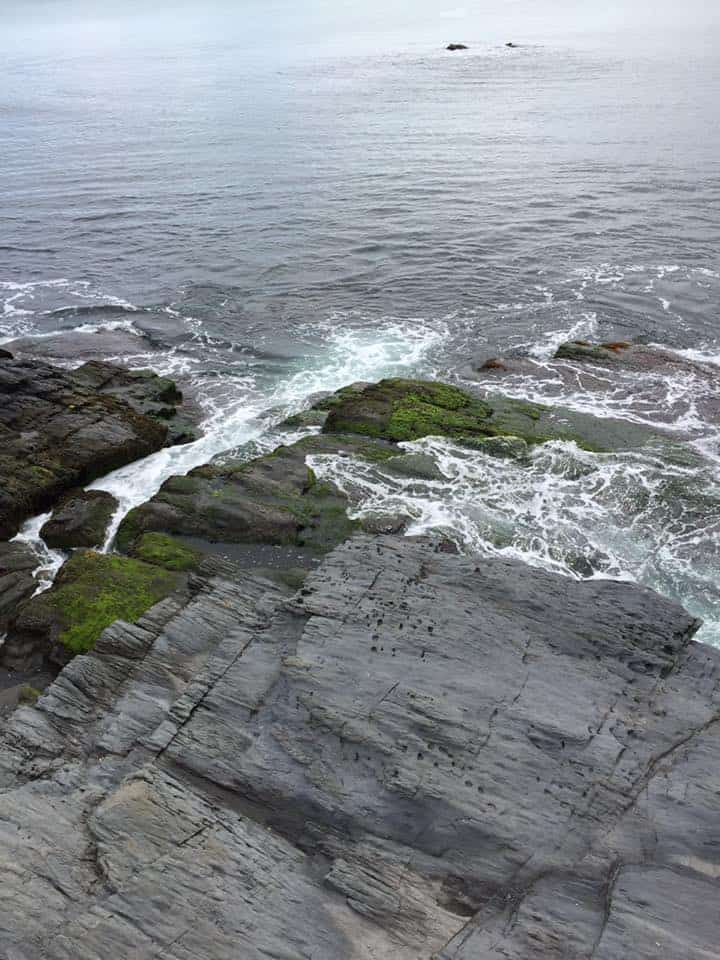 If you decide to walk the entire Cliff Walk, it will take you close to 3 hours. There are, however, many places where you can start and end the walk without having to do the entire thing.
I would highly recommend wearing comfortable closed toe shoes such as tennis shoes. I mistakenly wore flip flops. Jimmy Buffet's song, "Margaritaville", took on a whole new meaning. I did not step on a pop top but definitely blew out my flip flop on the Cliff Walk!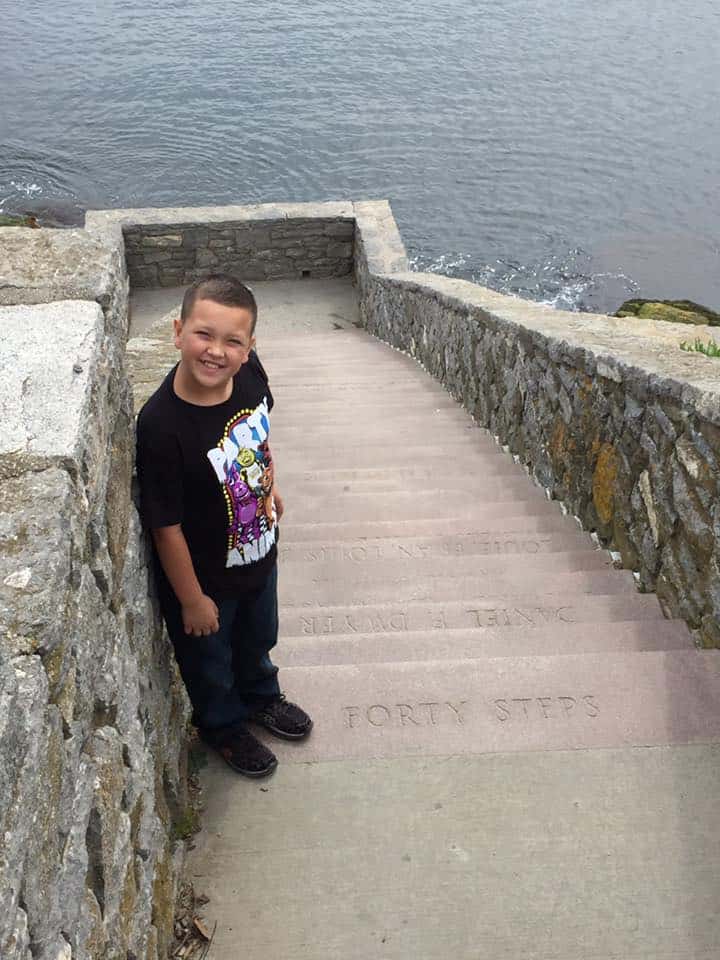 Make sure you stop and check out the 40 steps. Less than a mile from Narragansett Avenue, the 40 steps lead toward the bottom of the Cliff Walk. The steps bear the names of the 40 donors who helped to restore the 40 steps in the 1990's. Enjoy the view! This is great fun for children to count the steps going down and then back up. Want to wear your kids out? Take them to the 40 steps!
The Cliff Walk is great fun for older children. I would not recommend this for a toddler. The walking can be extremely tiring and the drops off the cliffs could be disastrous for a child that wanders away from you.
For more information: http://cliffwalk.com/
2. Check Out the Beach
There are several beaches within Newport such as Easton's Beach, also known as First Beach and Gooseberry Beach. Just outside of Newport in Middletown, you will find Second and Third Beach. In the summer months, they are all extremely crowded and parking is limited. Be sure to arrive early. There is a fee for parking: $15 during the week and $30 on the weekend.
The beach water is delightfully cool and the views are breathtaking. When traveling with children, I recommend Easton's Beach (First Beach). You can see many of the mansions along the Cliff Walk. There is also a carousel at this beach where children can ride for only $2.
In addition, Easton's Beach houses the Save the Bay Explorations Center (See number 9) . There are lifeguards on-duty and they have a snack bar if you want to grab a bite to eat including the best lobster roll. My son had an incredible time building sand castles and playing in the water at Easton's Beach.
For more information: https://www.eastonsbeach.com/
3. Dine at O'Brien's Pub
O'Brien's Pub is located on Thames Street in the Fifth Ward of Newport. This dog and kid-friendly Irish pub and restaurant has been open at this location since 1979. Grab a table outside and enjoy the breeze from the nearby ocean.
In addition to great food and drink, the famous O'Brien's play fish fountain will keep your kids occupied and having fun for hours.
For more information: https://www.theobrienspub.com/
4. Horse Back Riding on the Beach
Newport Equestrian Academy, located just outside of Newport in Middletown, offers trail riding tours. We participated in a 2-hour trail ride that provided gorgeous views of the Norman Bird Sanctuary, Second and Third Beach, as well as the Saint George's Castle built in 1910.
During the summer months, the beaches are busy, so the horseback ride does not go onto the beaches but along the roadway just outside of the beach.
Our guide, Stacy, provided instruction to us on riding and we were able to take a short ride to get used to our horses within an inside stable before leaving for the trail ride. The ride was slow yet at times the horses did get to a gallop. Along the jaunt, Stacy provided us information on the area.
For more information: https://www.newportequestrian.com/
5. Try An Awful, Awful at the Newport Creamery
No trip to Newport is complete without a stop at one of the Newport Creamery's two locations – one is located downtown at 181 Bellevue Avenue and the other is just outside of Newport in Middletown on West Main Road. An Awful Awful is "Awful Big and Awful Good".
The famous ice cream drink is made from blended syrups and ice milk. You can choose your flavor: vanilla, chocolate, coffee, strawberry, mint, cotton candy, orange, bubble gum, chocolate mint, and mocha. My son and husband's favorite flavor is vanilla with chocolate jimmies.
Try to visit on Monday during the summer months when Awful Awful milkshakes are buy one, get one free.
For more information: https://www.newportcreamery.com/
6. Boat Cruise of the Lighthouses
There are a number of charter cruises out of Bowen's Wharf in downtown Newport to choose from. We chose the 58-foot Rum Runner II for a scenic cruise of Newport Harbor on the Lighthouses and Mimosas Cruise. The Rum Runner II originally was built in 1929 during the height of prohibition and was used by smugglers to elude the Coast Guard.
For more information: Cruise Newport
The Lighthouses and Mimosas cruise is 75 minutes highlighting several lighthouses in the southern end of Narragansett Bay. Complimentary mimosas, croissants, as well as water and iced tea are provided during the journey.
7. Take a Rail Explorers Tour
Rail Explorers first opened in the Adirondacks of New York in 2015. Since then, they have opened the location in Rhode Island, Las Vegas, and the Catskills Mountains of New York. What is Rail Explorers? The tour is on a pedal-powered vehicle that rides along the train tracks.
There are two tours you can choose from: The Northern Ramble and The Southern Circuit. We took the Northern Ramble as this was the only available tour on the date we booked. Most tours were full, so be sure to book ahead of time.
The Northern Ramble was a 6-mile adventure with views of Narragansett Bay, private waterfront homes, golf courses, and bridges. The Rail Explorer is not hard to pedal. In fact, my son could pedal on his own and easily move the car. They provide a basket to store your belongings as well as two umbrellas to shade you from the sun should you need it.
There is a shuttle bus that takes you one way, you pedal the other way.
For more information: https://www.railexplorers.net/
8. Visit Thames Glass
Thames Glass is located at 668 Thames Street in Newport. This is an art gallery and studio. In addition to shopping for beautiful treasures, you may watch as well as participate in the art of glass blowing.
Their website states: "Visitors to our studio may watch the glassblowing through a window in our gallery that looks into the blowing room. Although we do not have an official "tour" of the glassblowing studio, we will provide as much information as possible and will do our best to answer your questions. There is no charge for viewing."
My son made his own glass blown Christmas Tree ornament. Every year as we hang the ornament on the tree, we have memories of the experience. In addition to the ornament, you can make a paperweight or vase.
For more information: http://www.thamesglass.com/visit
9. Visit Save the Bay Explorations Center
Located at Easton's beach (see number 2), The Save The Bay Explorations Center is a small aquarium home to 40 species of marine life from the Narragansett Bay. Admission is only $8. In addition to viewing marine life, there are several touch tanks as well as activities such as crafts, scavenger hunts, and experiments for your child.
For more information on special events: https://www.savebay.org/family-fun/aquarium/
10. Visit Castle Hill Inn
The Castle Hill Inn and Restaurant is located on Ocean Drive in Newport, RI. Getting to the Inn is part of the adventure as driving to this beautiful historic mansion on the hill will provide you fantastic views of Ocean Drive.
You can stay in the Inn or just visit for a meal and/or cocktails on the lawn. We enjoy having a snack and beverage on the lawn of the Castle Hill Inn. I highly recommend the delicious lobster rolls and clam chowder.
The view of the bay is breathtaking. Children enjoy running down the hill, sitting in Adirondack chairs, watching the sailboats, and sipping on a Shirley Temple. This location provides something for all members of the family.
For more information: https://www.castlehillinn.com/
This is just a snippet of the fun and exciting things to do in Newport, Rhode Island with your family. The cooler weather lends itself to participating in outdoor adventures, yet it is warm enough to go to the beach and be in the water. I would highly recommended checking out Newport for your next summer family vacation – you will not be disappointed.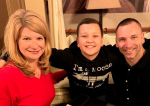 Chris Shea lives in Winter Haven, Florida with her eleven year old son and husband. She is a mother, law enforcement officer, professor, jack of all trade, and master of nothing. In April 2019, she started a travel brand, Tourist With Tots, detailing her family's adventures with aspirations of becoming a travel agent in the future. Chris provides honest feedback on accommodations, destination guides, and attraction reviews for travel including children. Follow Chris on Facebook, Twitter and Instagram.