The Hotel Beacon is a family-friendly accommodation option on the Upper West Side in New York City.
During a recent trip to New York City our family stayed at the Hotel Beacon on the Upper West Side. On two previous trips to New York we had stayed at mid-town hotels and had been quite satisfied with the location and the hotels themselves. This time, however, we decided to venture further afield in order to get more spacious accommodations. I was a bit hesitant about the location beforehand but in the end was thoroughly pleased with the choice.
The Beacon Hotel is located at 2130 Broadway (at W. 75th) on the historic Upper West Side amid tree-lined streets and landmark buildings. The hotel has 260 rooms and suites, ranging from rooms with either a King bed or two doubles to 2 Bedroom Suites. 
We booked a 2BR suite which had a Master Bedroom with a King Bed and a second bedroom with 2 Doubles. There were 2 marble bathrooms and a separate living room and a kitchenette. The kitchenette was fully equipped with dishes, pots, pans, a coffeemaker and a microwave, however, we only used it for breakfast preparation and evening snacks as we ate out for the rest of our meals. 
There was a television set in each bedroom as well as in the living area so there was no need for anyone to fight over what they wanted to watch. The suite was generously sized, appeared to have been recently updated and was quite clean.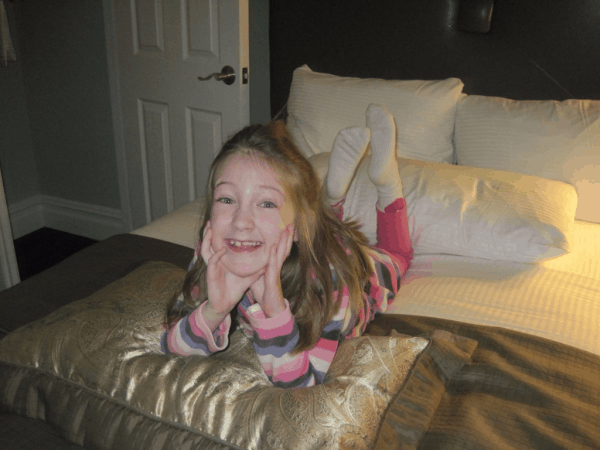 The location of the hotel is convenient for a number of attractions on the Upper West Side including Central Park (about 3 blocks away), the Lincoln Centre, the American Museum of Natural History and the Beacon Theatre which is right next door (The Allman Brothers Band was playing while we were there which meant some interesting pre-show people watching). 
The 72nd St. subway stop is just a couple of blocks away and it was also quite easy to get a cab outside the hotel. We even walked to midtown and back from this location when the weather was nice.
Groceries can be purchased directly across the street from the hotel at the Fairway Market. The Fairway began as a humble market in 1974 and is now a bustling multi-story food emporium/institution with European style racks of fruit lining the storefront. 
I was thrilled upon arrival at the hotel to discover that there is a Starbucks on the corner opposite, meaning I could easily get my morning fix (and by that I mean that it was easy for my husband to pop in for my latte on the way back from his morning run). There is also a diner/coffee shop (think Seinfeld hangout) called The Viand Cafe which is right next door to the hotel and would seem to be quite popular with locals and tourists alike if the lineup for tables is any indication. 
When we checked in the hotel concierge provided us with a lengthy list of restaurants in the vicinity all of which would be happy to accommodate children so we had no difficulty finding nearby restaurants to dine at.
Overall, our experience at the Beacon Hotel was thoroughly satisfying and we would definitely choose to stay there again. The location is fine, the staff is friendly and helpful, the hotel is clean and nicely decorated and the rooms are large. 
There is, without doubt, a trade off between the affordability and spaciousness of the Beacon as compared to the amenities and luxuries available at the mid-town hotels however, with our children the age that they are now, it is a trade off that we can live with. Space definitely trumps luxury for our family now that we are traveling with a teenager and a grade-school aged child. The Hotel Beacon absolutely exceeded my expectations and I would not hesitate to recommend it to a family looking for good quality accommodations in Manhattan.
Related Articles
25 Fun Things To Do with Teens in NYC