Highlights of a day spent in the port of Mykonos during a family Mediterranean cruise aboard the Celebrity Equinox.
We spent a day on the lovely island of Mykonos while on an Eastern Mediterranean Cruise last summer.  The Greek island of Mykonos is part of the Cyclades chain in the Aegean Sea and is a major tourist destination that is especially popular with those looking for exciting nightlife and beautiful beaches.   
Our cruise had a very demanding itinerary of sightseeing so when I was planning I had decided that Mykonos was going to be a chill-out day for us with no set agenda.  We would already have had long days in Athens, Istanbul and Kusadasi and still had a long day ahead touring Pompeii and the Amalfi Coast.  As it turned out, it was fortunate that we didn't have major plans for Mykonos.  Mykonos was our second to last port of call on the cruise and was the day after we had a bit of a disaster in Kusadasi.  Katie still wasn't feeling well, however, she decided to get off the ship with us for at least a little while.
We disembarked and took the ship's shuttle into town and then wandered along the beach before browsing some of the little shops in town.  I was on the hunt for a silver bracelet with a Greek key design and found one at a tiny little shop that hardly had room to turn around in.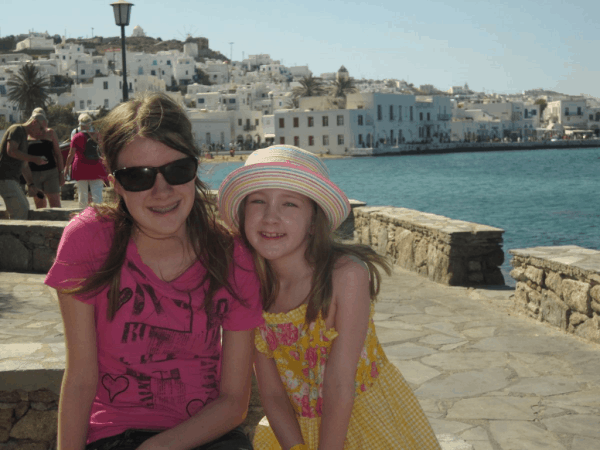 Katie and Emma – Arriving in Mykonos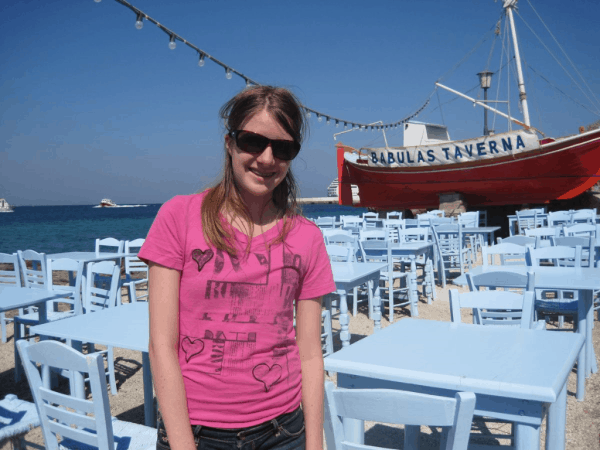 Katie in front of Babulas Taverna 
I wanted to find the windmills that I had read so much about beforehand so we wandered aimlessly trying to find them until Katie grew frustrated with the exercise and insisted on going back to the ship.  My husband left to accompany her back to the ship and Emma and I continued searching for the windmills.  We walked through the winding labyrinth of streets that were designed to confuse pirates until I realized that we were hopelessly lost in Mykonos.  All I could see were white walls around me and with a naturally poor sense of direction, and no way to get my bearings, I felt a bit panicked about finding our way out again.  Emma wasn't the least bit concerned though so we just kept walking and eventually we made our way back to the crowded streets and were able to meet my husband at the appointed time.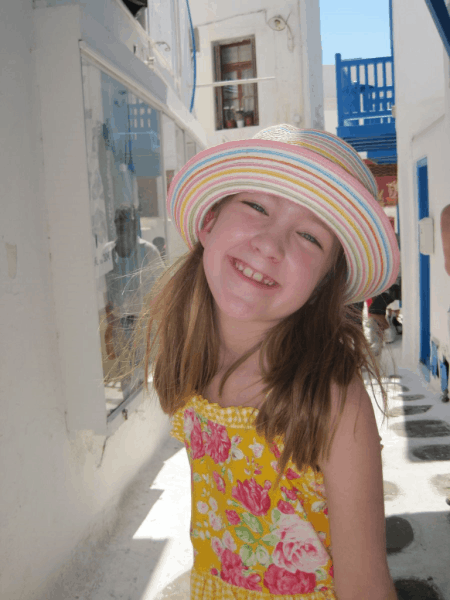 Emma while we were lost in Mykonos 

I wasn't going to be satisfied leaving Mykonos without having seen those windmills so the three of us went in search of them.  We did get lost again, however, we eventually found them and I got my pictures.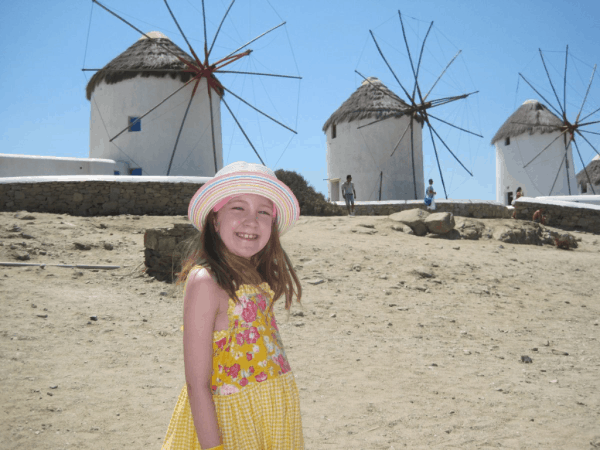 Emma and the elusive windmills
A little more clueless wandering and we happened upon the island's mascot, a pelican named Petros.  (Well, apparently there are now three pelicans – but that doesn't make for such a good story.)  Petros had a crowd of paparazzi taking his photograph and getting a little too close for his liking.  He snapped at a few of them so we made sure to keep our distance while taking his photograph.  Clearly he is a pelican who doesn't like to have his personal space invaded.    
Apparently, not a day can go by in the Mediterranean summer without a serving of ice cream being eaten so we stopped for Emma to have her daily allotment – this time blue and topped with marshmallows.  (And a lesson in why you should never buy your gelato in shops that are only frequented by tourists – this was the one ice cream that didn't get finished.) 
On the advice of our dining room waiter, we had packed swimsuits when we disembarked so Emma was able to have a swim in the sparkling sea before we headed back to the ship.
Mykonos is a beautiful island albeit a bit overcrowded on summer days especially when there are several cruise ships docked nearby.  Whether you are visiting for just one day or a few be sure to slow down and enjoy the island at a leisurely pace, drink lots of water and remember that sometimes getting lost is the best part of a day. 
Related Articles
7 Reasons to Take Your Kids on a Mediterranean Cruise
Cruising the Celebrity Equinox with Kids 
5 Reasons Crete is Unique and Family-Friendly
Have you liked our Facebook page yet? I post articles from the blog there as well as photo albums from our travels and other travel news. Or, if you prefer, you can subscribe to the free RSS feed or sign up for an email subscription to keep up-to-date on our travel adventures.