Highlights of a family visit to Rome, Italy
Our family recently spent three nights in Rome, Italy (in August 2011) prior to embarking on an 11 night cruise of the Eastern Mediterranean with Celebrity Cruises.  While planning our sojourn in Rome, I often thought of the famous saying: Roma, non basta una vita which translates as Rome, a lifetime is not enough. Needless to say then that the 2.5 days that we had to spend in Rome would not be sufficient to see more than a few highlights.  We were determined, however, to make the most of our limited time.  Our game plan was to tour the Vatican one day and Ancient Rome the other.  The balance of our time would be spent mostly wandering around – enjoying the sights, eating and savouring the atmosphere of the city.
Rome is a city that seems familiar to everyone.  We have all watched classic movies set in Rome like Roman Holiday and Three Coins in a Fountain.   And we all use the many expressions that relate to Rome – When in Rome, Do Like the Romans, All Roads Lead to Rome and Rome Wasn't Built in a Day.  A jaded traveler may be prone to thinking that a visit to The Eternal City is a cliché that appeals only to busloads of tourists.  That could not be further from the truth as Rome is a vibrant, captivating, chaotic city that couldn't possibly disappoint even the most experienced of travelers.  The city of Roma is the birthplace of western civilization and as such has so much to offer its eager visitors in terms of history and culture.  It's also home to Vatican City and thus the centre of Catholicism and steeped in religious history.  The modern day city beckons guests to explore it as well with shopping and trendy neighbourhoods.  And then there's the food and the cafés which on their own would entice visitors to return.  The popularity of Rome as a destination lies in the fact that it has always been, and will always be, one of the world's great cities.  Walking the streets in Rome, one can't help but feel that this is where it all began.  Rome is a city that everyone should visit – preferably more than once. 
Accommodations in Rome
As we had a limited amount of time available, and knowing that we would be suffering from jet lag, we opted for a centrally located hotel so that we wouldn't waste precious time commuting to the attractions that we wanted to visit.  We chose to stay at Albergo Santa Chiara, a 3 star family-run hotel, which is located near The Pantheon and within walking distance of nearly everything that we wanted to do.  We had a spacious 2 bedroom apartment on the 5th floor which included a master bedroom with a king bed, a small bedroom with a single bed and a pull-out sofa in the living area as well as a lovely terrace that looked over the city.  We could not have possibly found a hotel that was better situated than this and we were able to walk nearly everywhere that we wanted to go in the city.  On a couple of occasions we took a cab but only because someone was too tired to walk any farther in the heat.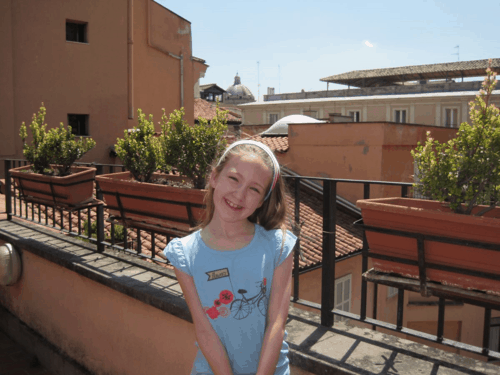 Emma on our terrace at Albergo Santa Chiara
The Pantheon and Piazza Navona
We arrived early afternoon on a Friday following an overnight flight from Toronto and as soon as we were able to check in and drop off our bags we headed out for a walk in the neighbourhood.  I was expecting to see the famous Obelisk of Santa Maria sopra Minerva just around the corner in Piazza della Minerva.  This captivating sculpture of an Egyptian obelisk astride an elephant was designed by Bernini.  We were disappointed, however, to find it surrounded by scaffolding so that we could just make out the form of the elephant. 
Our hotel was located in close proximity to the Pantheon so we headed toward Piazza de la Rotonde to visit it first.  The Pantheon, which was a pagan temple built to honour all of the gods, is the best-preserved temple in Ancient Rome.  The original Pantheon which was built around 25BC by Agrippa, and then rebuilt by Hadrian around 126AD, escaped destruction thanks to its consecration as a Christian church in 680AD.  The Pantheon is a circular building with several groups of large granite columns at the front.  Inside the dome of the building there is an opening to the sky called an oculus and that opening along with the entry doorway provide the only light for the building.  Perhaps the most interesting fact about the building is that the height to the oculus is precisely the same as the diameter described by the dome –  making it perfectly proportioned.  It amazes modern day engineers that such mathematical precision could be achieved without the aid of computers or sophisticated tools.  It is also interesting to note that the dome is the largest un-reinforced concrete dome ever built and was the inspiration for domes such as those at St. Peter's Basilica and the U.S. Capitol Building.  I was fascinated by the architecture of The Pantheon but, unfortunately, Katie and Emma were far too tired from our overnight flight to appreciate it.   
When we were finished at The Pantheon we wandered over to Piazza Navona to admire Bernini's Fontana dei Quattro Fiumi (Fountain of Four Rivers).   Bernini's masterpiece, which was unveiled in 1651, depicts gods of the Nile in Africa, the Ganges in Asia, the Danube in Europe and Rio de la Plata in the Americas.  Rome might very well have more fountains than anywhere else in the world and my younger daughter shares the Roman love for running water.  Emma loved this fountain nearly as much as the Trevi and, thankfully, we managed to keep her from ending up in it headfirst.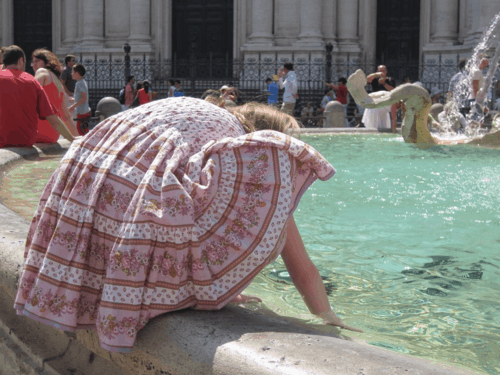 Emma playing in The Fountain of Four Rivers
We elected to have a quick, early dinner in one of the cafés that line the Piazza that day so that we could retire to our hotel room and get some well-needed rest.  We picked a café (we think it may have been called Caffé Nettuno based on a photo of Emma holding a menu) and ordered some pizza which was reasonably good in light of the fact that it was being served at a piazza café in a heavily trafficked tourist zone.  
The Trevi Fountain and the Spanish Steps
On our first full day in Rome we headed out in the morning to explore a bit prior to our afternoon tour of the Vatican Museums.  Our first stop was the Trevi Fountain which was immortalized in the movies Three Coins in a Fountain and La Dolce Vita.  The Fontana di Trevi (so named because of its location where three streets converge) was designed by Nicolo Salvi (based on original sketches by Bernini) but wasn't completed until 1762 – 11 years after Salvi's death.  It was mid-morning by the time that we arrived and the area was already quite crowded. We did manage to throw our coins in the fountain – thus ensuring that we will be making a return visit to Rome.   
From the Trevi Fountain we walked to the Piazza di Spagna so that we could join the throngs of tourists climbing the Scalinata di Spagna (The Spanish Steps) and dodge the street vendors trying to shove flowers into our hands.  The stairs were constructed in 1725 and named for the Spanish Embassy to The Holy See which used to be on site.  The Steps have been a traditional gathering place for centuries and no visit to Rome would be complete without at least having a look.  I wasn't content with just a look though – I wanted to walk to the top.  Katie was already claiming exhaustion so we had to bribe her with the promise of a cab ride to The Vatican in order to get her to agree to do it.  Emma counted 138 steps as we ascended the wide, curving staircase and the view from the top was definitely worth each and every step that it took.
Touring the Vatican Museums
 After a great deal of research and thought during the planning stages of our trip, I made the decision to book a tour of the Vatican Museums with Context Travel.  Context has a Family Program that is designed to introduce children to art, history, and architecture while bearing in mind that children learn differently from adults and connect with culture and art in a unique way.   Our guide, Daniela Fraioli, was an art historian and provided an absolutely wonderful tour.  I was thoroughly impressed by the depth of her knowledge about The Vatican and she was amazing with our kids.  Emma had only just turned 8 years old so I had some concern about whether she could focus for a three hour tour of The Vatican.  I needn't have worried.  Daniela connected with her immediately and engaged both kids in her discussion of the history of The Vatican and biblical history in general.  She also realized early on that Emma had a fascination with Greek/Roman Mythology and pointed out the artwork that featured gods, goddesses and mythological creatures, thus ensuring that Emma remained completely engaged in the tour.  
Touring the Vatican Museums is an unbelievable experience and one that should not be skipped, in my opinion, simply because you are traveling with kids.  I know I would have regretted it if I had been in Rome and not visited the Vatican.  I had explained to my daughters, Emma in particular, ahead of time that this was very important to me and that although it may be hot and crowded, and although she might feel bored, that it was only for three hours and that she needed to be on her absolute best behaviour.  The warning wasn't necessary – Emma was fascinated by what she saw – and I was reminded that it is important not to underestimate the ability of children to appreciate great works of art.  Their attention spans may be limited and they may have an unconventional interpretation of the art but that doesn't diminish their experience in any way.  Provide them with the opportunity to experience great art and you may be surprised by the results.     
There is an extensive amount of incredible artwork in The Vatican Museums, however, The Sistine Chapel is, without a doubt, the highlight of the visit for everyone.  Even children can imagine Michelangelo laying on his back to complete this masterpiece and marvel at his breathtaking accomplishment.  They do not need to fully understand the meaning behind what he has painted to sense that they are gazing upon a work that is pure genius.  We were also very impressed by the incredible workmanship in the tapestries – although Emma was a bit overcome by the depiction of The Slaughter of the Innocents and we had to take a short snack break in the cafeteria until she felt better. 
After parting from Daniela we walked around St. Peter's Basilica and then St. Peter's Square.  I have seen St. Peter's Basilica many times on television but nothing prepared me for the grandeur of it.  As we entered the basilica I felt myself tearing up and feeling completely overwhelmed.  I've been to many beautiful churches but for some reason the beauty and the scope of St. Peter's impacted me on a very emotional level.  We didn't spend a great deal of time here because it had already been quite a long day.  We did, however, see Michelangelo's The Pieta which is one of the most beautiful pieces of artwork that I have ever seen.  Departing from the Basilica we stopped to admire the Swiss Guards with their colourful uniforms and then walked around St. Peter's Square to absorb the atmosphere and snap some pictures.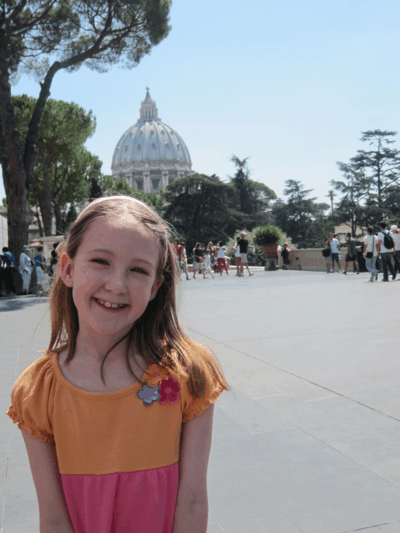 Starting our Vatican Museums tour
Ancient Rome
The focus for our last full day in the city was Ancient Rome.  Unfortunately, we didn't get as early a start as we had intended and by the time we had walked to the Colosseum it was late morning and the lines seemed endless.  We opted to join one of the tours being assembled outside.  It was incredibly hot and we had some rather grumpy children on our hands, however, I insisted that we were going to see inside the Colosseum.  We had read that these tours can be hit or miss and ours was definitely a miss.  Our guide did not speak English very well and her commentary was exceedingly dry and difficult to follow.
It didn't help that we were misled when we purchased the tickets.  We were told that the tour would be leaving in a few minutes, that it included the Colosseum and The Forum and that we would be finished both within 2 hours.   The line up for entrance into the Colosseum at the time was more than two hours long so this seemed like a reasonable alternative.  Unfortunately, we were then delayed at least 45 minutes before even entering the Colosseum as the guide stood in the intense sun and delivered an introductory speech before she started collecting various forms of identification and then leaving to purchase tickets and return.  She also informed us at this time that we would not be able to enter the Forum on our own as we would be on a group ticket and that the next tour would not be commencing until 2:45pm (approximately 4 hours after our ticket purchase) which meant that we were going to have at least 1.5 hours of waiting once we were finished inside the Colosseum.  (Cue more complaining from kids.)
We left the guide once we had entered the Colosseum and walked around on our own imagining what the stadium must have been like when it was packed with 50 000 spectators watching gladiators fight to the death.  The great thing about the Colosseum is that even grumpy kids can't help being impressed by this iconic symbol of Rome.  After exiting the Colosseum we bribed the kids with gelato and other snacks so that we would be able to wait for the tour of the Forum.  I managed to convince them that I was going to be devastated if I had to leave Rome without seeing The Forum and eventually the time passed and the next tour started.  This tour was led by a different guide who was much more engaging, however, with the mood of our kids and the heat of the day, we opted to leave that tour as well since it was going to focus on The Palatine Hill for 2 hours.  Instead of remaining with the tour we headed directly for The Forum and walked through the ruins in a less than leisurely manner.  There is a great deal to see in the Forum and it is best to concentrate on just a few particular sites unless your children have a much greater attention span than mine do.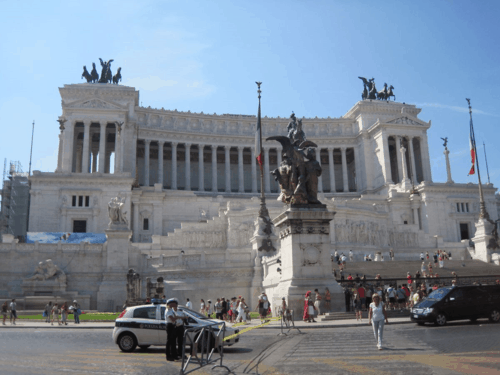 The Victor Emanuel II Monument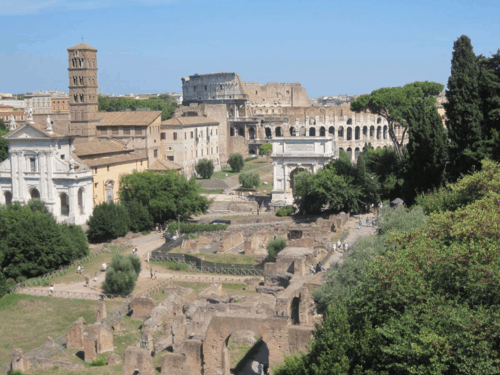 View of the Colosseum from Palatine Hill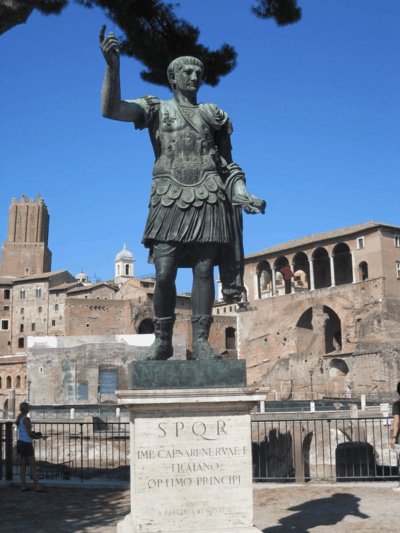 One of the statues along Via dei Fori Imperiali
Dining in Rome
It probably goes without saying but we did have some amazing food in Rome.  With pizza, pasta and gelato available everywhere there can't be many places where it is easier to feed kids – no matter  how picky they are.  Our first night we grabbed a bite to eat in Piazza Navona, however, the following two nights we ate at nearby restaurants recommended by staff at our hotel.  We dined al fresco and the food was delizioso.  Emma particularly enjoyed the spaghetti!  Frequent gelato breaks are a necessity when visiting Rome during the hot summer months.  Gelato shops are ubiquitous – some are better than others.  Generally, the shops that appear to cater only to tourists are the ones that should be bypassed in favour of the shops full of Italian customers.   
Rome is a vibrant, historical city which has more must-sees than anyone could possibly squeeze into a short stay.  It is often said that Rome is not a family-friendly city, however, I don't think that is necessarily the case.  Kids might not be happy with an entire day spent looking at ancient ruins, however, if they are properly prepared, their imaginations will be all fired up thinking about gladiators fighting thrilling battles in the Colosseum and Caesars delivering rousing speeches in The Forum.  Rome's pedestrian-only piazzas are custom-made for families to idle away some time when everyone has had enough of history and culture.  There are countless fountains for throwing coins in and gelato available whenever it's wanted.  And most importantly, Italian culture welcomes kids so that parents are never made to feel that the bambinos should have been left at home.  
I look forward to returning to Rome one day and spending more time relaxing and enjoying the diverse neighbourhoods of the city rather than rushing to see the requisite sights.  Our biggest challenge in Rome was the heat.  There is no way to avoid it when traveling during summer holidays so parents just have to be prepared that it is going to take more time to cover ground as nobody moves quickly in the heat; frequent breaks for water and or gelato are going to be necessary; and grumpiness can be expected in kids that aren't used to the heat and humidity.      
Related Links
Albergo Santa Chiara: A Family-Friendly Hotel in Central Rome
Exploring Rome with Kids in 2.5 Days
Touring The Vatican With Context Travel 
Cruising on the Celebrity Equinox with Kids
Have you liked our Facebook page yet? I post articles from the blog there as well as photo albums from our travels and other travel news. Or, if you prefer, you can subscribe to the free RSS feed or sign up for an email subscription to keep up-to-date on our travel adventures.