Visiting Bridal Veil Falls and other things to do in the Village of Kagawong on Manitoulin Island, Ontario, Canada.
UPDATED: JULY 2020
Learn more in Fun Things To Do in Kagawong This Summer
At least once every summer our family heads north to spend some time at our family cottage on Manitoulin Island. Manitoulin Island is located in the north channel of Lake Huron and at 2,766 square kilometres is the largest freshwater island in the world. The island attracts visitors from around the world as it is a nature lover's paradise with its rugged landscape, extensive hiking trails and 108 inland lakes. 
There is also a large aboriginal community on Manitoulin which affords visitors the opportunity to engage in an interesting cultural experience such as learning about traditional crafts and cuisine or attending a native Powwow. The picturesque back roads of the island are also very popular with cyclists during the summer season.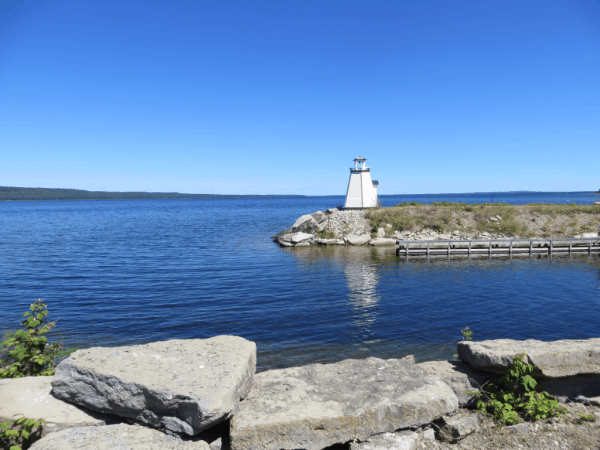 The Village of Kagawong
We spend most of our time on the island at our cottage which is located in the village of Kagawong. The word Kagawong comes from the Ojibwe language and means "where mists rise from the falling waters". Kagawong advertises itself as Ontario's Prettiest Village and whether or not this is an official designation it is a claim which definitely has merit. 
When our kids were young they loved our annual visits to Manitoulin Island in no small part because of the greater freedom that they had there to run free and play in the great outdoors. Our family has many favourite things that we have to do when we are in Kagawong, however, one of mine is to visit Bridal Veil Falls which is located just outside the village proper.
Visiting Bridal Veil Falls
Bridal Veil Falls, which is located along Highway 540 near the entrance to the village, is the main attraction for most visitors to Kagawong. This lovely falls, which is about 10-12 metres high, is formed by the Kagawong River cascading over a limestone cliff into a plunge pool below and is named for its resemblance to a bridal veil. 
There is a parking lot and a picnic area with restrooms near the top of the falls. Visitors arriving from the parking lot  use a sturdy metal staircase to descend to the base of the falls. The falls can also be reached via a walking trail from the village that follows alongside the river through a forested area. 
Summer 2020 – Access to Bridal Veil Falls is limited to the walking trails due to COVID-19. The staircase is closed at this time.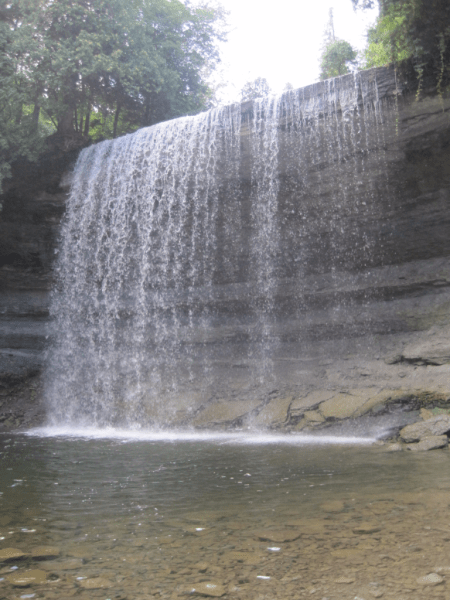 The water is fairly shallow at the base of the falls and many people splash or swim in the basin – just be sure to keep a close eye on small children as the rocks can be slippery and there is a bit of a current from the stream. It's also fun to climb up behind the rocks for a different vantage point.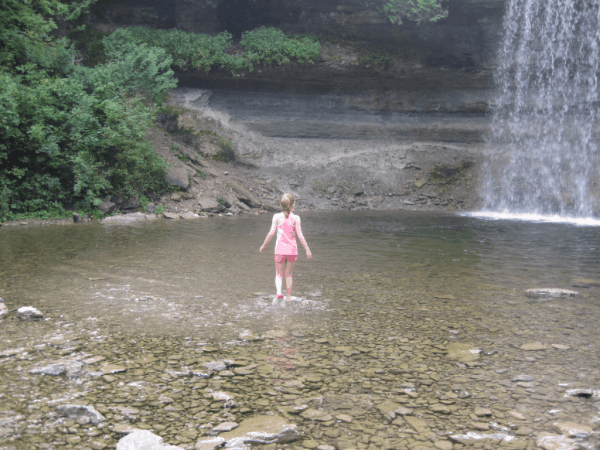 Shopping in Kagawong
After a trip to Bridal Veil Falls visitors should head into the village itself which is just a short jaunt down either the road or the walking trail through the woods. The village has a few little shops that are fun to poke around in. The two which are particular favourites with my kids are Manitoulin Chocolate Works (purveyors of delicious handmade chocolates) and Boo-Bah-Lou Candy Cabin which is located across from Bridal Veil Falls (for every kind of candy imaginable including some retro favourites).
Summer 2020 – mask are required indoors and access to the shops are limited by numbers due to COVID-19.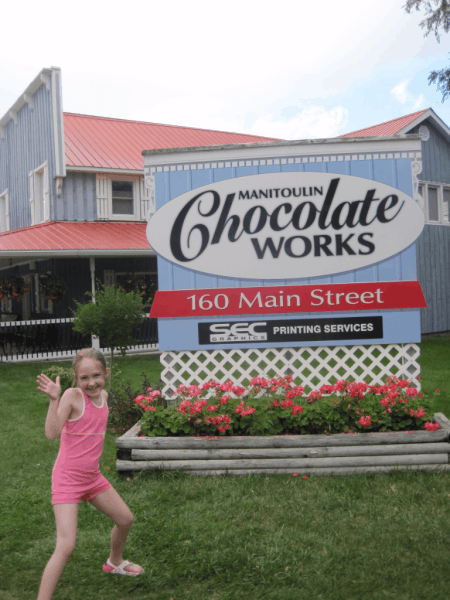 Emma outside Manitoulin Chocolate Works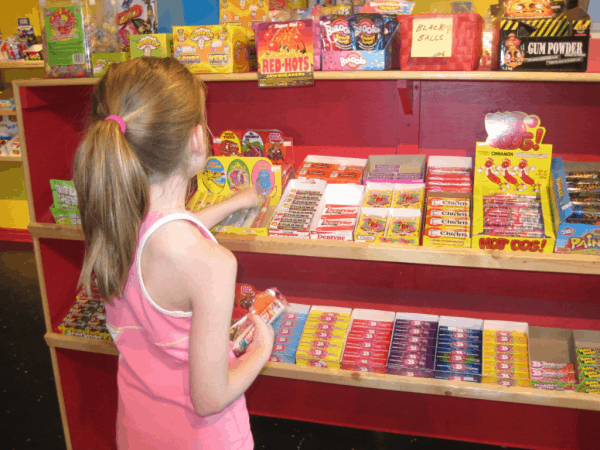 Emma checking out the display at Boo-Bah-Lou Candy Cabin
Outside Manitoulin Chocolate Works there is a large game board set up where visitors can play chess, tic tac toe or Manitoulin Twister. 
Summer 2020 – game pieces are not provided due to COVID-19 but you are welcome to play with your own markers.
Additional Things To Do in Kagawong
Although Kagawong is a very small village there are several other attractions/amenities in town including: 
An art gallery Edwards Studios located in the historic Old Mill.

The Kagawong Marina which is always bustling with boaters during the summer months.  The Marina also has an outlet of Farquhars Dairy which sells delicious ice cream. (We have also been known to drive to Mindemoya for a more extensive selection.)

In the village there is a sandy beach with a water slide that is a great place to play especially with young children.

St. John the Evangelist's Anglican Church, also known as "the sailor's church", which is located on the shores of Lake Huron near the marina is more than 120 years old. The small church has a nautical theme and the pulpit in the church is built from the wreckage of a ship.

The historic Kagawong Lighthouse which has been continuously operated since the late 1880s stands guard in the harbour.

(Summer 2020 there is construction by the Mill)

Bridal Veil Variety – a one stop shop where visitors can buy just about anything they may need.

The Great Spirit Circle Trail is located nearby in M'Chigeeng First Nation. Guests may take guided tours and excursions or participate in daily cultural activities to learn more about the aboriginal experience.
Grab a delicious bite to eat at Main Street Cafe. (Drive through only summer of 2020 due to COVID-19).
Kagawong is a quaint little village that visitors flock to in the summertime for both the natural beauty and the small town charm. It is definitely a worthwhile pitstop for anyone traveling across Manitoulin Island and a great place to spend part of a day for visitors who are staying in the area. For us, Kagawong is where we spend time with family, kickback and enjoy the more relaxed Island lifestyle, and make family memories that the kids will cherish as they grow older.