Visiting the Big Nickel in Sudbury, Ontario
While in Sudbury, Ontario for Thanksgiving weekend, we decided to take Emma to see The Big Nickel which is the largest coin in the world.  The 13 ton, 30 foot high replica of a 1951 Canadian nickel was constructed in 1964 in anticipation of the upcoming Canadian Centennial celebration and is intended to symbolize the contribution that Sudbury's nickel production has made to the Canadian economy.  The 'Heads' side of the coin is King George VI and the 'Tails' side is a stylized nickel refinery.  The coin is on a base which allows the public to walk around and under it in order to get a good view.  There is also a picnic/playground area on site which is convenient for families, particularly if this has just been a pit stop on a car trip.
I remember driving by Sudbury when I was a youngster and always being very impressed by the Big Nickel up on the hill, however, Emma was far less enthusiastic.  She thought that it was cool but insisted that it looked like rubber rather than metal and, therefore, was not a "real" coin in her opinion.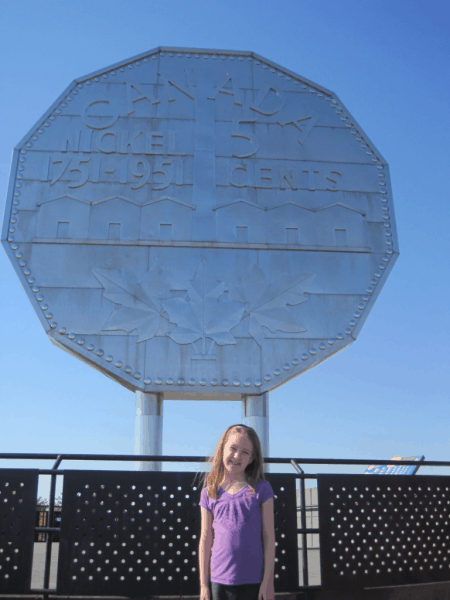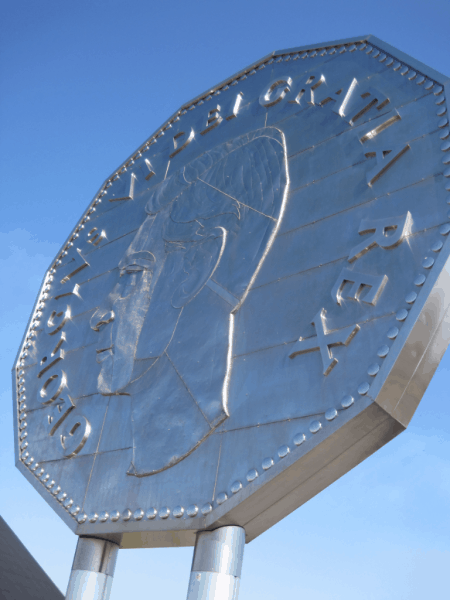 The Big Nickel is now part of the Dynamic Earth facility which is operated by Science North.  The Big Nickel is outside the facility and there is no charge to visit it and take a photo, however, there is an admission charge to visit Dynamic Earth.  One of the Dynamic Earth exhibits affords guests the opportunity to descend 7 stories below the ground, don a miner's hat and participate in an underground tour to learn all about the history of mining.  We weren't able to take the underground tour this visit as we were short on time, however, we will definitely return to do it the next time that we are in the city.  I'm not sure how keen I actually am on touring underground tunnels but apparently I have promised and I'm going to have to follow through.
If you have a secret fascination with things that are big then you should check out Go Big or Go Home which is a travel blog about a family that feels compelled to visit quirky roadside attractions that claim to be the biggest of their kind.  You will be amazed at all the interesting attractions there are out there just waiting for you to visit. 
Related Link
Learning is Fun at Science North

Have you liked our Facebook page yet? I post articles from the blog there as well as photo albums from our travels and other travel news. Or, if you prefer, you can subscribe to the free RSS feed or sign up for an email subscription to keep up-to-date on our travel adventures.