A tour of Athens with Private Greece Tours
The decision to book a private tour of Athens with Private Greece Tours was one of the best planning decisions I made before our Eastern Mediterranean cruise with Celebrity Cruises.  The Equinox docks in the city of Piraeus which is about a half an hour's drive from Athens so commuting time would have to be factored into our plans.  We were arriving early in the morning (and my kids aren't morning people) and were departing again by 6pm which meant that, at best, we would have approximately 8 hours to see the city.  We also had to take into consideration the fact that we were traveling in August which would likely mean extremely hot weather.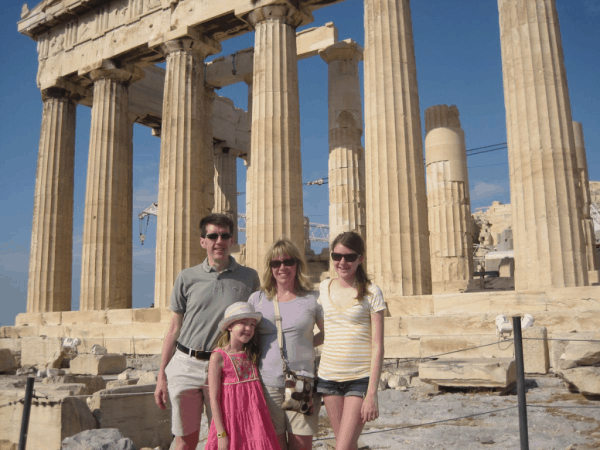 When planning for the cruise, we considered the following options:  (1) booking a shore excursion with the cruise line; (2) taking public transportation into the city and sight-seeing on our own; or (3) hiring a guide and/or driver to pick us up in the port and drive us around the city.  The idea of booking a shore excursion with the cruise line was dismissed because we prefer not to sightsee in large, inflexible groups and I was concerned about relying on public transportation due to the revolving strikes and protests that had been occurring in Athens for the better part of a year. 
We settled on the third option of hiring a driver.  This would mean having an air-conditioned car to transport us between sites in Athens (hoping that regular breaks cooling off in the  car would diminish crankiness) and also that I could take comfort in the knowledge that a driver familiar with the city would get us back to the port in the event that there were disruptions due to protests.
I researched a number of private tour companies in Athens and chose Private Greece Tours which is owned and operated by Nikos Loukas.  I exchanged several emails with Mr. Loukas prior to the trip and we agreed on an itinerary for our day in Athens.  Two days before we left for Europe I received an email informing me that the tour for our family of 4 was booked with a taxi and was going to have to be cancelled due to the taxi strike.   At this point I panicked. 
Mr. Loukas gave me the option of joining other passengers from our ship in one of his vans which are not licensed as taxis.  This was less than ideal for us traveling with kids as I had concerns that our fellow passengers might not appreciate having to share a tour with a family.  We agreed to this arrangement, however, as it seemed the best solution to ensure that we didn't miss seeing Athens altogether.  Fortunately, while we were in Rome, just prior to the cruise, I received an email from Mr. Loukas advising me that the taxi strike had ended and our private tour with a driver would go ahead as scheduled.
Our driver, Spyros, picked us up in his Mercedes taxi at the pier in Piraeus promptly at 8am and we headed directly for the Acropolis. Spyros was polite, professional and spoke English very well.  He always made certain that we knew where we were going and how to find him when we were finished.  He was very knowledgeable and answered any questions that we had.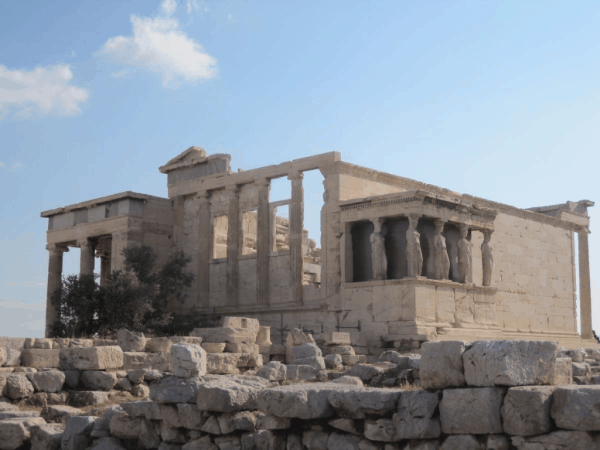 We went to the Acropolis, the Theatre of Dionysus, the Temple of Olympian Zeus, the Olympic Stadium, Lycabettus Hill, the Changing of the Guard ceremony behind the palace; and the Ancient Agora in the Plaka neighbourhood.  Either the National Archaeological Museum or the New Acropolis Museum was to be included in our 8 hour tour, however, we opted to skip the museum visit and return early to the ship as the kids were completely exhausted by mid-afternoon.  Spyros also found a shop for us to purchase small statues of gods for Emma who had become obsessed with Greek mythology.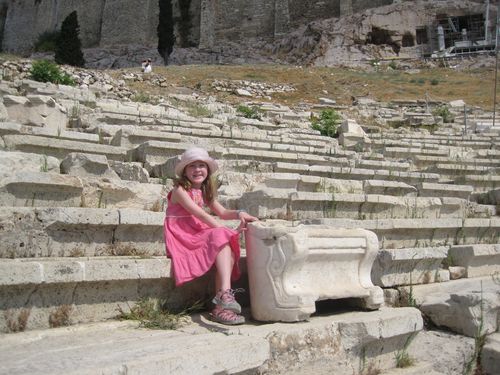 I would definitely recommend the services of Private Greece Tours for visitors to Athens, particularly cruise ship passengers who are only in port for the day.  This was an ideal arrangement for us as we didn't feel that we needed the services of a guide, however, we appreciated having a driver to get us efficiently to each of the sites and back to the ship safely and punctually.  With Spyros as our driver we were able to see far more of Athens in the limited time available than we could possibly have managed without him.  If we had been staying in Athens for a few days then we could have easily toured the city on our own, however, in these circumstances, with only a few hours available, a driver was the best alternative. 
We paid 250 Euros for the car and driver for an 8 hour day.  Entrance fees were separate – an Athens Multi-Pass covered our admissions and was 12 Euros each, children were free
Related Links

5 Reasons Crete is Unique and Family-Friendly
Cruising on the Celebrity Equinox with Kids  
Have you liked our Facebook page yet? I post articles from the blog there as well as photo albums from our travels and other travel news. You may also subscribe to the free RSS feed or sign up for an email subscription to keep up-to-date on our travel adventures.