Taking the kids to Toronto's Christmas Market in the historic Distillery District is a great way to get into the Christmas spirit.
For quite some time I have been dreaming about visiting a traditional European Christmas Market.  It's highly unlikely that this will happen anytime soon though since the reality of having school-age kids means that we aren't able to travel in early December.  Early last week, however, I was delighted to discover that there is a Christmas market practically in my own backyard. 
The Distillery Historic District in Toronto is, for the second year, hosting a Christmas Market that is intended to capture the old world charm of the European street markets.  Toronto's Distillery District is a National Historic Site that was once owned by the Gooderham and Worts Distillery and has a very old-world feel about it.  The site contains a large and well-preserved collection of Victorian Industrial buildings which underwent an ambitious restoration about 10 years ago.  The result is a pedestrian-only district which features one-of-a-kind shops, boutiques, restaurants, studios, galleries and theatres that have successfully fused 21st century design with 19th century architecture.  The Distillery District is a popular gathering place for Torontonians and has also became a major tourist attraction in the city.
I visited the Distillery District for the first time last year with a group of women friends to participate in a walking/tasting tour as well as a Segway tour of the area.  I was absolutely charmed by what I saw so I was anxious to return and explore the Christmas Market.  We arrived at a very crowded market Saturday afternoon at about 3pm.  There was a Christmas band playing near the entrance as we arrived and we set out to explore the booths set up by vendors along the main thoroughfare before heading out into the side streets.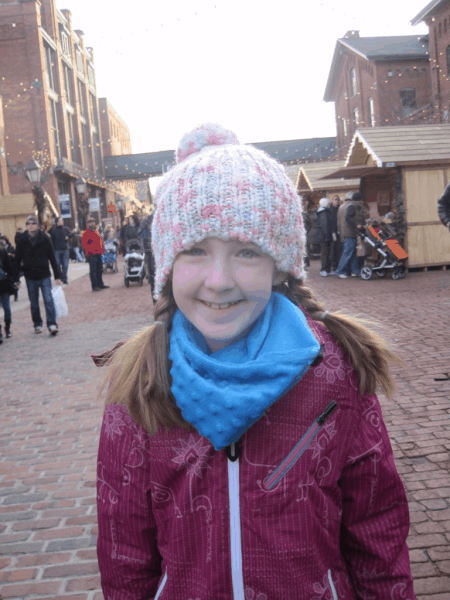 Emma at the Toronto Christmas Market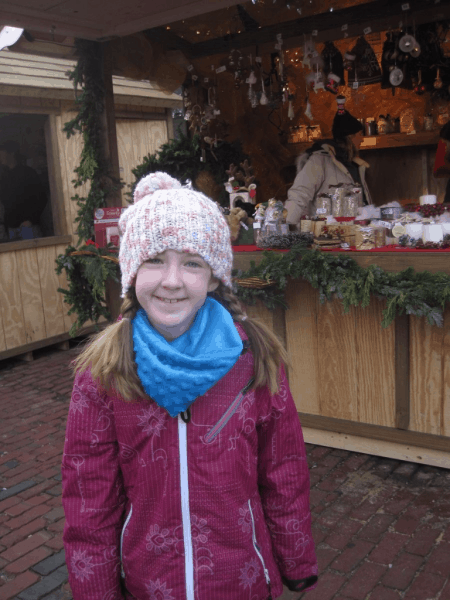 Emma shopping at the Toronto Christmas Market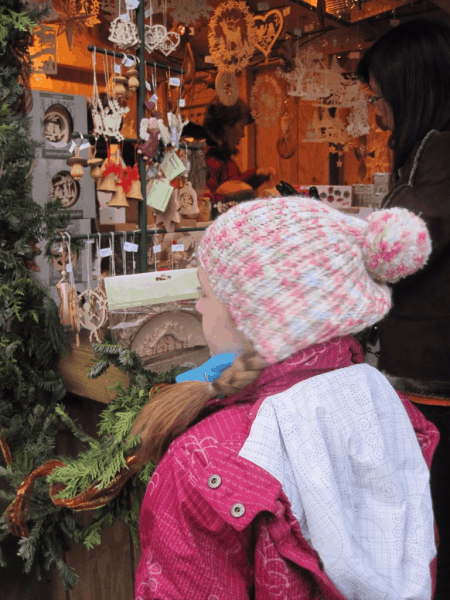 Admiring handcrafted Christmas ornaments
There was a carousel and ferris wheel near the magnificent Christmas tree, however, Emma either wasn't interested or didn't really take note of them.  This was probably a good thing since the large crowds would have certainly meant very long waits to ride either.  We did stop momentarily to watch some folk dancers performing on stage which was very entertaining.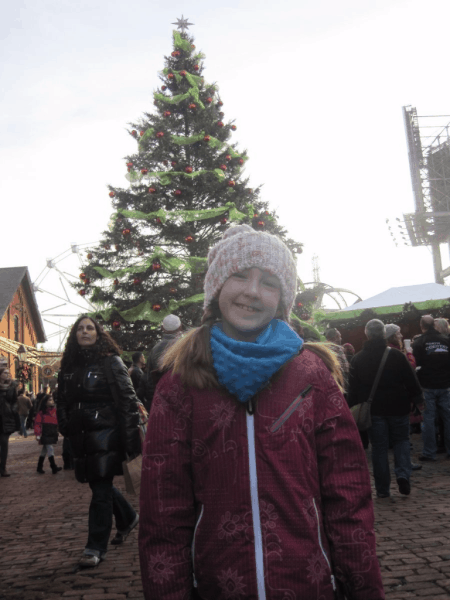 Christmas Tree in the Distillery District
"Santa's Lane" featured the more kid-friendly attractions and this is where Emma discovered the reindeer-shaped gingerbread which might have been her highlight of the day.  There was a Fairy Tale Forest maze for kids to play in, Rudolph's Reindeer Zoo with two of Santa's reindeer, an Elves Workshop were kids could make a variety of Christmas crafts and a very long line up to visit the jolly old guy himself.  Thankfully, Emma decided the line was too long to wait in or we likely would have spent the entire afternoon there.  We were able to get a photo with a lovely elf that we ran into on the street.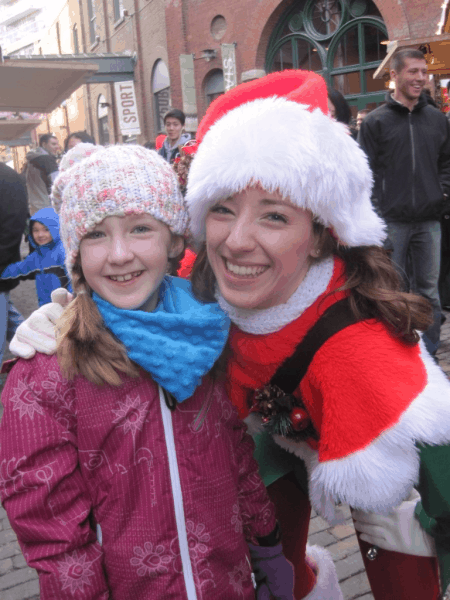 Meeting one of Santa's Elf helpers
We browsed the outdoor stalls and a few of the indoor shops as well but the market was far too crowded for me to do any serious shopping.  In retrospect, we should have made an effort to arrive much earlier in the day or perhaps have waited until after dinner.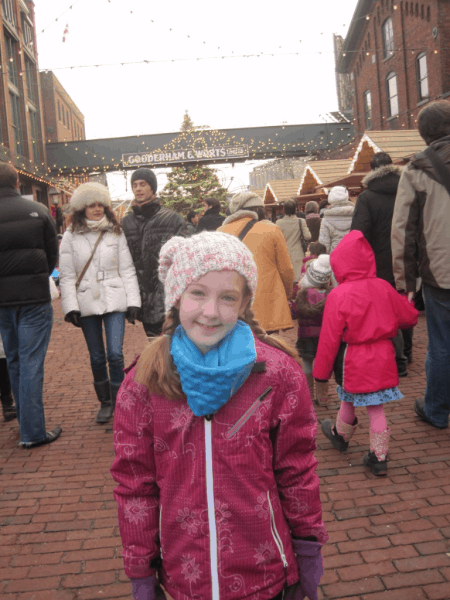 As we were leaving the sun was starting to set and the lights of the marketplace were starting to twinkle.  I imagine it is a beautiful spot to spend a pleasant evening during the Christmas season.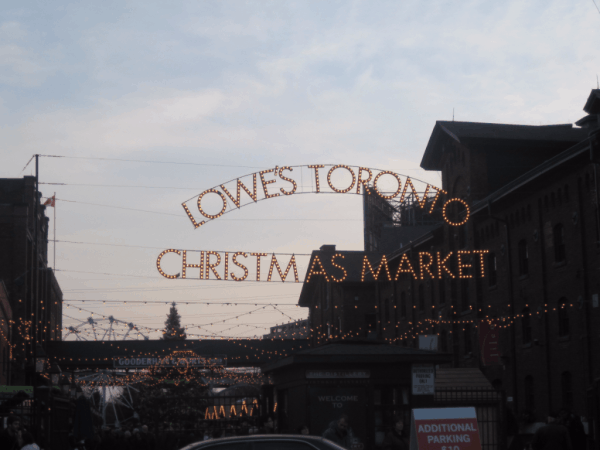 The Toronto Christmas Market as the sun begins to set
Having never actually been to a European Christmas Market, I'm not sure how it compares.  I did enjoy it although the crowds were too much for me.  I was a little disappointed to see that the market has a corporate sponsor whose name figures prominently in lights.  It may be a completely naive belief, but I wouldn't expect to see that in Europe.  I love the Distillery District and think that it is a great place to spend time browsing and dining at any time of the year.  I have been seriously lacking in Christmas spirit this year and I did feel more Christmasy after wandering the decorated market, admiring the crafts and listening to Christmas music with all the other shoppers.  I expect we will return again next year but will plan to go at a less hectic time.
Our visit to Toronto's Christmas Market just whet my appetite so I'm still dreaming about visiting a traditional Christmas Market in Europe.  Hopefully one day I will find myself browsing one in Germany or Austria – maybe as part of a river cruise that floats me to one delightful Christmas market after another.
The Toronto Christmas Market is a free event that runs from December 2 to December 18 this year (2011).  Hours are Monday to Friday Noon – 9pm; Saturdays and Sundays 10am – 9pm.  Visitors are encouraged to bring nutritious, non-perishable items to donate to the Daily Bread Food Bank.    
Related Links
Holiday Gift Guide: The Best Books for Travelers
11 Family-Friendly Holiday Events in Toronto and the GTA
Parks Canada Holiday Celebrations and Winter Activities
 Have you liked our Facebook page yet? I post articles from the blog there as well as photo albums from our travels and other travel news. Or, if you prefer, you can subscribe to the free RSS feed or sign up for an email subscription to keep up-to-date on our travel adventures.
Pin this for later