A review of our family's stay at Lake Buena Vista Resort Village & Spa in Orlando, Florida
We recently visited Orlando, Florida for the 6th time as a family.  On all of our previous visits we have stayed at Disney World Resorts, however, this time we decided that it was time to venture off Disney property.  As much as I loved staying at Disney's Polynesian Resort and The Grand Floridian there were two reasons that we thought that off-site would work better for us this time. 
This post contains affiliate links. If you click an affiliate link and make a purchase then Gone with the Family may earn a small commission at no additional cost to you.
Firstly, on the previous trips we had no intention of visiting any parks apart from Disney.  This time we definitely planned to visit Universal Studios and had tentative plans (which ultimately fell through) to visit the Kennedy Space Center and drive to St. Petersburg to visit relatives so we thought that by staying off-site the kids would be more amenable to non-Disney activities.  The second, and more important reason, was space.  Having separate bedrooms and a kitchen/living area has become much more important to us the last couple of years as the kids have grown and we have become willing to sacrifice a certain amount of luxuriousness in our accommodations in exchange for more square footage.
My internet searches led me to Lake Buena Vista Resort Village & Spa which describes itself as fully-furnished, luxury condominium-style suites and sounded like exactly what I was looking for.  We booked a 6 night stay in a 2 bedroom Antigua suite with fireworks view through their website. 
Check current rates and read reviews for Lake Buena Vista Resort Village & Spa on TripAdvisor
We arrived at the resort at about 3pm and our room was not yet ready so we spent the time that we had to wait discussing with the helpful concierge the options for purchasing theme park tickets.  The resort is made up of several high-rise buildings and we were located in the one adjacent to the main building and reception area which was quite convenient.  There was plenty of parking space and we never had any issue finding a space close to the entrance of the building when we returned at the end of the day.    
Our apartment was large with two good-sized bedrooms that allowed everyone enough space to spread out in.  The master suite, in particular, was quite large with a walk-in closet that provided plenty of storage space.  Furnishings in the suite are basic but adequate.  The one criticism that I would have is that the bedding was dingy and a bit worn out which made it appear less than clean and the sheets were too short for the bed making it difficult to actually cover up without shifting toward the bottom of the bed.  Replacing the comforters and bedding in these rooms and adding a few more pillows would do wonders for the overall appearance of the suites.
The kids' bathroom was of average size with a bathtub/shower combination.  The master bathroom was huge with a whirlpool tub (which we never used) and a separate shower, a vanity with double sinks and the toilet in a separate room.  While the master bathroom was spacious, I didn't like it because so much of it was open to the rest of the room.  This is a space where there is absolutely no privacy except for the toilet which isn't necessarily great with kids wandering around.  I also found it a bit chilly to step out of the shower into an expansive room – I prefer a hot and steamy bathroom.
The kitchen was well-equipped with everything that we needed.  We only had breakfasts there and one night we picked up take-out pizza so we really only used the microwave and the dishwasher.  Having a kitchen though is, in my opinion, the biggest advantage of apartment-style accommodations as we can get ready for a day of sightseeing or theme parks much faster if we don't have to go out for breakfast.  We can also eat at staggered times if our teenager wants to just crawl out of bed at the last minute.
The hotel has free WIFI service which is a huge advantage for us, however, we found that the signal was inconsistent and we sometimes weren't able to get online (which annoyed me but really ticked off Katie).
Cleaning of the apartments is not included in the price of the rooms.  There are different levels of cleaning which can be scheduled ranging in price from $5 – $30 so that guests have the flexibility of deciding whether or not they would like to have their suites serviced.  I thought that I had booked a daily service that emptied the trash and refreshed the towels, however, we discovered on the second day that the resort had no record of a request for cleaning service.  As a result, we just opted to have a full cleaning half way through our stay.  We returned that evening to find that the beds had been made, the trash cans emptied, the bathroom tidied and towels replaced, however, there was food in the kitchen sink and crumbs still on the floor in the kitchen and dining area.  Either the cleaning staff had misunderstood which type of cleaning service we had paid for or the cleaning itself was done haphazardly.
The resort has a fun-looking pool area with a pirate ship, however, we did not have an opportunity to use it.  There is a casual restaurant/bar located pool side as well which would be convenient for casual eating if your family were spending the afternoon by the pool.  There were two quite warm days during our stay, however, in both instances we were in the parks for the entire day and didn't make it back to the resort for an afternoon break.  I think Emma would have quite enjoyed playing in the pool if she'd had the chance to do so.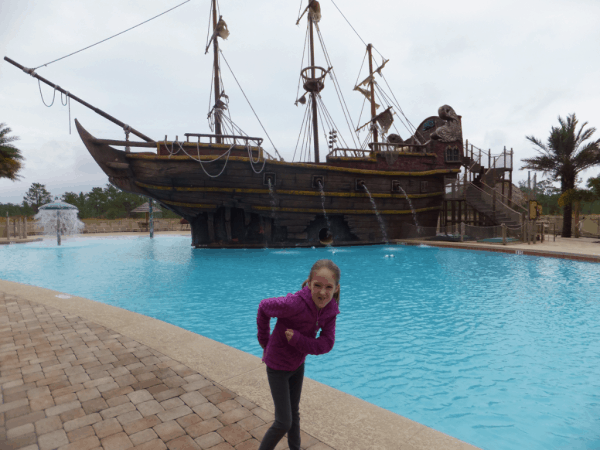 Emma's pirate imitation by the pool
There is factory outlet shopping next door to the resort and an Irish pub where kids are welcome for meals as well as a Pizza Hut outlet.  There was also a small grocery store where we were able to buy a few items.  We found a Starbucks a few minutes drive away where my husband was able to get my latte for me every morning thus ensuring that I had the energy (and the good humour) to deal with a day of traipsing through theme parks.
Lake Buena Vista Resort Village & Spa was perfectly adequate for our needs on this visit to Orlando.  I wouldn't describe it as luxurious, however, it was definitely good value for the price paid.  I wouldn't bother with the "fireworks view" as the additional cost is definitely not worth it.  We could hear fireworks the first night, however, they were so far off in the distance that we couldn't even locate them immediately.  The location of the resort was excellent as we were a short drive from the Disney parks and about 20 or 25 minutes from Universal Studios.  As a result, we didn't feel that we were terribly inconvenienced by staying off-site.  I would certainly consider staying here on a future visit, however, I would investigate other options as well to see if I could find another resort that suited us better. 
Related Links 
Harry Potter and the Forbidden Journey – An 8 Year-Old's View 
Seuss Landing at Universal Studios
A Day at the Wizarding World of Harry Potter

Have you liked our Facebook page yet?  I post articles from the blog there as well as photo albums from our travels and other travel news.  Or, if you prefer, you can subscribe to the free RSS feed or sign up for an email subscription to keep up-to-date on our travel adventures.