Our family spent a day globetrotting at EPCOT's World Showcase and discovered that it can be a great place for kids to learn a little about the world and meet some Disney characters at the same time.
We recently visited Disney's EPCOT park after not having been there for almost 8 years.  EPCOT (the "Experimental Prototype Community of Tomorrow") is not known for being the most kid-friendly park at Disney given its emphasis on technological innovation and international culture, however, we had quite enjoyed our visit with Katie in 2004 when we spent a fair bit of time circling the World Showcase and collecting passport stamps from each of the featured countries.  I knew that Emma would enjoy this as well as she loves geography and learning about countries of the world.  Upon arrival we discovered that the World Showcase has become a more kid-friendly spot in the last few years.
EPCOT's World Showcase is centred around a lagoon and features eleven pavilions where guests can learn a bit about the culture of each country.  Each land has dining options (both sit-down and counter service) which are representative of the culture and unique shops which sell items from that country which can't be found anywhere else in Disney World.  The World Showcase generally opens at 11am so there's time to explore elsewhere in the park a bit first.
We didn't know prior to arriving that character greetings are now featured in many of the "lands" which increases the entertainment factor for families with kids.  As it turned out this was probably Emma's favourite part of the day as she was keen to fill up her autograph book with as many characters as possible.  Generally, the lines at EPCOT to meet characters were shorter than we experienced at the other Disney parks as there are fewer young kids here.  The exception was trying to meet Belle and the Beast towards the end of the day when my husband spent 1.5 hours in line in order to hold a spot for Emma to meet them.
A new addition since our previous visit were the free craft stations ("Kidcot" stations) set up in each country where kids can sit down for a few minutes and create a fun souvenir of the day. We didn't take the time to do this because Emma was on a mission to collect her passport stamps in each country and meet as many of the characters as possible.
Also new is "Kim Possible World Showcase Adventure" – an activity where kids can use an interactive device to find clues in various countries and stop the villains who are on a quest for world domination. Guests of any age can volunteer to become a secret agent at one of several Team Possible kiosks and will be provided with a Kimmunicator which is a cell-phone like device that will provide the clues needed on the mission. There are missions in 7 of the 11 country pavilions and each one takes about 30-45 minutes to complete. This would be a great activity to engage school-aged kids who aren't interested in simply walking around the pavilions.
I highly recommend purchasing a passport at one of the kiosks before your family starts to circle the showcase.  In each land your child will be able to collect a passport stamp from cast members who are sitting at the "Kidcot" stations.  The completed passport booklet makes a great souvenir of the day.  Cast members are citizens of the country you are visiting and will generally add a handwritten message in their native language as well.  They will also happily answer questions and discuss their countries with guests of all ages.  
We circled the World Showcase in a clockwise direction visiting the countries mostly in order except when there was a character greeting scheduled that we simply had to get to.  (If meeting characters is important to your family then be sure to pick up a schedule which lists the times and places for the character greetings before you start your country tour.)  Here's a brief rundown of what you can expect in each pavilion.
Mexico
The first land that we entered was Mexico where the pavilion is designed to resemble an ancient pyramid.  Visitors can browse Mexican art work and shop in a Mexican marketplace, however, the main attraction here is the Gran Fiesta Tour which is a boat ride featuring the Three Caballeros.  The premise of the ride is that Donald Duck has gone missing and his amigos are trying to track him down in time for their concert performance.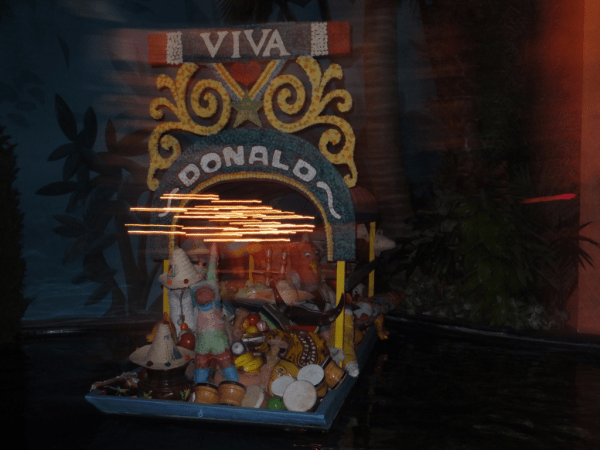 The Gran Fiesta Tour ride in "Mexico"
Norway
The Norway pavilion is designed to look like a Norwegian village and includes the restaurant "Akershus" which resembles the Akershus Fortress in Oslo.  We visited this fortress a couple of years ago so the replica brought back good memories of the day that we spent in Oslo.  The Maelstrom is a ride on a Viking boat which travels through a mythological version of Norwegian history.  At one point the boat travels backward and plunges down a chute, however, I would think that it's fine even for young children.  Emma, who is not a brave rider, wanted to go on it multiple times.  The ride is followed by an optional 6 minute film on Norway which we skipped.  The shops selling Norwegian goods were also popular with my kids.  Katie had to have Norwegian chocolate as a friend from Norway had sent her some last year and she had developed quite a taste for it.  Both girls insisted on having photos taken with the giant troll sculpture in the shop.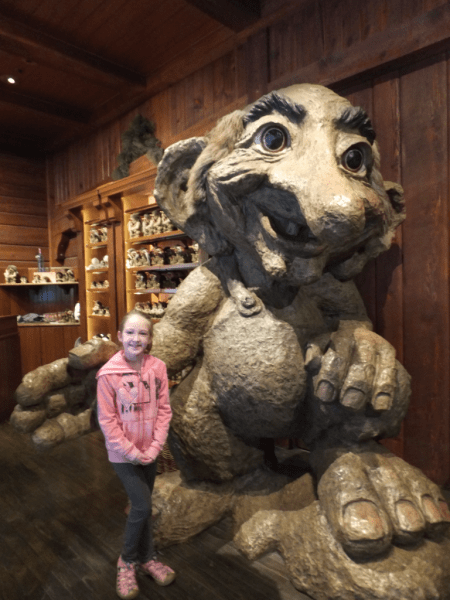 Emma posing with a troll in "Norway"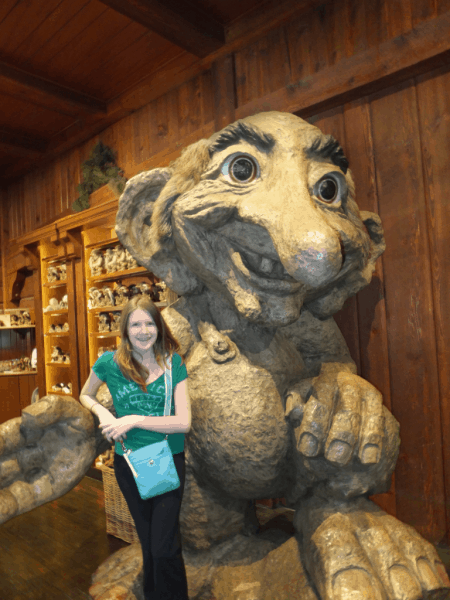 Katie with a troll in "Norway"
China
The China pavilion includes a replica of a temple and is decorated by ponds and bridges.  There are no rides in China, however, there is a movie "Reflections of China" which we, regrettably, didn't take the time to see.   Disney princess, Mulan, is also on hand to greet guests at scheduled times.  Mulan is one of Emma's favourite princesses so she was thrilled to be able to meet her.
Germany
Entering the Germany pavilion is like walking the streets of a small German village with a town square and a clock tower presiding over it.  We enjoyed browsing the shops in Germany and were quite surprised to find an entire tree decorated with pickle ornaments and labelled with a card describing the German tradition of hiding a pickle ornmanent on the Christmas tree.   I had been skeptical about this tradition for some time so when Emma was having her passport stamped I asked the two young Germans working at the Kidcot station whether people in Germany actually hung pickle ornaments on their trees.  They advised me that they didn't know of anyone who actually did but that for some reason North Americans seem to like to believe that this is a German tradition.  Emma's highlight in Germany was meeting Snow White in the garden by her wishing well.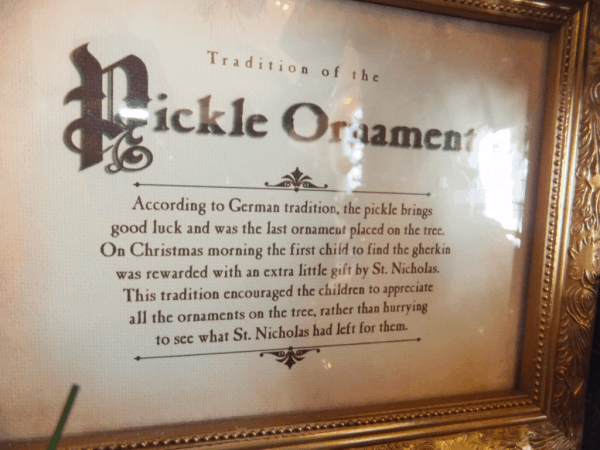 Pickle Ornament tradition explained
Italy
The pavilion in Italy is centred around a piazza and features a fountain that is reminiscent of the Trevi Fountain in Rome where we tossed coins and made wishes last summer.  We enjoyed the entertainment in this land – particularly a mime who was performing a  juggling routine with audience participation.  There was also an actor dressed like a Befana explaining that in Italian folklore an old woman (the "Befana") visits children on Epiphany Eve to leave them presents of candy if they were good or lumps of coal if they have been badly behaved.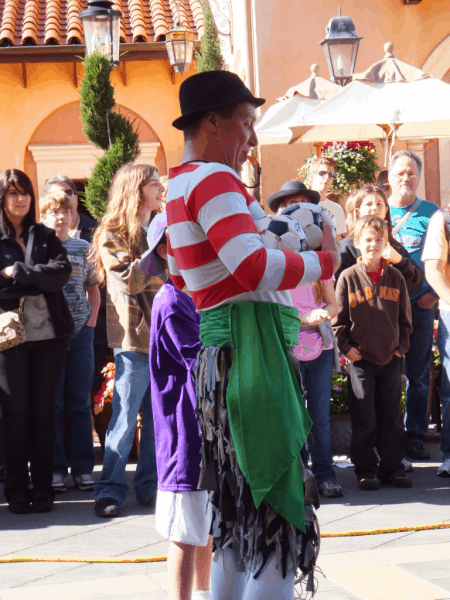 A mime entertaining the crowd in "Italy"
The American Adventure
The American Adventure is a colonial style building which features a show that takes guests on a trip through American history.  We stopped only long enough to have Emma's passport stamped.  By this time the day was getting on and she was starting to worry that she wouldn't get to all the countries if we didn't move quickly.
Japan
This area features a lovely replica of a pagoda and numerous shops selling Japanese pop culture items. This was another land where we stopped only long enough for a photo op and a passport stamp.
Morocco
This pavilion is designed to resemble a Moroccan city and features beautiful mosaics that reminded Emma of Istanbul which we had visited for two days last summer.  Emma and I quickly visited Morocco to have her passport stamped while my husband was holding our spot in line to see Belle and the Beast.
France
You will know that you have entered the lovely French pavilion when you see the Eiffel Tower in the distance.  The pavilion features a panoramic movie about the history and traditions of France but there simply wasn't sufficient time for us to stop for all of these presentations.  Character greetings were an essential part of the visit to France for us.  It was getting busier by this time and the line to meet Belle and the Beast was lengthy.  Fortunately, my husband was holding a spot in line while Emma and I met some of the other characters including Marie the kitten from Aristocats – a character that we have never before seen at Disneyworld.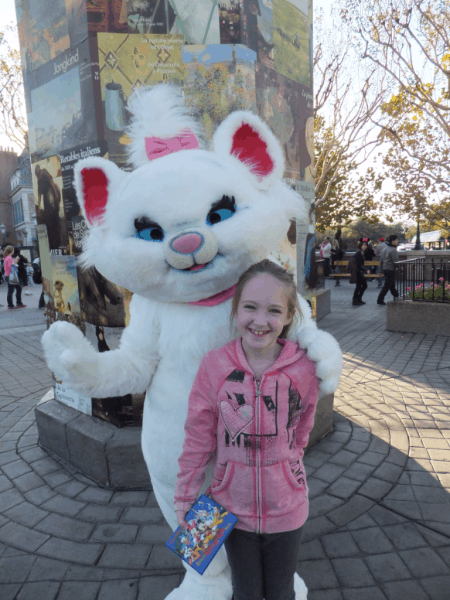 Emma meets Marie from The Aristocats in "France"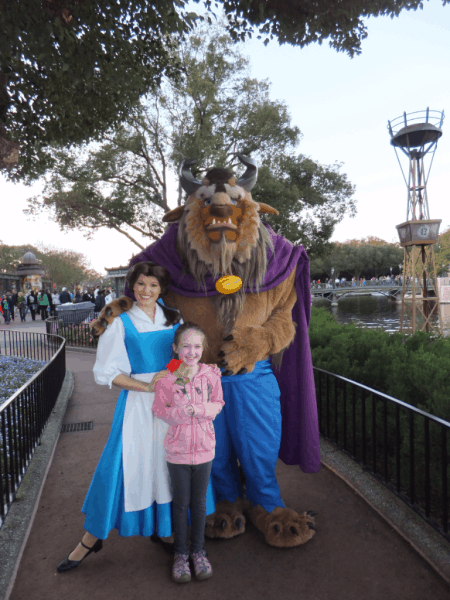 Emma with Belle and The Beast in "France"
United Kingdom
The United Kingdom pavilion is designed like a traditional English village and has shops selling British merchandise.  Emma was able to meet Mary Poppins and Alice in Wonderland here, however, I persuaded her to skip the line up for Winnie-the-Pooh and Tigger as we were certain to see them elsewhere.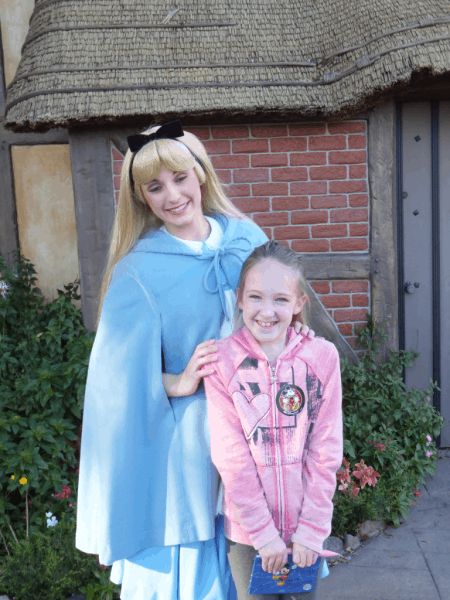 Emma with Alice in the "United Kingdom"
Canada
The pavilion for our homeland features totem poles and a château similar in design to several of the former railroad hotels such as Château Laurier, Château Frontenac, or the Banff Springs Hotel.  The main attraction here is the amusing Circlevision 360˚ movie which is narrated by Martin Short and dispels many  widely-held myths about Canada.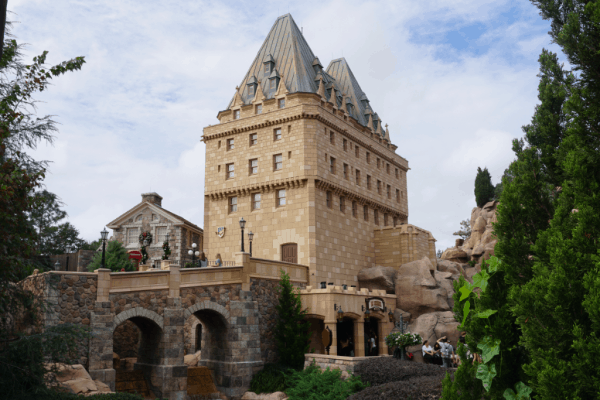 We spent several hours at EPCOT's World Showcase and managed to visit each pavilion at least briefly.  To fully explore each of the pavilions and see all the movies, go on the rides, watch any cultural presentations and line up for character greetings would definitely take more than one full day.  If you have only a few hours to devote to the World Showcase then you will have to prioritize what you want to see the most.  Overall we had a very enjoyable day – after all, where else could you visit 11 countries in one day?
Related Links
A Day at the Wizarding World of Harry Potter 
Seuss Landing at Universal Studios 
Have you liked our Facebook page yet? I post articles from the blog there as well as photo albums from our travels and other travel news. Or, if you prefer, you can subscribe to the free RSS feed or sign up for an email subscription to keep up-to-date on our travel adventures.