For my 8 year old daughter, the most anticipated activity on our recent trip to Paris was a visit to Musée du Louvre to see the Mona Lisa.
For my 8 year old daughter, Emma, one of the most anticipated activities on our recent trip to Paris was the visit to Musée du Louvre.  In the weeks leading up to our trip, many people asked Emma what she was going to do in Paris and her first answer was invariably the same – see the Mona Lisa. 
Emma had done some reading prior to our trip, starting with Monday with a Mad Genius from the Magic Tree House series where she had learned about Leonardo da Vinci, his life in Florence and his most famous painting.  We also read art books for kids like 13 Artists Children Should Know and Louvre Up Close and Leonardo da Vinci and the Mona Lisa figured prominently in each.  We learned about her mysterious smile and the fact that the painting now hangs behind bulletproof glass at Musée du Louvre.  We reviewed the cards in the Usborne series Famous Paintings and learned that the painting, which had taken da Vinci three years to paint, had been stolen from the musée in 1911 by a man disguised as a workman.  This only added to the intrigue of the masterpiece.
I cautioned Emma that the painting was smaller than she might imagine it to be because I didn't want her to be disappointed when she actually saw it but she assured me that she knew it was small and that she didn't care.  In her words: "If I'm going to Paris, I'm going to see the Mona Lisa!"   
Emma wanted to head to the Louvre as soon as we arrived in Paris, however, we convinced her that it was better to wait a couple of days.  She was ready and she was impatient to see one of the world's most famous paintings on the morning of our third day in the city.  We decided to walk to the musée with stops along the way at the Cathedrals of Notre Dame and Sainte Chapelle.
It was getting close to midday when we finally arrived at Musée du Louvre and Emma was very excited to see the building.
But not too excited to stop and pose for photos in the courtyard.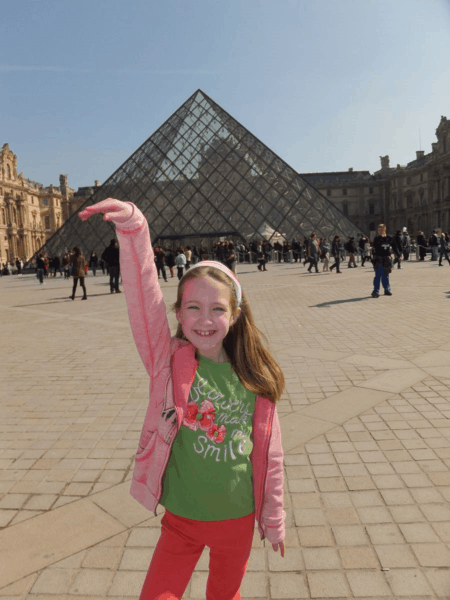 Stopping to pose outside The Louvre
Once we were inside the building, we decided that we might as well head directly to the Mona Lisa since Emma wasn't going to be satisfied until she had seen the painting.  We had to hurry to catch up to her as she sped down the hallways in the direction we had pointed.
Soon we were in the same room as Mona Lisa and Emma could hardly contain her excitement.

In the same room as The Mona Lisa
We had to wiggle through a large crowd of people in order to get close enough for an unobstructed view and to take some photos.  
And there she was – Mona Lisa – the most famous painting in the world.
Fortunately the experience lived up to the hype and Emma couldn't wait to tell everyone at home that she had been face-to-face with Mona Lisa.
Related Links
Paris with Kids? Mais, Bien Sûr!
Enjoying a Spring Day in Paris' Jardin des Tuileries 
A Whirlwind Visit to Musée Rodin
Visiting the Palace of Versailles with Kids
Love Locks on a Parisian Bridge
A D-Day Tour of Normandy with Kids
Le Prince Régent Résidence & Spa
9 Tips For Taking Kids to an Art Museum

This article may contain affiliate links which help support this site at no additional cost to the consumer. 
Have you liked our Facebook page yet? I post articles from the blog there as well as photo albums from our travels and other travel news. Or, if you prefer, you can subscribe to the free RSS feed or sign up for an email subscription to keep up-to-date on our travel adventures.