My 8 year old daughter and I went to Ottawa for the Canadian Tulip Festival and discovered that the city is a great place for a weekend getaway.
This year the Canadian Tulip Festival in Ottawa, Ontario celebrated its 60th Anniversary (in 2012). Tulips were originally gifted to Canada by the Netherlands as a thank you for providing a safe haven to the Dutch Royal Family during World War II and as a symbol of the special friendship between the two countries.
This post may contain affiliate links which help support this site at no additional cost to the consumer.
Canadian Tulip Festival Background
During the war, Canada provided refuge to Princess Juliana and her two young daughters in the nation's capital and, when a third daughter was about to be born on Canadian soil, a room at the Ottawa Civic Hospital was declared to be part of the Netherlands so that Princess Margriet could be born a Dutch citizen.    
After the war had ended, Princess Juliana and the people of the Netherlands sent Canada a gift in perpetuity of 100 000 tulip bulbs in gratitude for the safe haven that had been provided to the princess and her family as well as Canada's role in liberating the Netherlands.  The tulips were so popular in Ottawa that, in 1953, the Board of Trade decided to establish a tulip festival to occur annually around the time that the tulips bloomed.  The festival continued to expand over the years and is now the largest tulip festival in the world as it runs for 18 days in May and showcases over 1 million tulips in Canada's Capital Region.  
I have wanted to visit Ottawa during the festival for quite some time but have never made it for various reasons.  This year we had decided that we would take a family road trip to Ottawa for our Victoria Day long weekend which marks the final weekend of the festival.  Of course, things came up at the last minute and a choice had to be made.  Either Emma and I could travel to Ottawa by ourselves for the weekend or we could all stay home and miss the tulips again.  Emma was keen to go so she and I decided that we would take the train from Toronto and spend three nights in Ottawa to attend the festival, visit some museums and generally have a great mom/daughter getaway weekend.
We arrived in Ottawa mid-afternoon and settled into our hotel room before heading out for a walk to search for tulips.  We saw a few near the National War Memorial and then headed directly to Parliament Hill expecting to see many more there.  We soon discovered though that many of the tulips were at the tail end of their blooming season and well past their peak.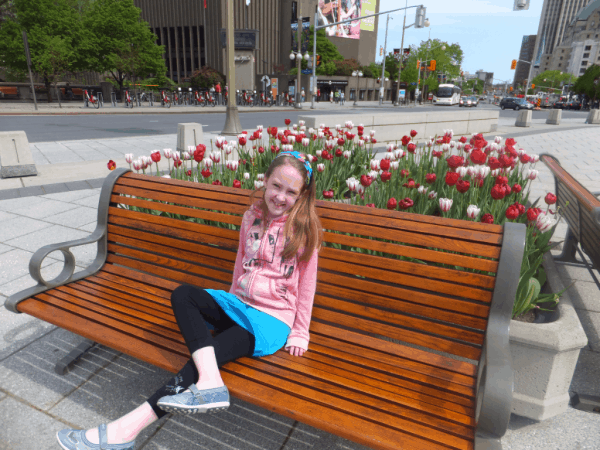 Our first tulip sighting near Parliament Hill
Major's Hill Park
We had dinner in Byward Market and our waiter suggested that we walk through Major's Hill Park to see tulips.  We did find a few beds with pretty flowers and Emma decided at this point that her strategy was to take photos of individual blooms because if she did that then the dead flowers in the beds weren't visible.  I was feeling a few twinges of disappointment by this time because we had been so excited about seeing the tulips.  I was worried that Emma was going to feel let down but, fortunately, she just rolled with it.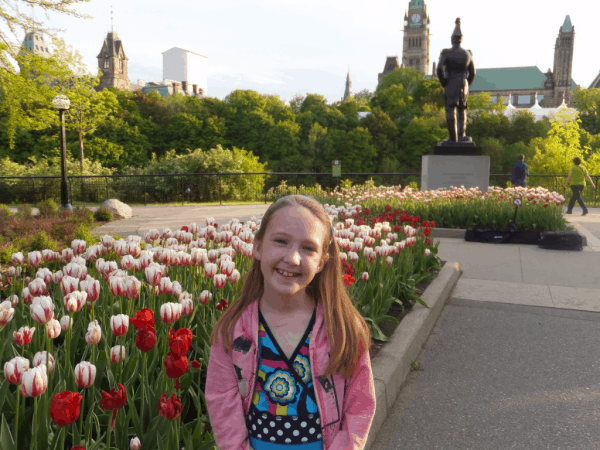 Tulip beds in Major's Hill Park
Commissioners Park, Dow's Lake
Not being completely satisfied with our tulip viewing thus far, we decided the next day that we would visit the Canadian Museum of Civilization and then catch a cab to Commissioners Park, Dow's Lake to see the tulip displays there.  The highest concentration of blooms can be found in this park as 300 000 of the 1 million bulbs are planted here.  En route, our cab driver confirmed my worst fear – the tulips had bloomed early this year due to the mild spring and they were pretty much finished.  Nonetheless, Emma and I were determined to get some pretty pictures so we circled the park in the scorching heat and humidity and snapped photos wherever we thought they looked okay.  The tulips weren't at their best but it was easy to imagine just how beautiful the beds would have looked a few days earlier.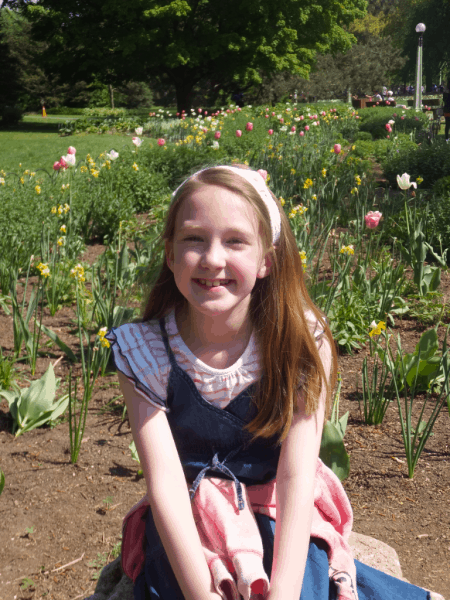 Looking for tulips in Commissioners Park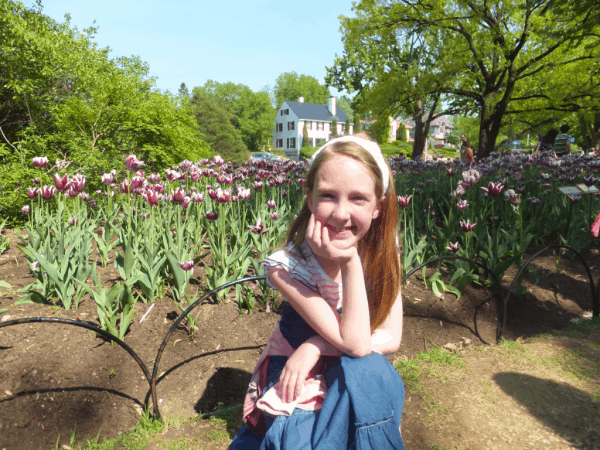 Enjoying the tulip viewing in Commissioners Park
Emma took quite a few photos of individual tulips and I promised her that I would share some of them so here's a collage of some of the prettiest blooms we saw.
If someone had asked me ahead of time how I would feel if we had traveled to Ottawa to see tulips only to find them all but finished then I would have predicted that I would have been very disappointed.  That wasn't the case though.  Ottawa is a beautiful city, the weather was perfect, and Emma and I had a fabulous time exploring and visiting the many attractions in the city.  A long weekend wasn't enough time for us to see and do everything that we wanted so we are already scheming about how we can get back to Ottawa for a few more days.
Looking for a hotel in Ottawa during the Tulip Festival? Check reviews and current rates on TripAdvisor. 
Related Links
Ottawa with Kids: Fun in Canada's Capital Region
National Arts Centre – Oscar Peterson Sculpture
A Stroll Around Parliament Hill In Ottawa
Piccolo Grande – Gelato In Ottawa
The Canadian Museum of Civilization
The National Gallery of Canada

Have you liked our Facebook page yet? I post articles from the blog there as well as photo albums from our travels and other travel news. Or, if you prefer, you can subscribe to the free RSS feed or sign up for an email subscription to keep up-to-date on our travel adventures.