Some of our favourite memories of family vacations on the east coast involve Cows Ice Cream.
Our first visit to Prince Edward Island on Canada's east coast was the summer before Katie turned 2 years old and we fell so hard for the island that we returned again and again.  Our island vacations resulted in many wonderful family memories but if you asked either of the girls they would tell you that one of the best things about PEI is Cows ice cream.  
Cows began making ice cream in 1983 using all natural ingredients, and a recipe dating back to the days of Anne of Green Gables, and continues to use the same old-fashioned ingredients today to make the more than 32 flavours available at its retail outlets.
According to the Cows website there are 3 factors that make the ice cream so delicious – (1) it is made with 16% butterfat; (2) there is little air incorporated making it high-density, slow to melt in your mouth ice cream; and (3) only the finest ingredients are used.  There's no doubt that Cows ice cream tastes amazing but it's the names that they use for the various flavours that I love best.  Wowie Cowie, Messie Bessie, Moo Crunch, Gooey Mooey, Cowrispy Crunch, Fluff n' Udder – how can anyone resist names like that??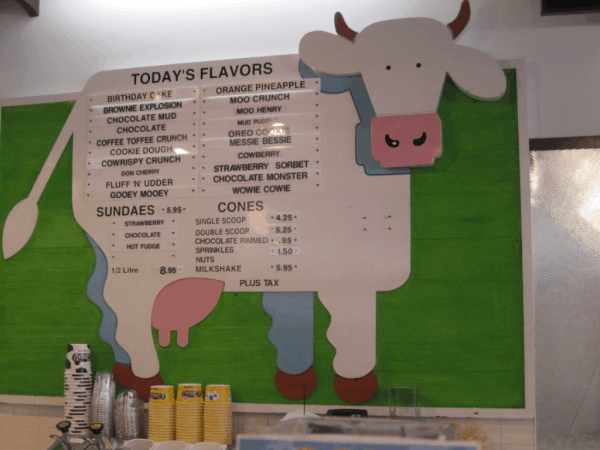 Katie was enthralled the very first time we visited the Cavendish Boardwalk and saw the store with a large black and white cow on the roof.  We weren't familiar with Cows before that day but it soon became a daily ritual to drive over after dinner and have some ice cream for dessert. A ritual that continued as Katie grew older and welcomed a new baby sister to share her love of ice cream with.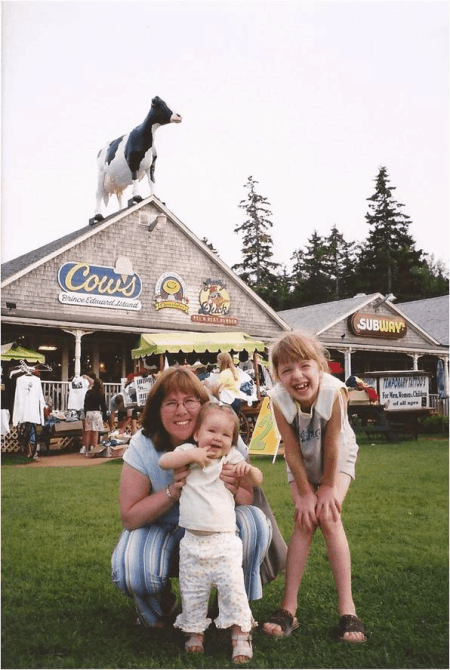 Cows Ice Cream in Cavendish, PEI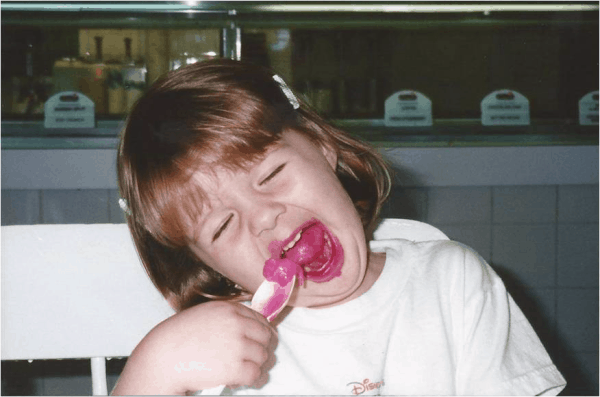 Katie enjoying a dish of ice cream at Cows
It didn't take long for us to discover that there were several Cows outlets on the island and we made sure to sample the wares in Charlottetown and at the Gateway Village outlet at the base of the Confederation Bridge.  (There are currently 5 outlets on Prince Edward Island.)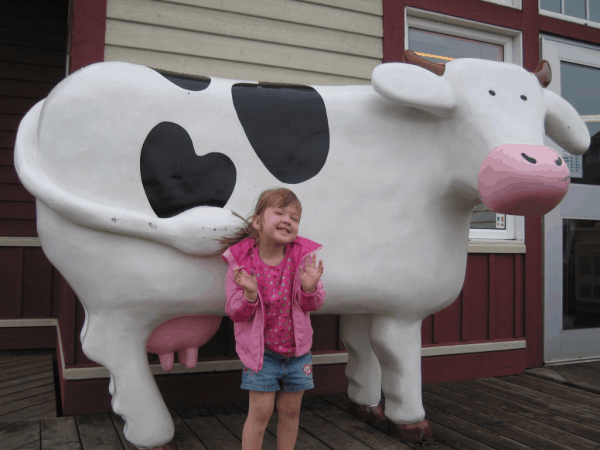 As Cows grew in popularity, retail outlets were opened in other parts of Canada and before long we were eating our favourite flavours of ice cream in Halifax and in Niagara-on-the-Lake (only an hour from home!).  There are also outlets in the villages of Banff and Whistler which we really ought to make an effort to visit soon.

Outside Cows in Niagara-on-the-Lake
In 1985, Cows introduced a fun line of cow-themed T-shirts for staff to wear and when customers wanted to buy the shirts a new line of merchandise was added to the stores.  At first there were only t-shirts and sweatshirts available but as the cleverly-designed images that draw heavily on popular culture grew in popularity then other items such as mugs, caps, sleepwear, towels, pencils etc. were added to the line.  Some of our favourites over the years have included:  Cowy Potter and the Goblet of Milk; Hannah Moontana; moomoolemon; Justin Beefer; and Royals HoneyMOOning on Prince Edward Island.  I read that one of their new designs for this year will be Keep Calm and Graze On which should be a very popular design.  Shopping for Cows souvenirs is almost as much fun as eating the ice cream as far as my kids are concerned and browsing the stores definitely takes more time than it does to eat a cone.
We are returning to Prince Edward Island this summer for the first time in 6 years and you can rest assured that one of our first stops will be the Cavendish Boardwalk for one of the best ice cream cones in the world.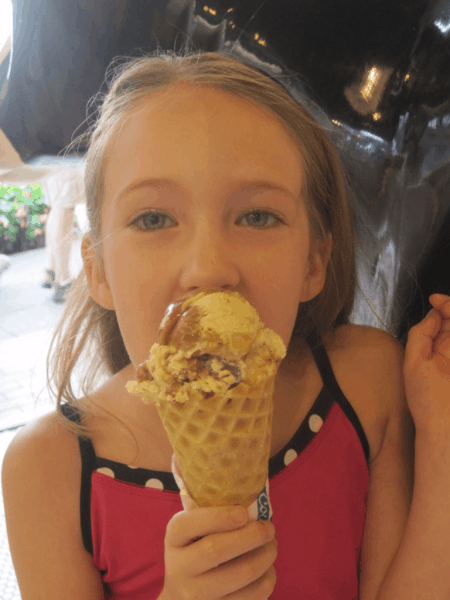 Enjoying a refreshing cone on a hot, summer day
Related Links:
Cavendish, Prince Edward Island with Kids
Prince Edward Island Trip Report
Top 10 Things For Families To Do In Niagara Falls

This post is part of the Celebrate Travel Blog Carnival hosted this month by Mother of all Trips. The theme this month is ice cream.
Have you liked our Facebook page yet? I post articles from the blog there as well as photo albums from our travels and other travel news. Or, if you prefer, you can subscribe to the free RSS feed or sign up for an email subscription to keep up-to-date on our travel adventures.