Review of the Hawbear series of children's books written by Manitoulin island author Sheila McDermid.
Manitoulin Island is a Canadian island located in the north channel of Lake Huron which has the distinction of being the largest freshwater island in the world.  As my husband's family hails from Manitoulin, we visit with our kids at least once every year to stay with Granny and Grampy at their cottage in Kagawong.  
Read 15 of the Best Things To Do on Manitoulin Island
Another interesting fact is that islanders are nicknamed "haweaters" because of the prevalence of hawberries on the island. There is an annual Haweater Festival held in Little Current each summer and visitors to the island almost always return home with a few jars of hawberry jam or jelly.
So the grown-ups head home with a delicious souvenir that's homemade on the island but what about the kids? I know when I'm traveling that I like to purchase items that are made in the area and not mass-produced elsewhere and this holds true when I'm buying a souvenir for my kids as well. When visiting the island this past summer I discovered the perfect souvenir for younger kids who are visiting Manitoulin – the Hawbear series of picture books.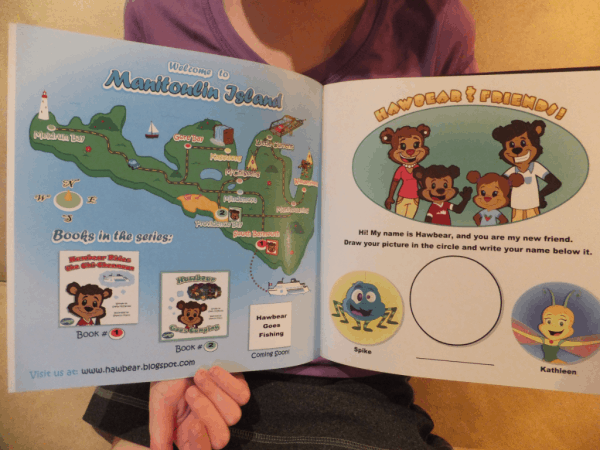 The series, written by island native Sheila McDermid and illustrated by her daughter, Shannon Mistry, follows the adventures of a young bearcub named Hawbear who visits Manitoulin Island with his family.  
Thus far, the series includes: Hawbear Rides the Chi-Cheemaun and Hawbear Goes Camping.  Hawbear Goes Fishing is scheduled to be published next.  These make an ideal souvenir for families wishing to buy their children something that was produced locally.  
The books are available from a number of retailers on the island so be sure to look for them if you are visiting Manitoulin with kids.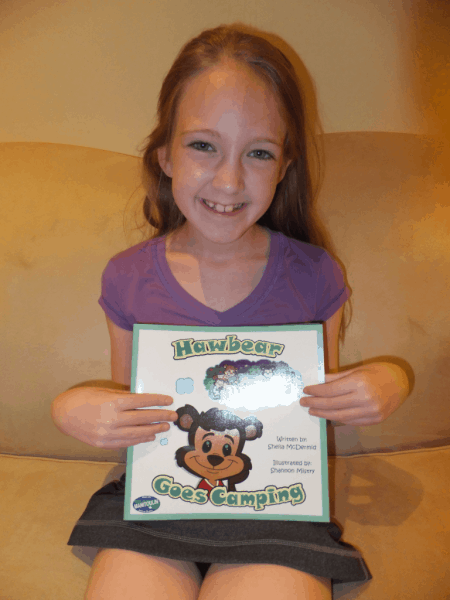 There is additional information about the Hawbear series available on the author's website.
Related Links
15 of the Best Things To Do on Manitoulin Island
Fun Things To Do in Kagawong on Manitoulin Island This Summer
Bridal Veil Falls and the Village of Kagawong